Coralview: Budget Resort on Tavewa Island, Yasawas
Coralview resort on Tavewa island, is one of the more northerly destinations in the Yasawas. While there are islands further north, this is the turn around point for the Yasawa Flyer. Cheap accommodation, good food, close to local attractions, clean and comfortable with decent showers and 24hr electricity. No swimming pool, bar prices very reasonable. Accommodation is away from central area, so very quiet at night. Bed was extremely comfortable... a bad one can ruin your vacation. Staff go out of their way to help you.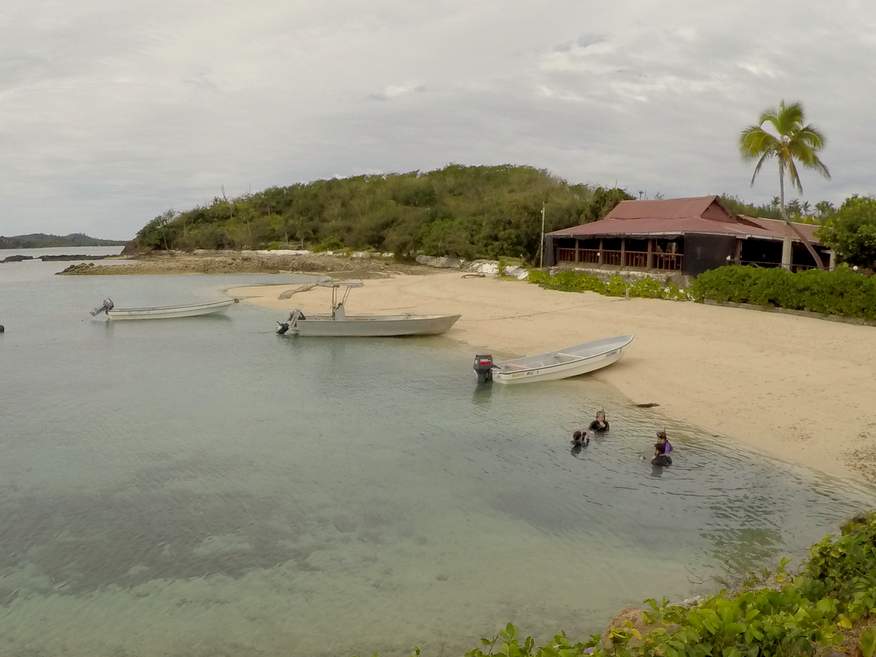 The beach in front of Coralview Resort
Our 2 night stay at Coral View Resort...
Left Denarau on time at 0830H on the Yasawa Flyer and arrived at Oarsmans Resort just before 1300H.  Just a quick heads up. The minute the Yasawa flyer stops at your destination, get up and walk to the back of the boat and find your luggage and make sure the crew identify it. Your luggage should be tagged for that Resort, then go and sit down till you are called to board the long boat to your resort. Now, make double sure you can see your luggage in the long boat before you leave the flyer. I don't have to tell you the hassles you will go through if the boys forget your bags.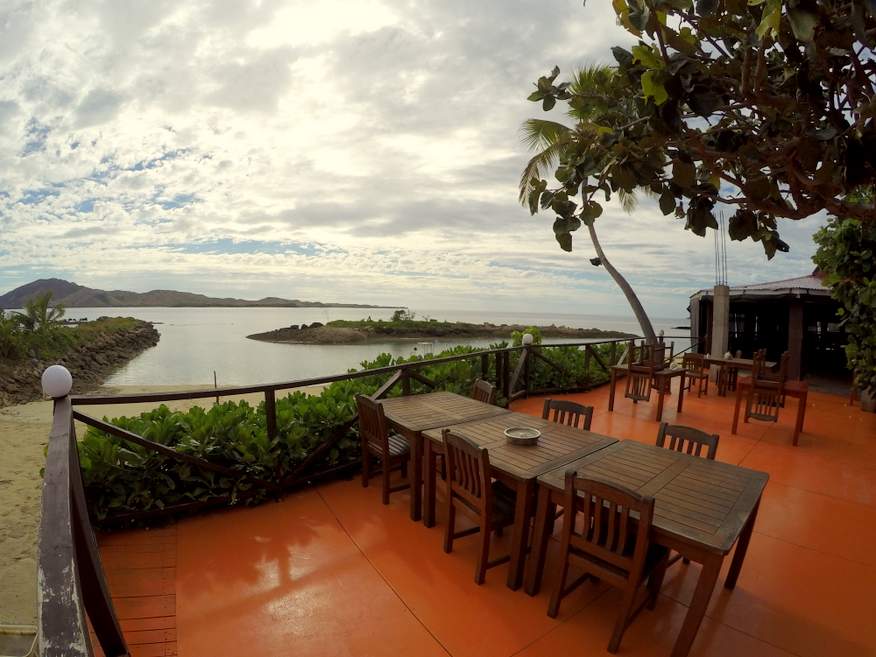 Outside seating at the restaurant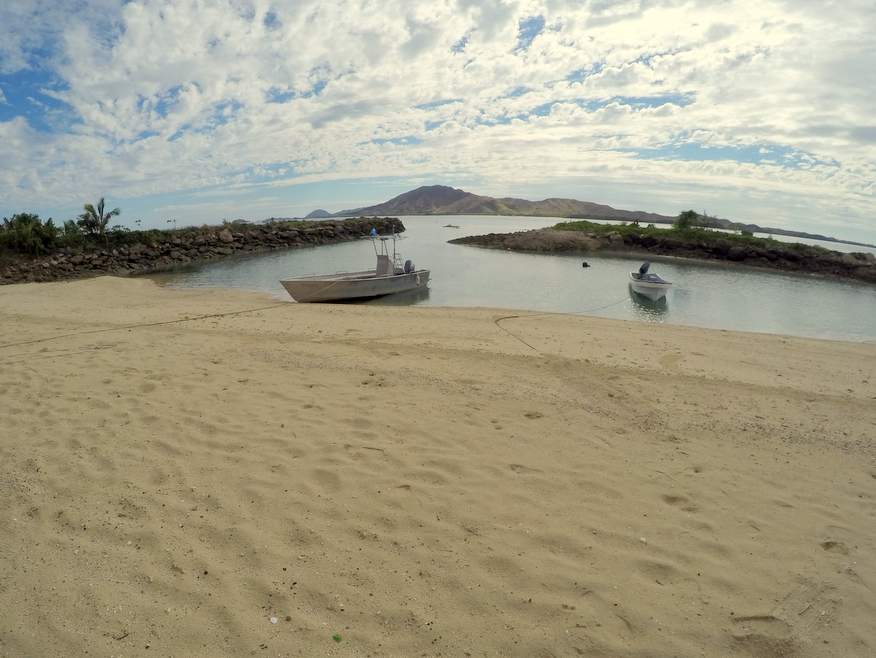 The beach at Coral View
Six guests boarded the long boat for the seven minute dash across the gap to Coral View Resort. We arrived at 1330H to a very warm, very friendly welcome. Lunch was late; there was no meal plan, hip hip, hurray. No more spending $200+ a day on food for the two of us. Now we can get away with $100 per day easy, breakfast is included. The time now is 1400H so we decided to shared a beef fried rice, just to tie us over till dinner time at 1900H, what a good call, the meal was very tasty and more than enough to stop the tummy rumbling. Cheap too at only $14 FJD.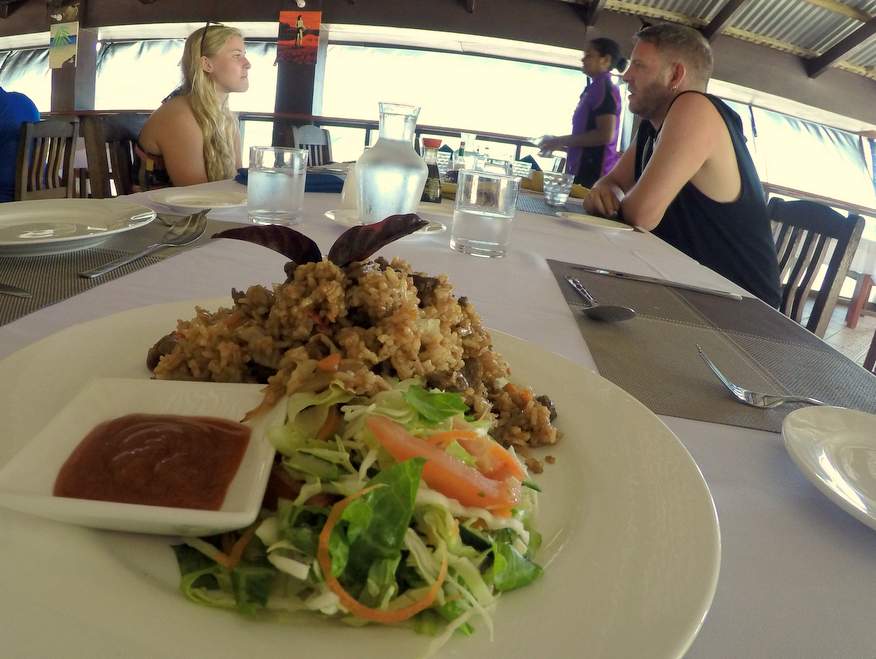 Beef fried rice for lunch was enough for the both of us to share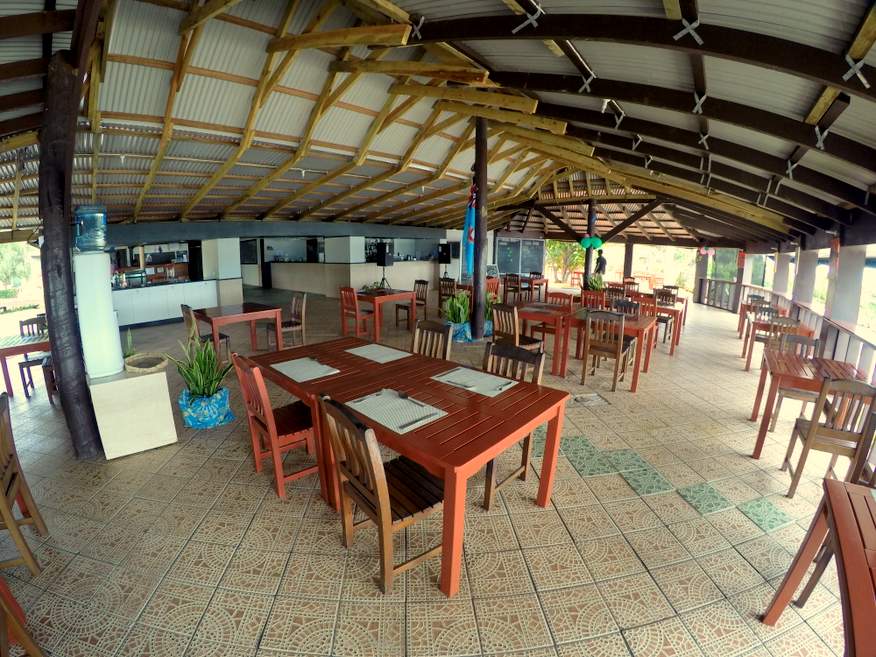 Big dining room
By 1500H the wind was up and the clouds started to crawl in, a cool 24c, what a perfect time to go for a twenty minute walk up to the top of the hill and be back for afternoon tea? The view was superb, if the sun was out the view would have been breathtaking. The view is of the Blue Lagoon area, just stunning. If you are feeling adventurous, and the tide is out, take the ridge down to the point then walk back to the resort around the rocks. You will not get around the rocks at high tide.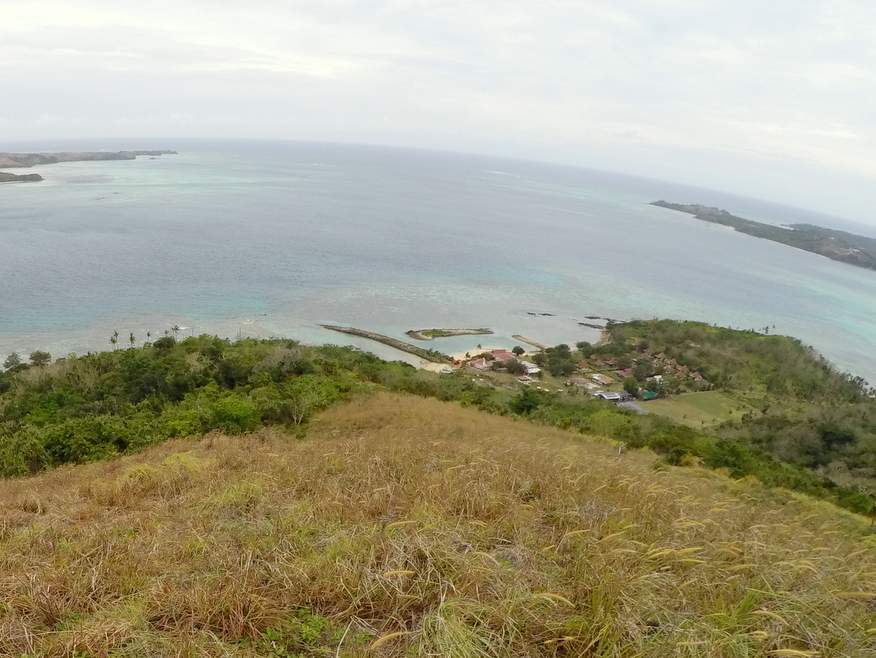 The view looking out over Coralview resort to the Blue Lagoon from our walk to the top.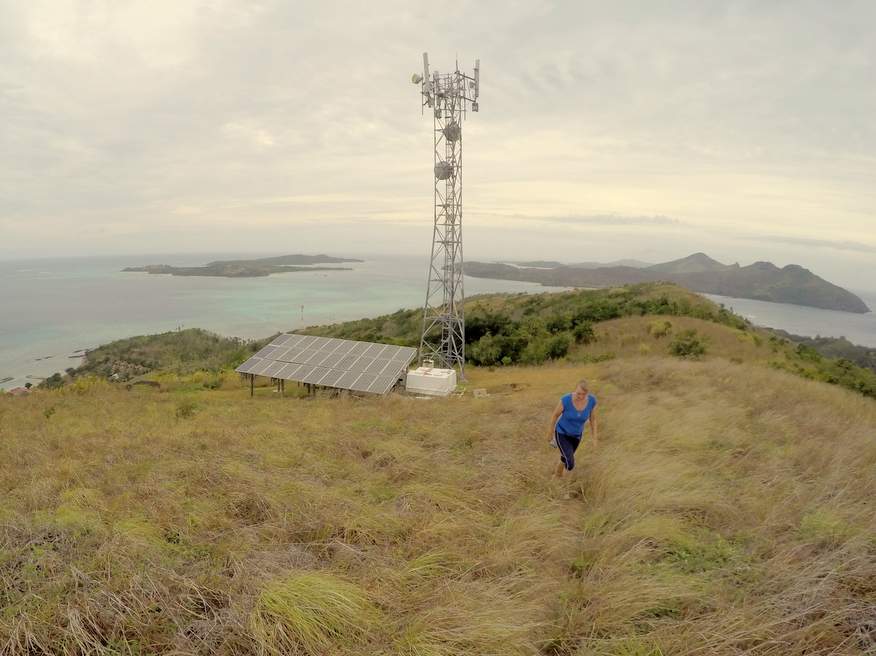 Afternoon tea is only instance coffee and tea. But you can buy muffins, pineapple pie and small cakes form their shop, you might have to ask the lady to open up for you. Happy hour is from 1800 to 1900 H, then dinner at 1900H. When we arrived at 1330 H we were encouraged to order our dinner and book a time, which we did. At 1930H on the dot our amazing dinner arrived to our table. As for my desert, I no sooner finished the main and the desert arrived without me having to ask, the dinner service was better than a restaurant in Brisbane.  What made the evening was the staff singing nonstop from 1800H till 2100H. The staff were just coming out of the wood work to sing, at one point I counted seventeen staff singing, they were there because they wanted to be, not because they had to be, an outstanding night. At 1330H I had to walk back to the hall and ask the staff it they would please turn down the loud music, which they did, but the mossie in our bure wanted to stay up all night and play. One disappointing factor was the very hard tap water in the bure. At least it was not salty water. There was no way the soap is going to lather up.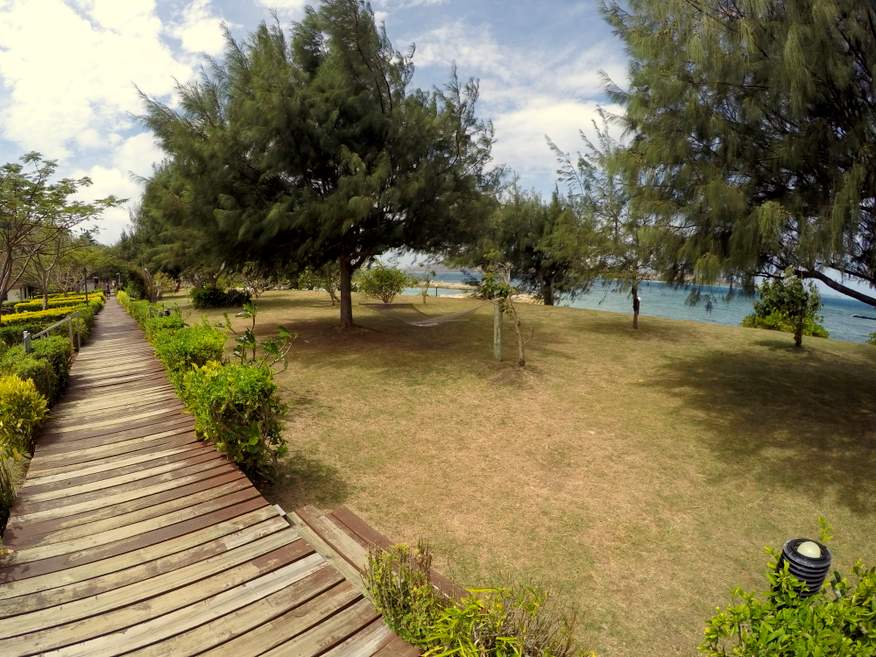 View from out bure was really nice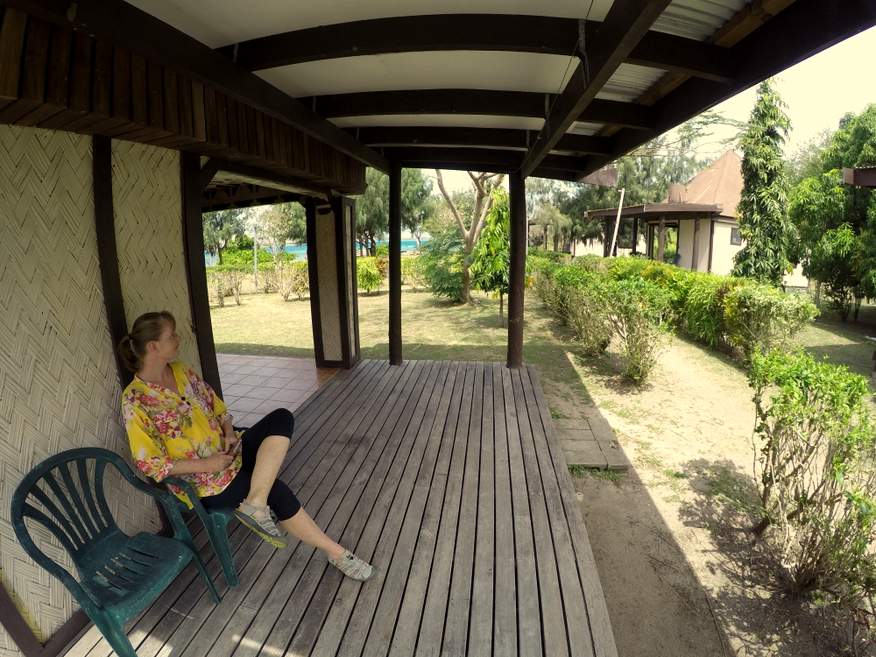 Nice big deck on our bure
Next day rain, heavy rain started at 0400H and it did not stop till 1300H. Breakfast 0700 to 0900H. Continental with fresh fruit, plus eggs cooked to order, Roti and curry and hot chocolate croissants. The coffee was flitted or instance and three teas to pick from. Those croissants didn't last long at all, good job they had plenty more!
So much for the Fiji day activities, snorkelling, hand line fishing and my trip out to the caves, it just wasn't to be. Lunch, at least our $14 pizza was hot and tasty. We went back to the bure and watched another DVD on the laptop. By 1800H, Happy hour, the wind was still blowing branches off the trees, but the rain was down to a light drizzle. Seeing it is Fiji Day the mats were spread out on the floor and the kava bowl was brought out from its hiding place in the office and the thin layer of dust was washed away. We placed our dinner order at lunch time, so tonight at 1900H we are both having roast chicken in a honey and mustard glaze with baked potato and steamed Veges. No, it was not as stunning as last night lamb but a vast improvement on cassava and cassava and as for the singing it was outstanding and was nonstop till 2100H.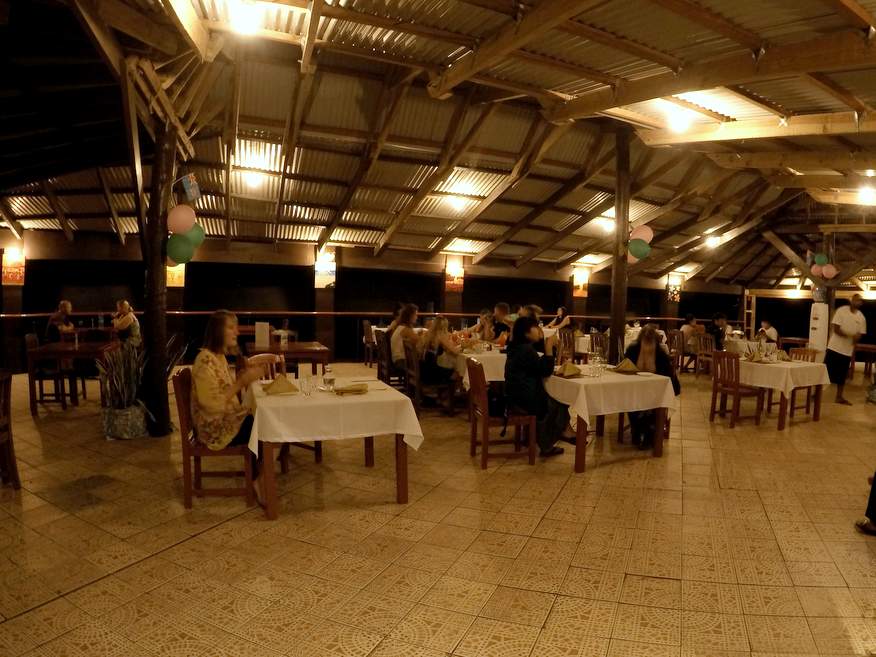 Evening dinner & entertainment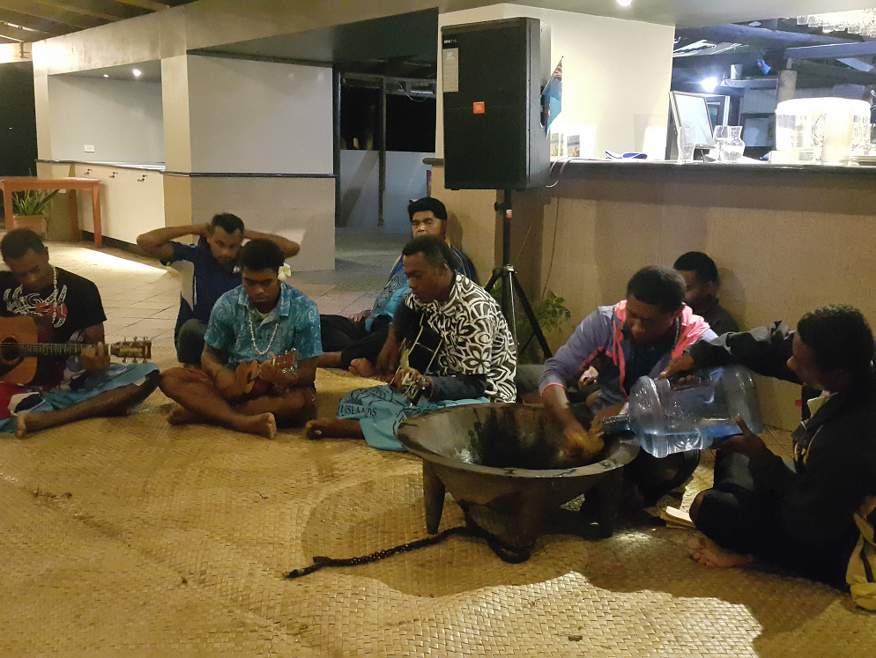 Kava time
Accommdation at Coral View Resort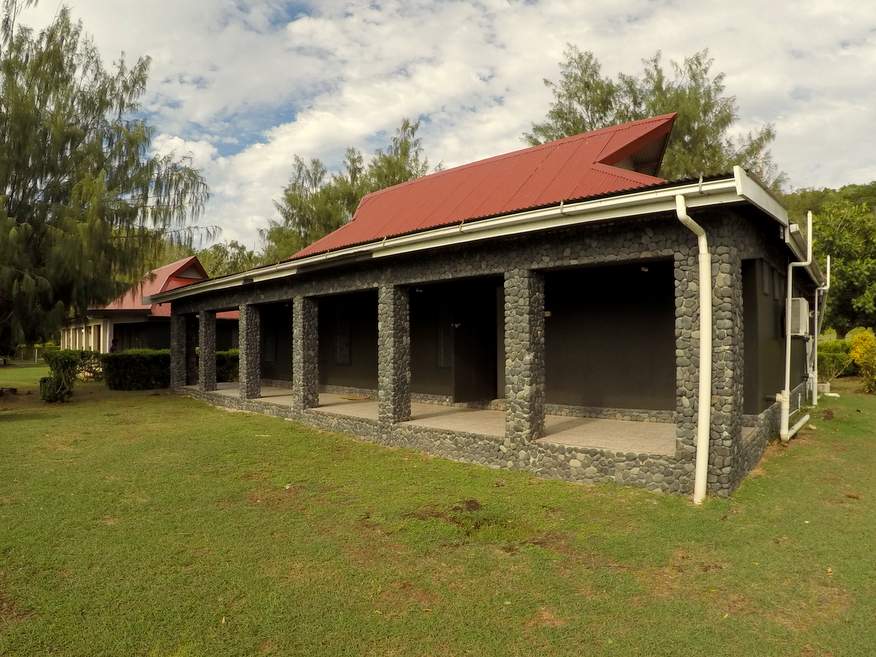 Very nice air conditioned dorm room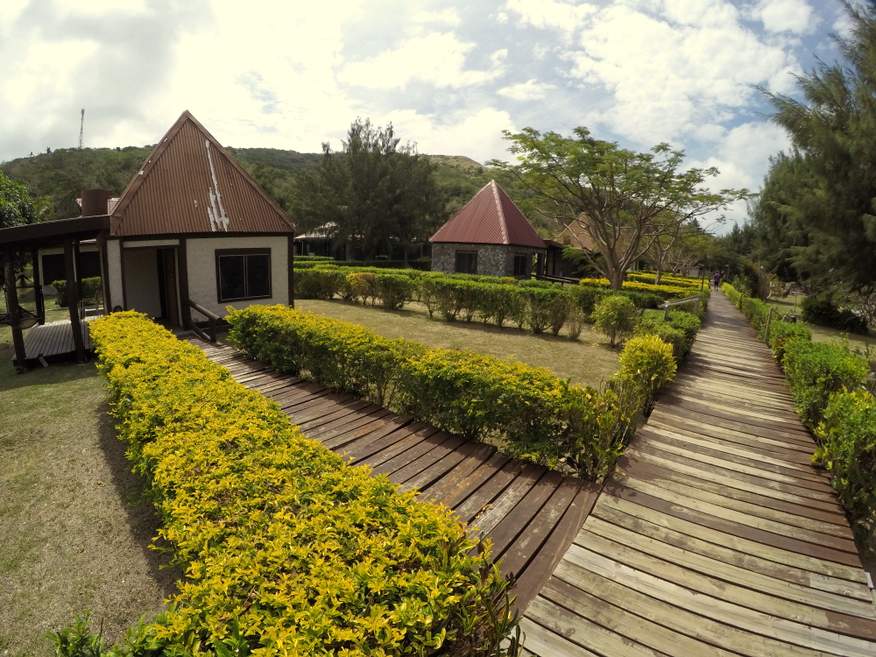 Beachfront Bures
Dorms: There are two 10 bed dorms, probably the cleanest we have seen anywhere. Choose from the bunks dorm, or the one that has single beds, each partitioned to give you more privacy than you might expect. Cost is fj$58 a night, which is cheap for the Yasawas. We have seen dorms that are twice the price, but nowhere near as clean and comfortable.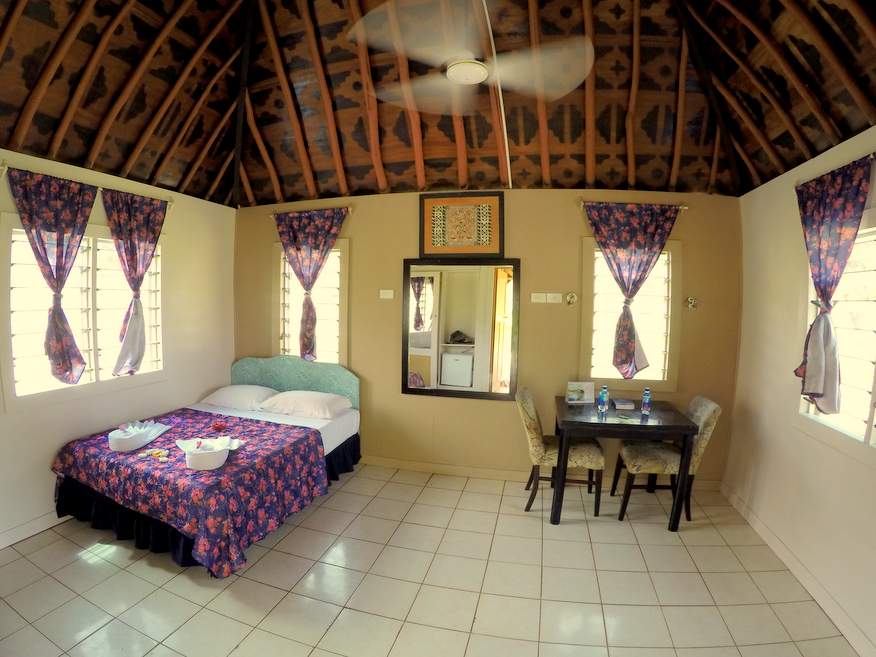 Our bure was spacious and clean with hot water shower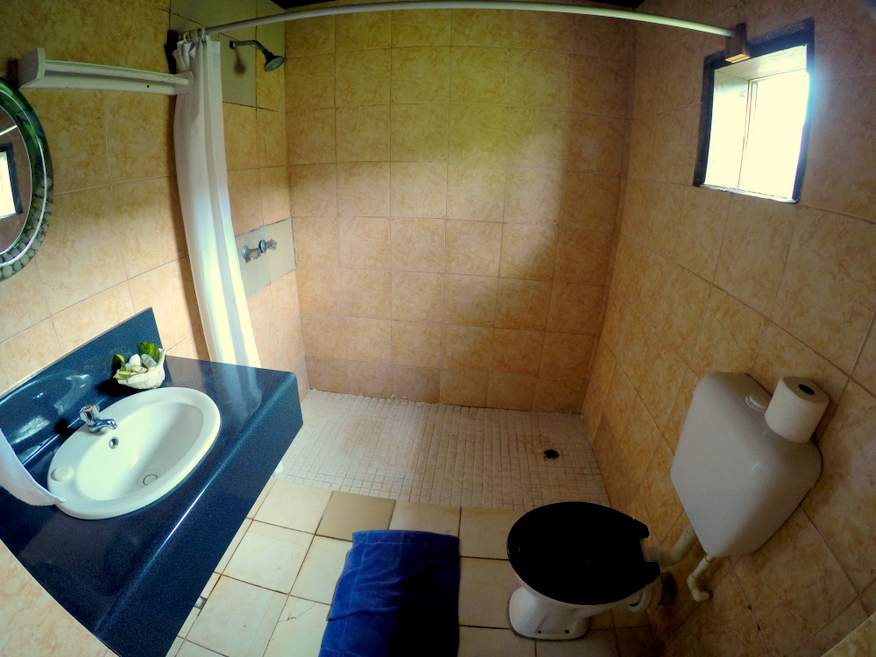 Clean bathroom
Bures: There are 16 of these, all with a double bed and a single. If you have 4 people, they can arrange to put a double bunk in the bure for you. Prices vary slightly depending on whether you have ocean view or not. But most expensive is still only fj$203 a night (for double occupancy). One of the more comfortable beds we have slept in, including ones at 5 star properties.

Getting There
You have 3 choices with getting to Coralview.

1. Take the Yasawa Flyer. This leaves Denarau at 8.30am and gets to Coralview just after lunch. If you book direct with the Flyer, a one way adult ticket is going to cost you fj$180. 
2. Seabus.  As a guest of Coralview you'll only pay $70 FJD one way instead of $100 FJD for other resorts. The boat departs every day at 8am from Lautoka, and returns around 4pm. The trip is only 3 hours instead of 5 on the flyer. The boat is not as flash as the flyer but hey look at the savings. For bookings email us at info@fiji-budget-vacations.com
3. Seaplane transfer. Not a whole lot more expensive than the Yasawa Flyer but a million times faster plus the views are totally awesome. You can book your seaplane flights here.
Tons of great daily activities to do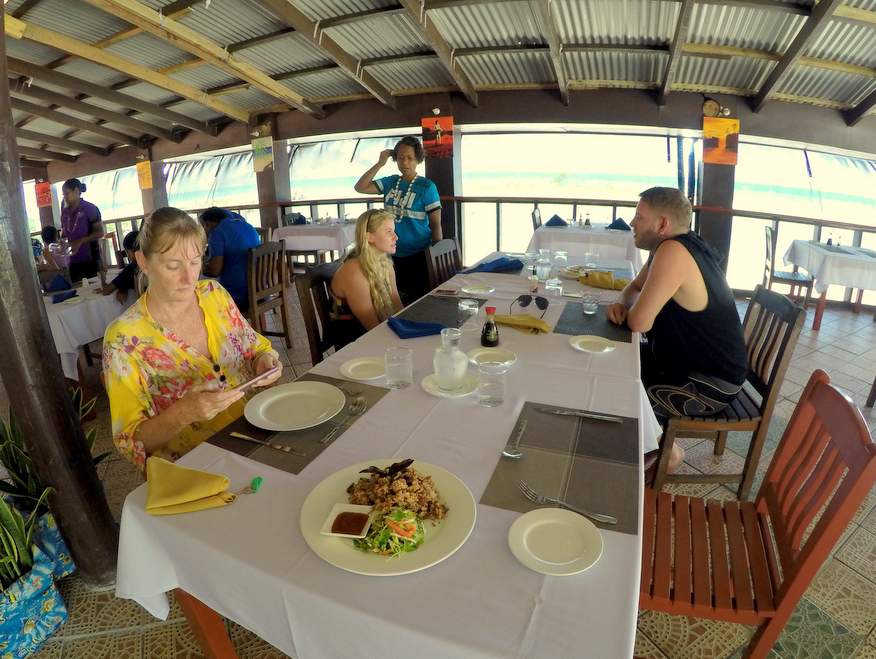 Lunch time at Coral View
Quick Fact List
Fijian name:  Tavewa 
Resort/s: 2 resorts on the island... Coralview, and Coconut Beach Resort. There is also a boutique homestay on the other side of the island.
Price Range: Budget... from fj$58 dorm, to fj$203 Beachfront bure (2 people).
Meal Plan: No meal plan anymore since Oct 2016 - Yahoo! Al la carte menu.
Snorkelling: High quality, with giant clams just 100 meters out from the resort beach. 
Beaches: Only a small one in front of the resort. However, they do frequent trips to Honeymoon island, Blue Lagoon etc, which have some of the best beaches in the Yasawas.
Pool, Bar, Restaurants: No pool. Meals are served in the communal dining room, but you can purchase extra meals or pizzas etc. The new menu is big and very good.
Internet: There is wifi available (fees apply). You can also use the 3G network for mobile broadband. Extremely good reception as there is a cellphone tower on the hill behind the resort.
Excellent package deal at Coral View resort. Just click on the image or heading above to view the detail and book. All room types are available.
---
Map of Yasawa Island Resorts
If you click on the tiny box with the little arrow next to the works "Map of Fiji" it will expand and give you more options for viewing other places and things around Fiji.
---