Boathouse N
anuya
& Nanuya Island Resort. Best thing - NO compulsory meal plan!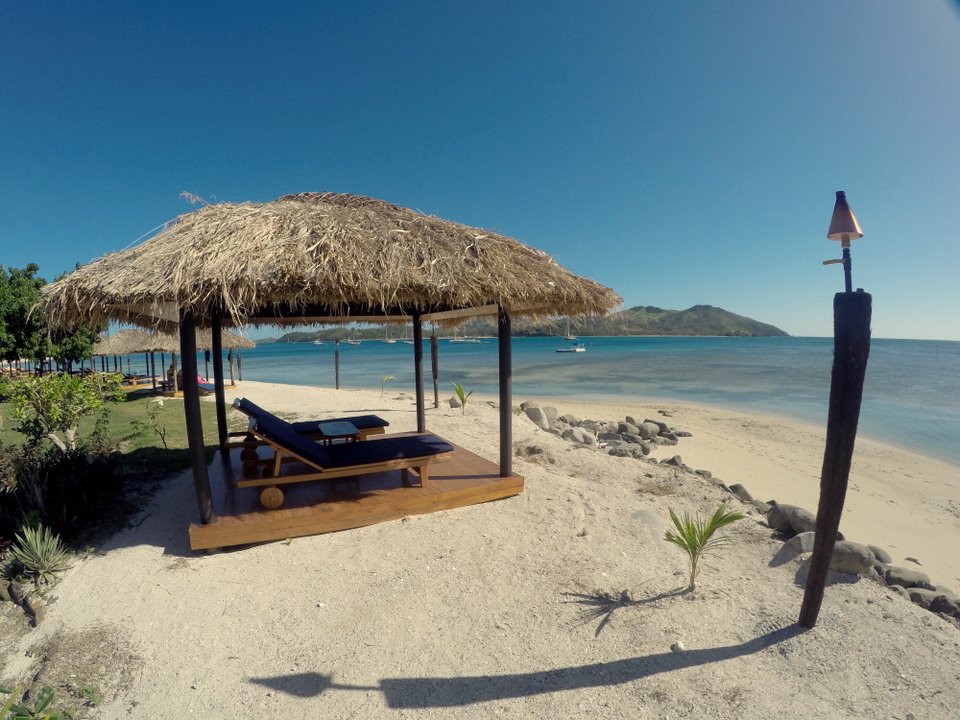 Main beach out the front of Nanuya Island Resort - just look at the colour of that water - stunning!
The Yasawa Flyer arrives at Nanuya Island Resort at 1.40 pm. It took us ten minutes to book in and two more minutes to drop our gear off into our room. Now this is what you call a tropical island resort. Not a stone out of place and all the staff are unbelievably friendly. No wonder Nanuya is booked out weeks in advance. Yes the villas are expensive but well worth the money, but you can stay in the dorm cheaper and it includes breakfast.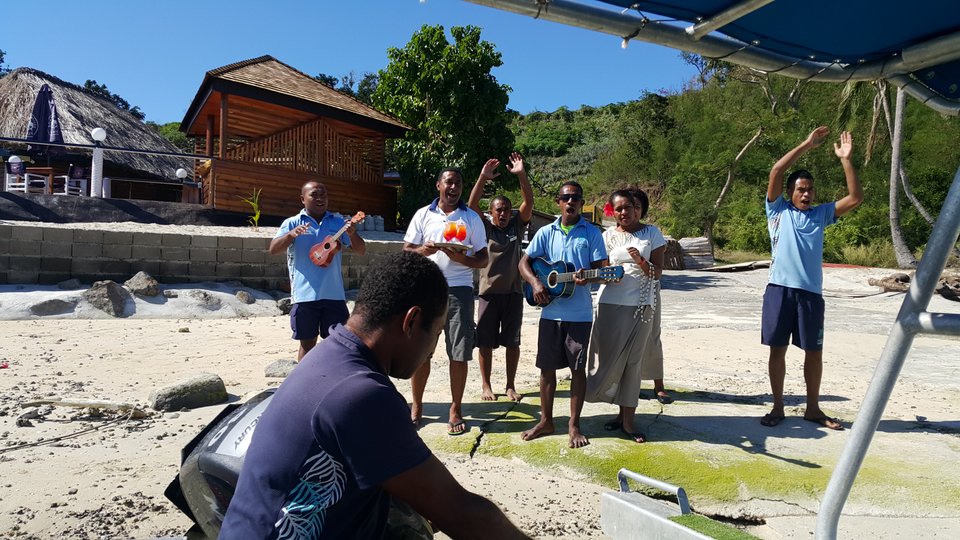 The welcome party with lovely drinks.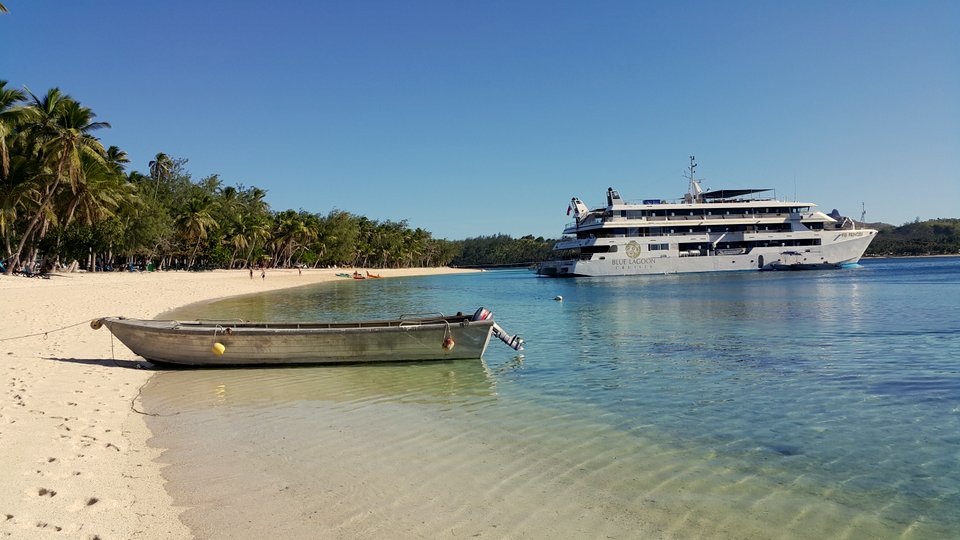 Blue Lagoon Cruises ship the Fiji Princess on it's stop over in the Blue Lagoon. Nanuya is right on this beach too.
We were hungry, so off to the restaurant to find something for a late lunch. Nanuya is a la carte and you can eat cheaply here for lunch. The prices were from $15 to $30 not including your drinks. Not a big menu but all that was there was very good and what a fantastic dining hall to sit in and look over the bay.  When we arrived at Nanuya Island Resort the Fiji Princess (cruise ship) was anchored only ten mitres off the sandy beach so this was our chance to take a couple of photos of the ship and have a swim at the same time. The fish life was not that interesting down that end of the beach so we made our way back to the resort to try snorkelling out by the reef. Well that was no good, but we did have some fun sitting on the water's edge and playing with the small striped fish. One advantage of staying at Nanuya Resort is the well stocked shop. So back to the beach with a loaf of bread (they make it fresh everyday) to feed the fish, trying to catch a fish was not an easy task. They are very fast and slippery.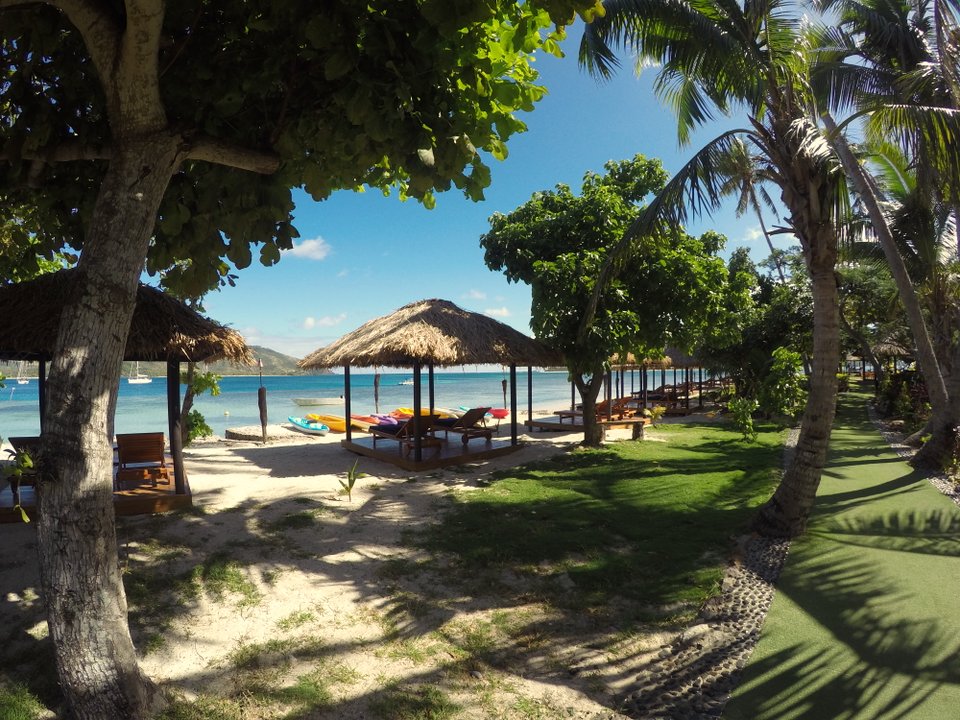 Free kayaks to use anytime you want.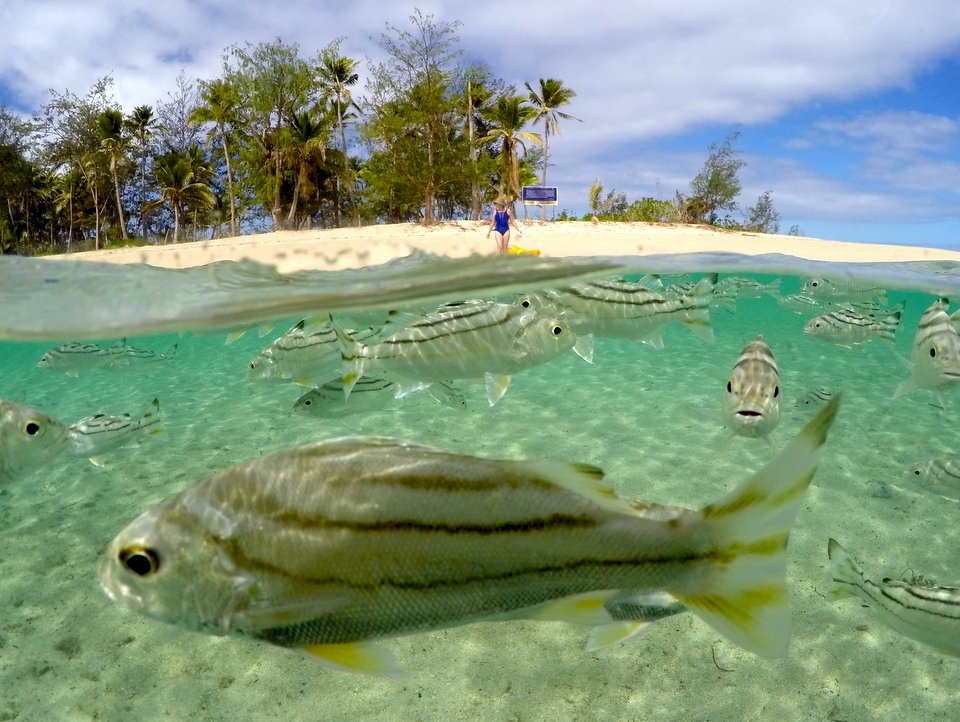 Lots of fish if you give them some bread, watch your fingers though, they bite!
Dinner was at 6pm nice and early so we sat at a table with a bottle of wine and watched the sunset, by the time the sun had disappeared below the horizon it was time to order dinner. Entree's start at $22 FJD and the mains from $35 to $47 FJD, desserts $10 to $15 FJD. While we are talking about food, breakfast is free so if you work out your meals, it is far cheaper eating at Nanuya then paying the usual compulsory $129 FJD meal plan at other resorts, plus the food is far superior at Nanuya. If you really want to eat cheaply, just go to the Nanuya Resort well stocked shop and buy a loaf of bread, which is baked fresh in the resorts kitchen, milk, butter, flour, rice, biscuits, tin fish and frozen meat are all available. Oh plus ice creams, chips & chocolate bars. There was nothing to do after dinner so we sat on the beach and listened to the waves running up the beach and finished off our wine.
Main restaurant area at Nanuya Island Resort.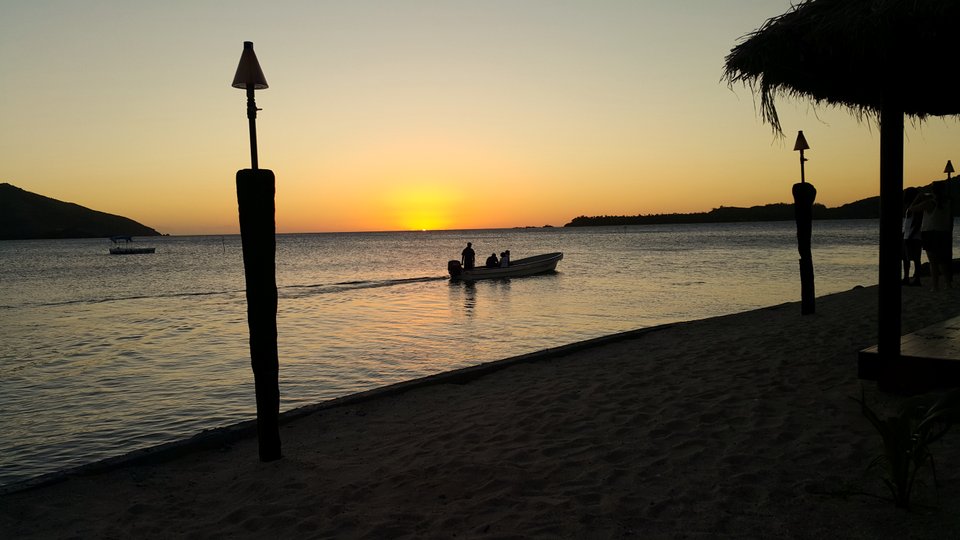 Sunsets at Nanuya are just stunning.
Our continental breakfast was very good specially the fresh muffins and the plunger coffee. The rest of the morning was spent on a tour of the resort. Nanuya has a desalination plant so all the water in the resort is drinkable, on top of this they produce 124Kwh of solar energy. This is enough to power the whole resort 24/7. Like most resorts there are a large number of activities you can go out on. Just before lunch I took off on a walk around the beach at low tide till I came across a village. Most of the people in this village work in Nanuya Resort so there is a well worn track over the top of the hill and down into the resort for you to follow without getting lost and missing out on lunch. You will come up to another well worn track running off to the left. This rack will take you to the far end of Blue Lagoon beach. Then you will have a lone walk back along the beach to Nanuya, good exercise.
Beach near the village just over the hill.
The village.
We tried snorkelling at the far end of Blue Lagoon beach but we found the water to be to murky and we only saw a couple of fish so out came the bread and we played with the small black striped fish for the rest of the day. Time for dinner again. We decide to have a pizza for dinner. Now pizza is only available at lunch time which is from 12 to 5pm so we walked to the restaurant at 4.30pm and sat down to order a pizza, but we were told No, we cannot have a pizza because the restaurant is closed. They apologized for closing the restaurant so early and said they can have a pizza ready for us at 6pm so we could watch the sunset. Sunset was ay 5.45pm. Delicious. Tip: if you're on a budget order a pizza for dinner, big enough for 2 to share for $30 FJD.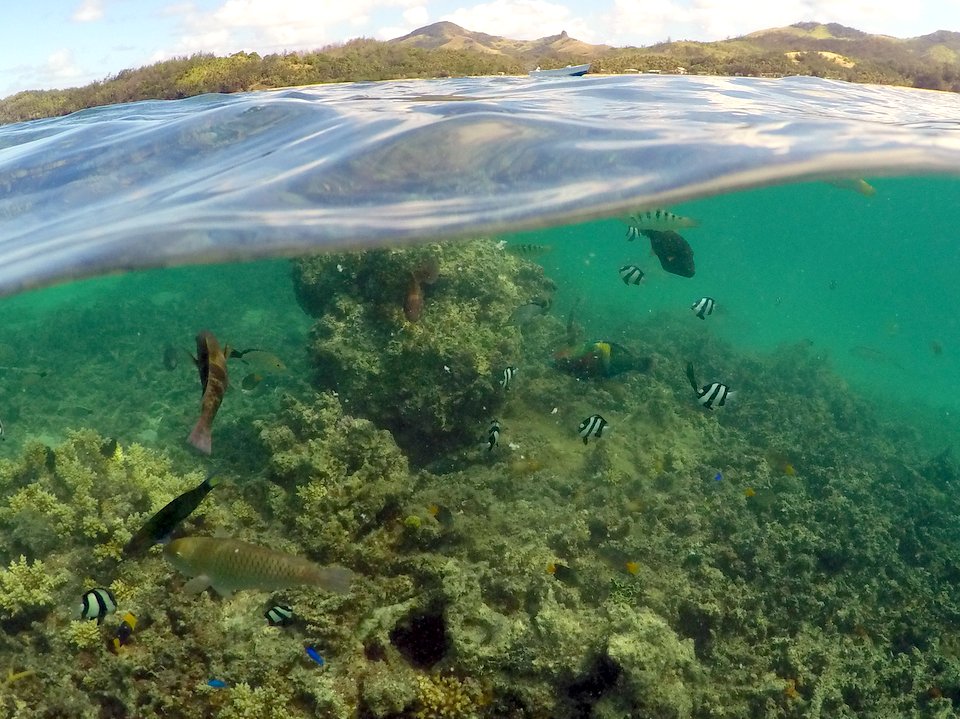 We saw a few fish while snorkelling, but not that good.
Our last day on paradise island. I was looking forward to my breaky of fresh, hot, baked muffins and a good plunger coffee before going for another walk up to the top of the hill to have a look at the other tracks. When we got back to the resort after our little walk, Nanuya Resort barge the Mohito had just started unloading tons of supplies. You don't stop and think what has to be shipped in from the mainland, just to give us what we take for granted in town. The barge does two runs to the mainland a week so long as the weather holds out. Time to pack up again and get ready for the Yasawa Flyer. Another short two hour ride to Octopus Resort, for our last two nights in the Yasawa Islands.
Our room was in the garden view villa, really nice. Can take 2 adults & 2 kids easy. Only kids over 7 allowed though.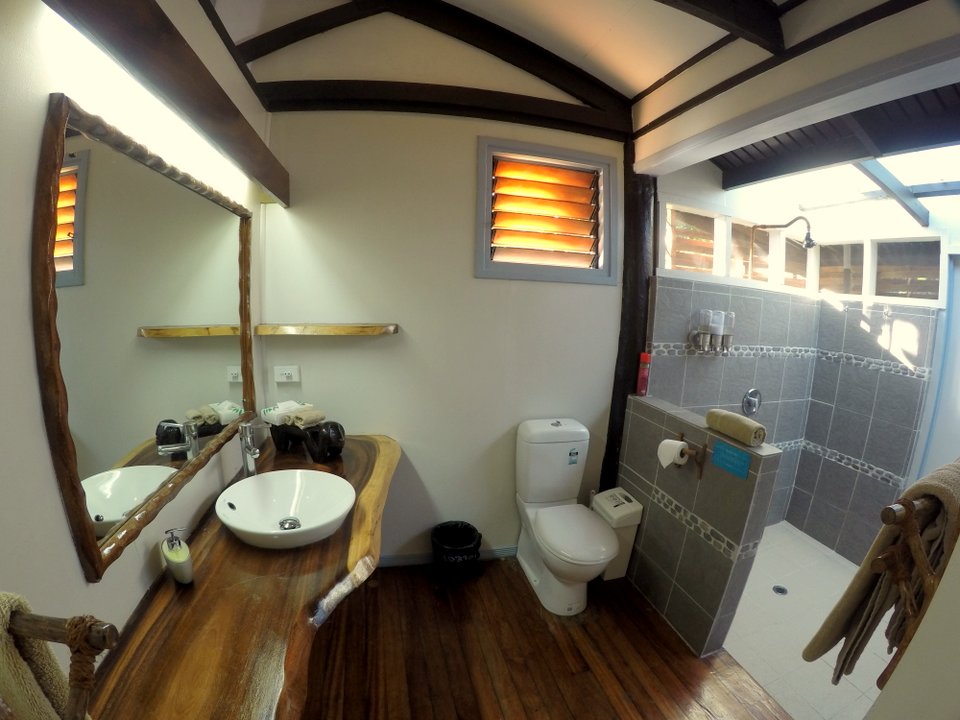 Tons of room in the bathroom. Not quite an open shower but nice enough.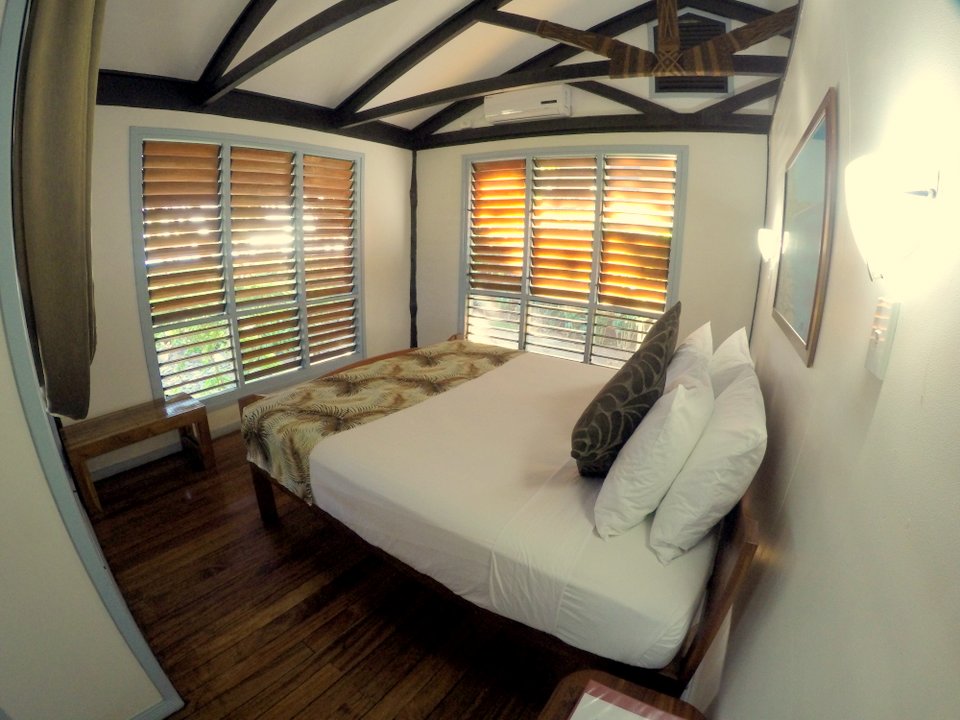 Our bedroom, lovely comfy bed and plenty of pillows.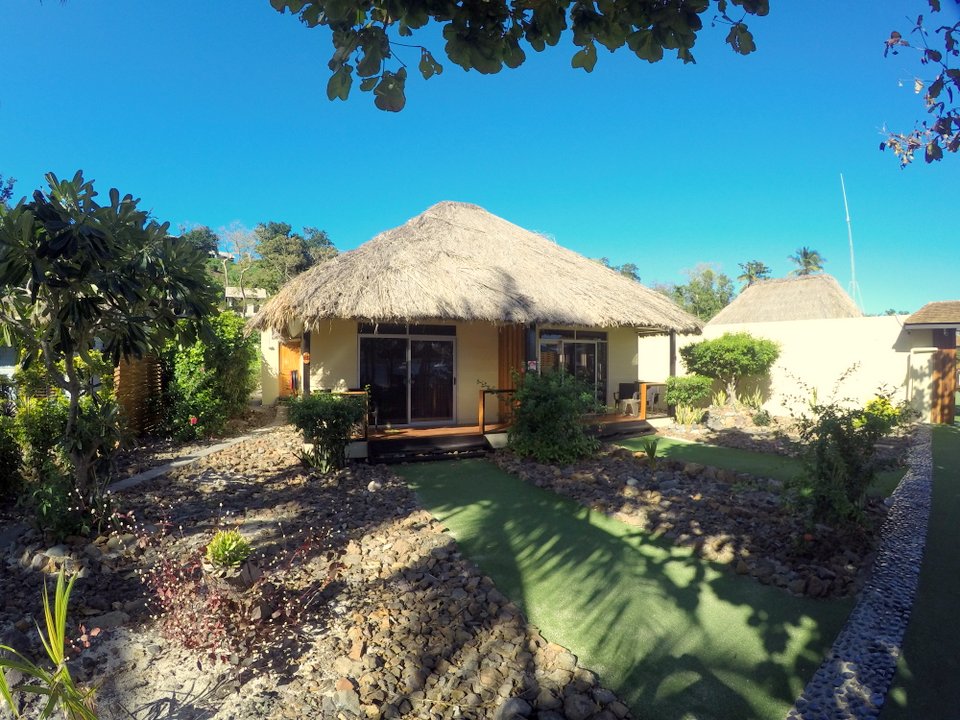 Front of the garden view villa.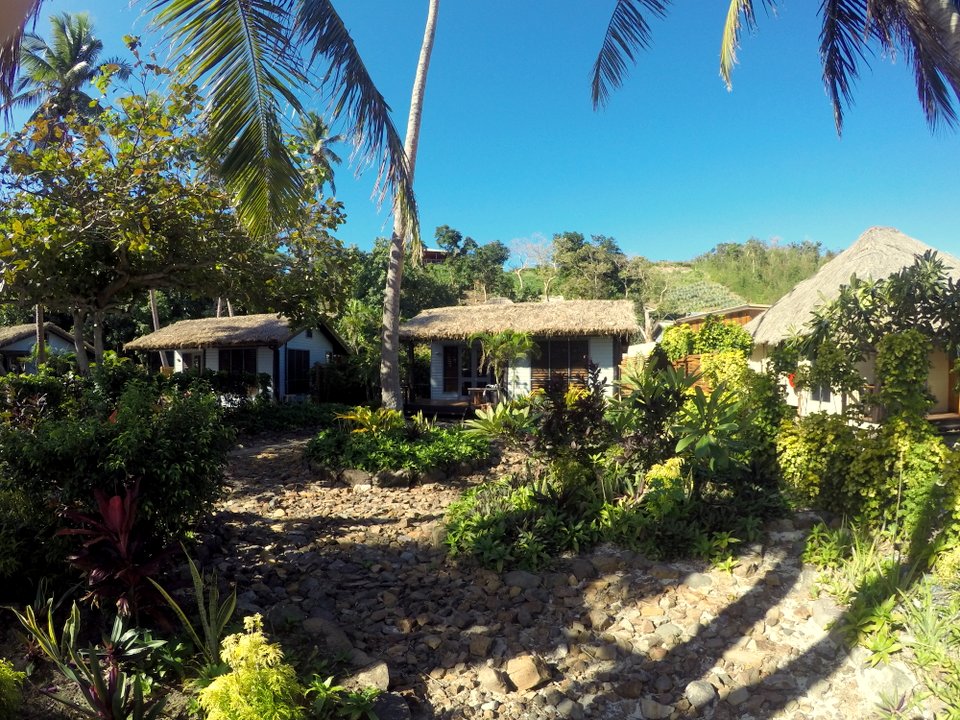 Map of Yasawa Island Resorts
If you click on the tiny box with the little arrow next to the works "Map of Fiji" it will expand and give you more options for viewing other places and things around Fiji.
---