Fiji Weather: Warm, tropical and humid
The north-west side of the main island of Fiji, Viti Levu, tends to be slightly hotter, less humid and drier. The south-east side gets more rain, which raises the humidity. This means if you're planning on staying around Pacific Harbour expect a lot more rainy days then staying around Nadi and the islands.

Perfect swimming weather all year round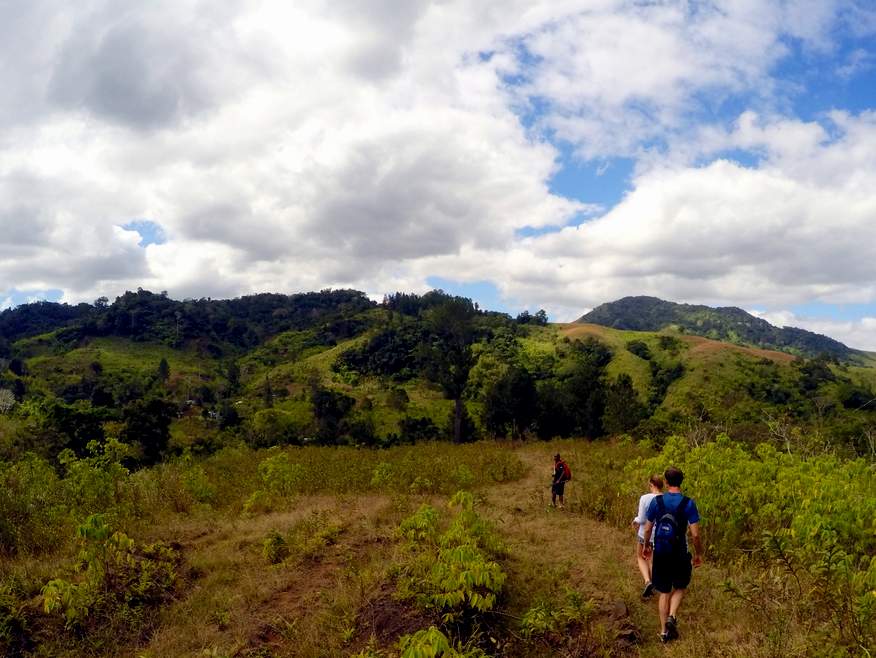 The cooler months are the best time for walking
Fiji weather forecast for Nadi: next 7 days...
Localized Fijian Climates
As a general rule, the main islands, Viti Luvu and Vanua Levu tend to have slightly higher rainfall that the smaller outlying islands. And the further north-west that you go, as you would expect it, the dryer (and hotter) the climate becomes. Not so, our time in Savusavu was very wet compared to Nadi, Nadi was in a drought while Savusavu and Suva hills were covered in green grass. 

Many people like to take their Fiji vacations during the freezing winter months in NZ and South Australia. 
The average temperatures during these winter months in Nadi are around 26°C with an overnight low of 19°C. Plus the wind from the West starts to pick up this time of the year.

25/5/2015:   Our trip out to one of the islands last weekend was fantastic but we found the water to be a lot cooler then around December to February and the wind was a nuisance because it blew the sand along the beach and into our face, so we had to find a sheltered spot out of the wind but in the sun to warm up. Another reason for choosing this time of the year, is the lower humidity and less rain. The equivalent to a pleasant New Zealand summers day!
Why the south east is wetter
The trade winds come from this direction. This bring the rain clouds, which tend to drop their load once they make landfall. The main island of Viti Levu is broken into two by a mountain range that runs from top to bottom...this is the point at which the climate begins to change from wet to dry. I have spoken to people born and bred in Suva, and they have commented how difficult it was to aclimatize to the dryer conditions experienced in the west.

Even during the rainy season, most of the short heavy showers tend to be morning, late afternoon and night. So much of the day is rain free, and you can get out and about without getting wet and take full advantage of the warm clear tropical water to go snorkelling. Though you will notice many of the locals do carry an umbrella at all times!

Even in the so called "wet season" you can get plenty of lovely hot days and night without rain. Last summer we only had a hand full of days where it rained all day. Most of the time it rained late in the afternoon and very early in the morning, by 10am the sun had dried up all the surface water in time for us to go for a walk. Some people will find the Fijian summer months just too hot and humid. We are Kiwis and love the hot days and warm nights and to be able to go for a swim without freezing to death. If the night is warm and you are staying out in the Yasawa Islands in a small resort why not sleep out on the tropical beach, we did.  If you can't take that sort of weather, then think about coming to Fiji during April-August. There is less rain, less humidity, and the temperature is just about perfect for everyone.
Best weather source (besides our own personal opinion!)
If you want to get the real low down on the weather in Fiji then go to Fiji's weather website called www.nadraki.com
Fiji budget vacation weather report 
We live 500Mt away from the Northern end of the Nadi international Airport, if you know where to look you can see our house or we can see you as you fly in to Nadi. Every morning when we listen to the weather forecast over the radio or jump on the laptop to see what is happening in Fiji, nine out of ten times we should have taken no notice of the forecast and jumped into the car and taken off for the day. So now we just look out the window or ring a friend up in the highlands for a true weather forecast.

14-Oct 2015
7 am-   22c          12 pm- 24c              10 pm-24c
cloudy, all day, strong Westerly winds. No rain, thunder storms predicted.
15-Oct
7 am- 22c             12 pm- 25c              10 pm- 25c
Cloudy all day, strong winds, No rain but thunder storms predicted
16-Oct
7 am-22c              12 pm- 27c              10 pm-25c
Cloudy all day,  light Southey wind,   2 Pm, 25c, no wind, light rain till 4.30Pm. Rained all night
17-Oct
7 am-23c               12pm- 27c              10 pm- 25c
Cloudy, light rain all morning till 1Pm, light southerly wind
18-Oct
7 am- 23c               12pm- 27c             10 pm-24c
Grey sky's all day, no wind, light rain off and on all day.

19th to 26nd Oct
Another perfect week, 23c in the morning with no cloud, then up to 28c at 12am.  Light grey cloud over in the late afternoon but no rain, which we desperately need. By 10pm the temp dropped to around 23c .  All week there has been a good strong wind for the south and the West

26 Oct to 2 Nov. 
No real change in the weather, just one full day of grey clouds, but no rain, that night 10pm it was very hot 27c. I took the temp of the bonnet of my black car 71c, yes; I know why did I buy a black car on a tropical Island??? It was cheap. The temp of the concrete footpath was 43c. The temp in the shade was 28c. If you are trying to work out how I took the temp of the footpath, I used a Fluke Laser Thermometer, it also comes in handy for making homemade coconut soap!
9th Nov 
Another warm week in Nadi, with no sign of rain. Day light saving started this week. One thing is for sure the wells are drying up in the Nadi district. The council is shipping water out to the small villages that are not on town supply. 7am still sitting around 25. 12pm creeping up a little to around 31c .10 pm 26c to 28c till around 3 am. Clouded over in the afternoon with moderate Westerly and southerly winds. We spent five days down in the coral coast, it was very windy and cloudy.  We had two out of the five nights with light rain. The temp was around 22c in the morning and at night, and 28c midday.  We had to hunt down a blanket for the bed.

16th Nov
7am, 25c   =    1200 pm, 30c  = 10 pm, 25c 
Another hot week, rain was predicted, but not one drop has fallen on our house. The locals are saying it should be raining  by now. The Westerly winds are helping to cool our house down, but it is also blowing the burn off from the sugarcane through our house.  The Government is helping out with drought relief in the Nadi area. They are supplying water trucks, water pumps to the villagers and digging deeper wells for them.
23rd Nov
At last the predicted possibility of rain in the afternoon came true, after three months they got it right. The first day of rain was around 5pm and lasted fifteen minutes. The second day again it rained in the afternoon around 1pm. This shower lasted five minutes. The third day, around 5pm we had a two minute shower; the road was dry bone dry within ten seconds. The forth day we were back to hot sunny days with a light Westerly breeze
30th Nov.
We are heading back to NZ on the first of December to catch up with the family and to head off into the bush for a few days. If we don't freeze to death, we will be back in Fiji, the first week in February, the hottest month of the year. So far this week it has not changed at all, still hot with some high cloud hanging around. NO Rain.
In the morning 10am the wind is just starting to pick up, but drops off around 4pm. The best place to be around 1pm is on the beach catching the Westerly coastal winds. 
7Am, 25c   =    1200 Pm, 30c  = 10 Pm, 25c 
Merry Xmas and a Happy New Year.
--------------------------------------------------
We arrived back in Nadi on the 1st of February to a very warm 31°C. What a shock to the system after two months in cold NZ.  We would have to arrive back in Fiji in the hottest month of the year.
1st  Jan
Another very hot week. We had two short five minute rain storms, one on Tuesday afternoon at 3 pm and one on Saturday afternoon at 3.30pm. When the black clouds passed over Nadi the sun was out drying up the remainder of the surface water within minutes. As for the wind, nonexistent. Very still in the morning but it does picks up slightly around mid afternoon then drops off around 8pm at night, not much of a help with the 28°c at night. As for having a shower in the afternoon to cool down that does not happen when the water temperature of our cold water tap at our apartment has been steady at 31°c around 1pm.  What has been very enjoyable and what you would expect in Fiji is the warm sea temperature, 26°c at Natadola beach on Sunday afternoon. Natadola beach is just 54 Km South from Nadi. The temperature this week have been 
7am 27°c          12pm   33°c             10 pm 28°c 
MONDAY   8/02/16
High cloudy still hot 33°c in the Shade
TUESDAY  
Light, off and on drizzle throughout the day. Warning, a cyclone is going to hit Fiji this week???
WEDNESDAY
29°c in or apartment.  Rained all night
THURSDAY 
Light rainfall all morning 26°c – rain stopped at 11am 28°c at 1400H
FRIDAY
Fine in the morning, medium rainfall at 6pm, lasted 20 minutes
SATURDAY  
Heavy rainfall all night. Cloudy all day, but no rain. Where is the cyclone?? We are waiting.    
SUNDAY
Hot all day, 33°c. Water temperature out of the cold taps 31°c. Light rainfall last night 30°c by 10pm
MONDAY 15/02/16
7pm Light drizzle, cloudy all-day, good breeze from the South. 29°c pm. Rained last night
TUESDAY - 10 am, hot and sunny 28°c. Cloudy by pm. Still no cyclone ???
WEDNESDAY - Hot sunny day 30°c, cloud in the pm
THURSDAY  -  7 am 27°c – pm 31°c and cloudy.  A cool night
Friday - 7 am 27°c.  No cloud. pm 33°c light cloud
SATURDAY - 7 am, Cloudy 27°c and moderate Westerly  winds. Light intermittent rain. At 1pm, Cyclone Winston was 200 km north east of Nadi. 3 pm wind gust up to 33 km and picking up,  27°c cloudy and light intermittent rain so far. A curfew is in place over the whole of Fiji as from 6 pm. No driving. 8 pm wind speed up to 70 kph plus all the power over the whole of Fiji has been turned OFF
10 pm Holding on tight to our concrete apartment. Wind speed at least double, The Suva Express train is speeding down both sides of our bedroom making everything in our apartment vibrate.  The rain is gushing through the alloy joinery on the Western side of the apartment flooding out the kitchen and living area. 3 am, all quiet. heavy rain. Sunday, Rain off on all day, wind down to 18 kph cool 30°c. The local's are worried the river is going to flood Nadi town again.
Monday 22nd Feb 2016
7 am 27°c, blue sky, pm 30°c, very humid.  No power and No water. Supermarket and small shops with generators are open, the same for petrol station. Three quarters of Nadi town is closed 
Tuesday - No power and Water. Heavy rain last night. Nadi river dropping.  pm 33°c. thunder and lighting.
Wednesday - No power, the water is just a trickle. 3 am 24°c, 7 am 27°c, pm 32°c, light rain very humid. 
Thursday - 7 am No power no water, no wind and hot 27°c. pm hot 31°c.
Friday - 7am, 25°c. A cool night 24°c.  Light rain pm 28°c.
Saturday - 7 am 27°c. Light wind from the West pm 28°c.
Sunday - No power and water. Back to 31°c days, light winds no rain.
MONDAY 29/02/16
We are back to normal hot weeks. We had a couple of good cool night temperature of around 24°c then by 7am it is backup to 26 °c. This is short lived with temperatures up 32°c by lunch time.  This week we had two very light showers at night which lasted only twenty minutes. The wind has been blowing in from the North and the East at around 20 Km/H.  The power is still unreliable, we have had three days of no power from 6am till 2pm.  But on Saturday, there was no power cuts because of the 7 rugby matches, which Fiji won, naturally.
MONDAY   14/03/2016
Not much of a change this week still 28°c at 10am and 30°c at 1pm, in the shade. At 8 pm we are sitting at 27°c , just cool enough for a game of squash.  We had five minutes of rain on Friday night and that was it for the whole week. The westerly winds make the 30°c liveable. But in Nadi Town there is very little wind to keep cool. Over the weekend there has been a light cloud build up in the morning but that disappears by the early afternoon.
MONDAY   21/03/2016
Monday and Tuesday night around 5pm it rained for ten minutes. Sunday was cloudy all day then we had light rain from 5pm to 10pm, otherwise still sitting at 29°c around 1pm with a good Westerly wind, and 26°c at night
MONDAY   28/03/2016
Throughout the week, fine hot days, 28°c at 8am & 31°c at 1pm, with cloud build up around 3 pm.  Friday & Sunday night the rain started around 5pm but it was short lived. Monday & Saturday was a different story. Very heavy rain right through the night, bringing the night temperature down to a comfortable 25°c
MONDAY   24/4/2016
Monday through too Saturday was a normal week 28°c at 8 am & 31°c at 1 pm, light cloud started to build up around 3 pm but no rain.  Sunday  black clouds building up all day then down it came at 3 pm and has not stopped, 4 pm Monday Nadi town is flooded out.  
MONDAY   4/4/2016
Heavy rain all night Sunday. Monday raining all day, flooding all around Nadi. Nadi town closed to all traffic. Road South to Suva closed. Port Denarua road 4x4 only. 25°c all day.
Tuesday.  Raining hard all day, streets around us are flooded. Sitting at 26°c all day       
Wednesday. Light rain all day. Flood waters receding
Thursday.  The sun is out, still no power     
Friday.  Sunny up to 1pm, heavy black clouds but no rain a cool 23c at night, power back on at 6 pm.      
Saturday.  Sunny up to 3 pm, light rain for one hour. Sunday. Hot all day 
Monday 11/4/16
We had a good hot week with light cloud cover in the morning followed by a hot afternoon 29°c. We had two days of no wind at all 31°c and one day with a five minute sprinkle of rain late in the afternoon.  
Night temperatures are sitting around 26°c at 9 pm to 24°c very early in the morning
Monday 25/4/16
We had another hot week with light cloud cover in the mornings followed by hot afternoon 31°c. We had two days of no wind at all and one day with a five minute sprinkle of rain late in the afternoon. Night temperatures are sitting around 26°c at 9 pm to 24°c very early in the morning          
Monday 2/5/16
A good week again, windy most of the week, this lowed the temp down to around 28°c but cool 22°c early in the morning, 5 am. Sunday morning, light rain until 9 am them back to 28°c.
Monday 9/5/16
Another fantastic week in paradise. Hot, sunny and cloudy with very little wind and NO rain. Still sitting around 25c at 7am, 31c at 12pm and 27c at 10pm
Monday 16/5/16
Another fantastic week in paradise. Not too hot because of the high cloudy and a light breeze and no sign of any rain.  Early in the morning (3am), the temperature has dropped down to 21 °c. Still sitting around 25°c at 7am, 29°c at 12pm and 27°c at 10pm.
Monday 23/5/16
This week we have had cloudy mornings with temperatures sitting around the 25c mark. But by midday the temperature have shot back up to 29c, a light breeze has helped to keep the temperature below 32c . Still no sign of any heavy rain but on Sunday morning we woke up to see puddles of water on our drive way.  In the morning I have to get up and throw a blanket on top of the bed, We go to bed at 27c  but wake up to a freezing 19 °c, around 3 am. 
Monday 30/5/16
This week was the same as last week.  A little on the cloudy side but not a drop of rain.  The midday temperatures are down to around27 °c
Monday 13/6/16
This week we ended up with 4 hours of rain on Thursday night which gave us a cooled Friday.  The mornings have been fantastic with no breeze and temps of 18 to 23°c with light cloud build up in the afternoon. The day temp is sitting around 27°c in Nadi and 24°c up in Nausori Highlands. We spent three days at the very top of the Yasawa Islands it was perfect.
Monday 20/6/16
We spent six days in the Yasawas Islands, it was perfect. 28°c around midday and a cool 22 °c very early on in the mornings. Throughout the week there was a strong Westerly wind blowing all day.  So the best resorts to be booked into were on the Eastern Side the Yasawas Islands. Tuesday and Wednesday morning, around five o'clock, it rained for fifteen minutes and that was it for the rest of the week.
 Monday 27/6/16
There was no change in this week. No rain or showers in Nadi but light rain in the highlands and heavy rain Suva, but a light cloud build up in the afternoons. Still very cool early in the morning with temperatures around 28c midday. 
Monday 4 /7/16
Another perfect week. light cloud around, still no rain 
Monday 11 /7/16
Most of this week has been cloudy with the temp down to a cool 26c midday and 22c in the evening,but no rain in Nadi Yet?
the wind picked up later in the week 
Monday 18 /7/16
Monday & Tuesday 25c all day but down to 22 in the evening.
Monday 25/7/16
we spent of this week in the Yasawas Islands, the weather was perfect.  We had three day of strong winds and big seas. the night temperature was around 22c at 10 pm.  and 27c in the shade during the day. 31c out in the sun. 
Monday 1/8/16
We had the first decent amount of rain for five months on Monday night, it lasted seven hours. Saturday,high rain clouds all day, it started to rain at 3 pm. Rain all day Sunday, at 22c
Monday 8/8/16
off to a good start, Monday it rained all day. Thursday morning the sun is back. 25c at 8am
Monday 15/8/16
Monday, cloudy all day and a cool 25c
Tuesday, started off with light raining at 11 am and did not stop till late that night.
Wednesday,  light rain all day. 23c at 3pm.
Thursday,  cloudy in the morning with no rain. In the afternoon the sun just popped out for a few hours  
Friday, back to light rain all day.
Saturday, rain off and on all day, 9 am 20c
Sunday,  Back to a perfect day in Nadi, sunny
Monday 22/8/16
No change this week. Cloudy in the morning at 24c then back to 26c in the afternoon. The night are starting to warm up, the extra blanket is going back into the drawer.  No rain this week.
Monday 29/8/16
Not a lot of change in the weather this week, the cloud has changed to the late afternoon. still sitting at 26c during the day.
Monday 5/9/16
This week we took off for a seven day cruse around Fiji. The weather over the first five day  was very good 27c the last two days was cloudy and windy, 24c.
Friday 30/9/16
This month has been dry, with just 30 minutes of rain late on Tuesday night, 27th.with comfortable cool nights. The days have been sitting around 26c , just right for long walk along the beach.   
Monday 3/10/ 16
Outside temperature at 10 Am, in the direct sunlight is 31c and in the shade 27C  with a light breeze 
Monday 10/10/ 16
Fiji day,  we were out in the Yasawa islands for a week.  Monday and Tuesday we had a mini hurricane. Wednesday morning we were back to hot tropical weather.  Just with in a week we are climbing very close to 30c temperatures. Sunday night we had light rain for 45 minutes
Monday 17/10/ 16
Light rain on Monday, Tuesday night for 20 minutes, the rest of the week hot  27c with light wind.
Average temperature chart for Nadi and Suva
| Nadi | Jan | Feb | Mar | Apr | May | Jun | Jul | Aug | Sep | Oct | Nov | Dec |
| --- | --- | --- | --- | --- | --- | --- | --- | --- | --- | --- | --- | --- |
| Av Max °C | 31.6 | 31.5 | 31.1 | 30.6 | 29.8 | 29.2 | 28.5 | 28.7 | 29.4 | 30.2 | 30.9 | 31.4 |
| Av Min °C | 22.7 | 23.0 | 22.6 | 21.7 | 20.1 | 19.3 | 18.3 | 18.4 | 19.3 | 20.4 | 21.5 | 22.1 |
| Rainfall mm | 299 | 302 | 324 | 163 | 78 | 62 | 46 | 58 | 77 | 103 | 138 | 159 |
| Rain Days >0.1mm | 18 | 18 | 19 | 12 | 7 | 6 | 5 | 5 | 6 | 9 | 11 | 13 |
| Suva | Jan | Feb | Mar | Apr | May | Jun | Jul | Aug | Sep | Oct | Nov | Dec |
| --- | --- | --- | --- | --- | --- | --- | --- | --- | --- | --- | --- | --- |
| Av Max °C | 30.6 | 31.0 | 30.6 | 29.7 | 28.3 | 27.6 | 26.5 | 26.6 | 27.0 | 27.8 | 28.8 | 29.8 |
| Av Min °C | 23.6 | 23.8 | 23.5 | 23.1 | 21.9 | 21.4 | 20.4 | 20.5 | 20.9 | 21.7 | 22.5 | 23.2 |
| Rainfall mm | 315 | 288 | 371 | 390 | 267 | 164 | 142 | 159 | 184 | 234 | 264 | 263 |
| Rain Days >0.1mm | 23 | 22 | 23 | 22 | 20 | 18 | 18 | 17 | 20 | 19 | 19 | 21 |