Come and explore Fiji on a private tour from Denarau, Lautoka or Suva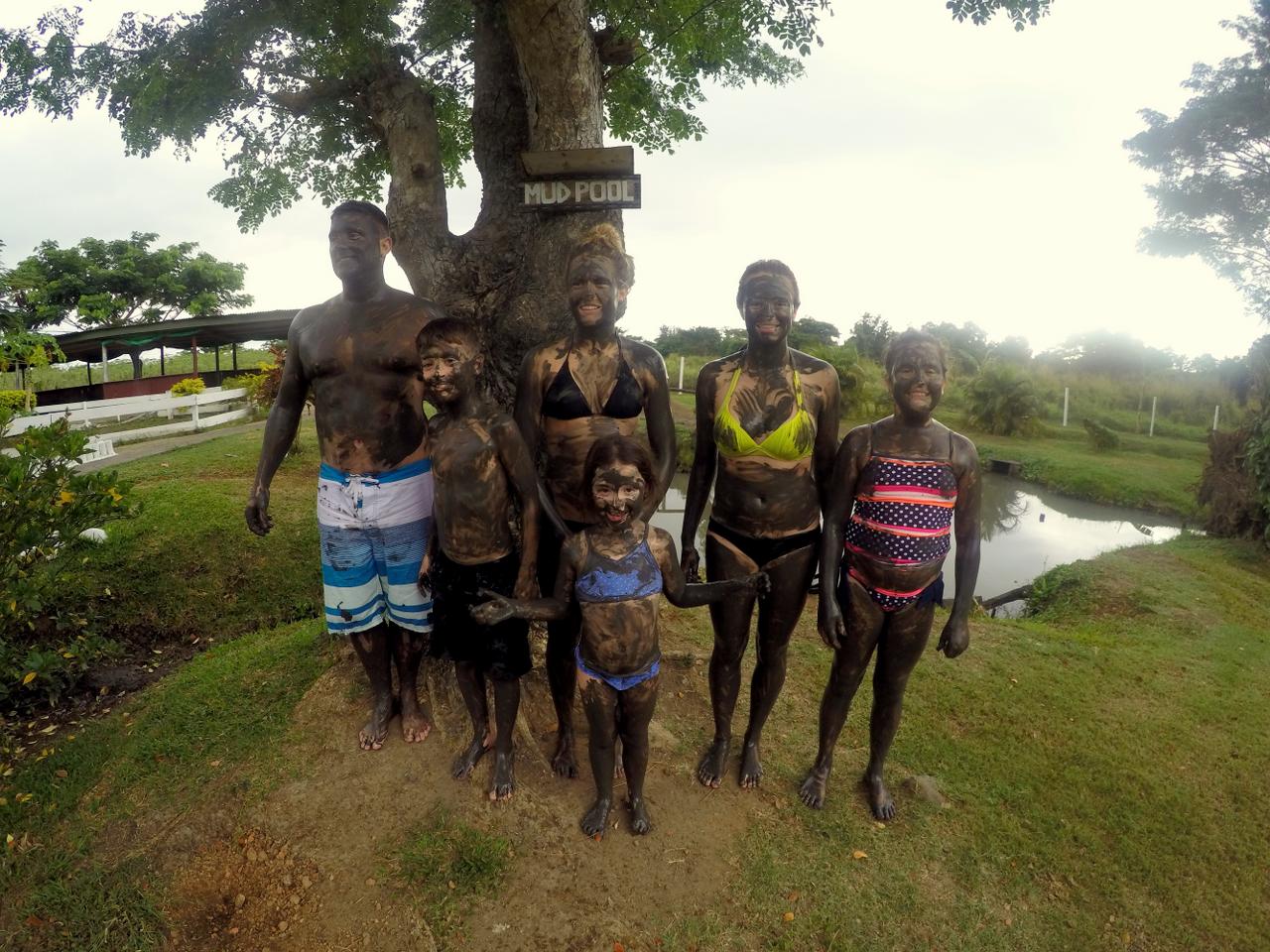 Mud Pools and Hot Springs, great activity for the whole family
Do you have limited time in Denarau, Lautoka or Suva to see the sights? Perhaps you are here on a business trip, or your cruise ship is in port for the day. Don't waste your precious time trying to find your way around by yourself. Take a personalized guided tour, and see the things that you want to see, not what some tour company decides you should see! 
When we say personalized, that is exactly what we mean
Generally, when you book a tour you go in a group. You see the sights or do the activities that are specified on that particular tour. But what happens if there are some things you want to see or do, that aren't listed on any tour itinerary? Something that has been rather lacking in the tour industry (until now) is a way for you, the customer, to say what you want to see, do what you want to do, rather than just taking whatever tours happen to be on offer. Designed with cruise ship passengers in mind, flight layovers or just add into your airport transfer to fill in time.
So we have devised a new approach to tours. You book the day, rather than a set itinerary (or 1/2 day if you prefer) and we work with you through a list of possible sightseeing and activities, to arrive at a tailor made trip that is just for you. You will not be part of a group, unless you decide to invite friends along to share costs. After all, why should we decide how you spend your day, or who you spend it with?
Tours by a local Fijian expert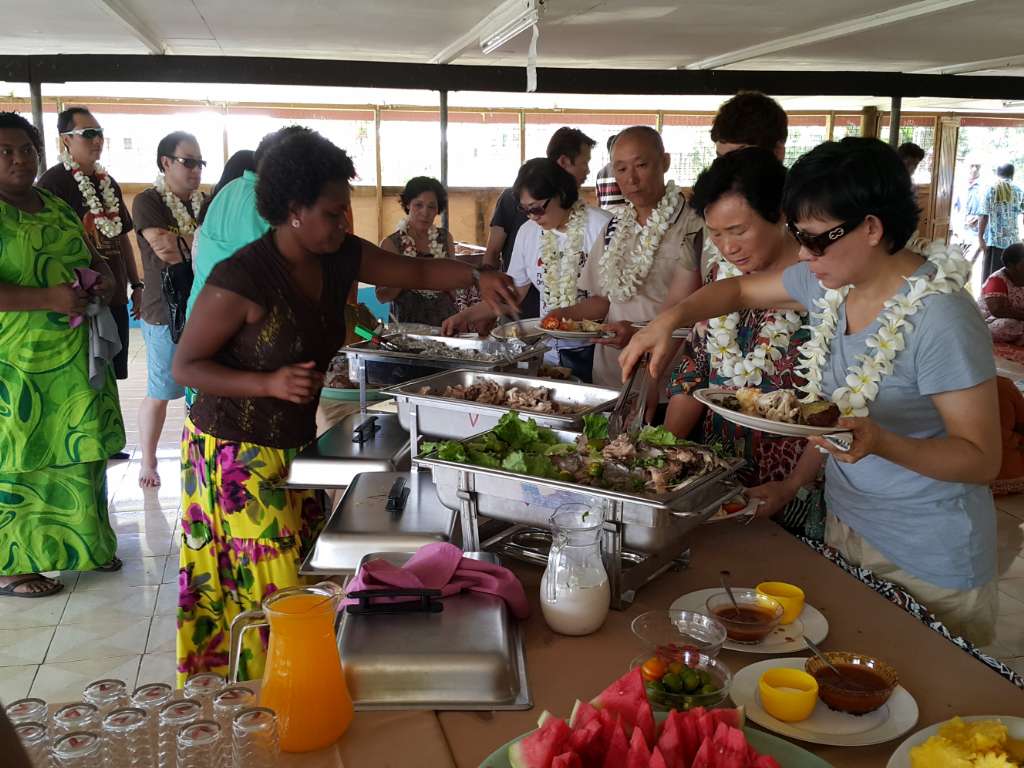 From small groups of just 2 to big groups all are well catered for in the village at lunch time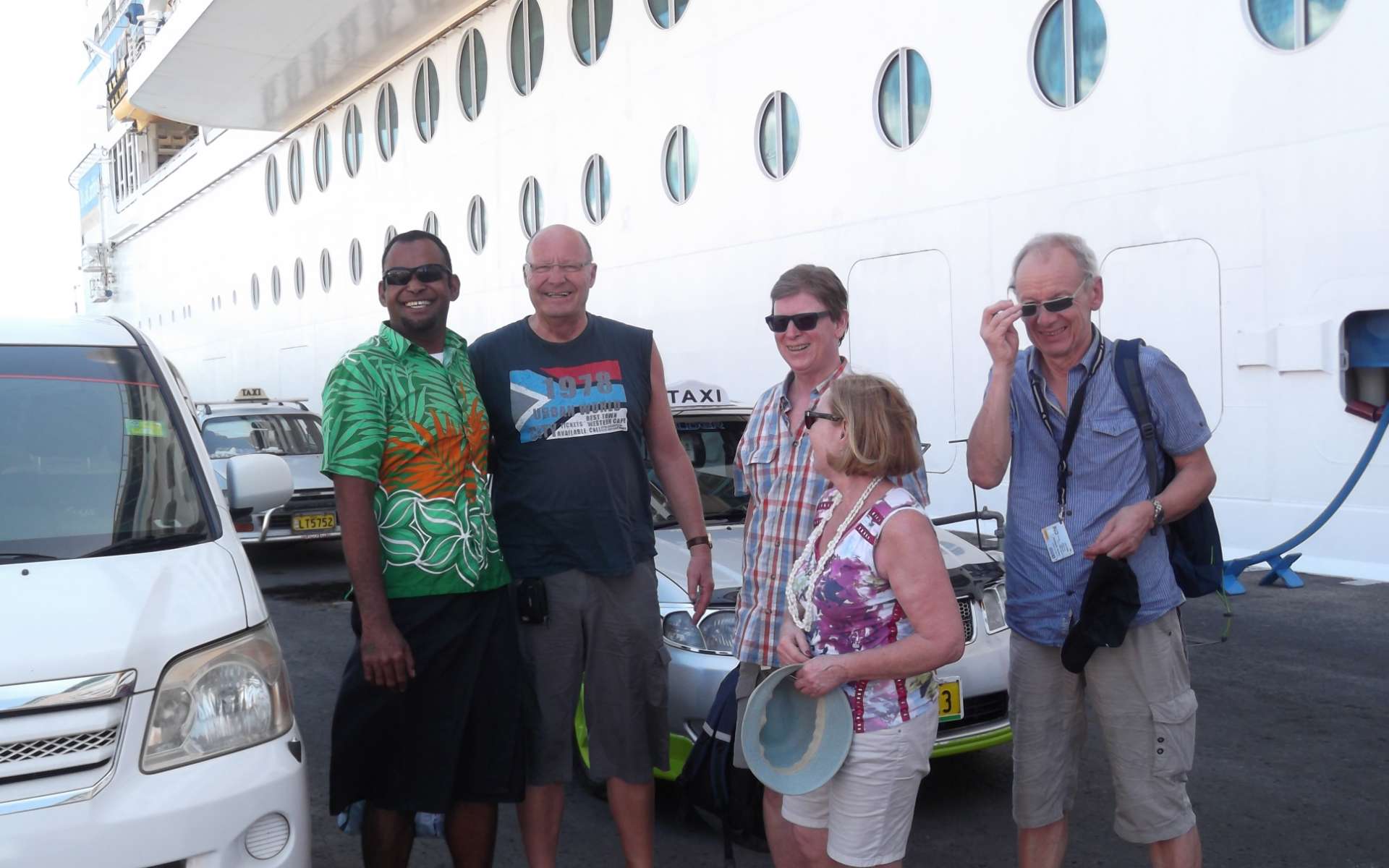 Joe picking up a group from the cruise ship ready to tour from Lautoka Wharf
We have a small team of local guides who are experts at this kind of thing, local people with extensive knowledge of the area, and an enthusiasm to share it with you. They have all been involved in the Fiji tourism industry for many years, and are ready to show you their Fiji. 
They have  modern A/C saloons, larger mini vans, and small coaches if you decide to organize a group of friends to split costs. Your guides can make or break a tour. There is nothing worse than feeling that you are just another customer. But that is hardly ever the case in Fiji... people are genuinely pleased to see you, and the legendary Fijian warmth and hospitality shines through with everything they do.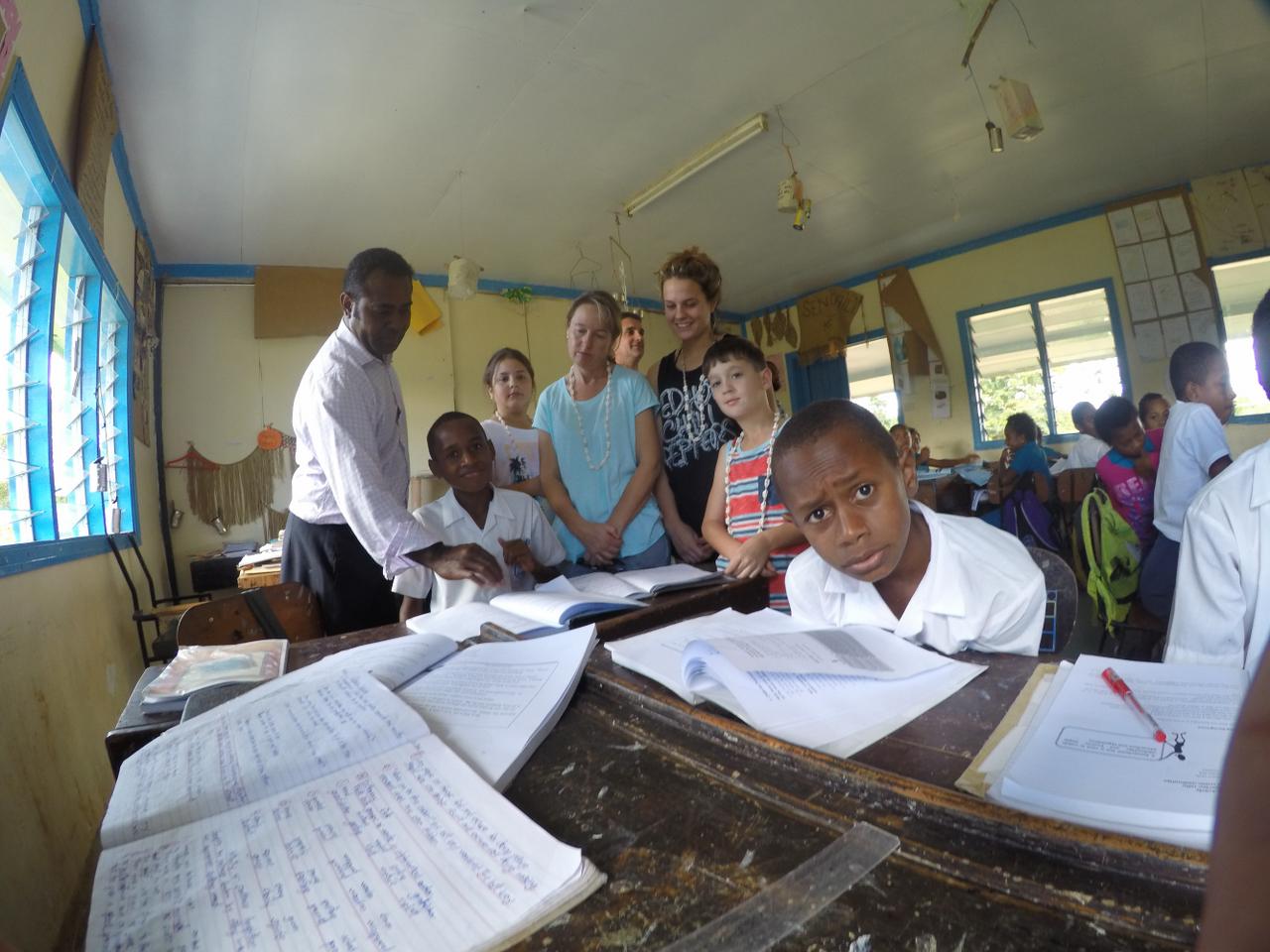 Typical day at a local highlands school
What sort of things are there to see & do in Denarau, Nadi or Lautoka?
First thing to do, is make a decision as to a theme for your tour. For example, are you interested in culture, natural history, shopping, or perhaps just general sightseeing? 
If you are on a cruise ship, then you have approximately 6 hrs, which gives us enough time to thoroughly tire you out (we are used to cruise ship schedules, and the importance of getting you back to the ship in time). We have extensive knowledge of the area and contacts throughout Fiji, and can organize almost any type of day trip.
Things to see and do in Nadi or Lautoka...
Explore the Nadi, Lautoka or Ba Town Fresh fruit and veg market and get a rundown on what the locals eat and how they cook. In Lautoka you can also visit the fish market next to the wharf.
Visit the largest Hindu Temple in the southern hemisphere, reflects an architectural style rarely seen outside India, and houses sacred statues designed by craftspeople brought over from India. Entry fee $8 pp FJD
Visit The Presidential Village of Viseisei (meaning to "spread out") is fabled to be near the place where the Fijian people first settled Fiji about 3500 years ago.
The Garden of Sleeping Giant is a beautiful orchid range started in 1977 by the late Raymond Burr, star of Perry Mason and Ironside. Originally designed to house Burr's private collection of tropical orchids, the gardens have developed into a popular attraction after years of flourishing. Raymond Burr loved these orchids just as much as he loved Fiji.  Entry fee adult $18 pp FJD, kids (6 to 15) $9 FJD and Families $45 FJD.
Visit the Aviva Farms, take a ride through the Sabeto Valley and understand the history according to its people, plants and culture. Enjoy other awesome activities such as horseback riding, horse races, an indigenous species nursery tour and agricultural training. Garden Tour fee adult $25 pp FJD and kids (below 12) $15 FJD. Horseback Riding fee adult $60 pp FJD and kids (below 12) $30 FJD. Garden Tour and Horseback Ride Combo: Fee adult $75 pp FJD and kids (below 12) $40 FJD.
Visit the Rise Beyond the Reef - NGO Shop

, discover the beauty and intricacies of authentic Fijian handmade products, all made by communities in remote parts of Fiji. You'll drive right past the shop on your way to the Mud Pools, just after the Garden of the Sleeping Giant.

Take a dip at the Sabeto therapeutic Mud Pools & Hot Springs followed by a traditional Fijian Bobo (Massage) by the Fijian ladies of Sabeto village (optional). Entry fee $20 FJD pp
Visit the Zip Line and enjoy zipping over forest and streams. Entry fee $75 FJD pp

Do the Waterfall Walk and enjoy a much deserved swim.  Takes around 20 mins one way and not suitable for push chairs.  Entry fee $25 FJD pp
Visit to the Momi gun emplacement - on the way to Natadola Beach

Visit to Natadola Beach with optional horse riding and massage. Stunning white sandy beach.
Stop in and see the kids at a local Orphanage or School
Church on Sunday experience the wonderful singing voices of the locals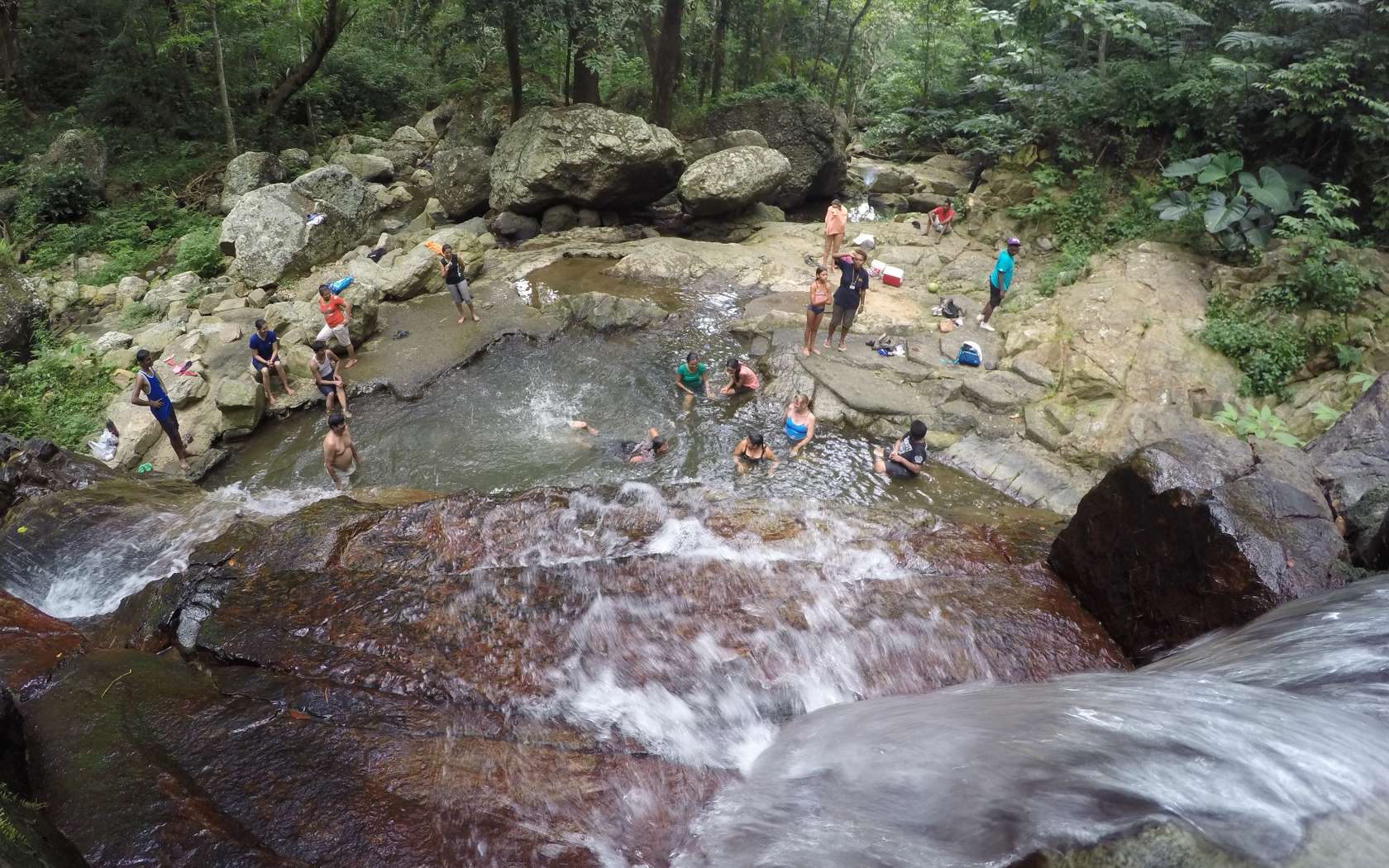 Enjoy a lovely swim at the waterfall on a Nadi or Lautoka tour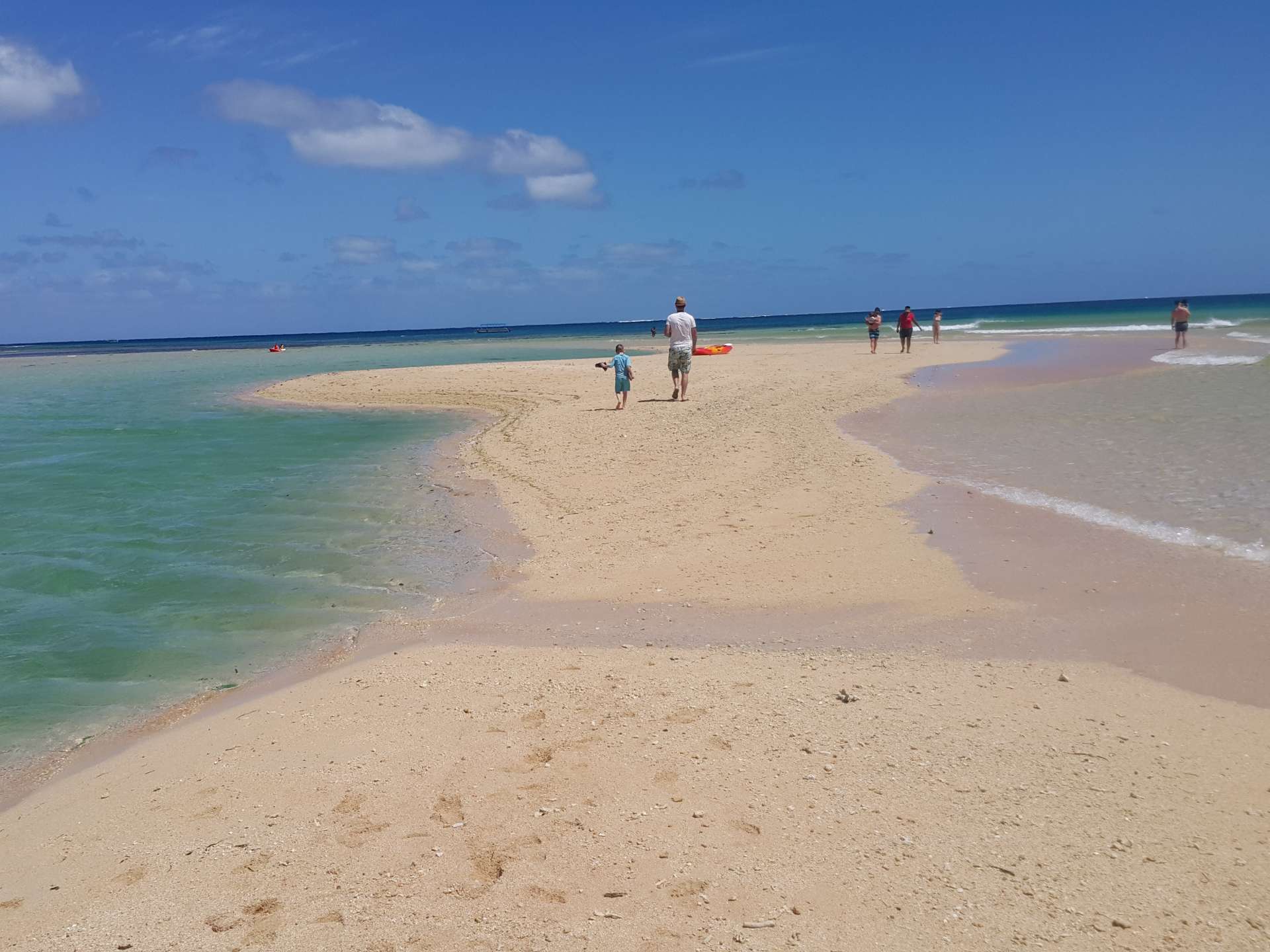 Stunning Natadola Beach, great swimming and soft white sand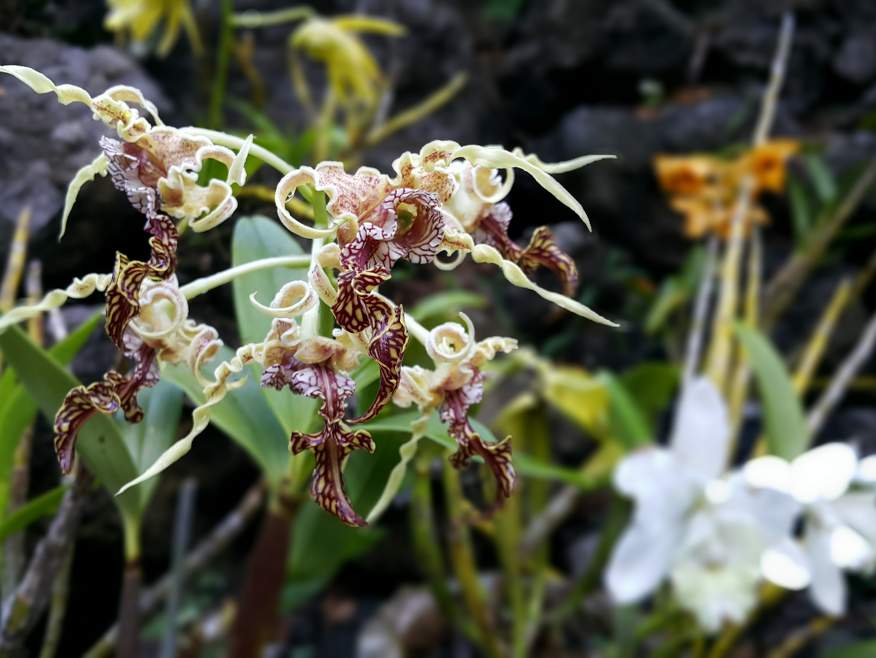 Visit the stunning Orchid gardens at Sleeping Giant
Things to see and do in suva
Just pick what you want to do and we'll supply the car and local guide for your Suva Tour.
Explore the Suva Fresh fruit and veg market, the biggest and most diverse in Fiji. Wonder past the fish market next to the wharf.
See the President's Residence and nearby Albert Park (where Kingsford Smith landed his small aircraft on his epic flight from USA to Australia in 1928)
Take a stroll around the lovely Suva Botanical Gardens at Thurston Gardens
See the majestic, fully renovated and historic Grand Pacific Hotel
Suva Museum - Opening hrs: Mon-Thurs: 9:00am - 4:30pm; Fri: 9:00am - 4:00pm; Sat: 9:00am - 4:30pm. Entry fees: Adults $7.00; Children $5.00. Closed Sunday.
A special visit to Colo-i-Suva Village where you'll be greeted by Filial warriors dressed in traditional costume. You'll see an amazing demonstration of the Fijian entertainment with fire and knife dancing. Enjoy a traditional kava ceremony with the village chief. Lunch is a taste of lovo which is food cooked under an earth oven. Entry fee $35 FJD pp. Closed on Sunday. Will require pre-booking.
Visit the Colo-i-Suva National Park for walking and waterfall, take a swim depending on the weather. Entry fee $5pp FJD.
Visit the Fiji Spice Gardens, growing vanilla, pepper, nutmeg, cinnamon, turmeric, ginger, cardamom and many other interesting spices, cultivated and cured by our native Fijians. Open 7 days, Mon to Sat from 9 am to 4.30pm, Sunday 12pm till 4.30pm. Entry fee adults $10 FJD pp, kids 5 to 15 $5 FJDpp. 
Scenic drive along Princess Rd towards Nausori town
Church on Sunday experience the wonderful singing voices of the locals
Stop in and see the kids at a local Orphanage or School
Suva city for shopping at Tappoos or Jacks for souvenirs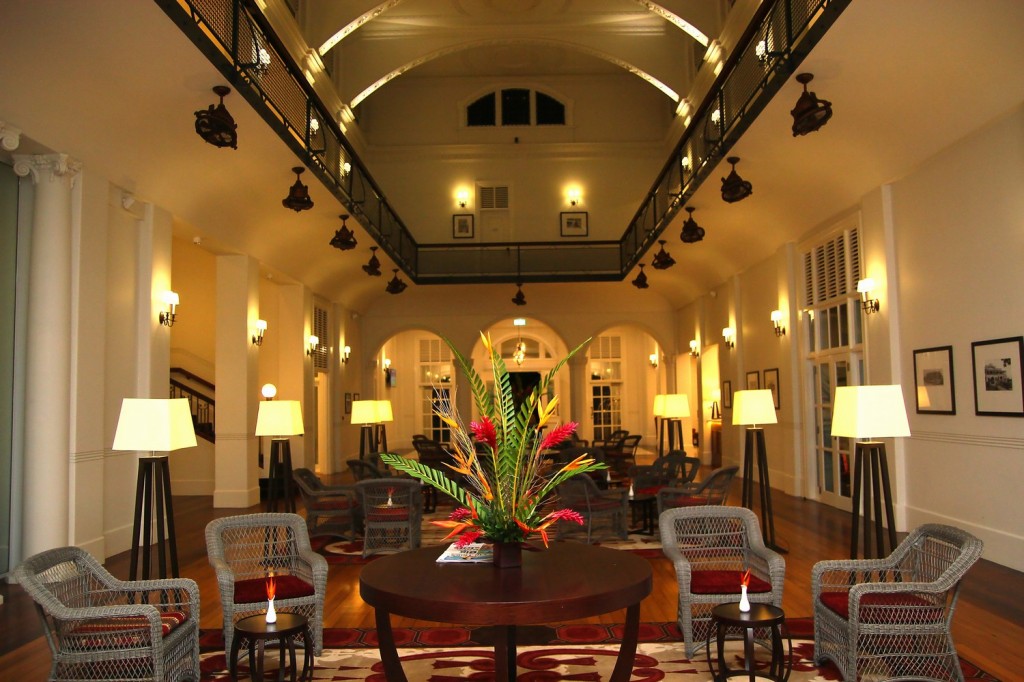 Newly renovated Grand Pacific Hotel in Suva, just stunning. Great little Swiss bakery shop there too.
Private Tour options...
The price is per vehicle, not per person and doesn't include any entry fees unless stated, it's just the vehicle, driver & guide. The more of your friends you get to accompany you to split costs, the cheaper this is. Start times are up to you to suit your docking/departure schedule no problem. Entry fees extra. Tours include Nadi & Lautoka or Suva.
---
---
---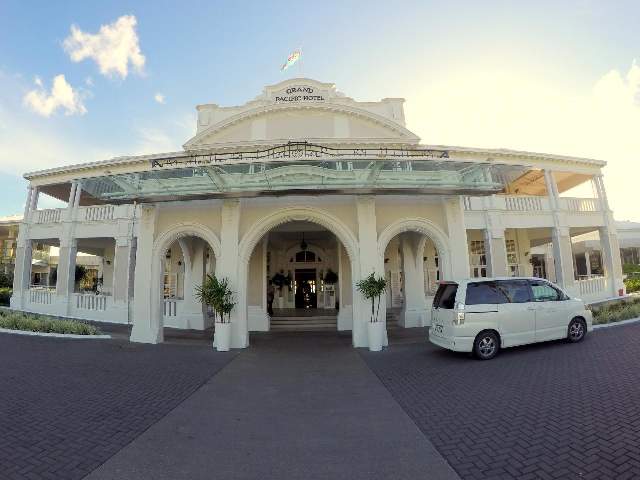 Fantastic 6 hour private guided sightseeing tour of Suva includes Colo-i-Suva village visit with lovo lunch, fire & dancing, Grand Pacific Hotel, President's Residence, Botanical Gardens, shopping & scenic drive. Suitable for cruise ship with all entry fees included. Priced from: FJD$169.00 per person.

---
---
---
---
---
---
---
---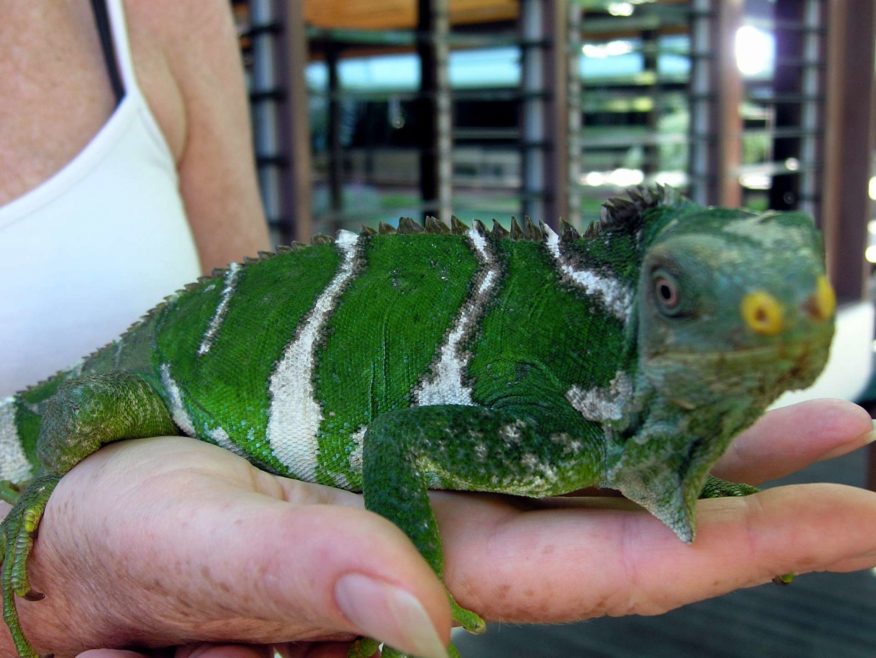 Great way to see 5 things all in the one day on the Coral Coast. Visit Sigatoka Fruit & Veg Market, Kula Eco Park, Lawai Pottery Village, Sigatoka Sand Dunes, Lunch at Natadola Championship Golf Course and relax at Natadola Beach. All entry fee included along with lunch. Priced from: FJD$199.00 per person.

---
---