Bula, and welcome to Nadi Fiji
As of 13 Mar 2017, the population of Fiji was estimated to be 903 684 people. This is from Country Meters website. According to their estimations, daily change rates of Fiji population in 2017 will be the following:
51 live births average per day (2.13 in a hour)
17 deaths average per day (0.70 in a hour)
-16 emigrants average per day (-0.68 in a hour)
Nadi town 11,685      
Nadi urban  42,284
Suva  town 74,481     
Suva urban  173,137
the Nadi town council has an area of 1,200 hectors.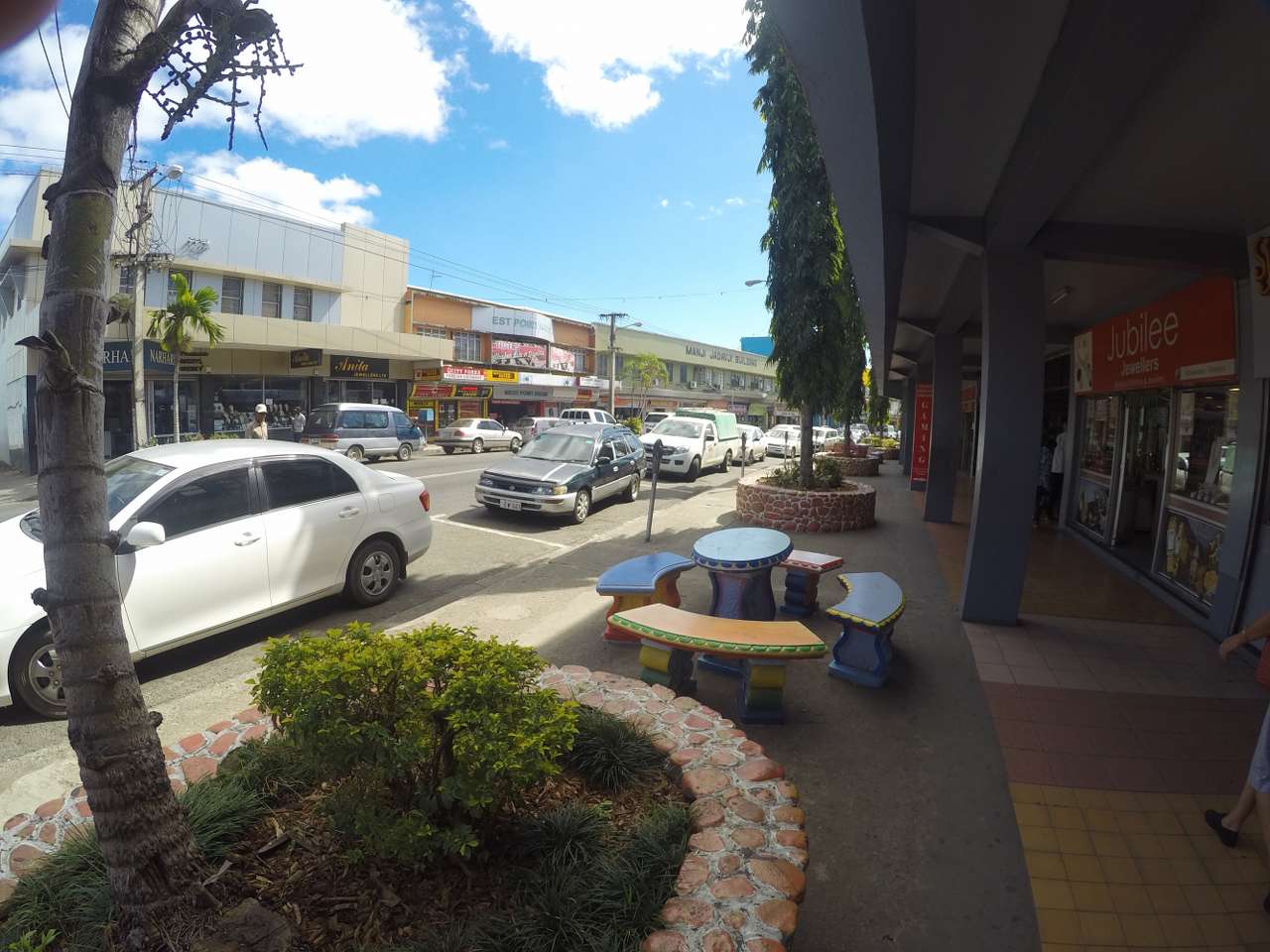 Nadi CBD
If you have never been to Fiji before, then you are in for a pleasant surprise when you first exit your aircraft at Nadi airport.  After hours in an air conditioned aircraft, the first thing to hit you is a wave of hot air. Nadi airport is near the coast, so there is generally a cooler sea breeze blowing... so shorts and T shirt are going to be all you will need for the rest of your vacation!

A central location
Nadi is a great place to use as a home base for exploring. Take some day trips to places such as the Garden of the Sleeping Giant, Mud pools, Nadi markets and bush walks into the highlands. Or just 8km down the road is Denarau Marine where all the island boat trips leave from.
Nadi Main Street
While we don't recommend walking the main street after 1am, especially Fri-Sat nights, we have taken a stroll down the main street around 8pm. Everyone on the street was very friendly, Bula Bula was called out with enthusiasm. No one hassled us at all. But walking down the main street during the day is a small hassle, you can get pulled into a shop by an over eager sales person.

I had to tell one guy to let my hand go right now in a very strong tone. You shake their hand when offered with respect, when they deliberately hold onto your hand and try to drag you into the shop, I will fight back. So if you don't want to be hassled your best option is to walk on the road side of the footpath stay away from the shop entrance.   

The main shopping center starts at the bridge that crosses the Nadi river, and goes for around 1 mile before ending at the Sri Siva Subramaniya temple. You will find banks and ATMs for both Westpac and ANZ (withdrawal limits from the ATM is $1000 FJD), as well as several Vodafone and Digicel shops, cloths, shoes and souvenir shops by the dozen, Supermarkets, chemist, jewellery, hardware, restaurants and small fast food outlets.

While we are talking about Souvenir shop, there is only one we recommend and this one is at the bridge end of town it is the fourth shop on the left hand side of the road. The rest of the souvenir shops you have to tread carefully. Or there are very nice shops at Denarau.
There are several nightclubs and bars towards the temple end of the road, which we suggest you avoid. They are "locals only" type of places. Your best option is to go to one of the seven resorts in Denarau or Martintar has a few good clubs. I know the Sheraton Resort has a very very good live band from 8pm till late every night.  If you don't like the band just walk five minutes along the waterfront to the next resort and so on and so on. 
Nadi Markets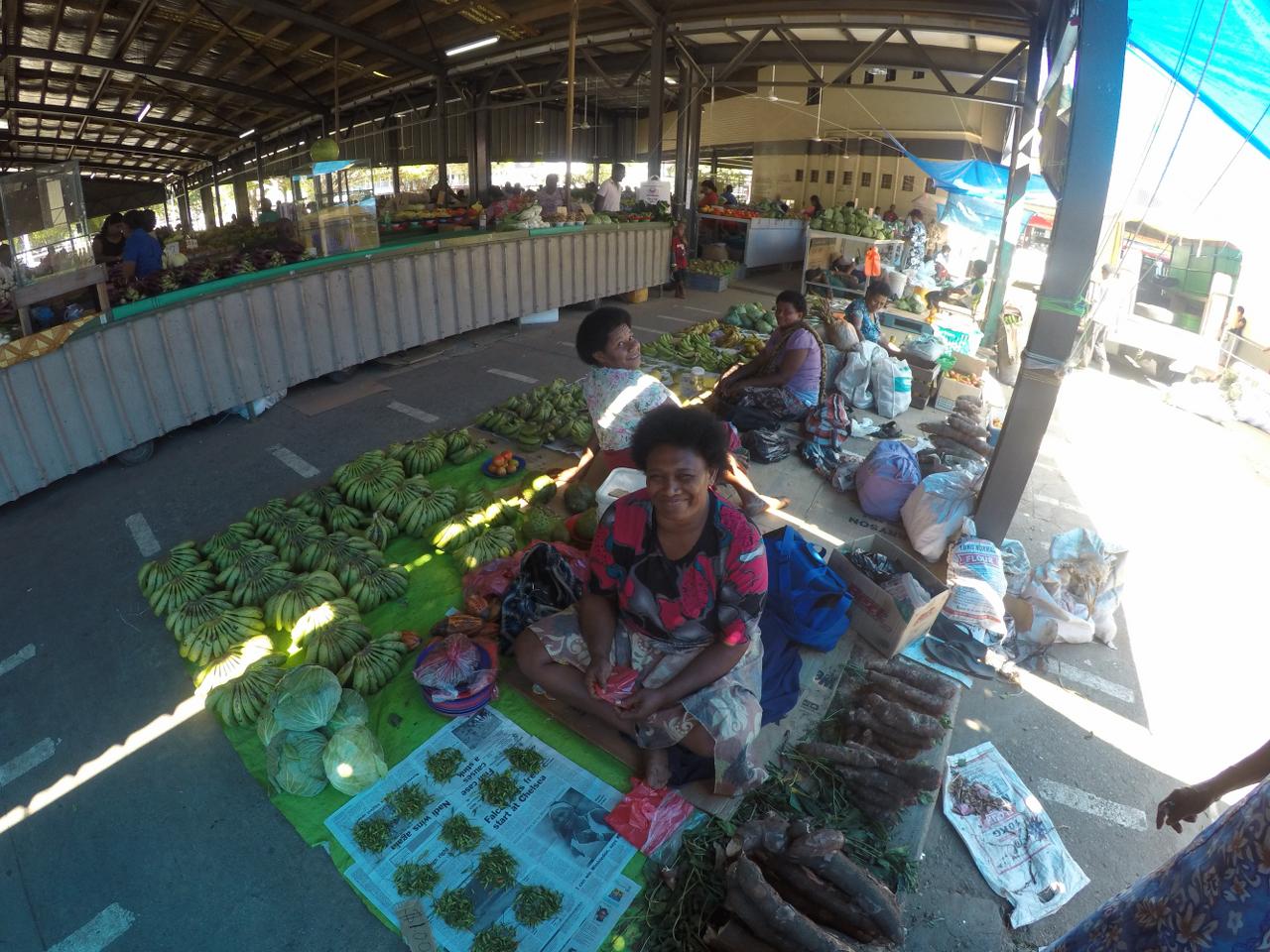 Nadi markets are located at the back of the main shops right next to the bus station. The best day to visit is on Saturday when all the local villagers from the highlands come down into town with their fresh fruit and veg. Fish is the best on Saturday too. Fiji bananas are much sweeter than back home and are abundant again since cyclone Winston knocked them all out. Tomatoes are field grown to produce juicy, rich red, full of flavour morsels, no glass house growing here.
You'll find airport hotels in Nadi are very convenient if you need to be close to the airport. There is only one hotel in Nadi town itself. Other accommodation in Denarau Island.
What's the beach like in Nadi?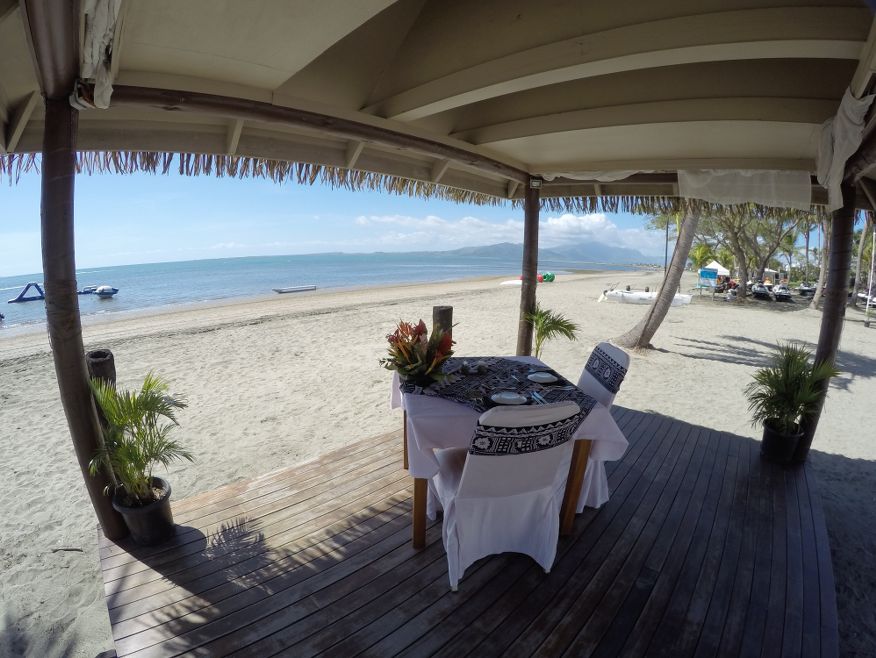 Beach out the front of Sofitel Resort, Denarau
The only real beach in Nadi is at Wailoaloa. But it's not much good for swimming, the water isn't very clear and lacking in sea life. However, it's a nice big long beach great for walking. The beach at Denarau is man made and not that great either. However, it does have nice soft white sand.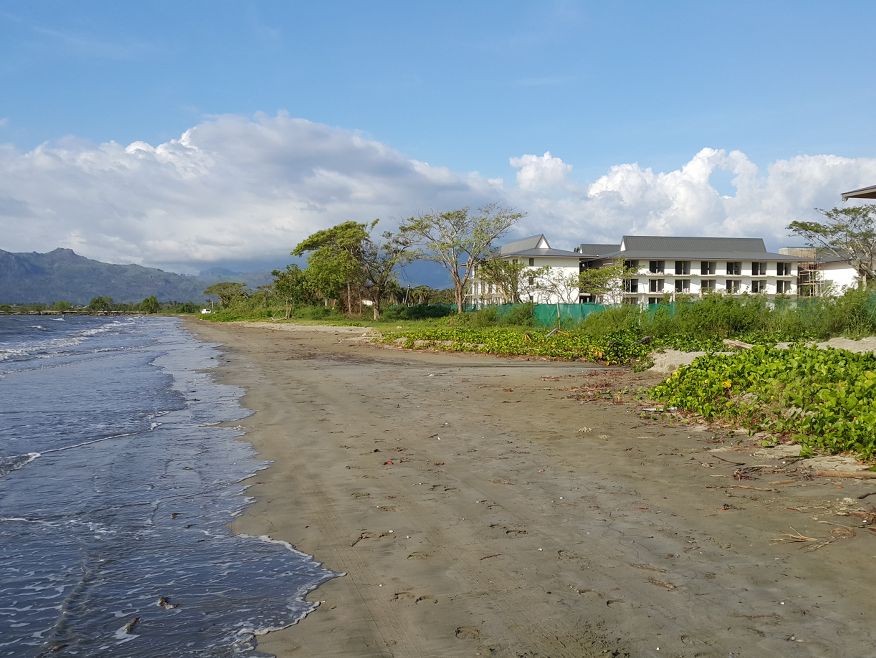 Wailoaloa Beach