Car Hire, Fiji - Find the Cheapest Car Rentals

This 2015 fully loaded Hyundai Tucson 4x4 with yellow plates is only $190 FJD per day or hire 4+ days for just $170 FJD

If you are looking to hire a car in Fiji, then you need to know the prices tend to be a little more expensive than you might expect. The reason for that, is the high import duty on vehicles. Prices to buy a vehicle in Fiji can be double or more than what you would pay for something similar in NZ or Australia. So hire companies naturally have to increase prices to cover the high costs of owning a fleet.

When renting a car you must make sure the car is registered with the government. This means the car must have a yellow number plate starting with the letters LR, (Licence Rental) followed by three numbers. You will be happy to know the car you will be renting has a minimum $1,000,000 Public Liability insurance and a current WOF which is far more stringent then a WOF for a private car and should not fall apart before you drive 10km out of Nadi.
We can thank the Prime Minister of Fiji Mr Frank Bainimarama for cracking down on people renting out their extremely dangerous rust bucket private cars as rentals. I hate saying this but do not drive out of the yard without insurance, you will understand why very quickly. You will get a better price if you rent for three days or longer. All cars have unlimited k's, how far can you go in Fiji anyway!
List of Car Rental Companies - the big boys
Budget Rental Cars
They have nine locations across Viti Levu. There is a pickup booth at both Nadi and Naurori international airports, as well as in the city centers.
Prices start at
One day - $167 FJD all Insurance and Taxes inclusive with a $500 Bond.
Five days - $151 FJD all Insurance and Taxes inclusive with a $500 Bond.
Avis Rental Cars 
Prices start at 
One day - $190 FJD all Insurance and Taxes inclusive but a $500 Bond.
Five days - $120 FJD all Insurance and Taxes inclusive but a $500 Bond.
Locally Owned Car Rental Companies
These are the smaller, locally owned rental firms. You might find that they provide similar vehicles at lower costs than the established international car hire firms above. Check them out!

We did have several companies listed here. However, due to poor customer support, fine print and hidden charges that we didn't like, and a frustrating lack of communication when trying to book. They has since been removed.  All the prices were given to me over the phone, then I called into their yard to have a look at the cars and to see how clean and tidy the yard was.  
AMIS Rent-a-car, Nadi 
I found this company very professional in every way and they made me feel like a friend not a $$$ sign. Small four door car:
One Day - $130.00 +$15.00 Inc +20% Govt Tax+Bond $50 
Seven Days - $55.00  +$15.00 Inc +20% Govt Tax+Bond $500
Aims have a large selection of Family Wagon, People Movers and 4x4 to chose from
SATELLITE rent-a-car, Nadi 
I found this company a little inconsistent in their pricing. The cars are well maintained and no quite the selection to choose from as AIMS, rent a car. Their yard was very tidy, but the boys were a little heavy handed with the car freshener. 
Small four door car 
One Day - $134.00 +$15.00 Inc +20% Govt Tax+Bond $500 
Seven Days - $55.00  +$15.00 Inc +5% Govt Tax+Bond $500
Cheapest car rental we found in nadi - that is fully licenced
By far the cheapest for the quality of car you get is AAAK Rentals.  All their cars have yellow plates and are fully licenced. They are expanding their fleet at a rapid rate with brand new cars coming in on a regular basis. They'll pick up and drop off at the airport, their office in Martintar so not far away. All the cars below we have seen personally as we took the photos of them. We didn't get to drive all of them but at least half of them.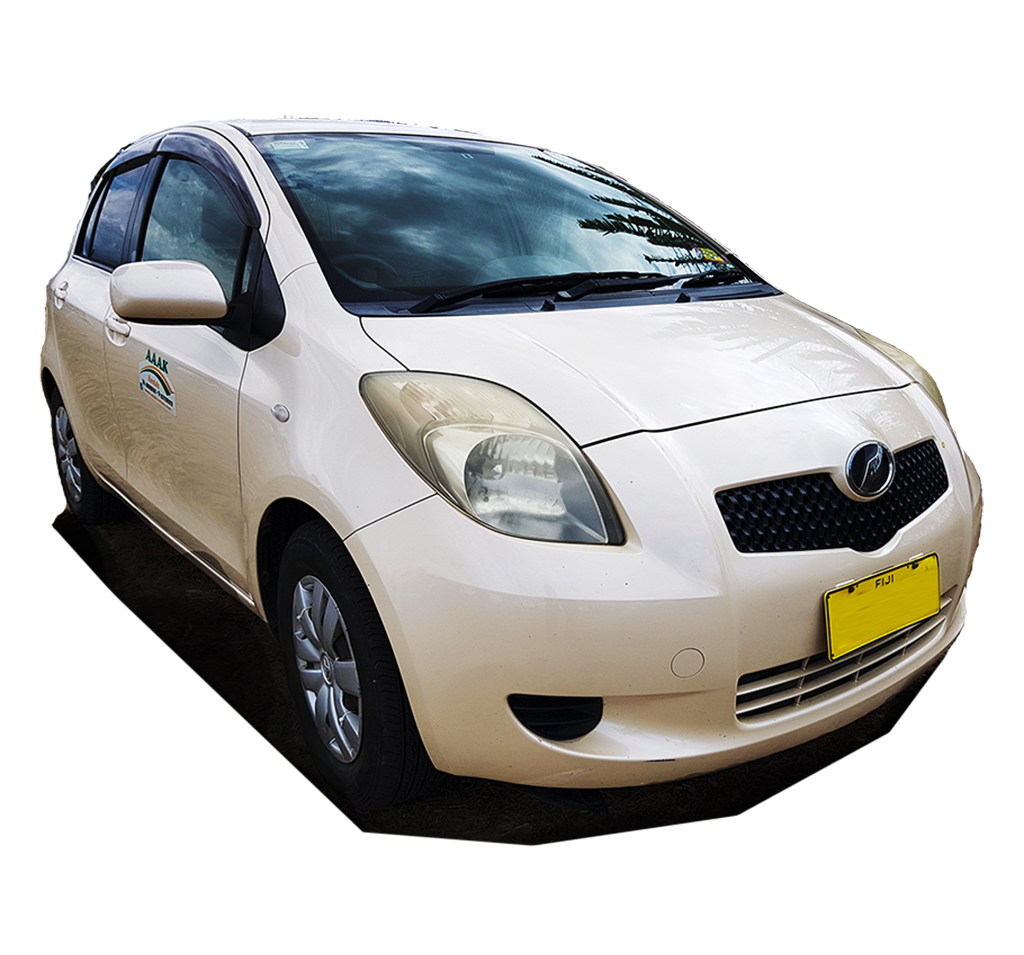 Book your car hire here now...
Driving in Nadi
Now the fun starts. If you are from NZ where there is a sign on every corner the size of a house, you are going to get lost in Fiji. You Aussies will fair a lot better especially if you are from the outback where there is a side road every 5Km and thousands on Km of dirt roads. For all those who drive on the other side of the road - God be with you.
When you hire a car, don't say a word about driving up into the highlands from Ba to Sigatoka etc, they will refuse to rent you a 4x4 let alone a car.

The speed limit is 80 kph in Fiji if you are lucky. The main coastal road around Fiji is sealed the whole way round, I think that's what they call it?  But the very second you hit a dirt road you will have to drop down to 20 to 30 kph and start looking for that pot hole that is big enough for your car to disappear into. You will have to approach every corner as if a bus or a logging truck is waiting there just to run you over, no kidding. Driving at night is extremely dangerous. The highland villagers don't drive a car so they walk or ride a horse from the village to their farm plot early in the morning and walk back late at night right in the middle of the road, very scary. You will also have to watch out for cattle and horses, not many but they are there hiding in the shadows just like a roo.

We took off one weekend to stay in a Resort North of Rakiraki. Yes just drive north and you will see the sign to our resort on the left. One hour later we were almost in Suva, back we go. This time I rang them to get one of the boys to meet us at the turn off,  what colour will the car be? So where was the sign, it was lying in the long grass. 

As for a navman forget it, buy a map. It might be 20 years before you can use a navman here in Fiji. Is there a Fijian Road code? If they do have one it must be used to light cane fires come harvest season. There is a head on crash in Fiji every week,  double white lines means, pass now and if you can, push that car off the road if possible. Seriously the double lines mean NO overtaking. At intersections and T sections they will smile at you as they cut you off, so you learn very quickly, even if you have the right of way it is better to brake and let them go then waste time with the police debating who was in the wrong. Yes you have to take out compulsory third party insurance before you can register your car in Fiji, what registration, insurance will not pay out because his rust bucket was not registered, you lost again.
If you are told the place you are looking for is five minutes down the road, that means one hour. Not far, is three hours, I will see you at 0900H, make that 1200H. Please, can you give me a ride to my village, you had better ask what Island was that again? 

And get a $5 SIM card at the airport before you leave, so you can ring your accommodation when you get lost, phone coverage around the coast is excellent. Petrol stations are close together, no problem there. Sept 2015 you will pay $2.15 PL. And to finish this section off, you can drive around Fiji, Viti Levu, in 13 Hours, so a Taxi driver told me.
---