About our stay at Barefoot Manta Island Resort
We arrived at Barefoot Manta Resort on the Yasawa Flyer at 1500H, there was no welcoming party as we step ashore onto the soft white sand. Can't say we really cared about that, our eyes were popping out at the sight of the near deserted beach with it's gentle waves and crystal clear water.
First thing on my mind was - I'm going for a swim!
We arrived on this beach at Barefoot Manta - WOW
So, check in then off to our retreat for two days. We were walked to Sunset Beach and shown to our bure come tent and shown how everything worked and then left to sort ourselves out. I must say our bure was excellent. Fantastic view of the bay, private and only a hop, skip and a jump to the beach for a refreshing dip.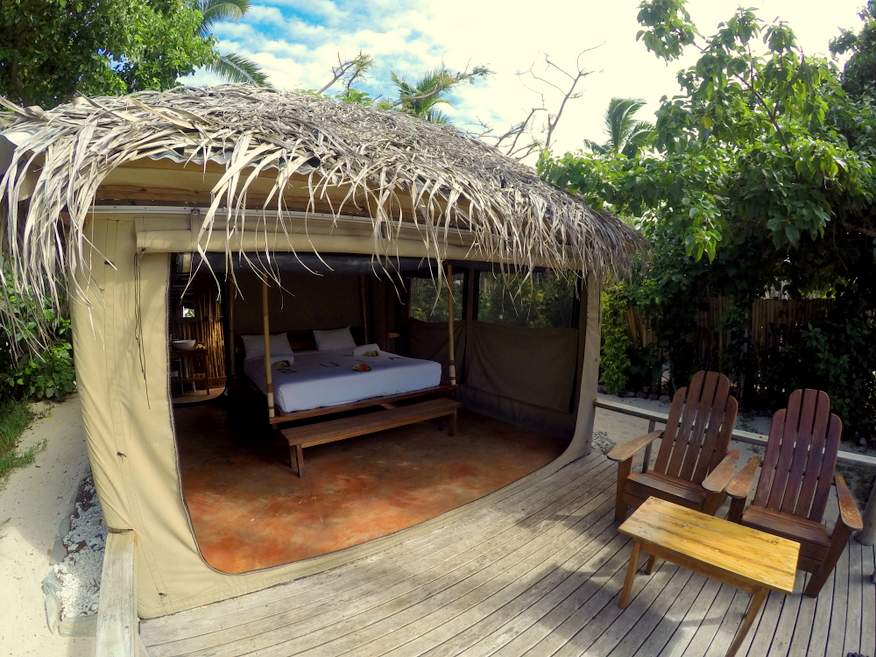 Our beachfront bure for the next 2 nights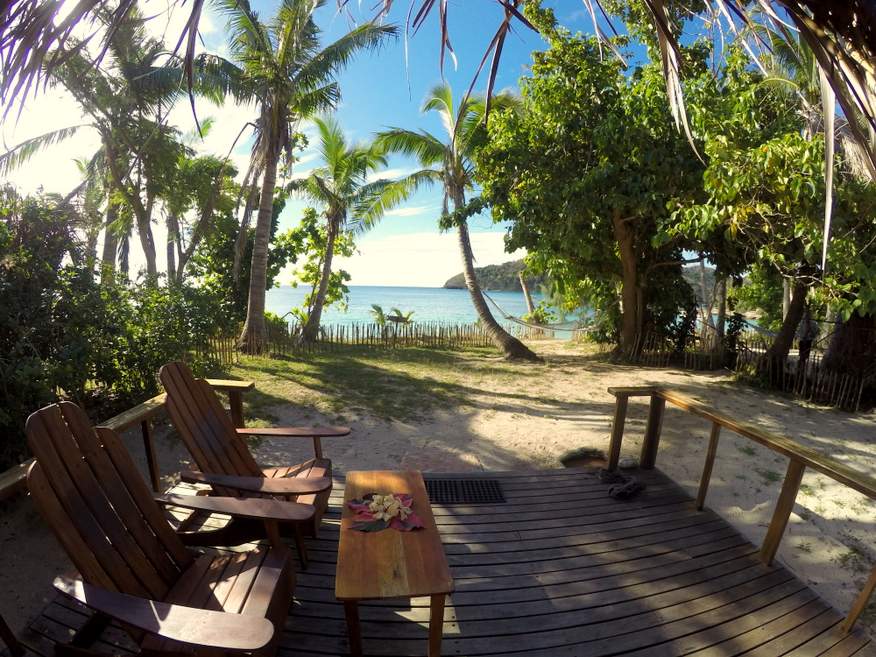 View from our bure right on the beach
Barefoot Manta did not put on afternoon tea, but there was an urn of hot water, tea and coffee was sitting by the main door to the kitchen. So we could just help ourselves.
Main beach in front of our bure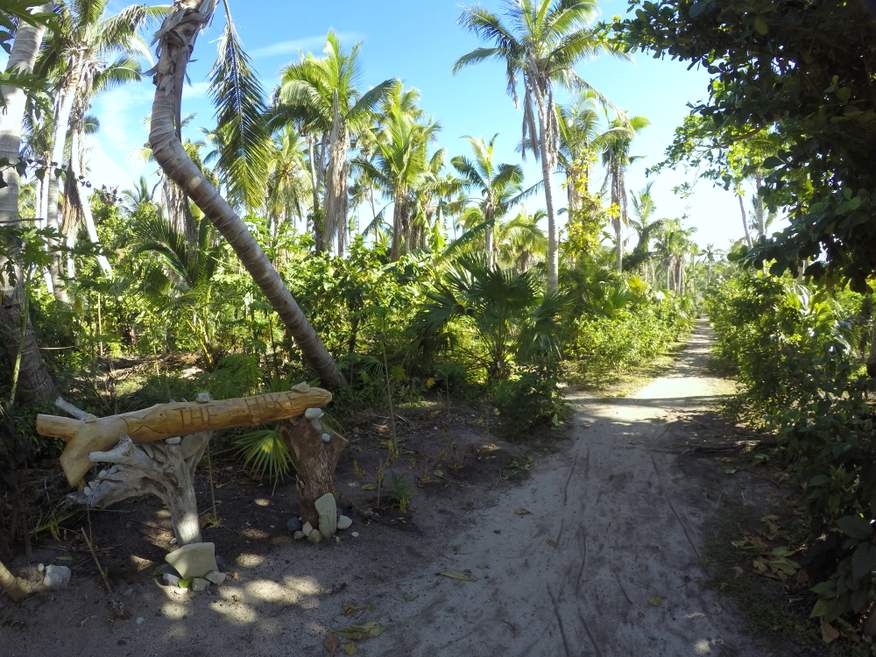 Main dining area
Dinner started off with a sweet corn soup, a choice of three mains, bangers and mash, beef curry and chicken pasta. Our choices were good. Dessert was a bit of a disaster; the cheese cake was frozen solid. Not one person on our table ate the dessert. I took ours back to our bure and gave it three hours to defrost then it was eatable.  As for music, four men sang for thirty minutes then took a five minute break, which lasted a long half an hour by that time we were bored and decided to go back to our bure to watch a DVD. 

My 360 view of Barefoot Manta Beach
We had a good sleep in our tent come bure, and headed over to the kitchen for breaky. The breaky was very good; I would have to say Barefoot Manta put on the best breaky on this trip.
Looking down to Mantaray Resort in the distance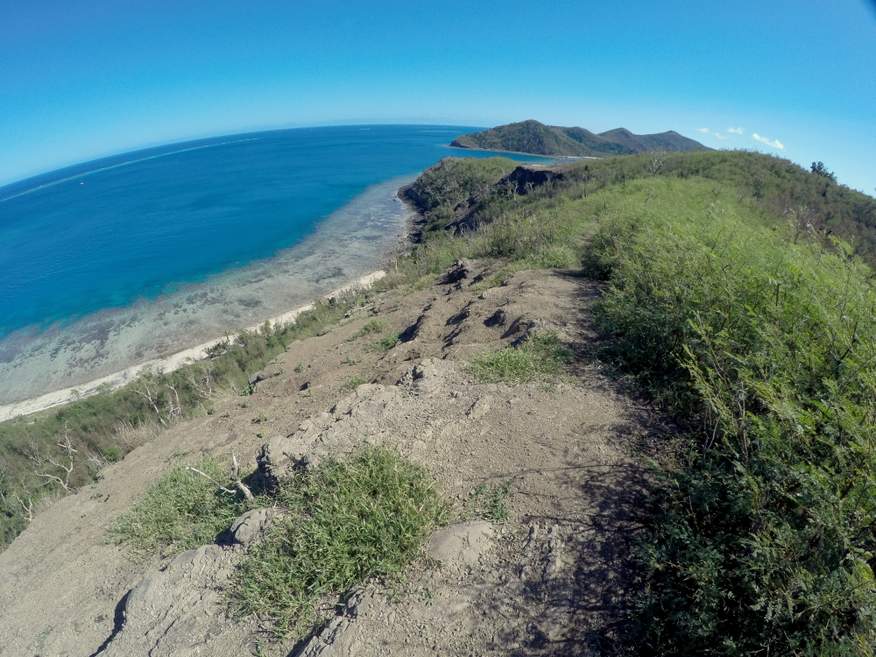 Top of the hill
After breakfast we took the twenty minute walk to the top for the hill. The track was easy to follow and well worth the effort. We sat on a rock at the first look out and watched the fish swimming around in the sea below us. At the end of the track we could look down onto Mantaray Resort and watch the tourists sunbathing on the beach.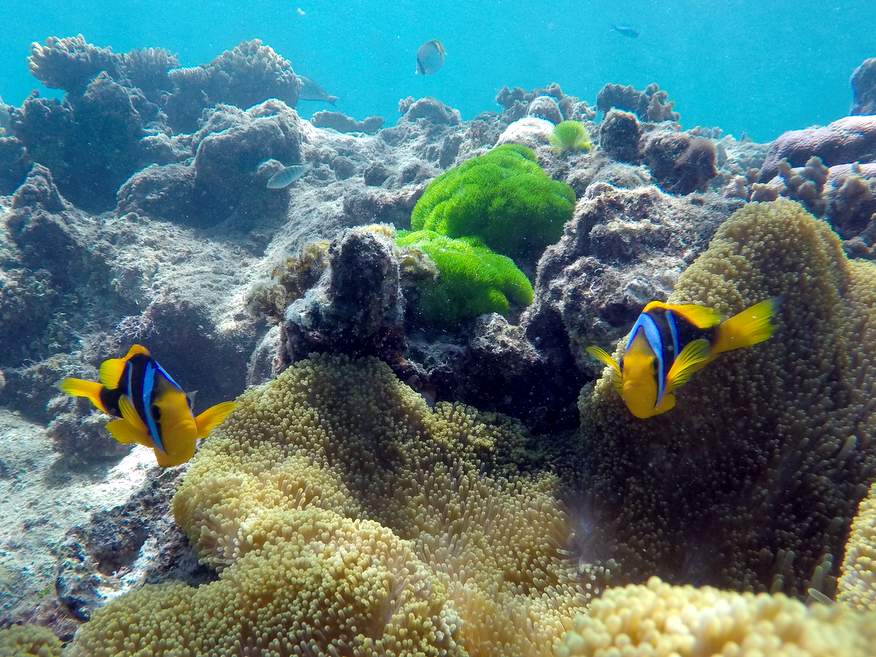 Nemo fish - great to see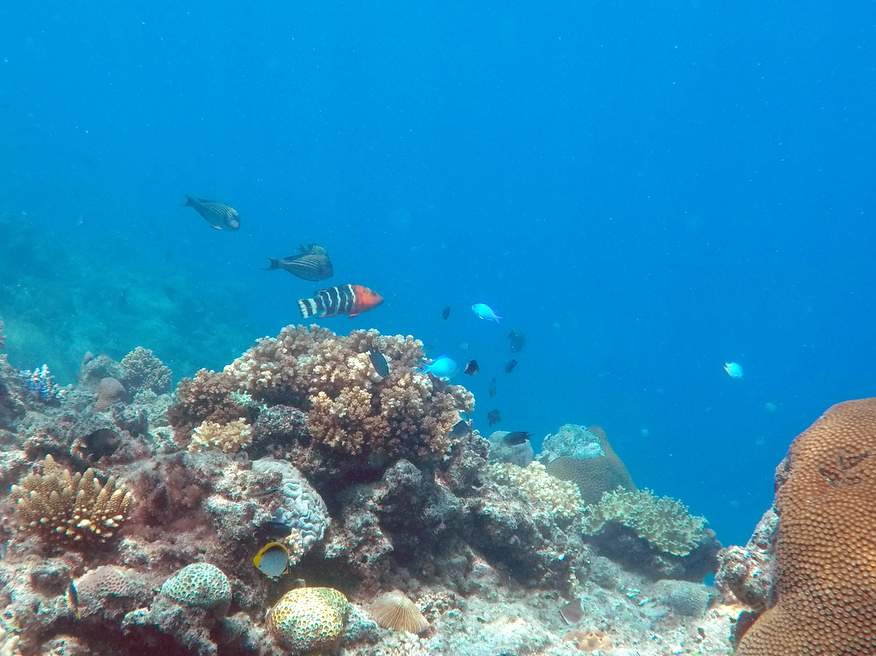 Great snorkelling, plenty of fish & coral
We decided not to waste this fantastic weather and blue sea so we headed back to grab our snorkelling gear and walk around the rocks to where we were watching the fish swimming. It took us fifteen minutes to get there, at low tide of course. This was the best snorkelling out of this six day trip, I would go as far as saying this spot would be the best snorkelling we have ever done by just walking off the beach and you only have to snorkel out 100mt.
Lunch was at 1230H. Only one course, three dishes to choice from today there was Fish & chips, beef curry with noodles and rice. And last of all was chicken salad with garlic bread. 
Swimming with the giant Manta Rays
Unfortunately we were at the resort outside Manta Ray season, but by all accounts this would have been totally awesome to see. Next time, we'll make sure we don't miss this event. The Manta Rays swim in the channel right in front of Barefoot Manta Resort, it's the closest place to get to them. The season is from May to Oct.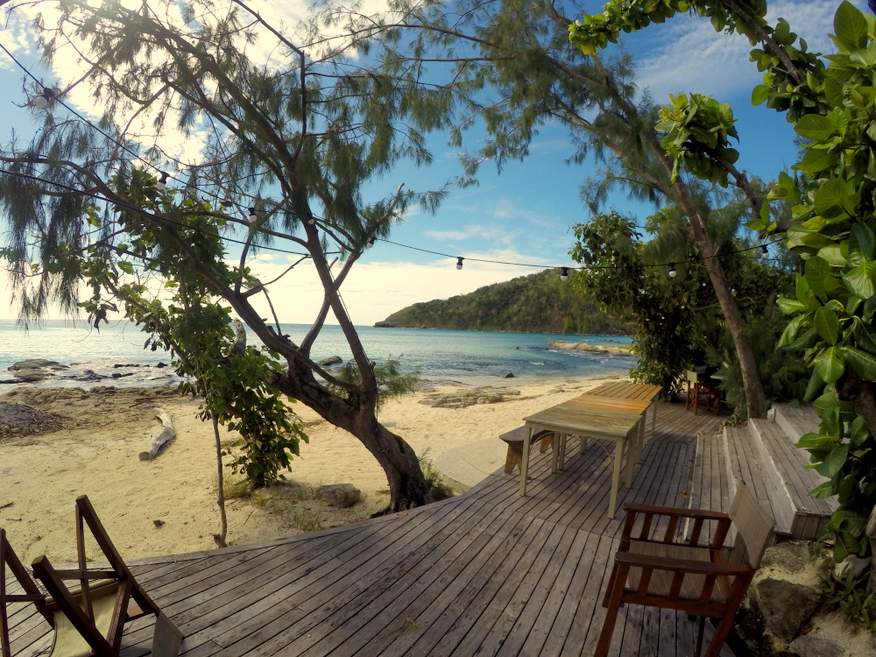 View from the beach bar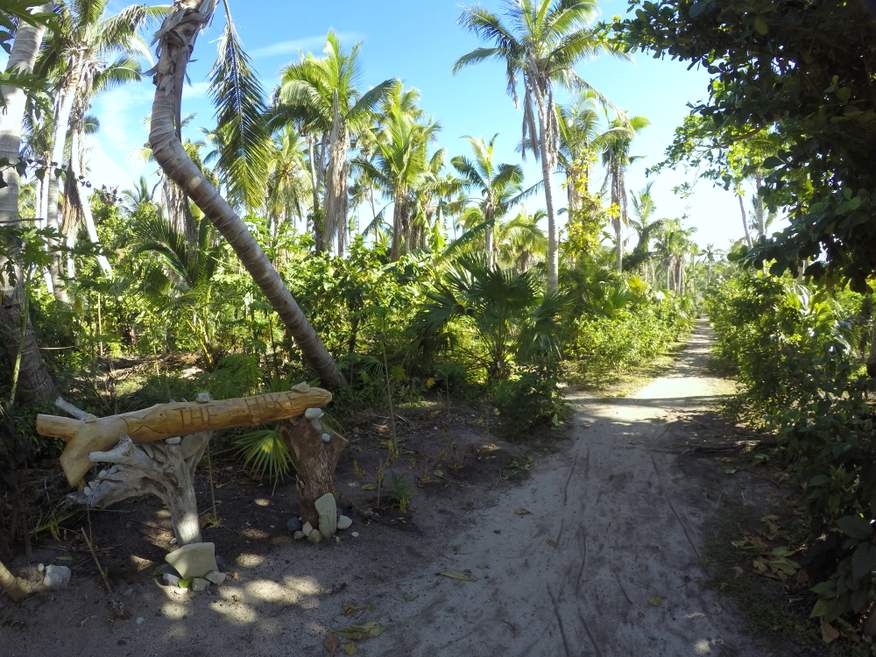 Nice sandy tracks through the resort
The rest of the day we spent lazing around and heading off on short walks around the resort. Dinner time was going to be interesting after last night. Again we were seated at our own table away from everyone else. For dinner we chose the pan-fried fish and tried the chicken. I think I had the best dish. Now as for desert it was a vast improvement on last night. It was a trifle, not too bad. The boys sang again for an hour then disappeared for the night so did we.
Today we head back to Nadi, so we have to be packed up and out of the bure by 1000H.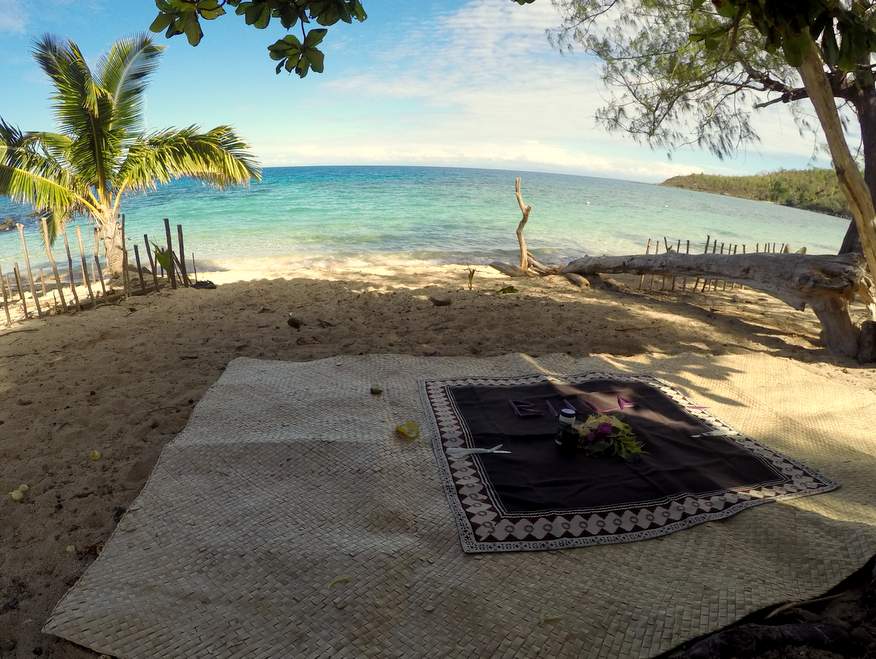 Our shady tree for the day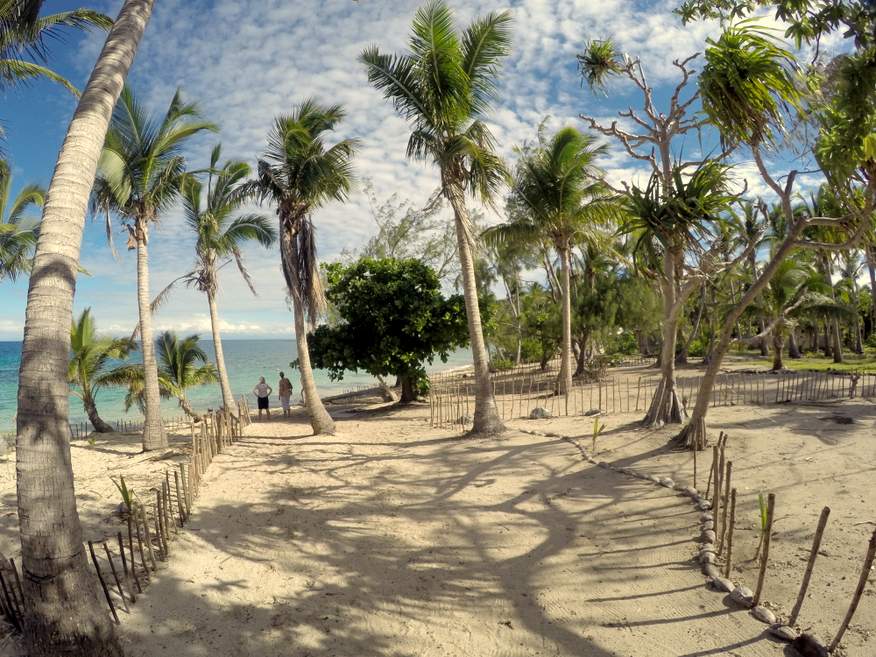 Walkway down to the beach
Breakfast this morning was two fresh made donuts with maple syrup, I put them aside for afters then I waited for my made to order omelette - yum. After breaky we packed up and headed back to the office to settle the bill and try to find a spot in the shade to hang out till boarding time at 1330H. Lunch helped to fill in some time. We found the only tree that gave us enough shade for the two of us and being on the sunrise side of the resort we enjoyed the weather kept cool by the easterly breeze. The Yasawa flyer arrived on time but the three hour ride back to Nadi is always the most uncomfortable ride ever. The seats on the open window Nadi busses are far more comfortable then the Yasawa Flyer. We should have booked the Captains Lounge!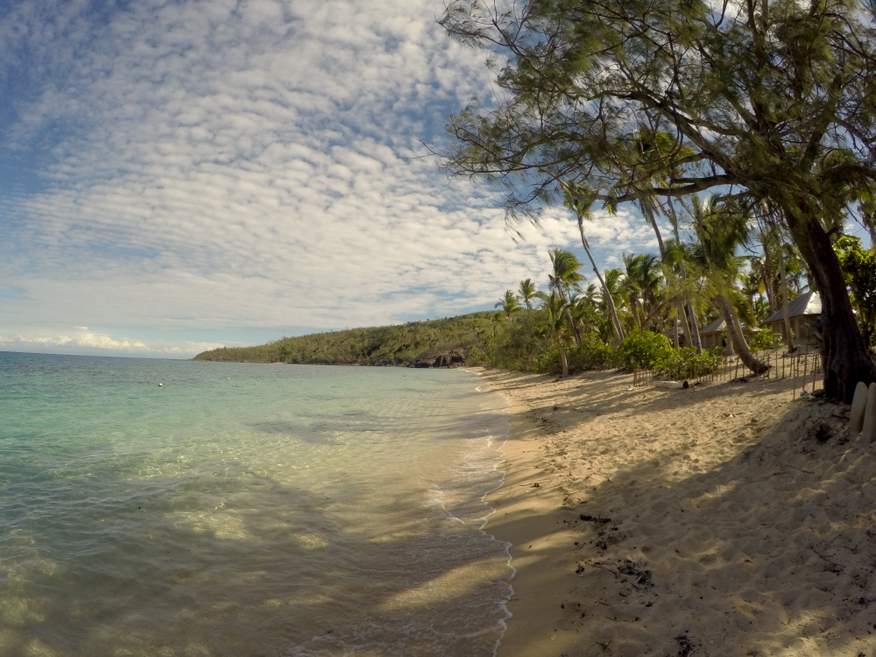 Back beach was really nice and quite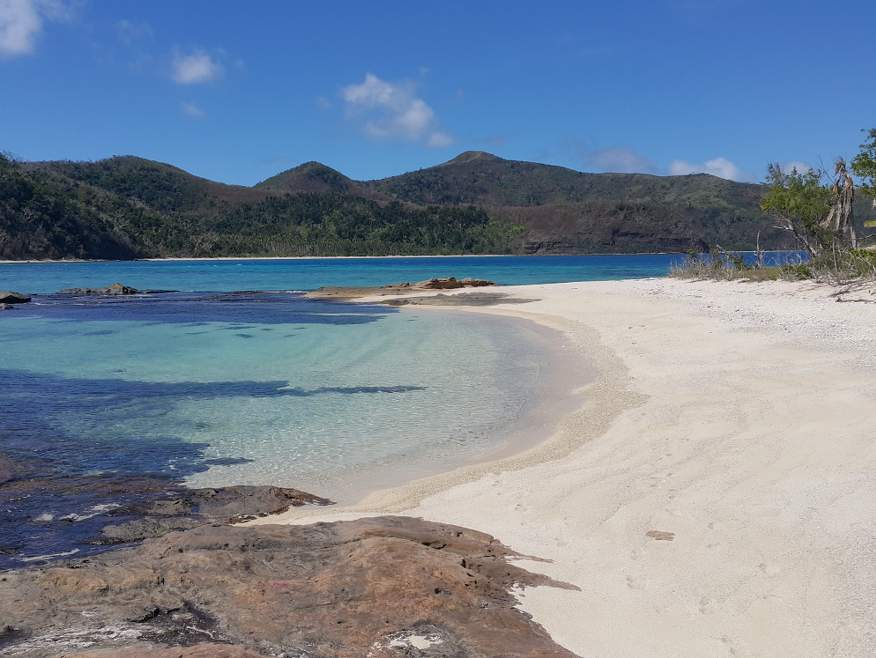 The small middle beach
Pros and Cons...
Water: drinkable from the tap, declination
Power: 24/7 from generator
Beach: 3 stunning beaches with white sand, very safe swimming all tides
Pool: No - but why would you need one with 3 stunning beaches?
Family friendly: Yes, very much so
Activities: Swim with the Giant Manta Rays between May and Oct - wow
Food: Average
Value for money: Yes

---
---
Map of Yasawa Island Resorts
If you click on the tiny box with the little arrow next to the works "Map of Fiji" it will expand and give you more options for viewing other places and things around Fiji.
---