Transport from Nadi Airport Fiji
We have researched and used many other airport transfer companies in the past before finally settling on the one we currently use for car, van & bus private transfers. They are on this page because they charge very competitive prices, they are reliable, always on time, have fantastic vehicles and offer a great personalised service. Plus if they are late for no particular reason you can ask for 100% refund - wow! If we start to get complains about poor service we'll go find another transfer company, but right now these guys are doing a great job based on the feedback we keep getting, see the bottom of this page for guest comments. Scroll down to get straight into booking a transfer with them now.
Your own vehicle - NO shared transfers
You can only book a private transfer on this page, there are NO shared vehicles. Vehicles range from a roomy Toyota Alphard, mini van, mini bus to a big coach, all bookable and not shared by anyone other than your group. All vehicles come standard with the air conditioning and it's always turned on!

Private Transfers with a local company
This local transfer company is owned by Azeem who also runs Taxi 2000. A company which has been in the industry for over 20 years, so they really know their stuff. Pick ups are always on time, no waiting around at the airport and back in plenty of time for your flight departure. They have really modern air conditioned Toyota Alphard Hybrid's plus a recent purchase of 2 new 8 seater mini vans plus 5 brand new 15 seat, 22 and 35 seat busses. These Alphards are amazing with tons of space. Very happy and friendly team. They supply baby seats or baby capsule free of charge which is really good. Oh, they will also meet you at the airport in arrivals holding a sign with your name on it, so everything is nice and easy. The Alphard's can take up to 5 adults with luggage and 10 in the mini van with luggage. To book just fill in the form below. 100% Fijian owned.
Bonus: FREE stop at the supermarket, ATM bottle shop or any other on the way to your hotel
Vehicles - roomy cars, vans and buses
All vehicles come standard with air conditioning, which is always kept on. Toyota Alphard Hybrid's are used as the smallest vehicle which can seat up to 5 passengers, however if you're carrying lots of luggage you might want to book a van.
Drivers: I've meet 2 of them so far and both great guys, lovely and happy as all Fijian people are. They tell me they have passed defensive driving courses. I've not been out with them to fully test this, but from what I've heard they are very careful drivers.
GPS: All the vehicles are installed with a GPS device so head office can see what their drivers are up to. It's very cool, they were showing me on the computer, it even tells them if a car is speeding - big brother is watching!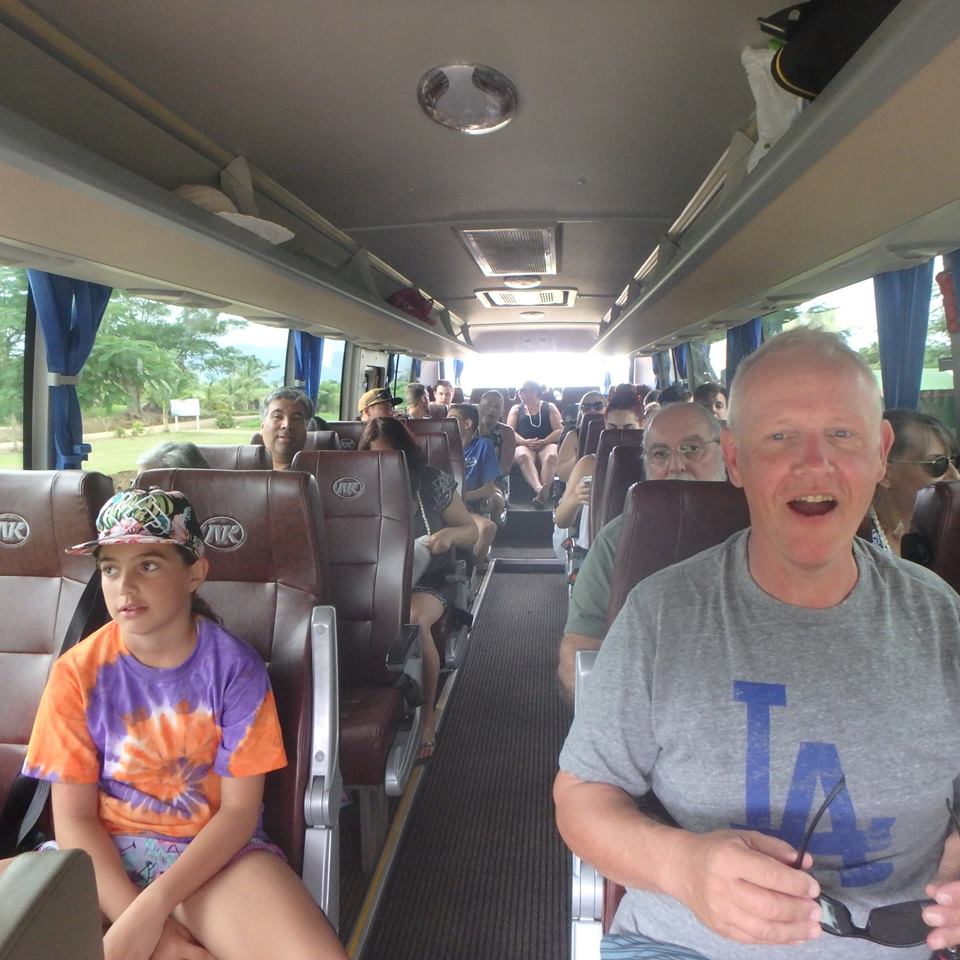 Inside brand new bus on private tour
Private transfer in new mini bus
Insurance
I've personally seen the insurance cover from New India Assurance Ltd for all of their vehicles valid to 24 Feb 2018. Plus the payment receipt . You have to watch things in Fiji, you might be shown a policy but doesn't mean its actually paid for! The vehicles are covered for $5m Passenger Liability for tourists plus $1m for Public Liability. They're FULLY covered which means so are you - whew!
Nadi Airport & Hotel Private Transfers from as low as $54 FJD to Denarau with DISCOUNT for return.
BOOK NOW...
To check the price of a transfer just click on the drop down box next to "From", choose where you would like your transfer to start from, then select in the "To" where you would like to be dropped off.  To see the cheaper discounted return price you'll need to select the "Return" button. The "Depart" time is your actual flight arrival time in Fiji, if starting from the airport. Please don't allow any time to get through customs, we need to know your real arrival time. The "Return" time is your flight departure time, no need to work out what time you need to leave from your hotel, we'll work this all out for you, it will clearly show in your confirmation voucher.  

Book a return and save $10 FJD!
NO credit card fees, NO Booking fees, what you see is what you pay
Meet & greet at the airport, your driver will be waiting in the arrivals area holding a sign with your name on it
FREE shell Lei necklace
FREE stop at a supermarket, bottle shop, ATM or shops along the way

FREE baby seats or capsules included
Fully air-conditioned modern vehicles driven by a local
Spacious Toyota Alphad's & Toyota Hiace vans, no little cars even if there are only 2 of you
Private vehicles just for you, these are NOT shared transfers
Slow getting through customs - don't worry, your driver will wait for you
Add in extras while booking, stop at Mud Pools, Garden of Sleeping Giant, Village, Markets, Temple, Orphanage or do a tour
For next day bookings please try and get them in before 5pm the previous day.
For multi stop transfers or for hotels or stops not listed please fill in this form
Transfers operate 24/7 from Nadi, Suva or anywhere in Fiji
Money stays in Fiji, booking agent and drivers all live in Fiji
Secure Booking Page - look for the green padlock in your browser bar
If your flight was cancelled due to bad weather & you cancel your trip to Fiji, we will refund 100%, so long as you notify us in enough time that the transfer vehicle did not go out.
If your flight is delayed, even to the next day/week/month, it's no problem, we will just move it at no extra charge, just make sure to let us know. 
FREE CANCELLATION & 100% REFUND: You may cancel free of charge PLUS we'll give you 100% refund up until 48 hours before your booking date. If you cancel within 48 hours or you are a no-show there is no refund.
If your transfer was late you may request 100% refund, please email us all the details.

Payment is in full, in Fijian Dollars. Any refunds will be paid in FJD. The payment amount may be different due to currency fluctuations.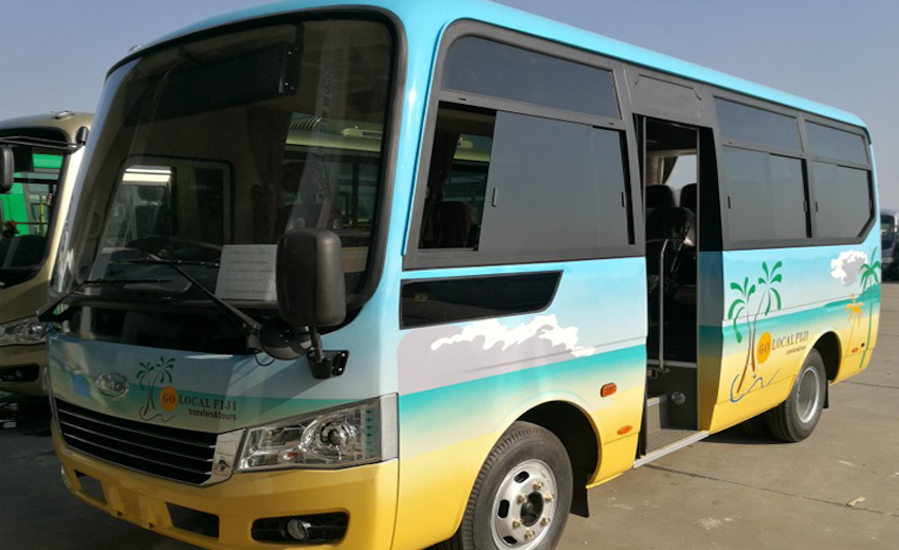 Brand new mini bus coaster available for private transfers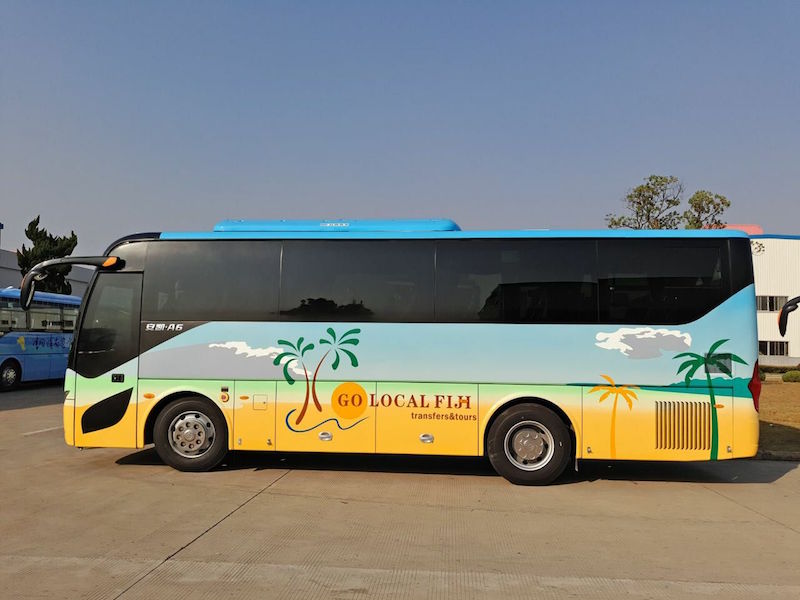 Brand new coach bus
About the booking process for these guys
As you can imagine drivers are out on the road doing transfers all day and have no time to get on their computer to give you a quote personally plus taking payments online is challenging here in Fiji. 
Their local booking agent has solved all this for them with that cool instant quote and booking widget above. They are super quick on email, very professional and are experts at booking transfers. They are also based right here in Nadi and work very closely with all their transfer drivers. Surprisingly good is the fact that there are no extra charges like booking fees or credit card fees - nice one. Once you book they'll send you a confirmation voucher with your payment receipt attached. All the money stays in Fiji.  
Why payments are taken in full
This might seem a bit scary but in fact its a really good way to go. It's good for you and good for the drivers. It's so much easier for the drivers to concentrate on picking you up and making sure your journey is a happy one. If they have to worry about asking for cash, then trying to keep it safe, it can distract everyone. For you there is no need to worry about having cash on hand, just jump in the car and you're off. And yes, their booking agent is really good and pays them out on a very regular bases, and fairly too. Ok, they take their cut, it has to pay for the fees and their time, but it's not huge.
If full payment isn't taken, other more unsavoury characters at the airport or your hotel are only too willing to make you think they are your driver when in fact they are not. Believe me its cut throat out there, some will do anything to get your business. The other good thing is all the money paid for transfers stays in Fiji with the local drivers that provide the transfers.
Some customer feedback about the drivers...
18 Jan 2017
We had a wonderful stay in Fiji and love the Fijian people.  Your service to and from the airport was wonderful . Our plane was late from Sydney and your staff were there waiting for us.  They were very friendly and extremely patient.  The bus was great and the vans and drivers extremely helpful and friendly.  I would have no hesitation in recommending your company and will definitely use it again.  Thank you once again.  Lynette
5 Jan 2017
Thank you we had a lovely holiday! Service with both transfers were excellent. Both drivers on time and vehicles were of good standard. We would use this service again. Natalie. 

4 Jan 2017
I am happy to comment on your transfer services. Firstly, yes the driver was on time and he was extremely friendly and stopped for us on the way to the Hotel to buy some local produce. The vehicle was excellent for us with child capsules as requested. Clean and very efficient air conditioning. The pricing was very competitive and if we were to come to Fiji again, we would certainly use your service again. We we're very impressed with your level of service and the fact that you were readily available for changes etc. Thank you for helping to make our special holiday hassle free. Robert.

1 Jan 2017
We used your vehicle(s) 3 times during our stay and I am pleased to say that I was more than satisfied with the entire experience. Your staff who met us at Nadi airport were friendly and efficient, as was your driver. Your staff was very helpful when we changed our pickup time from the Warrick on New Year's Day, and the driver was early but prepared to wait until we were ready – better to be early than late. Not only will I use your service again, but will happily refer you to friends and family. Amanda.

21 July 2016
Bula Sandra, I wanted to provide some feedback on using your direct shuttle service from Nadi Airport to Denerau on 9/7/16. From the moment we were met by your guides with shell necklace and cold waters, we felt extremely well looked after – what a fabulous start to our Fiji holiday!  They happily stopped at a supermarket for some items and then gave us an informative trip out to the marina – pointing out different areas, improvements and events on our way. We will definitely be recommending your service to others and will use it again on a return trip, hopefully, in the future! Vinaka, Kathryn from Australia.
16 Apr 2016
We were so grateful to our driver for getting us to the airport and give him our warmest regards and so glad he got back ok (if he had'nt tried to get thro the water we would certainly have not got off the island when we did, we did wonder that night at the airport how he got on in Sigatoka getting thro the water there. I have to say that night at the airport at 3.00am I have never seen rain as heavy as that was and we do get rain here but not as forceful as that. So a big thank you all for yours efforts and I think what people tend to forget is that the transfer to and from the airport is a crucial part of the holiday without it we would not get to where we need to be to enjoy our time on holiday. So once again a big thank you to all of you there and hope the weather keeps fine and keeps you guys busy cause you certainly deserve it. Jim
5 Jan 2016
We were extremely happy with our transfers to and from the airport and resort. The staff and drivers were very friendly and curtious and on time which made the experience very enjoyable. The vehicle was nice, clean and as expected and fitted nicely with the baby seats as requested. Other transfer services charge extra for child seats but they were included with Hot Fiji Transfers. I travel to Fiji quite often for holidays and it is the first time that I have used the services of Hot Fiji Deals and definitely will do so again. Thank you very much. Regards Craig & family
---