Coral Coast to Nadi Airport Shared Transfer - a.k.a Seat In Vehicle (SIV)

For those looking for a shared transfer service, Go Local Fiji ( one of our preferred transfer and tour operators) now offers a shared transfer version from the Nadi Airport to a few stops along the Coral Coast ending at the Warwick Resort. More specifically, the stops are at Hideaway Resort, Naviti Resort, Shangri-La Fijian Resort.

The vehicles range from Alphard Hybrids to bigger Toyota Hiace Vans. However, large groups need not worry as coaches can be used if needed as well.

If you want a safe, secure transfer that is also affordable, look no further.

Keep in mind that the transfers are set at particular times as show in their timetable.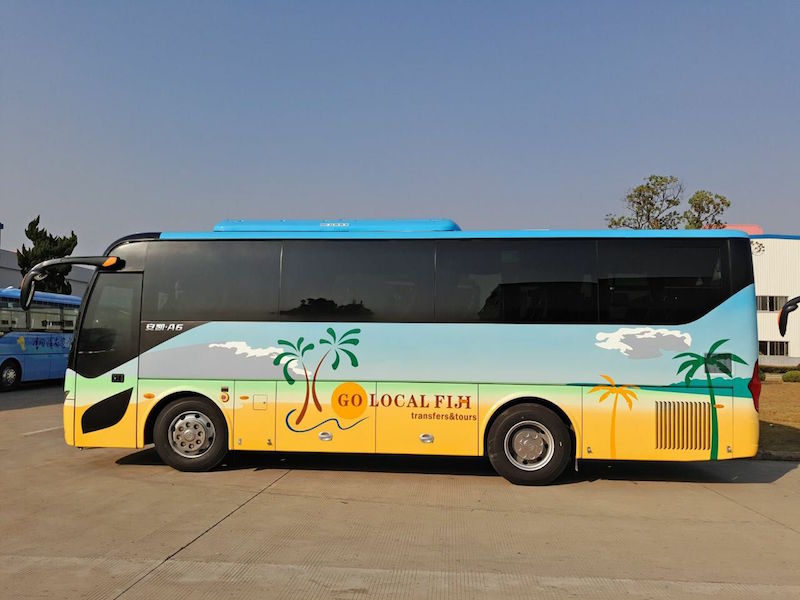 TIMETABLES


AIRPORT PICKUP TIMES            HOTEL PICKUP TIMES
AIRPORT: 9.30 AM                    WARWICK: 4.00 AM
ETA WARWICK: 12.30 PM          ETA AIRPORT: 7.00 AM

AIRPORT: 5.30 PM                    WARWICK: 9.00 AM
ETA WARWICK: 8.30 PM            ETA AIRPORT: 12.00 PM

AIRPORT: 8.00 PM                    WARWICK: 1.00 PM
ETA WARWICK: 11.00 PM          ETA AIRPORT: 4.00 PM


PICKUP/DROPOFF POINTS: Nadi Airport, Shangri-La Resort, Hideaway Resort, Naviti Resort & Warwick Resort
We allow only 5-10 minutes stop at each pickup point. Guests need to be ready 10 minutes prior to pickup time infront of the lobby area.
For Airport Pickups if you happen to miss the pickup due to your flight delay, you will need to catch the next available shuttle.
For Hotel Pickups if you happen to miss the pickup from your hotel you will need to find your own way to the Airport, we won't be liable for any guest missing their flights.
We require a minimum of at least 4 pax per booking, for the shuttle to go ahead.
Fully air-conditioned modern vehicles driven by a local


Surfboard is $15 per board.
We only use spacious Toyota Alphad's & Toyota Hiace vans, no little cars even if there are only 2 of you
Secure Booking Page
We're a local business so all the money stays in Fiji
For next day bookings please try and get them in before 5pm the previous day.
Book now!
To check the price of a transfer or book instantly just click on the drop down box next to "From", choose where you would like your transfer to start from, then select in the "To" where you would like to be dropped off. Tick the box for "Return" if you need to come back the same way.

Payment is secure
No "Fiji time" here, we're on the computer all day everyday making sure bookings are processed really fast
As soon as you book we'll send you an "Order Pending" email to say we have received this. We then book your transfer (as fast as humanly possible), process the full payment, then send you a second "Order Confirmed" email with all the important details of your transfer.  You'll need to print the second email out and bring it with you or be able to show it on a mobile phone.
We're based right here in Nadi, Fiji
Prices valid from 1 Jan 2017 to 31 December 2018.  
All prices include 25% Fiji Government taxes & levies (9% VAT + 10% Sales Turnover Tax + 6% Environmental Levy)
Cancellation Policy
If you cancel within 24 hours of your travel time, there will be No Refund.
If you cancel before the 24 hours of your travel time, you will be refunded 50% of the payment made.
If you cancel well before 48 hours of your travel time, you will be refunded 100% of the payment made
If your cruise ship could not dock or your flight is scheduled to another date or time because of bad weather, we will refund you the full amount of the payment made.
You will need to check all your belongings before you get off the vehicle, we will not be liable for any missing items
---