Wondering how much to pay for a taxi in Fiji?
Back in November 2011, taxi fares rose by 100% overnight. Most local Fijians were upset about this increase (not the taxi drivers though!), but the fact is that even with that increase, fares are still reasonable compared to what you would pay in most developed countries such as Aust, NZ, USA etc.
Negotiate!
Flagfall is $1.50 for a local taxi and $5 for a yellow Taxi at the airport. The rate is 10c per 100 meters... that's fj$1.00 per km, or fj$1.60 per mile. .. Only the yellow Taxi are allowed to pick up passengers at the airport.
Yellow taxis
There are 66 Yellow taxis at the airport, they have to get back to the airport as quickly as possible so they can get back into the long line of waiting taxi and hopefully pick up another fair for the day. Before the locals sneaked in, each yellow taxi driver was averaging 6-8 fares per day. Today they average is 3-4 fares per day which is not enough to pay the bills. 
The government has said they will crack down on the locals Taxi's when the new airport building is finished in 1/7/2016. So how do the yellow taxi boys survive till them? When it is quiet in town the local taxis know when the next plane lands at Nadi. So they shoot in there and make out they are just picking up friends, then they sneak into the arrival hall and grab a fare off the yellow Taxi boys.
Because they do not wear a uniform no one knows who they are or even cares. They do not care if they get kicked out of the airport, because they just head back to town, where as a yellow taxi has to stay at the airport.
So help the yellow taxi boy's out, they have paid out lager amounts of money to be a government registered taxi and to have full on insurance cover for you and your family, when there is an accident.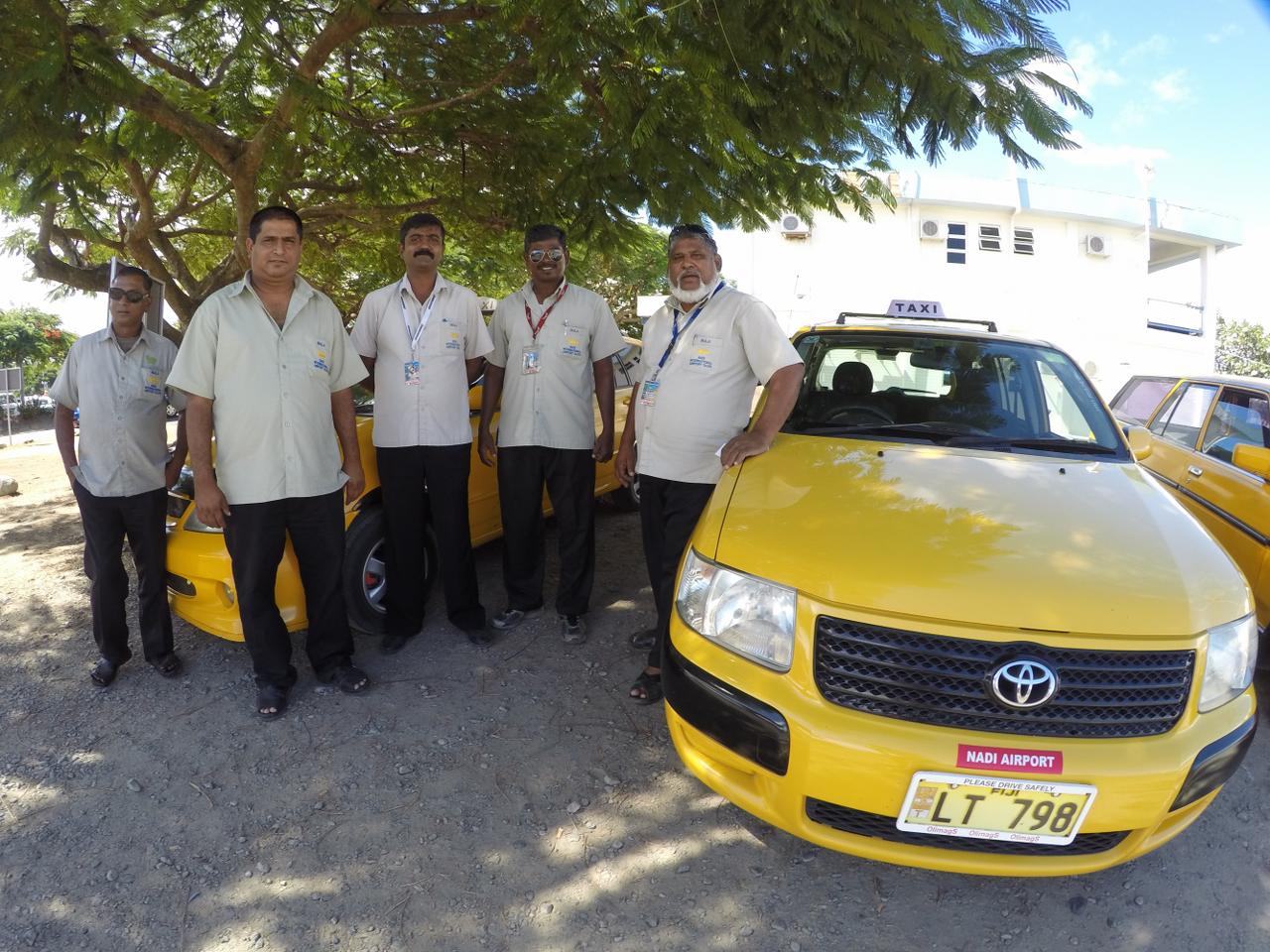 Denarau Taxis
If you're staying in Denarau then you can only flag down a "Denarau Taxi" as they are the only ones licences to operate on the island. Other taxis can only drop off unless they have pre paid guests. These guys are not cheap but the cars are good quality and the drivers are professional.
Nadi Airport To...
prices in Fijian dollars, one way.1/6/2015
Denarau: $25
Central Nadi: $15
Lautoka: $47
Nadi Bay: $15
Sigatoka area: $80
Local Central Nadi To...
Nadi Air port: $15
Mudpools: $35
Port Denarau $10.00
Natadola: $50
Vatakoula Goldmine: $90
Suva: $250
Taxi Fares From Your Resort
If you ask the front desk at your resort to get you a taxi, you can be sure that the price will be far more than if you walk out on to the main road and hail a taxi. So to save some money, it is often a good idea to find and use one driver.
If you want to pay as little as fj$25 for a taxi Nadi to Suva, then check out this page!
---