Your Guide to: Paradise Cove Resort
We went to Paradise Cove Resort on a site inspection and got to have a really good look around this amazing island resort. This is our own personal review of what we thought about our visit to Paradise Cove. Click the link to see the latest special at Paradise Cove Resort or scroll to the bottom of this page.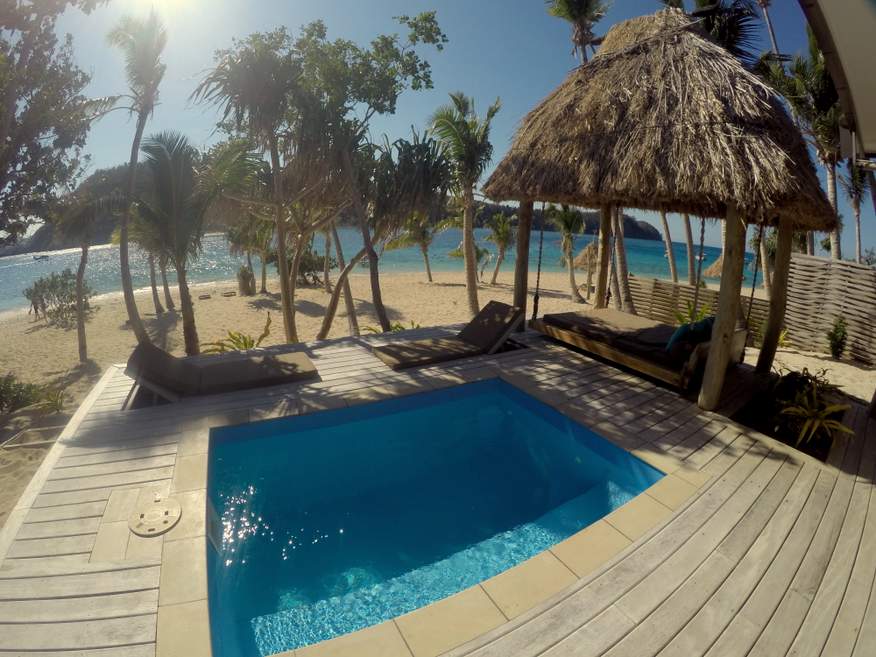 You get your own pool in a Beachfront Honeymoon Suite at Paradise Cove!
Ok, so Paradise Cove is not cheap or budget, but as it's in the Yasawa Islands and we love everything about the islands in Fiji, so we have to include it on this website. We arrived at Paradise Cove Resort just on 11.30am on the Yasawa Flyer which was heading north.
Paradise Cove is a 5 star resort in the Yasawa Islands on Naukacuvu Island, a 3 hour trip by ferry or 30mins by plane.

First impressions are "wow" this place is so nice. You walk straight onto soft white sand then into the bar and pool area with the huge restaurant just behind it. We didn't get to eat at the restaurant but after walking around looking at all the food it definitely would be extremely good and well worth the massive price tag on the compulsory meal plan. It's a shame they have to force people into these meals plans, they really are expensive. We did get a very nice welcome drink.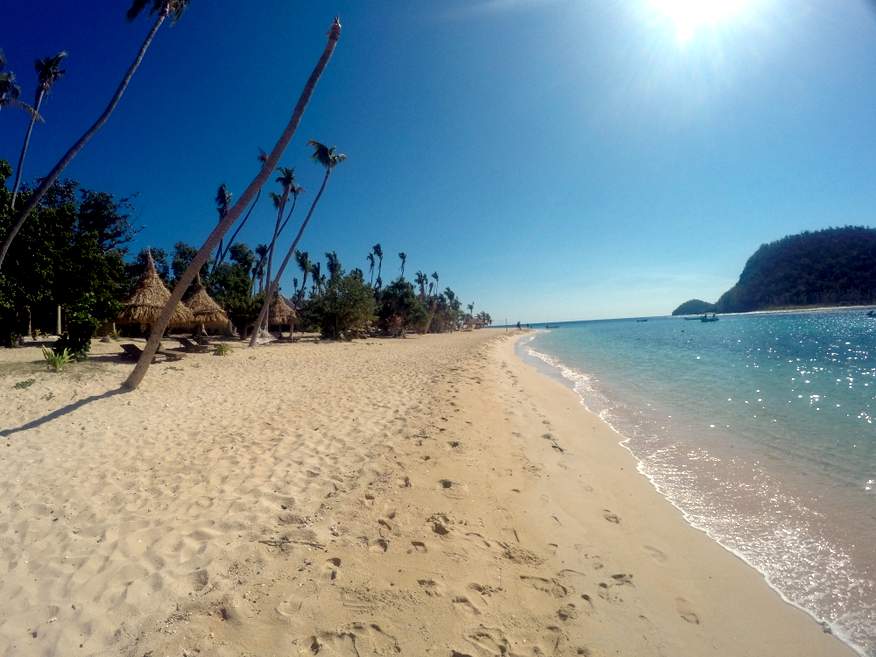 Stunning beach at Paradise Cove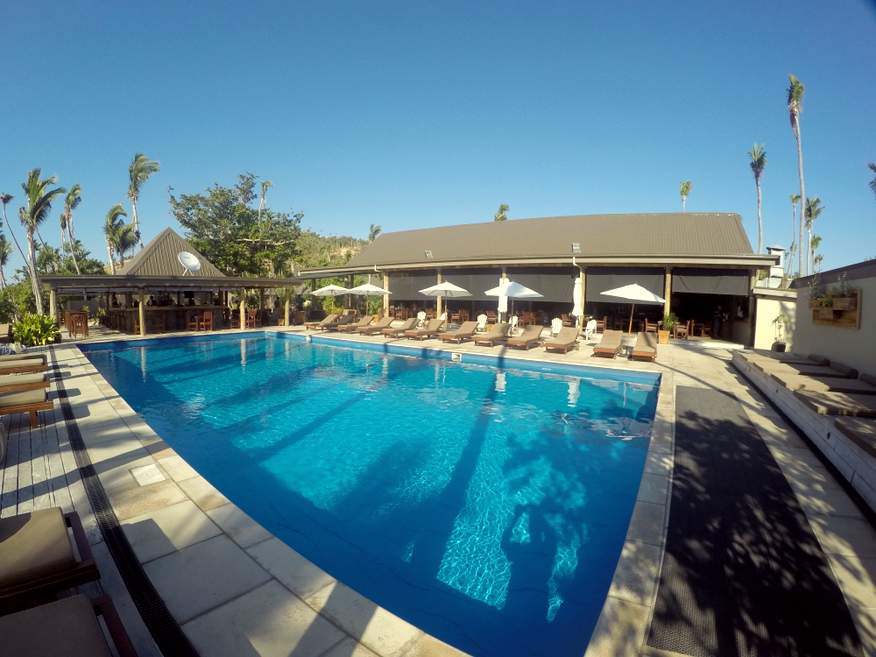 Huge swimming pool at Paradise Cove
There are actually 3 swimming pools, but the one in front of the restaurant is by far the biggest. Plus 2 bars. The restaurant is huge with a massive high ceiling to let in the breeze. The beach is stunning with all tide swimming. There are also plenty of sun loungers and umbrellas around the pool, on the beach and in front of the restaurant.
Bar right on the beach - nice!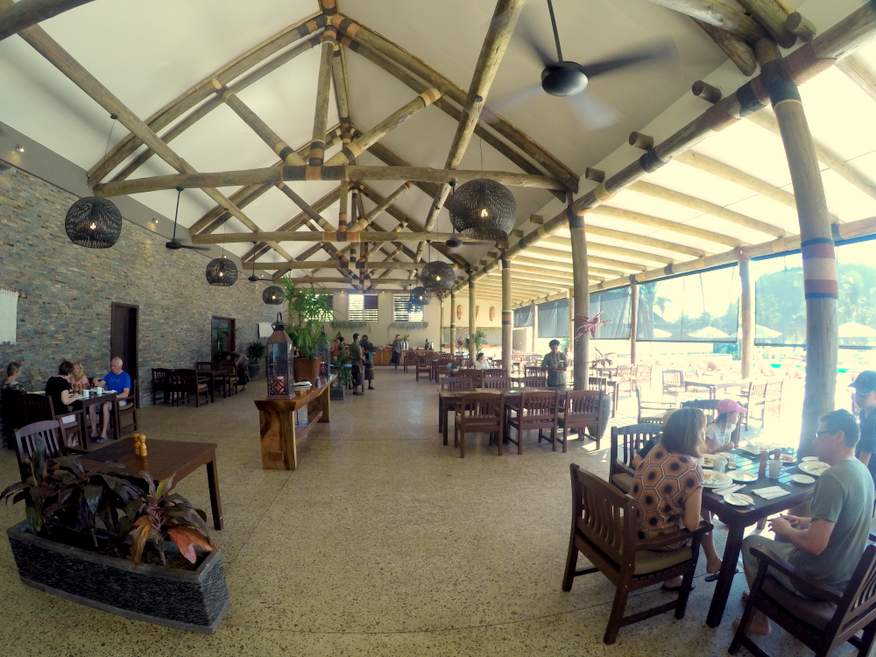 Massive, stunning restaurant
Accommodation
All the rooms types are excellent, although there is a bit of a walk from the Garden Bungalows to the restaurant.
Garden Bungalow & Paradise Garden Bungalow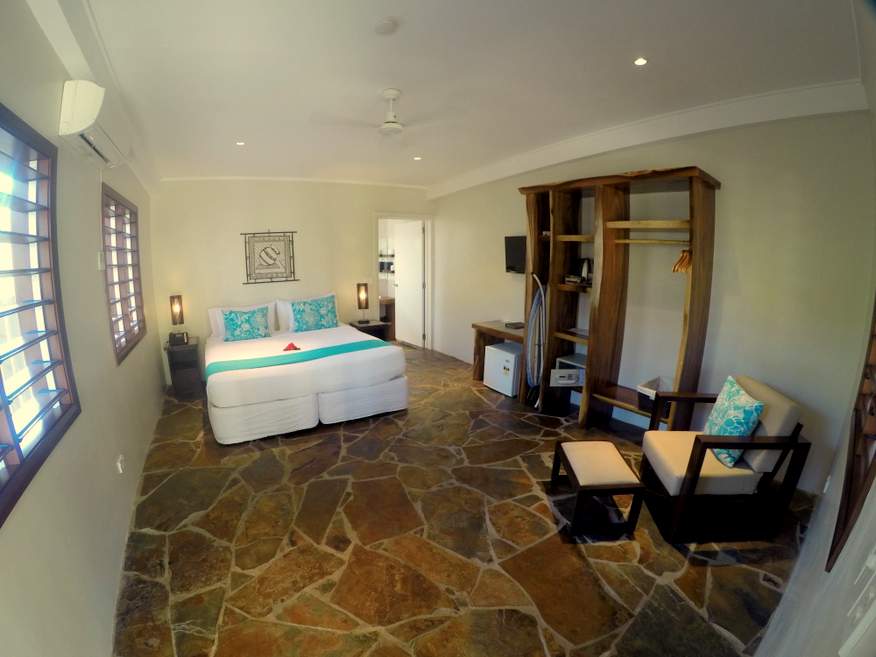 Spacious and modern Garden Bungalow
Garden Bungalow with it's own big deck
A spacious, fully air-conditioned room with lovely hand crafted local furnishings, and the open air shower in the en-suite bathroom. This room has a private balcony with outdoor furniture, overlooking tropical gardens. Includes daily complimentary bottled water, TV, complimentary in room wifi, mini fridge, coffee and tea, and a room safe. There isn't much difference between the Garden Bungalow and the Paradise Garden Bungalow except the Paradise Bungalow has a bigger outdoor open air bathroom.
One Bed Beachfront Villa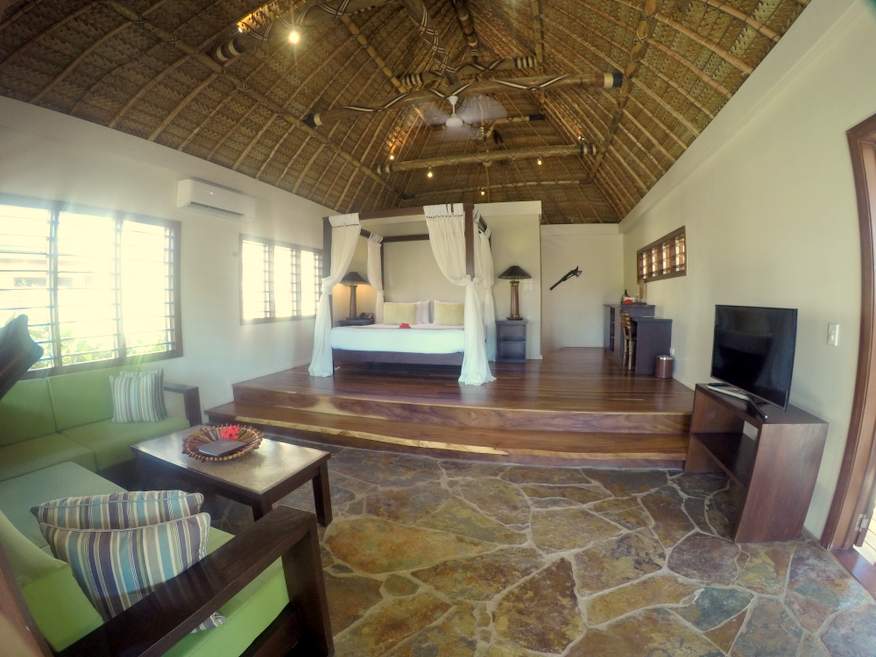 Pay the extra and get a beachfront bure - awesome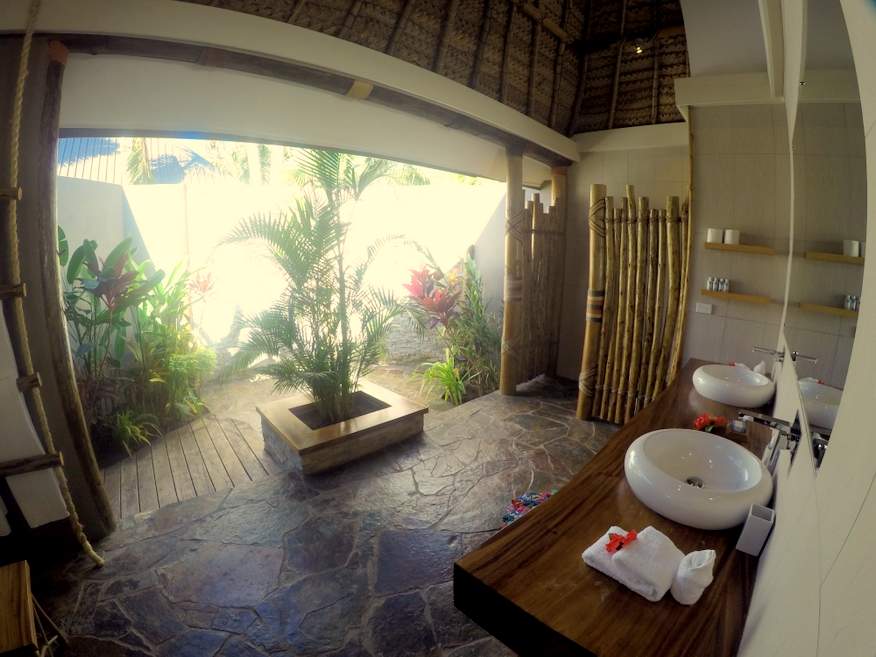 Fantastic open air bathroom
The one bedroom Beachfront Villa is luxurious and private - situated right steps from the sea and soft white sand. The room is big and features a private balcony with daybed, beachside sunloungers and sun hut for shade, air conditioning, complimentary in room Wifi, movie channels and complimentary mini bar stocked on arrival, with option to purchase refills. 

Paradise Honeymoon Suite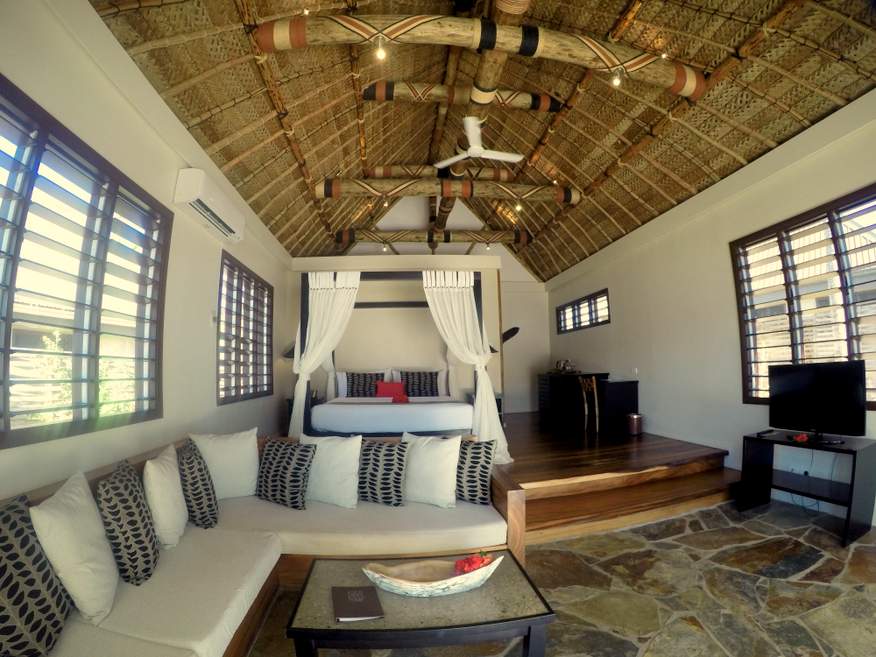 Paradise Honeymoon suite is perfect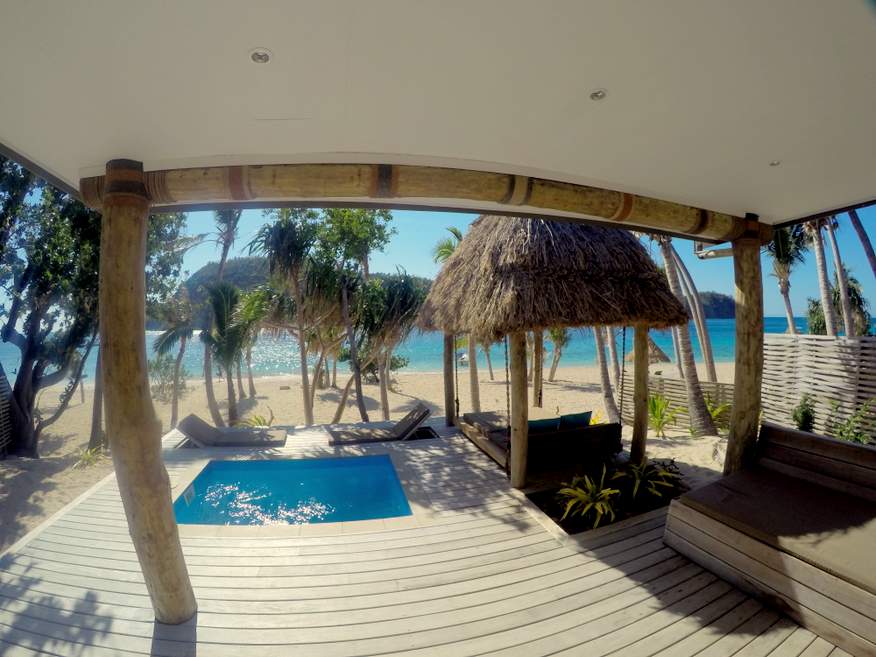 You get your own luxury beachside pool
Situated right on the beach only a few short steps from the ocean and facing the amazing sea a Paradise Cove. The 1 bedroom Beachfront Paradise Suite is luxurious with it's own private plunge pool and hanging day beds. Again, the bathroom is huge and open air. Perfect for honeymooners or a romantic getaway. Complimentary mini bar stocked on arrival with option to purchase refills. Complimentary in room WIFI, a 50 inch TV in the lounge, the bedrooms are fully air-conditioned. These villas are for Adults guests only. 

Private Luxury Beach House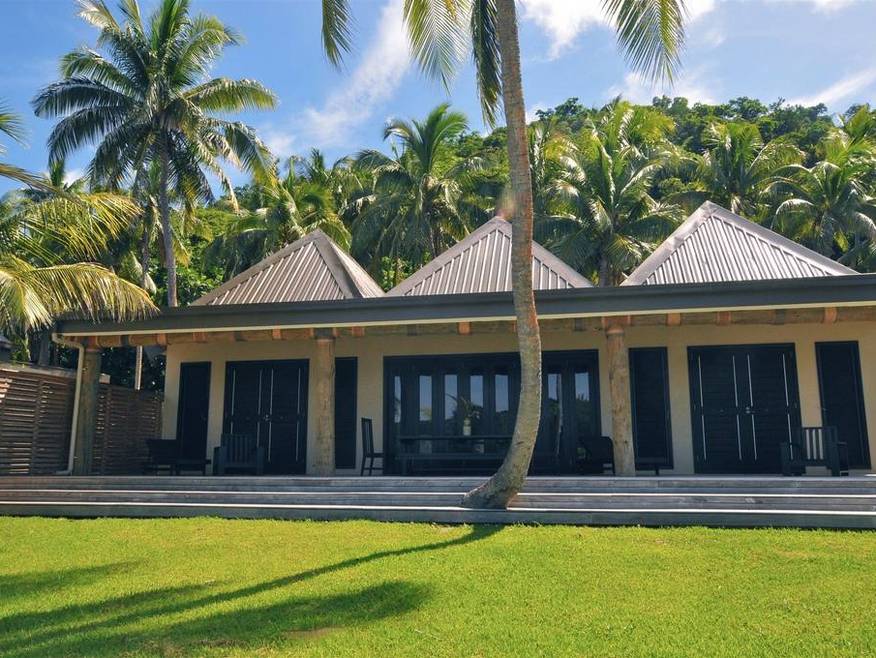 Luxury Beach House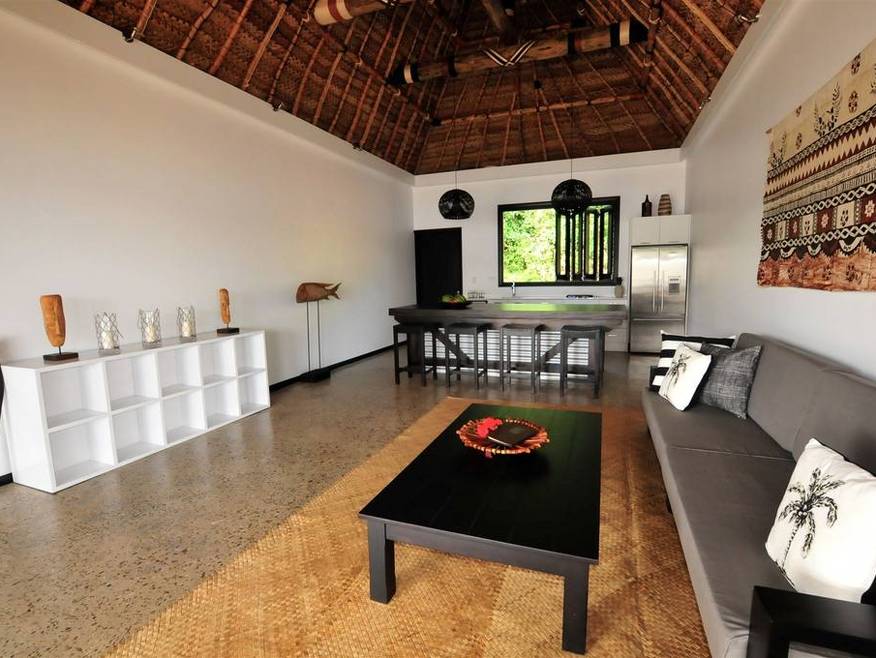 Lounge in the luxury beach house
We didn't manage to look through the luxury beach house so the two photos above are provided by Paradise Cove. These beach houses are totally awesome though, you'll see them on a totally separate island to the main resort. Talk about total privacy - very cool. We did however get to talk to a couple who stayed in one of the villas and they couldn't stop raving about how good they were. They were super impressed with the fact they had a boat and driver on hand at any time to take them back and fourth to the main resort. There every need was more than catered for.
Situated on a private beach, with crystal clear water right out front, these adults only one Bedroom Beach Houses are beautiful. Complete with a huge full lounge and kitchen plus open aired tropical bathroom and tons of outdoor space to relax. A tropical breakfast platter is delivered to your house - filled with fresh baked goods, fruit, juices and cereals. A menu is supplied to pre select your hot options which will be prepared for you at the house. Your very own boatman is on hand to transfer you to and from the main resort facilities when you choose (between 7am and 11pm). Complimentary mini bar stocked on arrival with option to purchase refills, complimentary in room WIFI, a 50 inch TV in the lounge, the bedrooms are fully air-conditioned. These villas are for Adult guests only (13 years or older). 

Kids Club, Teens hangout plus a gym
There are two different places for your kids both young and older. We met the ladies at the kids club where everyone looked like they were have a lot of fun. The teen tent hangout was also awesome with xbox games and more. The gym is well stocked and fully air-conditioned.
Kids club at Paradise Cove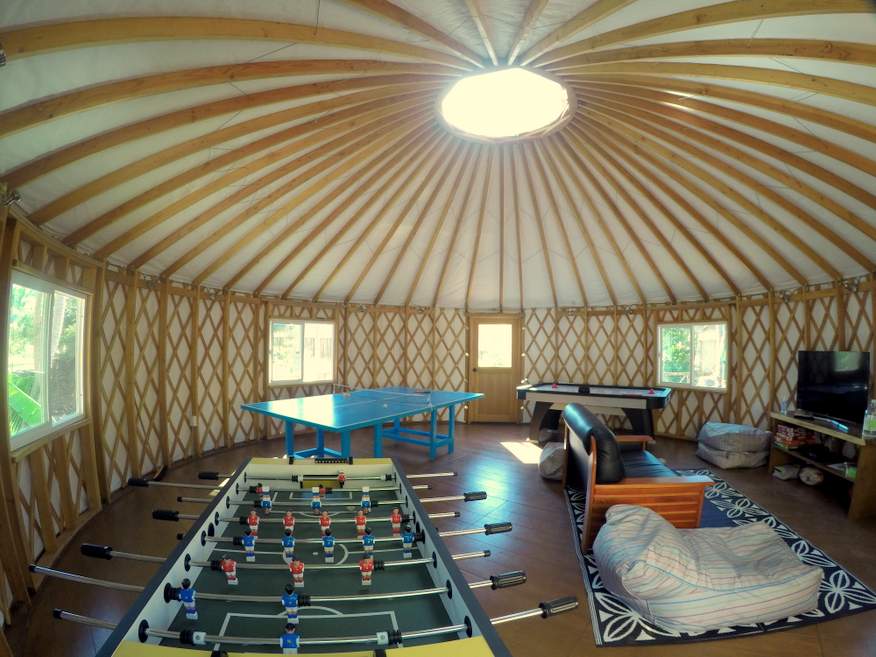 Teens hangout
Activities
Yoga: Daily yoga classes are held on the pool deck facing the ocean or at the gym centre where the purpose built Yoga deck enjoys sea breezes. All levels are welcome. The daily resort yoga classes are free and included in your stay. 
Swim with Giant Manta Rays: The giant Manta Ray season typically begins every year in May and continues right through to October. Manta Rays are known to make seasonal migrations in order to take advantage of particularly abundant areas of food, these are located in the channel just 10 minutes away from Paradise Cove by boat, and is the perfect feeding ground. Don't miss this once in a life time experience when you swim with these amazingly gentle creatures.
Pros and Cons...
Island: Paradise Cove Resort is on Naukacuvu Island which is a big island. 
Beach:  Good fine golden sand, and lots of deckchairs to relax in - excellent
Swimming Pool:  A large pool 
Snorkelling: Not the greatest from the beach but offer trips to much better places not far
Meals: Excellent. Compulsory meal plan very expensive.
Activities: All the interesting activities will cost $$
Water: Declination, they say not to drink it
Power: 24 Hours 
Downside:  Can get busy with kids at school holiday time
Value for money: Really good compared to older resorts on the mainland
Would we go again: Yes, hopefully will get to spend the night next time!
---
Latest special deal at Paradise Cove Resort...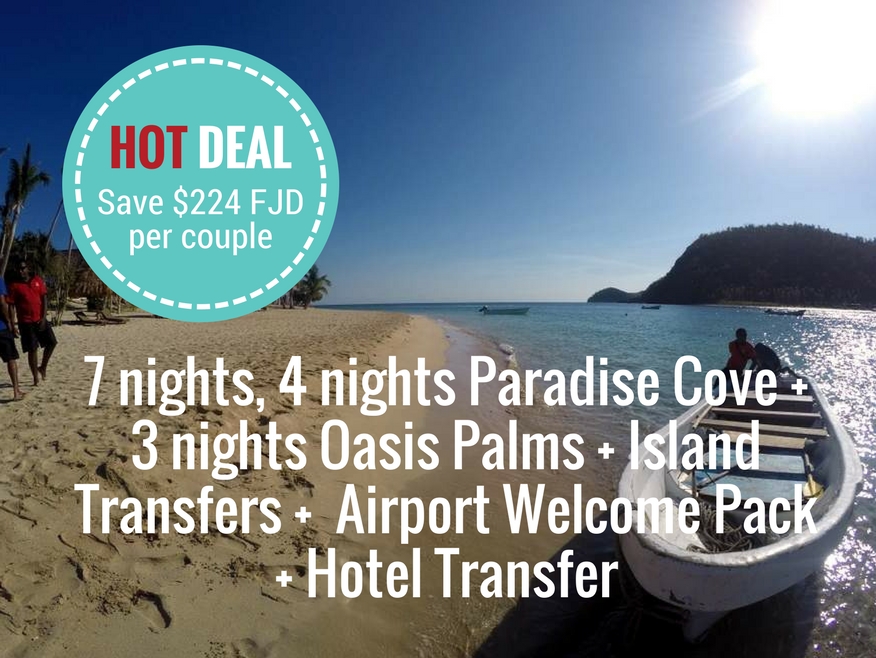 Book your package holiday to Paradise Cove here now...
Great special deal at Paradise Cove Resort and valid to 31 March 2018! Flights are not included. If you need extra nights at Paradise or even another night in Nadi, you can add these to your order while checking out. If you'd like to custom make your own holiday package which includes Paradise Cove Resort, we're more than happy to give you a quote. Just email us at info@fiji-budget-vacations.com, we're quick to reply.
---
How to get there...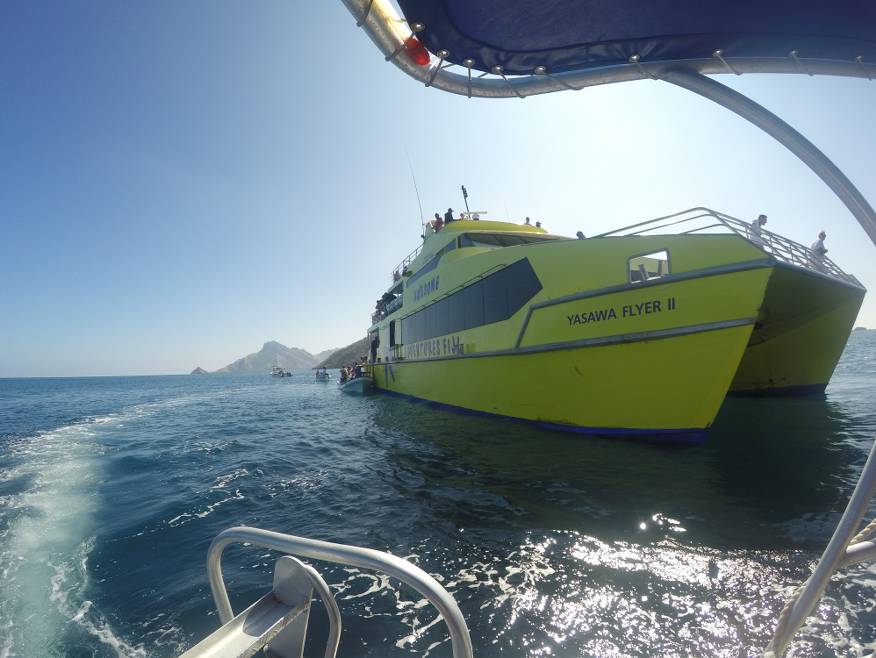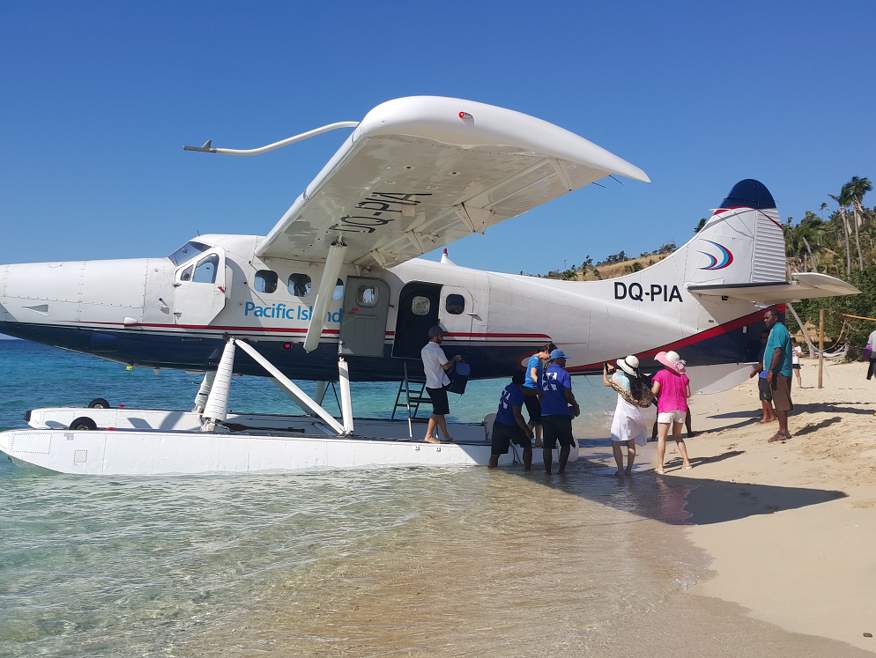 It's a 3 hour trip to Paradise Cove on the Yasawa Flyer ferry which stops at a number of resorts on the way there and back. It might pay to upgrade to the Captains Lounge so your trip is way more comfortable. Check in is at 8am for 8.30am departure from Port Denarau, the ferry only goes once a day and returns at around 5.45pm.

If you miss the Yasawa Flyer but can't afford a seaplane, then chartering your own water taxi is the best way to go. You'll get there much quicker than the flyer ferry as it doesn't stop anywhere on the way.
If you're having trouble getting to Paradise Cove Resort the same day you arrive in Fiji, then catching a seaplane is a good only option. Flights leave at a time to suit you. The flight is awesome, with stunning scenery along the way. The seaplane will land in front of Paradise Cove.
---
You'll find up to date prices plus all boat and seaplane options to book on: www.fijitransfer.deals
---
Map of Yasawa Island Resorts
If you click on the tiny box with the little arrow next to the works "Map of Fiji" it will expand and give you more options for viewing other places and things around Fiji.
---
---