Colo-I-Suva Park
If you have a spare afternoon in Suva, then a visit to Colo-i-Suva is well worth the trip. Pronounced Tholo-ee-Suva, this forest park is on Princess road, which skirts the western suburbs of the city.
They are open during daylight hours, Thursday - Sunday, as well as all public holidays. A popular place for the local kids to go swimming, you need a reasonable level of fitness to walk the tracks.
Some views around Colo i Suva
Colo-i-Suva forest park photo galley... click images to view larger size.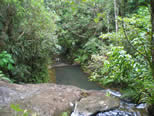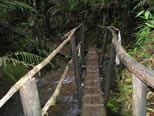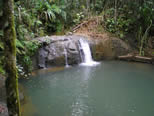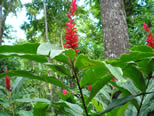 Basic information on Colo-i-Suva
Location: Princess road, close to the Rainforest Lodge
Open: daylight hours, Thur-Sun and public holidays

Take with you: fj$5 entry, water bottle, camera, towel for swimming, good walking shoes, and light jacket in case of showers
If you catch a taxi to the park, then the reurn trip can be done in two ways. Either ask the driver for a ph number, so you can call to be collected (or arrange a firm time. Or (my preference) is wait for a local bus. There is a stop right outside the front gate to the park, and you never have to wait long for one to arrive.
The stroll down to the walking tracks (which lead to Colo-i-Suva's swimming pools) will take 20-30 minutes. If the track is dry, then it's possible to drive down instead. Once you start, it's beautiful in the dappled shade, surrounded by mature forest and constant birdsong.
We saw various brightly colored parrots amongst the treetops, but nothing we could positively identify. Walking back before dusk, we also saw some large bats. These were not the common fruit bats that are so common around Suva. They appeared to be around the same size, but much lighter color.
The swimming pools in Coli-i-Suva
Once you reach the first pool, you will have earned a swim. The walk through the forest can be quite humid, and in the small valleys you are sheltered from any cooling breeze.
The water is suprisingly cool, even in mid summer. I was in and out in less time that it takes to read that sentence, but I felt much refreshed afterwards. This area was used from some of the scenes of the movie "Anaconda" (actually, one of the sequels), and there is no doubt, the area does have some resemblance to the Amazon wilderness. It's hard to beieve that you are only a 10-15 minute drive from the center of Suva.
How to get there