Beachcomber Island: Fiji's "Party Island" or is it?
You can walk around the whole island in about 10 mins, it's that small. Beachcomber Island is one of the closest islands to the mainland departure points from Denarau, so you will have less travel time. Great beaches, good snorkelling, and lots of water based activities available (although you need to pay extra for those). Drinks are cheap compared to other island resorts, and bures/dorms are acceptable. They now have hotel rooms which are excellent quality. The water pressure is actually the best we've experienced, even on the mainland. Plenty of power 24/7. Good internet.
One of the biggest complaints about this resort can be the food quality. However when we were there, there was nothing wrong with the food, ok it's not 5 star but you're not paying for 5 star. Not enough sun-loungers around and it can get busy. 
Most Suitable for...
The resort will tell you this place is suitable for everyone, all age groups. But in our opinion, this isn't the case. While some family groups do stay here and enjoy themselves, the resort is probably best suited to the 18-30yr age range. Especially if you are travelling in a group. Having said that we're not in the age range (into 50+ & 60+ now) and we found it really nice. That's because they now have a great block of really nice hotel rooms on the quiet side of the island well away from the dorms and backpackers.
The bar area has a lot of action going on as you can imagine, very social and you can met all types of people from all over the world with interesting stories to tell. The music is actually really good, excellent stereo system pumps it out. It's a big area with plenty of room with sand floors.
What's the food like?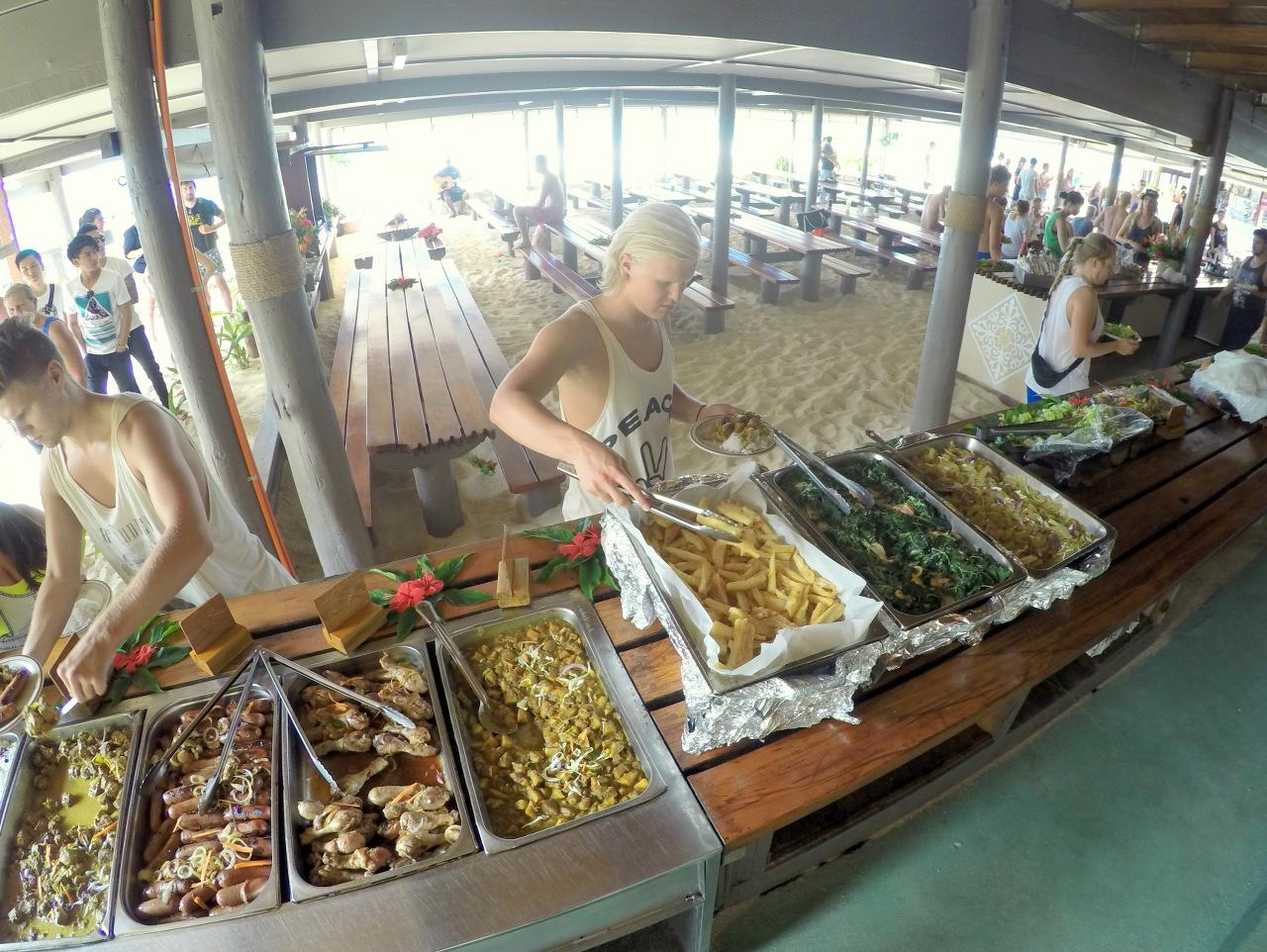 Buffet lunch selection is pretty good
The restaurant is big and can get busy, but well organised for big crowds. Sand floors. It's all buffet with 3 meals a day. At breakfast there was pancakes, fruit, toast, muffins, donuts, hot beans, sausages plus 2 chefs were cooking eggs to order. The omelettes were excellent. Lunch is buffet again with plenty of variety which changes everyday. Dinner is along the same lines of course with different dishes. You do need to be there on time though or you'll miss out, they clear away pretty fast. Coffee and tea is always available during the day.
Meal plan is compulsory and payable directly to the resort only. Drinks - pretty good value, sorry can't remember the price of a beer, but we had a really good bottle of Aussie merlot for only $25 FJD with dinner. Loads of cocktails to pick from with daily specials.
Accommodation at Beachcomber - the rooms
Things have changed over the years at Beachcomber, it's one of the first backpacker resorts on the islands in Fiji and originally only for the young. Now they have beachfront bures and a great block of 16 hotel rooms on the opposite side of the island facing the sunset. These rooms are about a 3+ star quality and very comfortable, especially the modernised bathrooms with fantastic water pressure. This block is called Sun Set View, room keys have SSW on them. In our opinion the only room to stay if you want a really nice private room, actually the beachfront bures are good too. The SSW rooms all have a deck with loungers and right on the edge of the water with stunning views and amazing sunsets. No TV's in any rooms. There is a big screen TV in the bar.
Dorms
3 different dorm rooms ranging from 6 beds to 42 beds. Pretty average. The only good thing about the Grand Dormitory are the new bathrooms, very nice. Beds are packed in with 4 top and tail with bunks above. No air con, just fans.
| | |
| --- | --- |
| Upstairs in the Grand dorm | Bunks in the Grand dorm |
| Renovated bathrooms for Grand dorm | Grand dorm with netting for windows |
| Falekau Dorm quieter | Vesi Dorm only 6 bunks beds |
Private Lodge Room
Two single beds can be pushed together. Ensuite bathroom, fridge, tea & coffee facilities. Rooms are quite small. Only fan cooled, no air con. Average condition. 16 Private Lodge Rooms - 1 x Double or 2 x Single beds 
| | |
| --- | --- |
| Private room in the lodge | Private rooms upstairs |
Beachfront & Oceanfront Bures
Ok, even though they are beachfront and roomy they're still in need of some renovations. More private though with lots of trees or shrubs around. Pretty good views from most depending on how far back they are. Only 3 are located right on white sand beach with swimming directly in front, while the others are on the waters edge or close to, it's not good for swimming. Good value for a family. Tea & coffee facilities and fridge. No air con only fan cooled.  
16 Oceanfront Bures - 1 x King + 2 x Singles or 1 x Queen + 2 x Singles 4A or 2A + 2C
3 Beachfront Bures - 1 x King + 2 x Singles or 1 x King + 3 x Singles 4A or 2A + 2C - 1 

| | |
| --- | --- |
| Beach front bure | Beach front bure |
| Ocean front bure | Ocean front bure |
| Ocean front bure | Bathroom in ocean front bure |
SSW (Sun Set View) Ocean Front Hotel Rooms 
On the opposite site of the island to the restaurant, bar and people.  It's really quiet over here.  We stayed in a downstairs unit in the middle somewhere. Awesome views and right on the waters edge. Beds are nice big king size and very comfortable, the pic doesn't show it below, but they normally have another single bed in there too.  Ensuite, fridge, tea & coffee facilities. Heaps of room. Fully air conditioned. Loungers on the deck. We reckon these rooms are the best if you're budget can afford it.
Two story block of 16 units - 1 x King bed or 1 x King + 1 x Single bed.  3A or 2A + 1C

| | |
| --- | --- |
| Front deck of SSW room | The view from SSW room |
| Bedroom in SSW. Our room also had a single bed | Big shower, modern bathroom |
Book your stay at Beachcomber Island with us and get a great DISCOUNT...
You can book more than 2 nights further into the booking process. First select how many people and your date of travel then click on the BOOK NOW button, you will see lots of options for extra nights, still at discounted rates.
---
About the booking process...
We only take a small deposit now with full payment due before arrival.
As soon as you book we'll send you an "Order Pending" email to say we have received this. We then book your order (as fast as humanly possible), and send you a second "Order Confirmed" email with all the important details of your order. You'll need to print the second email out and bring it with you or be able to show it on a mobile phone.
There are no credit card fees or booking fees on your deposit with us.
Payment is secure, look for the green padlock in your browser bar on the order form.
Your credit card is stored in our booking systems secure vault and will automatically be deleted 30 days after travel. We do not have access to your credit card numbers.
Last minute bookings, please call us on (+679) 777 6666.
All prices include 25% Fiji Government taxes & levies (9% VAT + 10% Sales Turnover Tax + 6% Environmental Levy).
Cancellation Policy…
Cancellation fees apply on the total package price: • less than 7 days notice - 100% • less than 14 days notice - 50% • less than one months notice - 25%.
How to Cancel...
For all cancellations please contact us directly. We highly recommend you have travel insurance to cover any possible cancellation costs.
---
The Beach & Sea around Beachcomber
Beach is really good, soft white sand and plenty of it. Good swimming even at low tide. Lots of room for everyone. For snorkelling they take you out on a little boat and drop you off just a short distance from the shore on a coral reef. Actually spotted a turtle swimming by on the way back. The guide wasn't much of a guide, just follow the leader, didn't try and spot anything exciting. Well not sure there was anything super exciting to see anyway.
Things to do on the island
Daily free activities held in the big bar area include a Kava ceremony, basket weaving and coconut shelling. We had a lot of fun trying to make a basket, it's much harder than it looks. Also massage and beauty treatments available, see pic below for prices - which are subject to change of course.  Diving is available plus the banana boat rides. For snorkelling unless you're on a day trip to Beachcomber you'll have to hire the gear. Jetski and para-sailing available too.
Day trips to Beachcomber Island
We went out to Beachcomber for the day on their own boat which leaves from Anchorage Resort near Vuda, it's the cheapest day trip to Beachcomber you'll find. Click on the link to read all about our Day trip to Beachcomber Island. 
South Sea Cruises also has a full day and a half day trip to Beachcomber leaving from Denarau, you'll find all the info on these trips on the South Sea Cruises page.
Transport and how to get to Beachcomber Island
Transfer boat companies: South Sea Cruises, Ratu Kini
For up to date prices and instant bookings for all boat transfers: www.fijitransfer.deals
The Facts about Beachcomber Island & Resort
Location: 30 minutes by boat from Denarau Marina
Snorkelling: Medium to good quality 
Beaches: Very good with nice soft white sand, nice clear water
Swimming Pool: Yes, but only good for learning to dive in
Bar: Yes with cheap beer, good cocktails and wine 
Restaurant: Yes although no menu to choose from only buffet each day
Internet: There is free wifi available in the bar area only. You can also use the 3G network for mobile broadband from your vodafone or digicel phone.
Power: Generator and 24/7
Water: Decel plant - big system, tons of water, excellent pressure. 
Waste: Food scraps are frozen and shipped off the island. Own waste treatment plant pumped into a tank, then filtered and put on the gardens. No pumping into the sea.
Reef clean: once a month the team go out and clean the reef of any rubbish, bottles etc.
Rare: Beci bird on the island, very cute.
| | |
| --- | --- |
| | |
| Swimming pool not much | Turtle pool, this one due for release |
---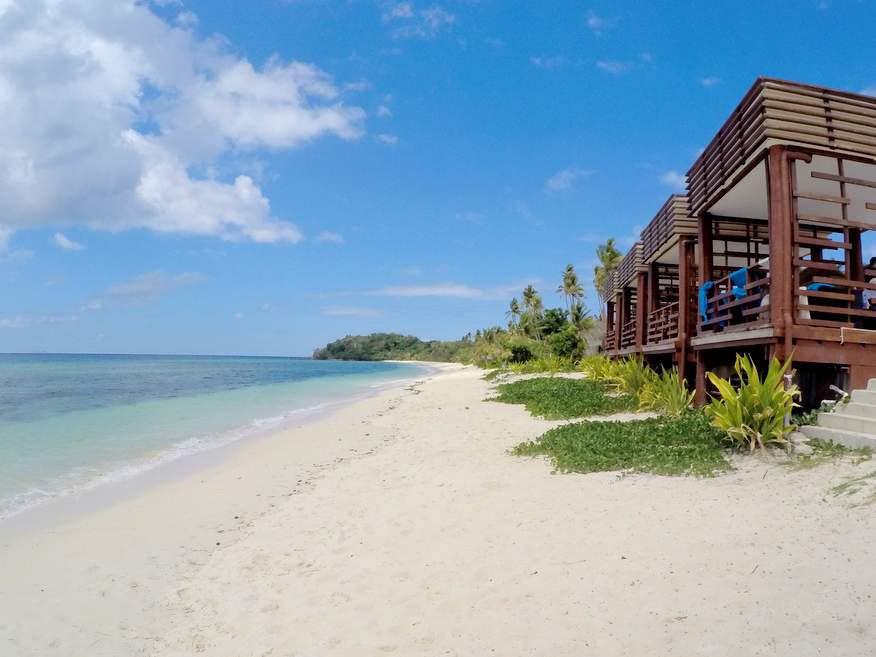 Mana Island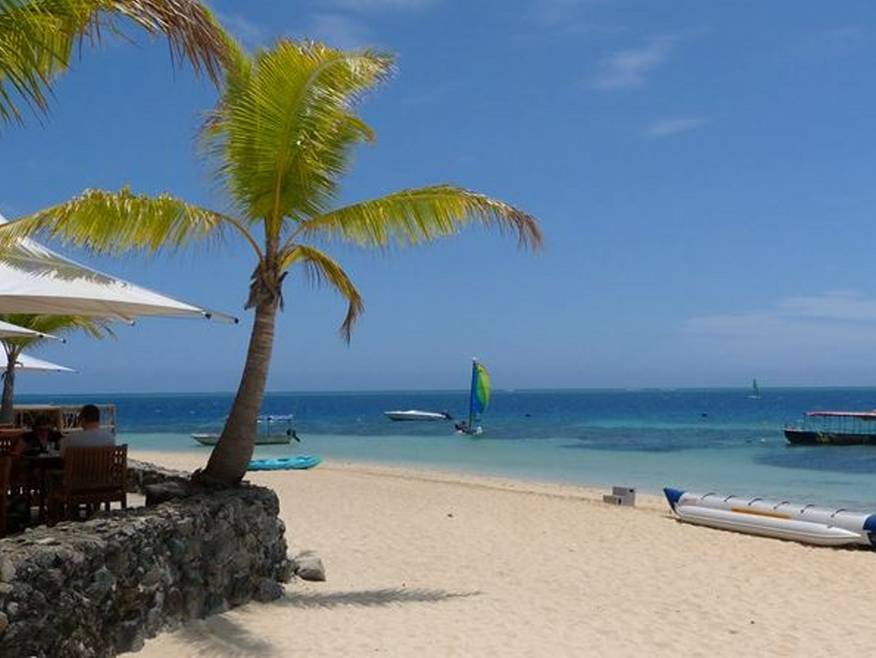 Castaway Island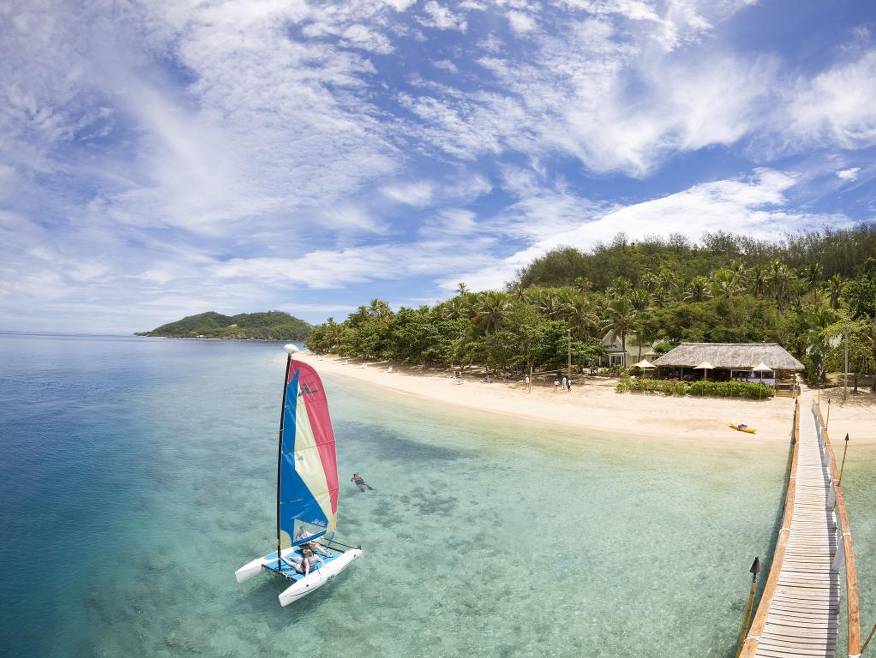 Malolo Island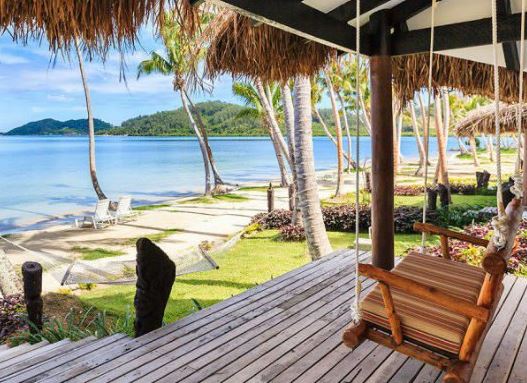 Tropica Resort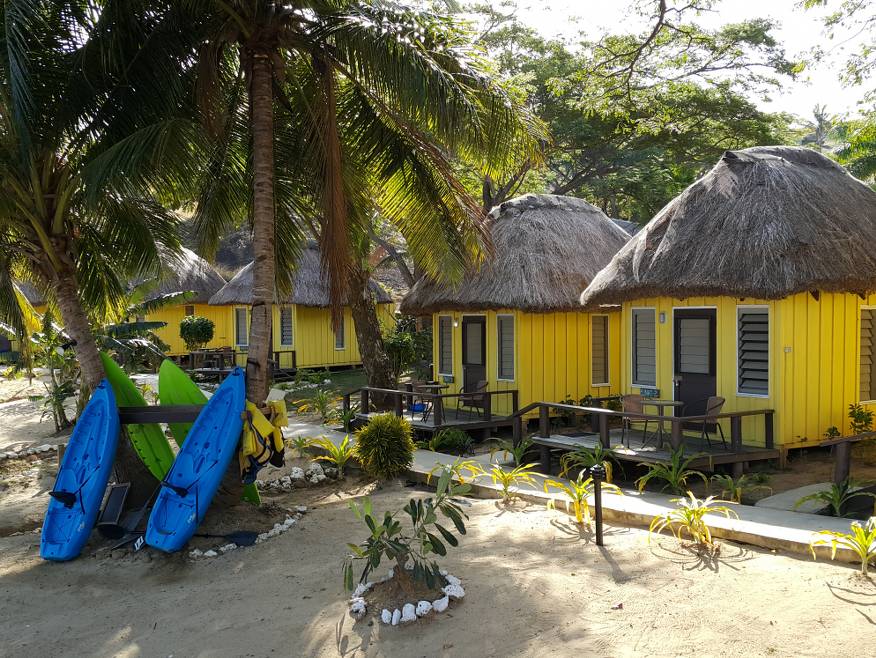 Funky Fish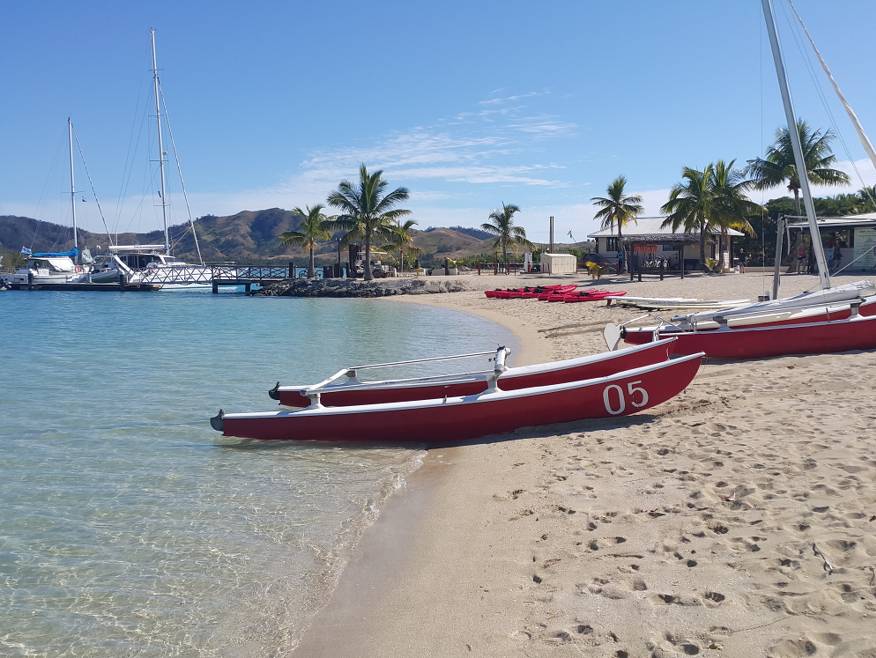 Musket Cove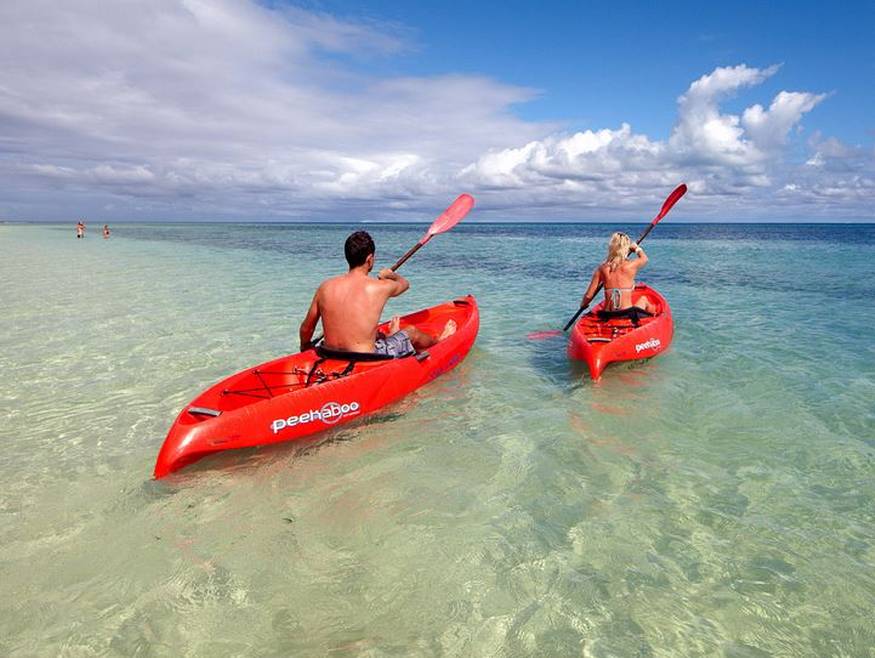 Lomani Resort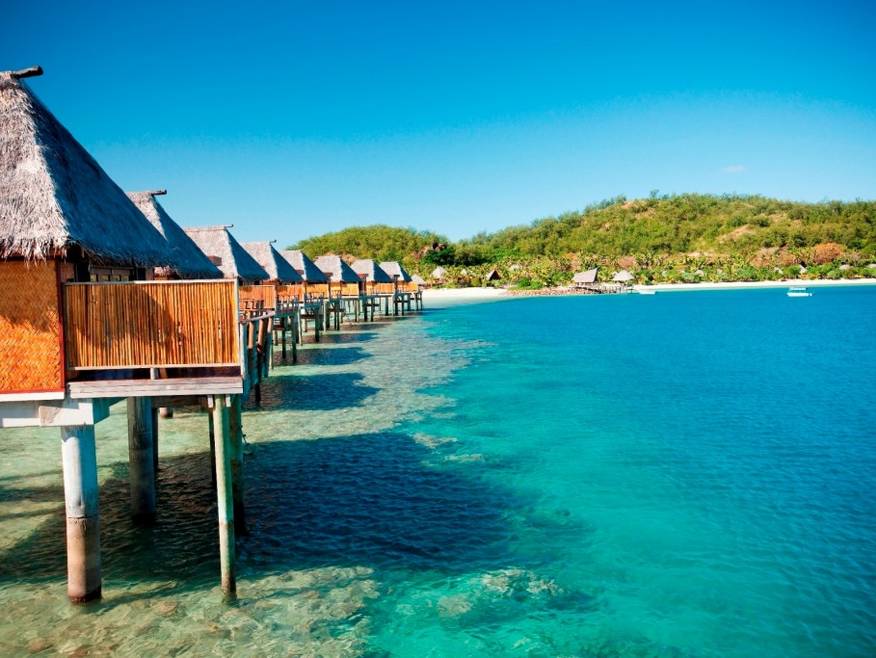 Likuliku Resort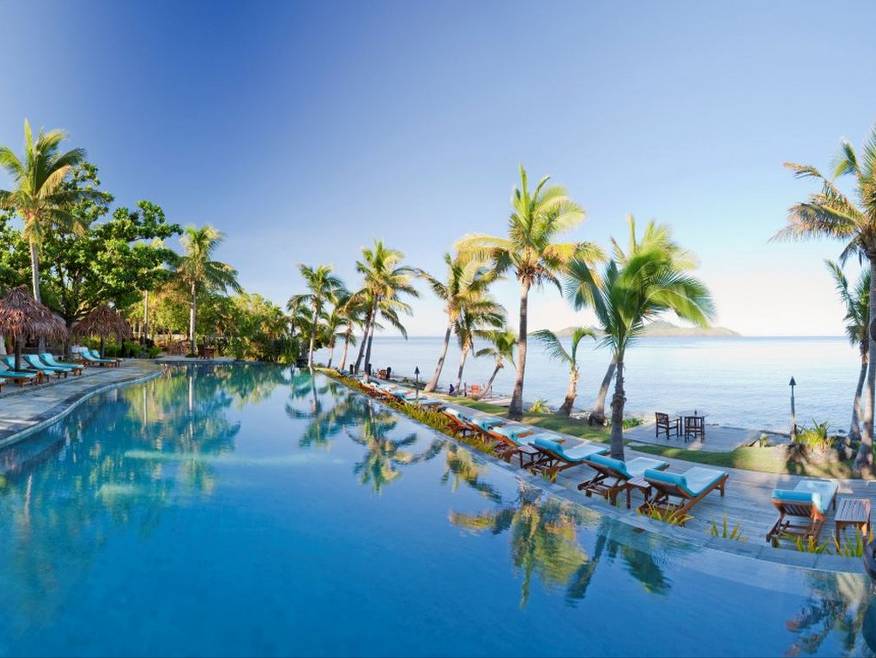 Tokoriki Resort
Matamanoa Island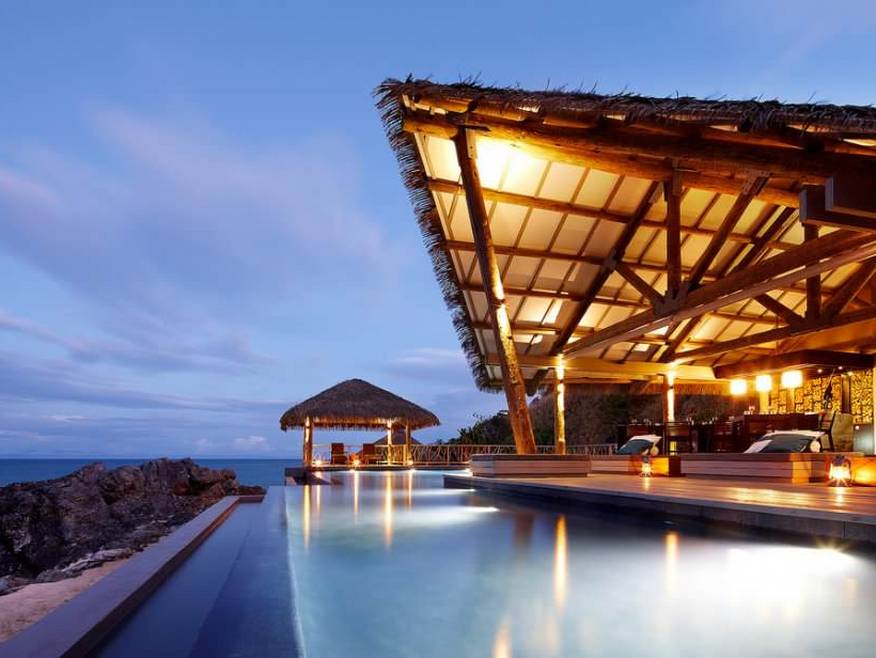 Tadrai Island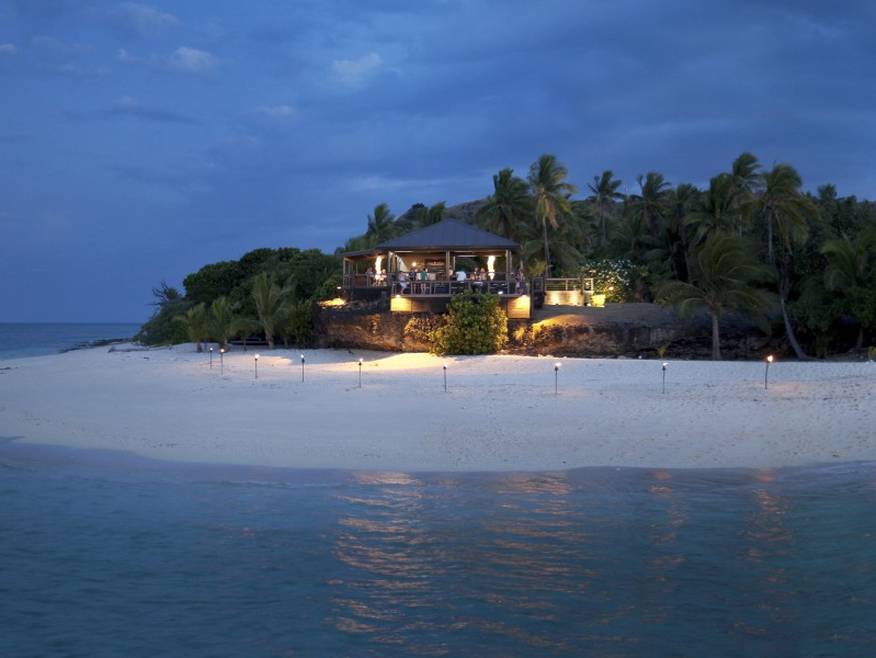 Vomo Island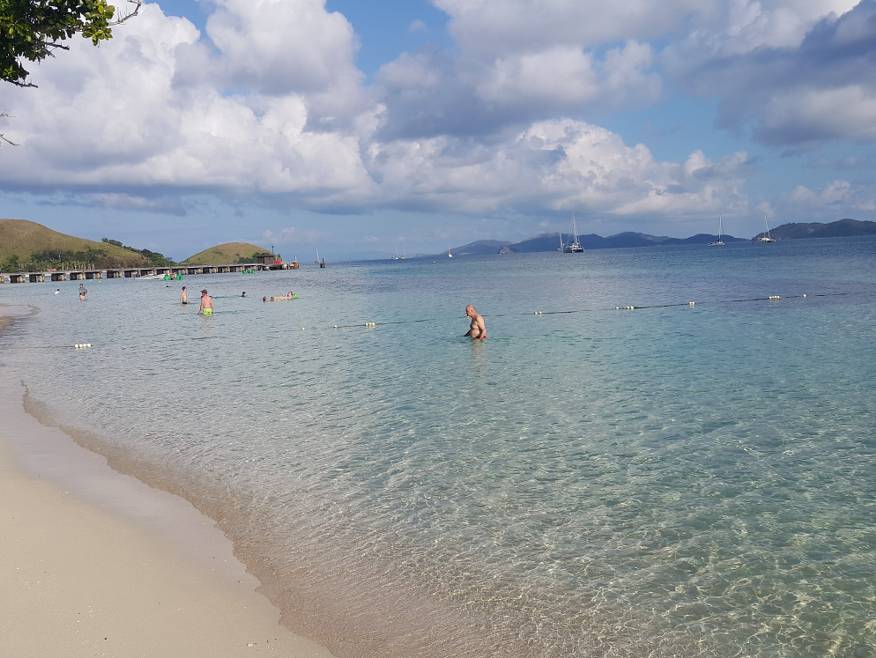 Mana Lagoon
Map of Mamanuca Islands & Resorts
---