Your guide to: Bounty Island

This is one of the closest Mamanuca islands to the Denarau Marina, approx 30 minutes on either the Yasawa Flyer or South Sea Cruises, Tiger IV catamarans or on the Ratu Kini boat. Bounty island offers 48 acres of untouched tropical gardens surrounded by golden sandy beaches, clear pristine waters and a marine reserve that provides spectacular snorkelling.
You have the choice of staying at the Bounty Island Resort, or go there on one of the day trip excursions.
If I was on a tight budget and could stay at one island only in the Mamanucas, this just might be it. Bigger than Beachcomber island, this is still quite small... you can walk around it in about 30 minutes.
Lots of sandy beaches on one side, with more rocky exposed beaches on the other. Plenty of room to get away and sit by yourself if you want. It has a great low key feel to it, very casual without all the big crowds.
Main beach with plenty of loungers and shade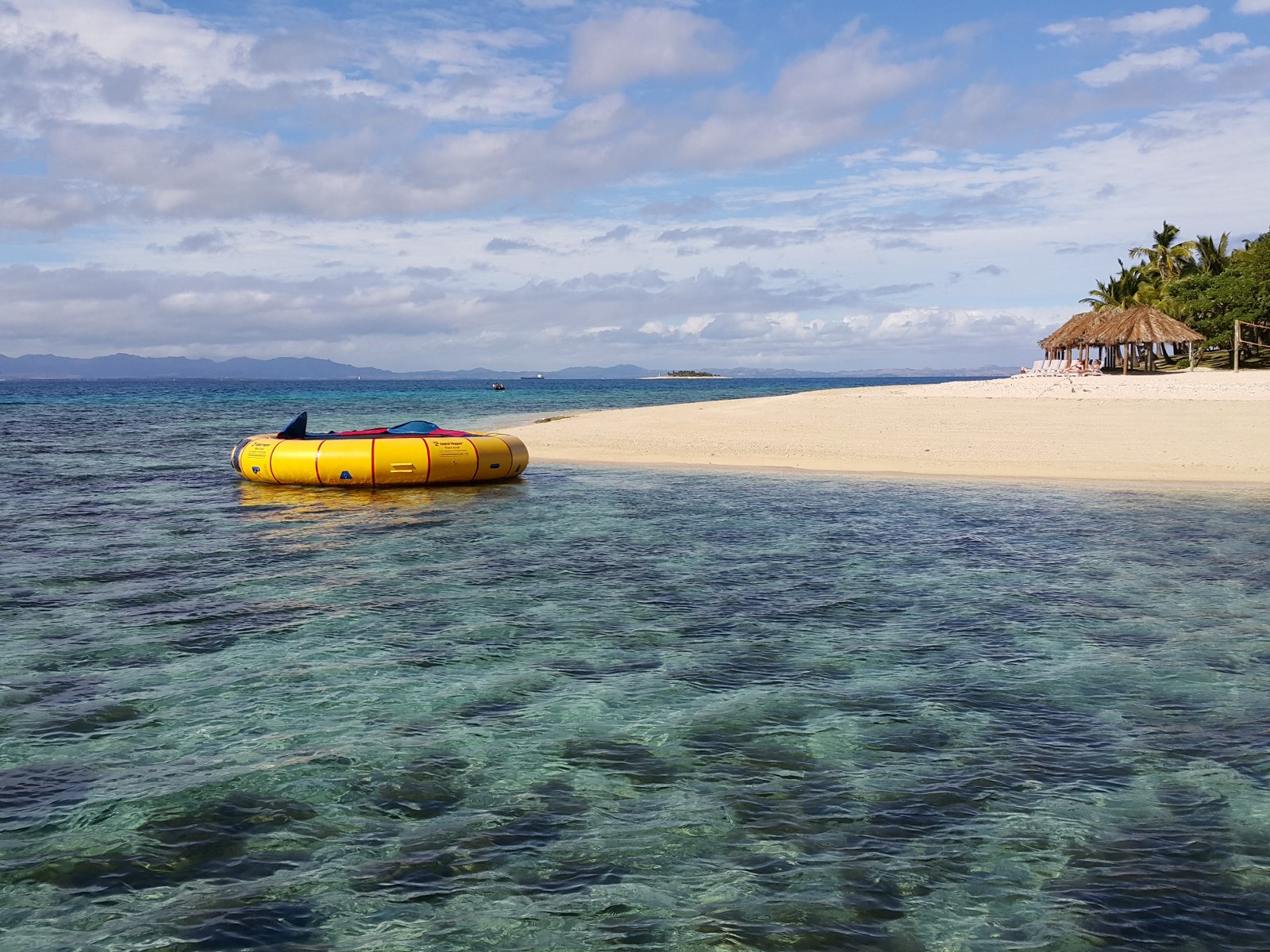 Trampoline was popular
Like many of the Mamanuca and Yasawa islands, this can suffer from seaweed that gets washed up onto the windward side beach. But that all depends on winds tides and currents. Sometimes there are piles of it, and other times almost nothing. 
Bounty Island is also ideal for conference and other group tours. The Chiefly 'Bure Kalou' can hold 200 guests' theatre style. Catering is available with 6 covered, open sided bures on the beach where you can admire the views whilst being served your food.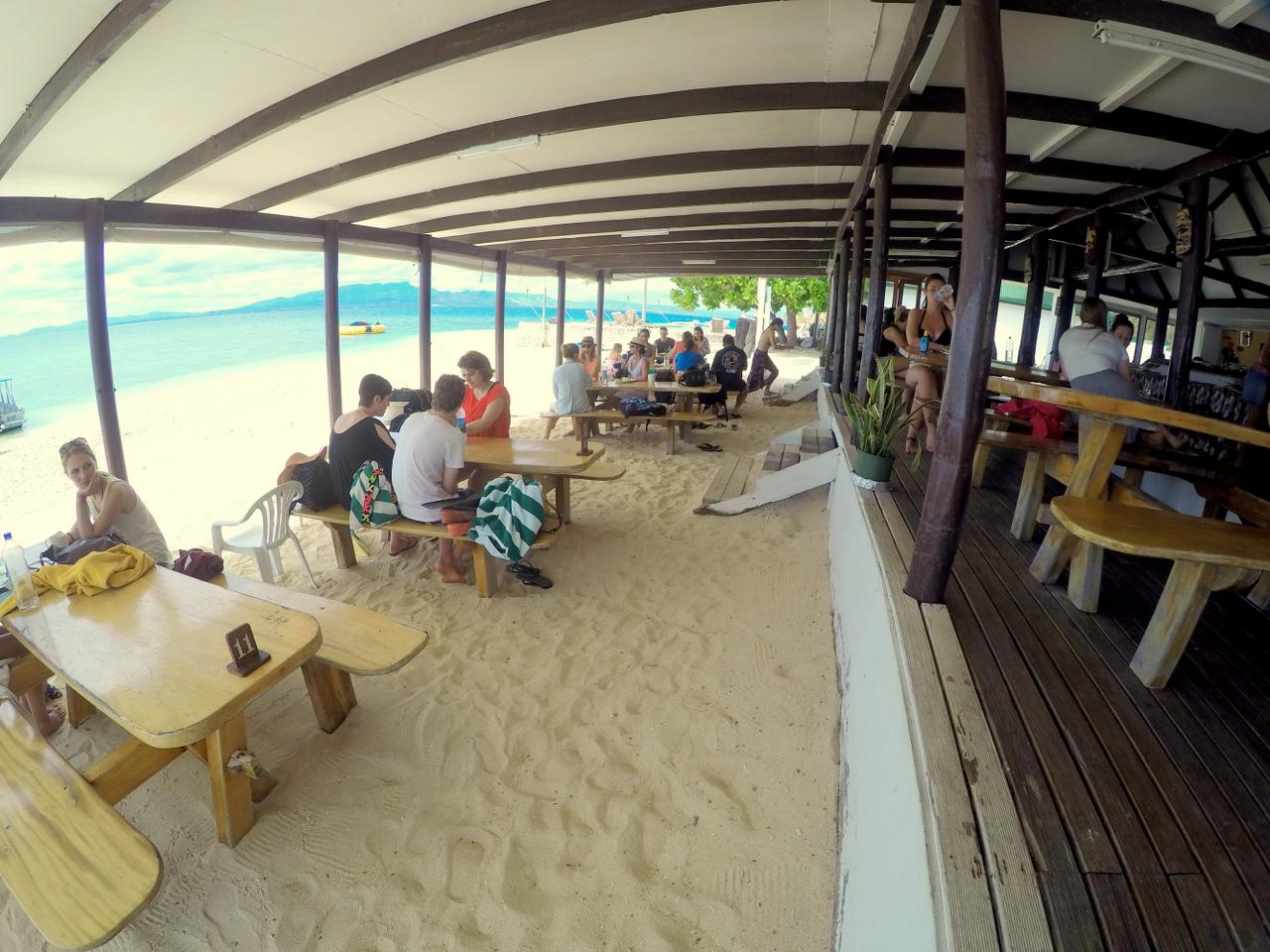 Beach front dining, just lovely
Sand not super soft, but still really nice
The beach, snorkelling & cute turtles
As mentioned the sand is not perfect fluffy stuff but still not as bad as South Sea Island. Plenty of lounges to sun bathe on and plenty of room. I like how you can go around the back of the island and sit on the beach all by yourself. The snorkelling is pretty good, there are a ton of pretty coloured fish, but just not a lot of really nice coral. Probably because of the last big storm that came through. Snorkelling at low tide can get a bit tricky too. No snorkelling tours. You need to hire the any gear, it's not free. At the time we were there they had about 70 baby turtles - really cute, started with around 90, but gave some away to Beachcomber Resort. The turtle program is very successful.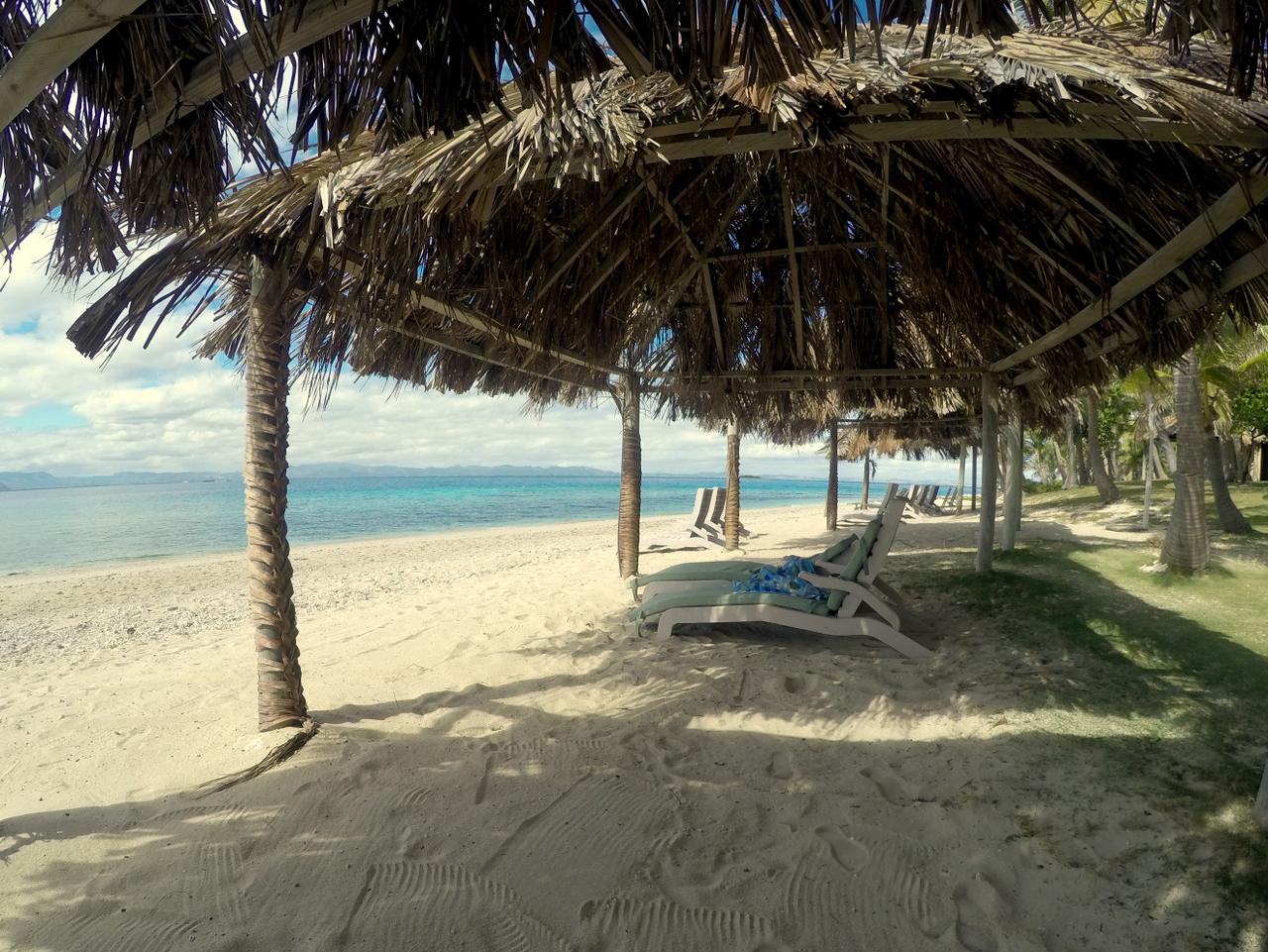 Main beach, great spot for relaxing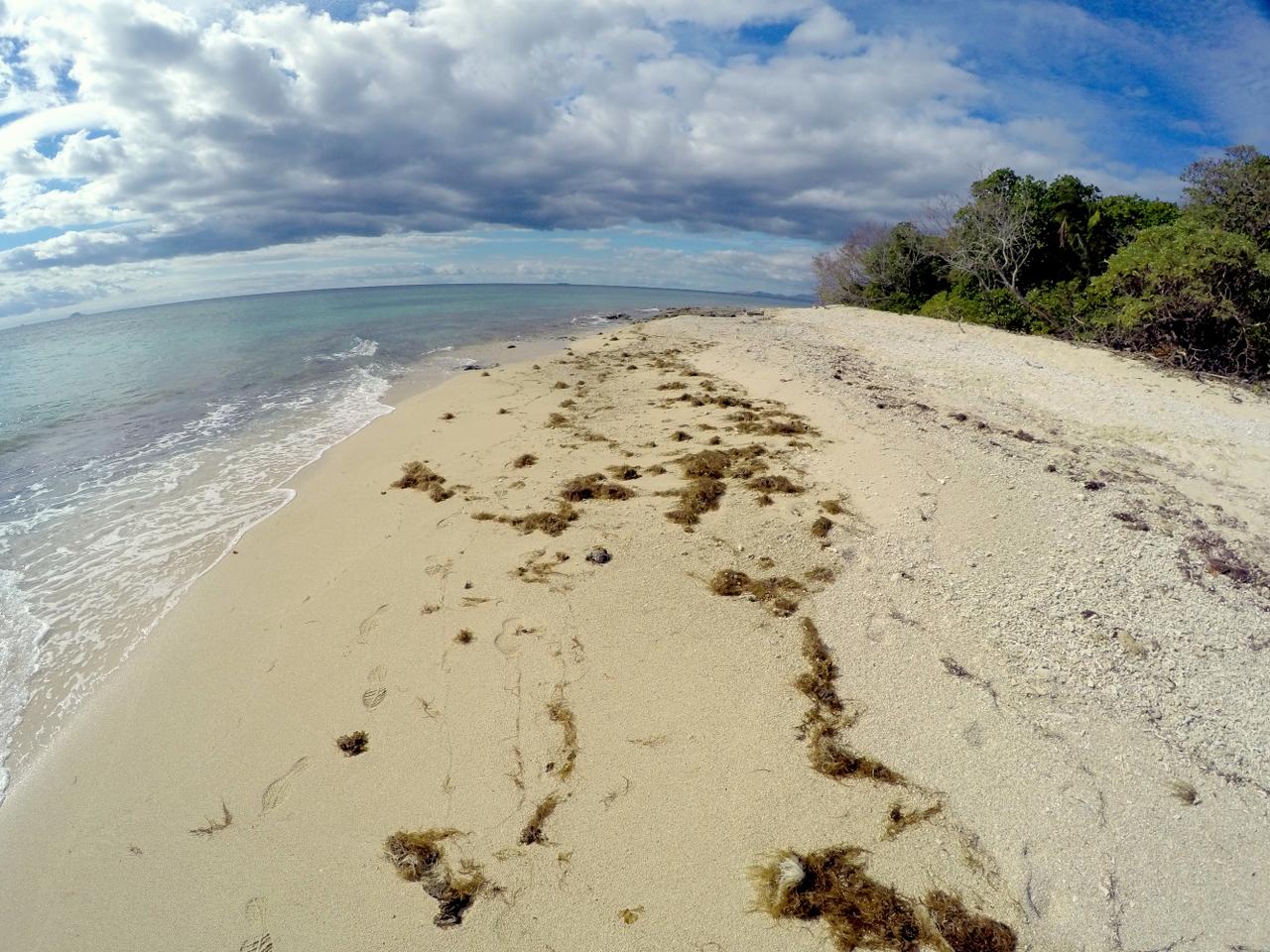 Beach on the opposite side of the island, nice & quiet
Loads of colourful fish to see
That's me snorkelling, the water was so clear, just beautiful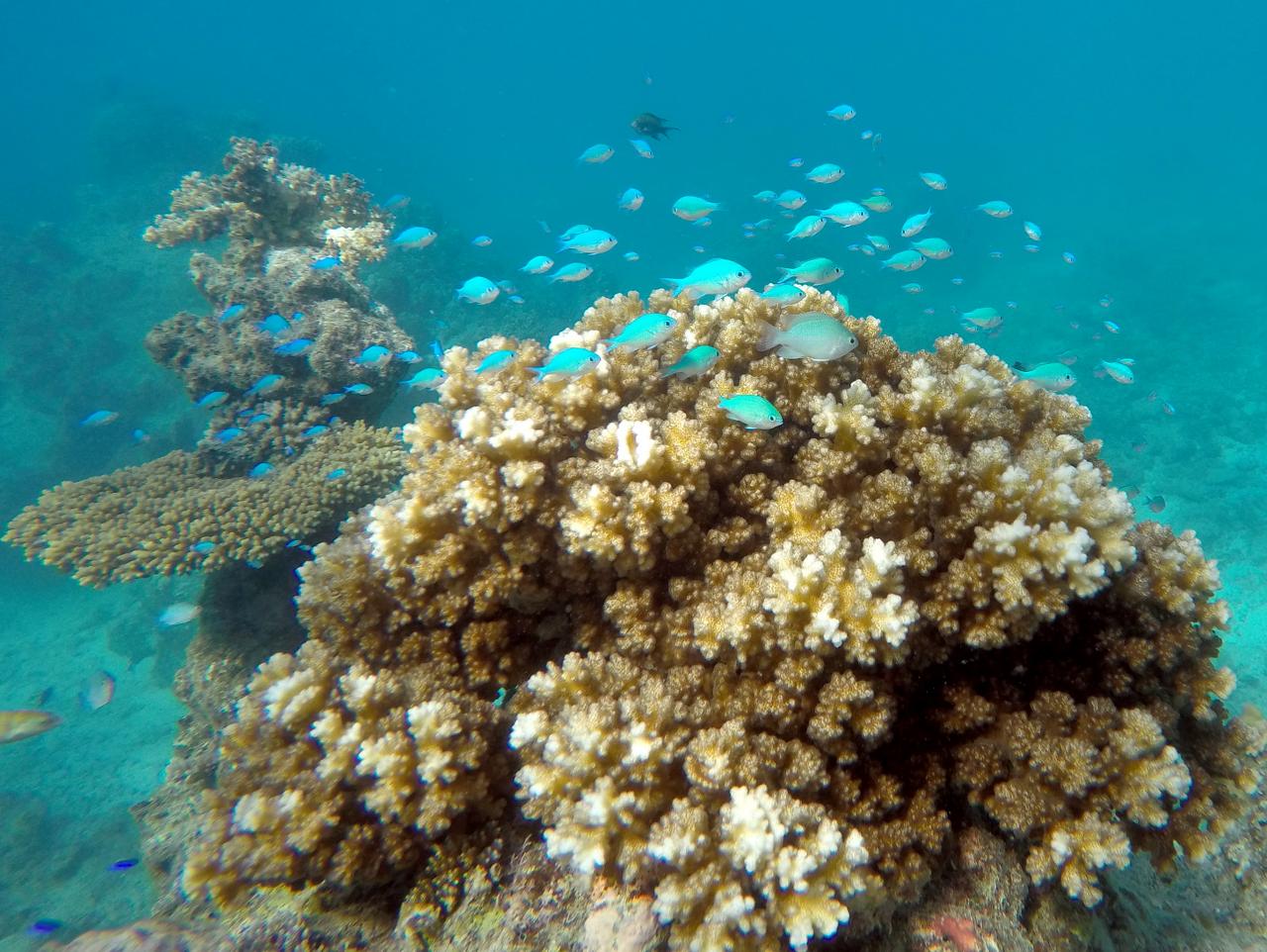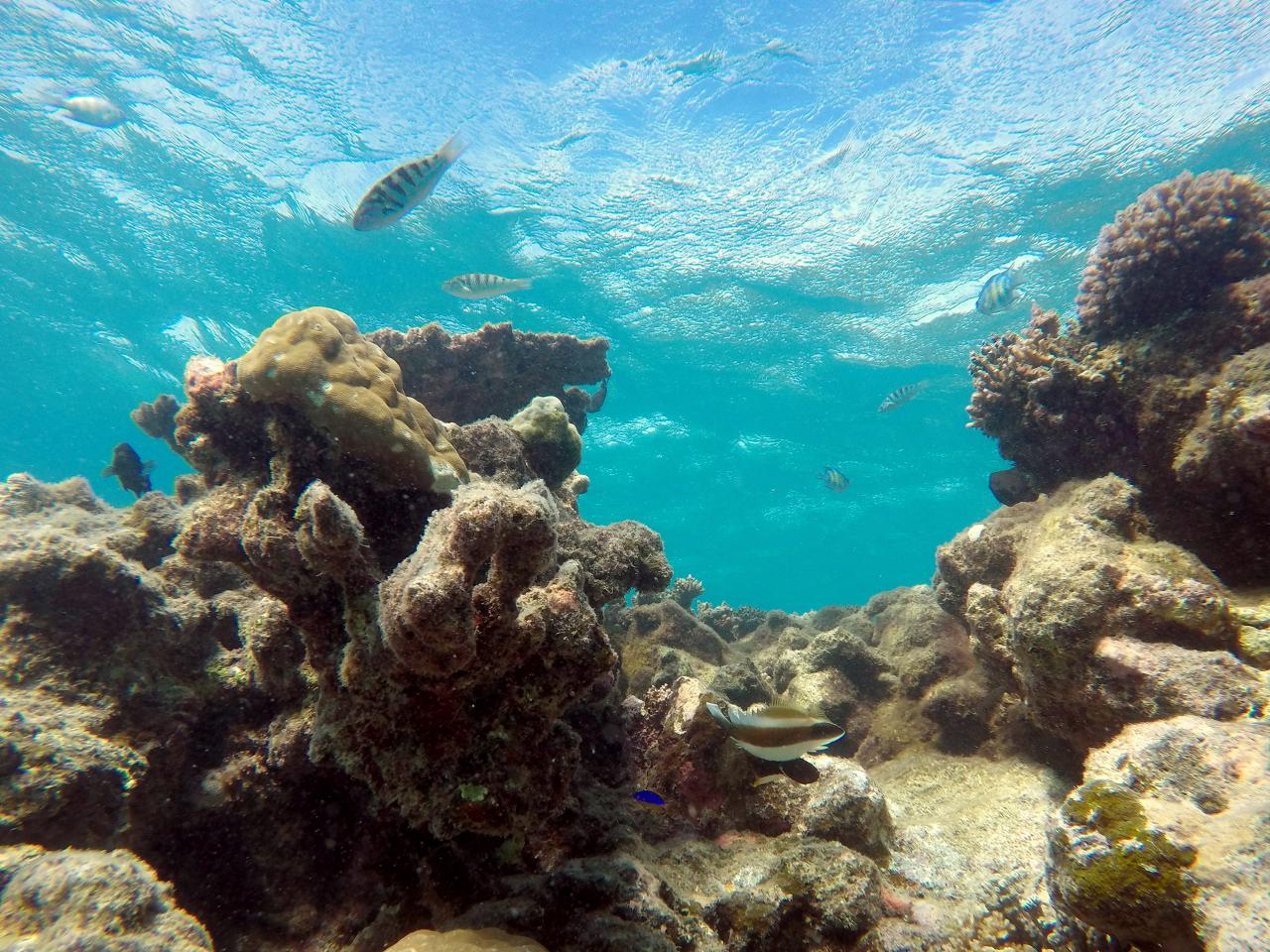 Bounty Island Resort
Accommodation is fairly basic, but generally clean and comfortable. The beachfront bures are great value. This took quite a hammering during Cyclone Evan (December 2012) and was closed for over 6 months.  
This island is more relaxed and peaceful than the nearby Beachcomber, and that is part of the attraction. While it caters to most age groups, because there is no "kids club" there tend to be less families with young children. The pool is really good, but who needs a pool when you have such a lovely warm ocean!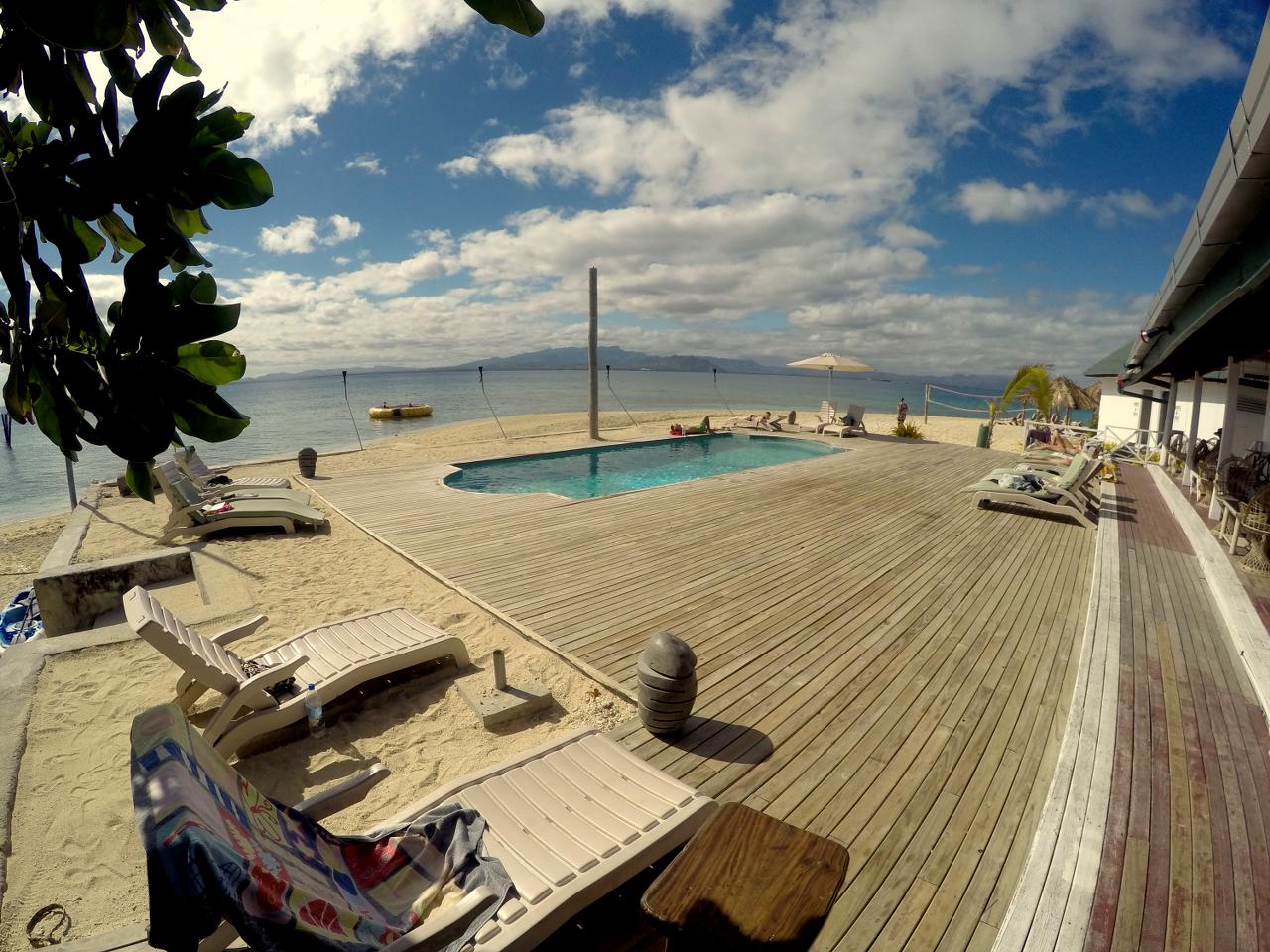 Nice clean pool with plenty of room. Directly in front of the bar area.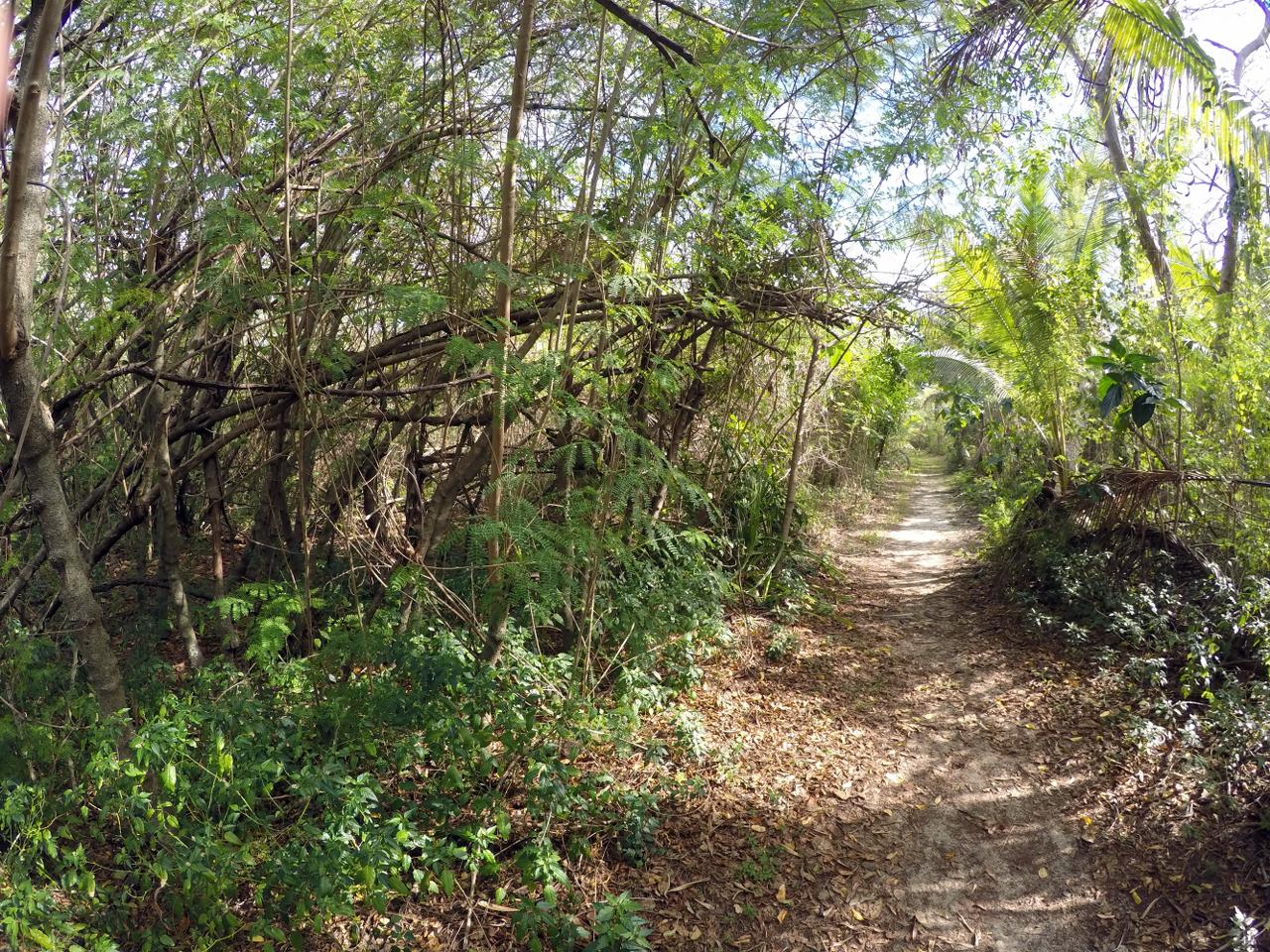 Really nice bush walking track
What's the food like?
We were really surprised by how good the food was and lots of it - you won't go hungry. New management has really improved the meals. Everything we had was very well cooked. Even though its a compulsory meal plan they've done a great job. They cater to vegetarians well. For breakfast you just take your pick from the menu of fried eggs, bacon, baked beans, wedges and toast. It's not buffet, it's cooked to order, so they never run out and it's never cold or old. Lunch is buffet with a good variety. Fresh baked buns were delicious. For dinner there was a soup as a starter, then 2 choices for mains, fish or beef stew, but obviously this changes everyday. Orders were taken and brought to you when ready, no buffet which we really liked. Fresh fruit for dessert.
Meal plan is compulsory. Payable directly to the resort only.
Drinks - pretty good value, cheap stubbie beers, but you could get draught on tap in happy hour cheaper again. Happy hour cocktails were also cheap, not the greatest to be honest.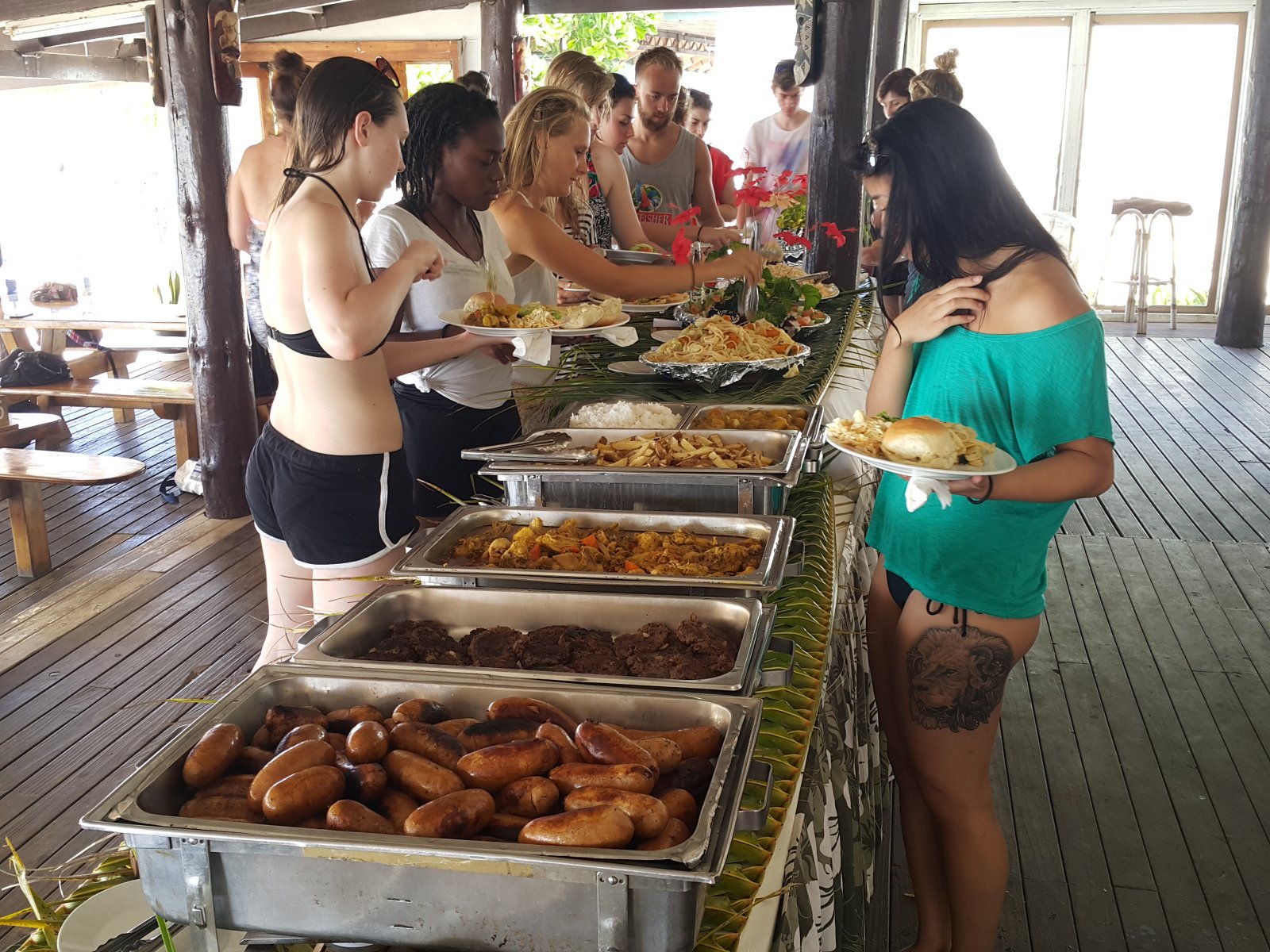 Lunch buffet, plenty to choose from & really tasty.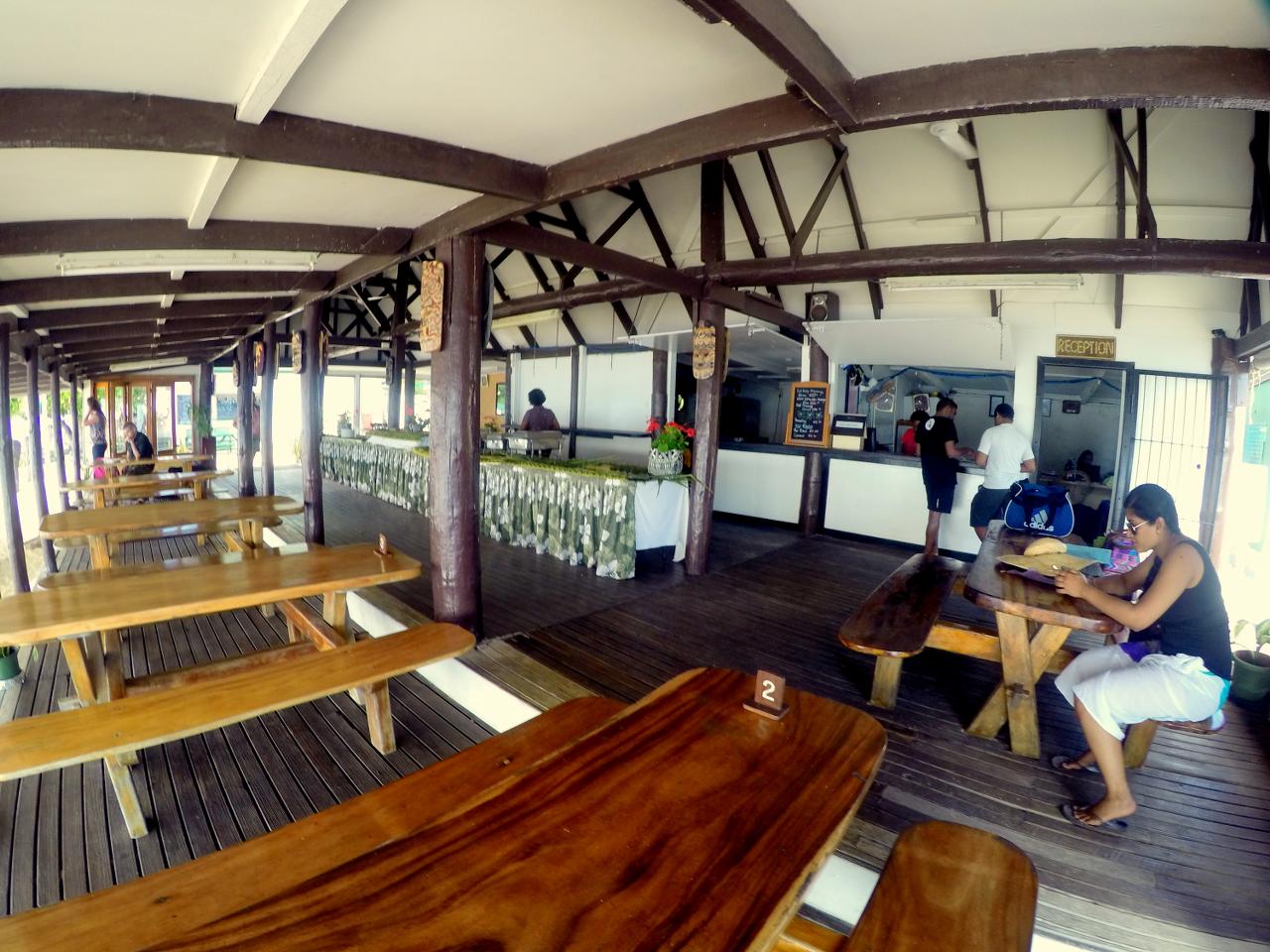 Restaurant and reception area
For dinner we chose the Beef, melted in the mouth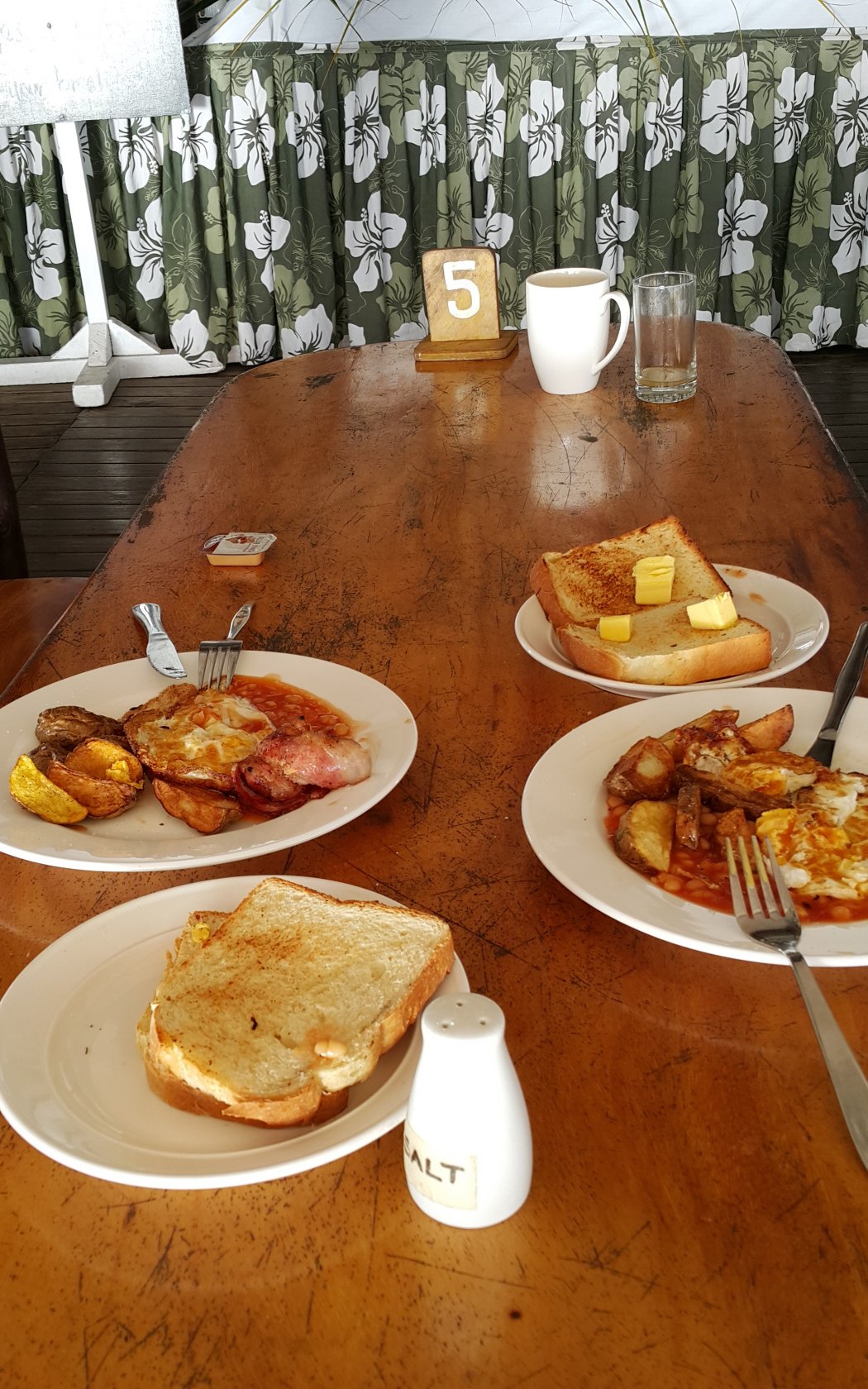 Breakfast was delicious with fresh bread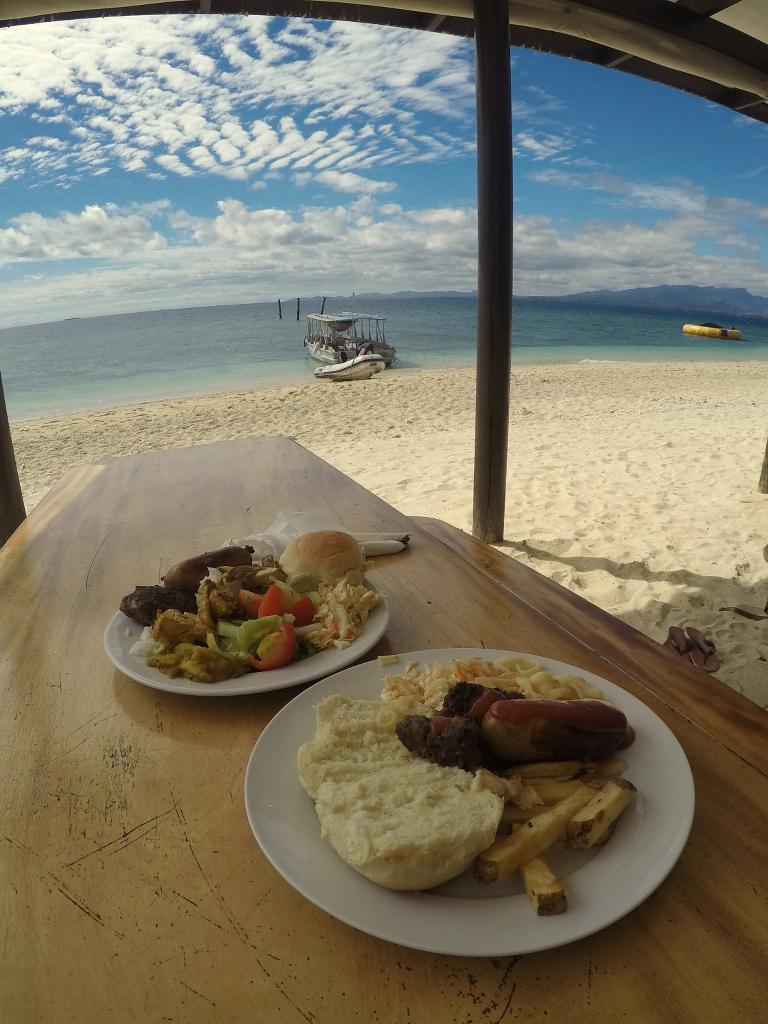 Lunch with a great view.
Things to do at Bounty Island
Not a lot in a way of activities available, but that's why it's nice and low key. The massage room is nice and new. Banana boat rides available. There is also a PADI certified Dive Shop as well as scuba diving, fishing, kayaking and SUPing (stand up paddleboards).
For Day Trips to Bounty Island click here.
Accommodation at Bounty Island
It's not a big resort and nothing fancy.  A choice of dorm or bure. The bures are setup mostly for couples with a queen size bed but can also have a double bunk for 2 more. There are 16 Beachfront Bures with some new deluxe ones on the way. The dorms and bures are air-conditioned, which is a major bonus! The 6 garden view bures are fan cooled and to be honest I wouldn't bother staying in one of these, pay the few dollars more and get a beachfront, they are so much better.
The Dorm
Pretty typical of a dorm on any island, with the exception these are air-conditioned - nice! They have a couple of different dorm rooms which look similar. The Meke Dorm houses 20 guests with the Bici Dorm housing 14. Oversized bunk beds in each dorm are nice. Even though year round temperatures range from 28 to 32°c during the day and 18 to 24°c overnight, in the months of June, July, August and September it can get colder, down to 18°c so if you're staying during this time you might want to bring a sleeping bag or ask for extra bedding. Dormitory accommodation includes sheets and pillow. Towels are available from reception to rent or buy. 
Garden Bures and Beachfront Bures
Set back from the beach with a bit of a view between the trees, the Garden Bures are ok, but I'd pay the extra and get beachfront. They don't have any deck and not a lot of privacy in front, people can walk right by. Both the Island and Beachfront bures are built exactly. All air conditioned which is good. Ensuite bathroom, shower only, hot and cold water, toiletries, mini fridge with tea and coffee making facilities. Each beachfront bure has a deck with a couple of chairs and a hammock looking out to the sea. These bures have a lot of room. The chairs on the deck are not so great, but the ones inside are excellent, we just pulled them out to the front instead!
Bed configuration: 1 double bed and 1 double bunk or 1 double and 1 single
Occupancy: Up to 2 adults and 2 children under 12 years of age.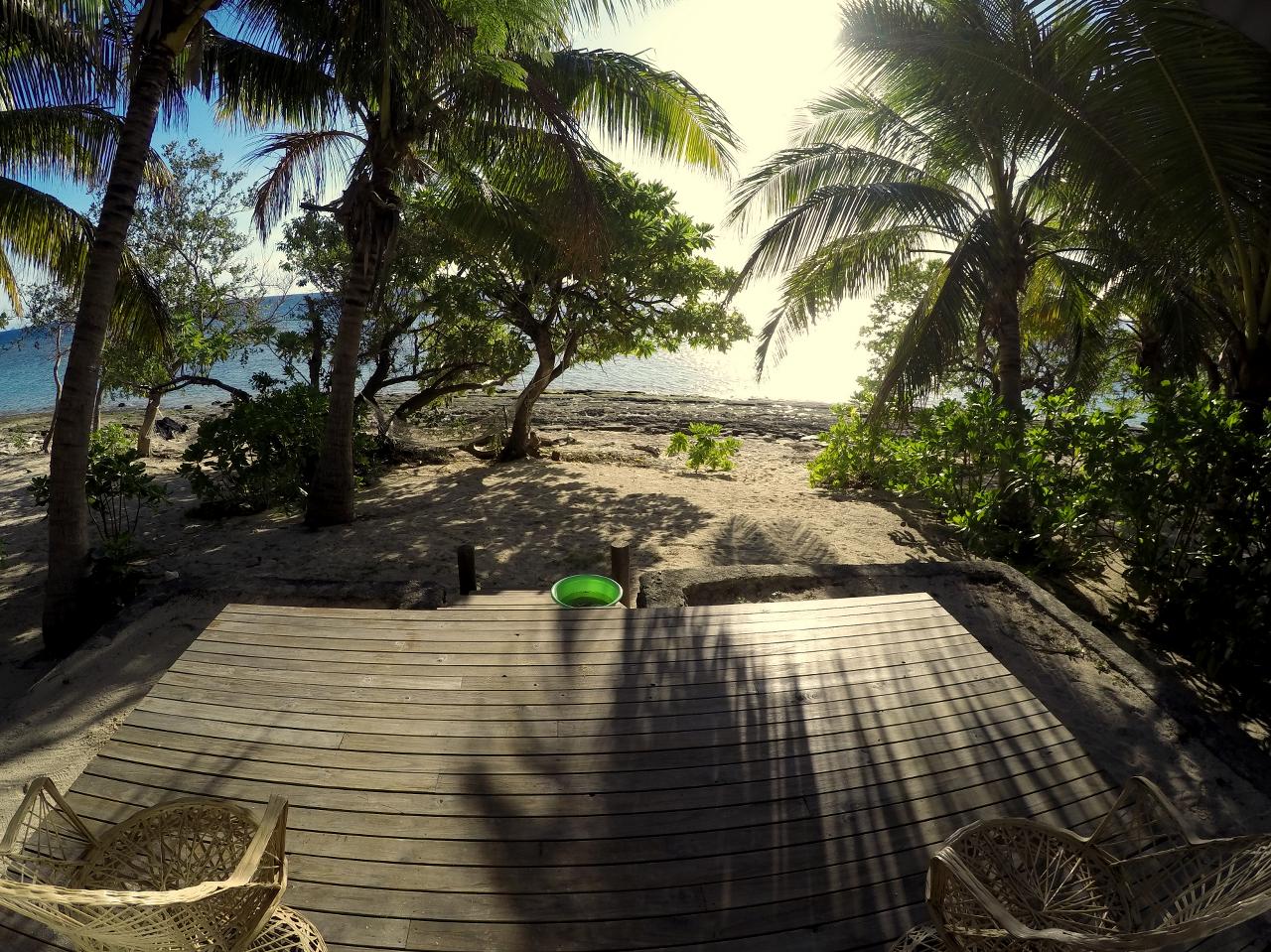 View from our deck, the hammock is in between the trees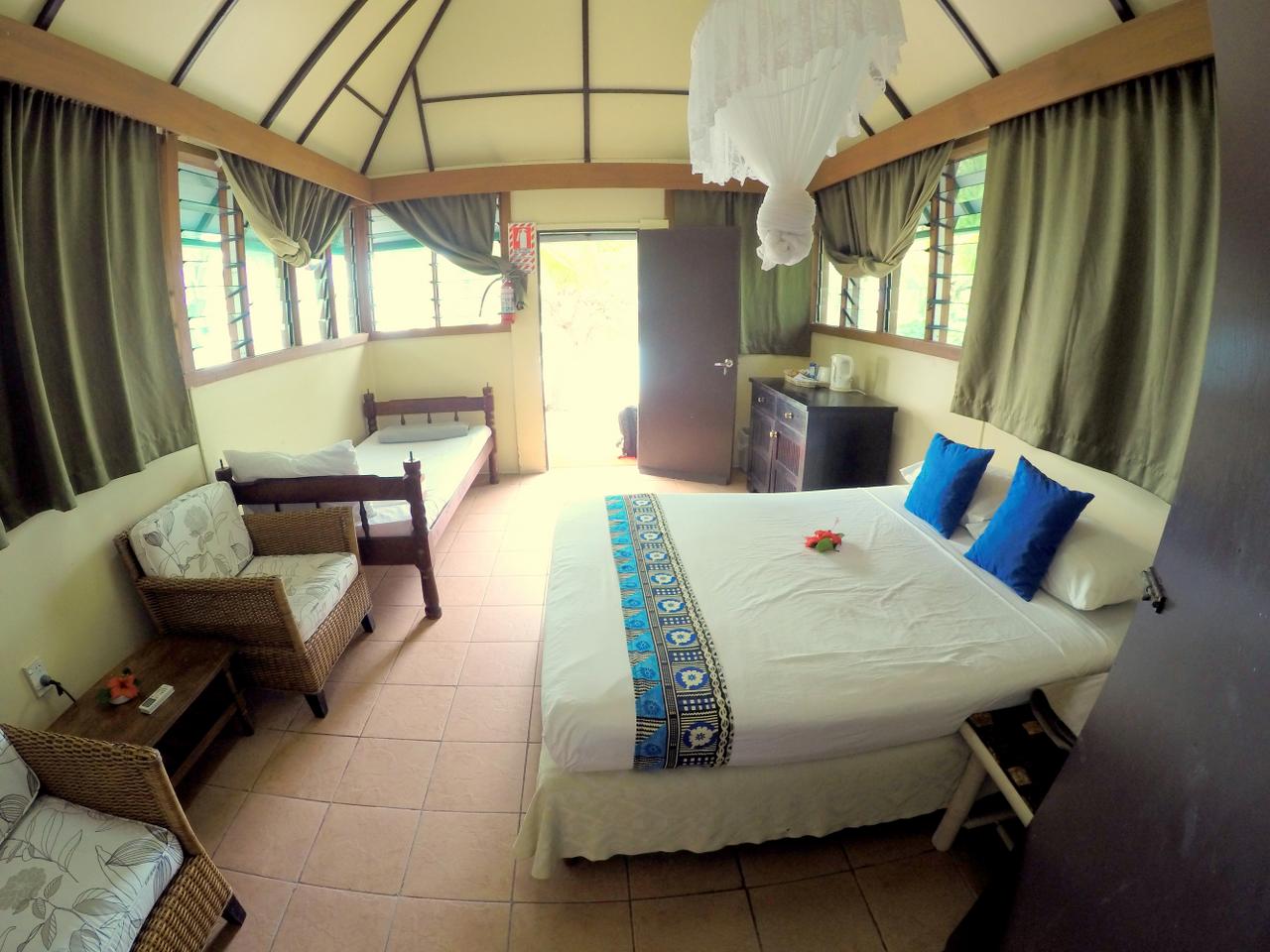 Bedroom with loads of room
Nice hot shower, plenty of room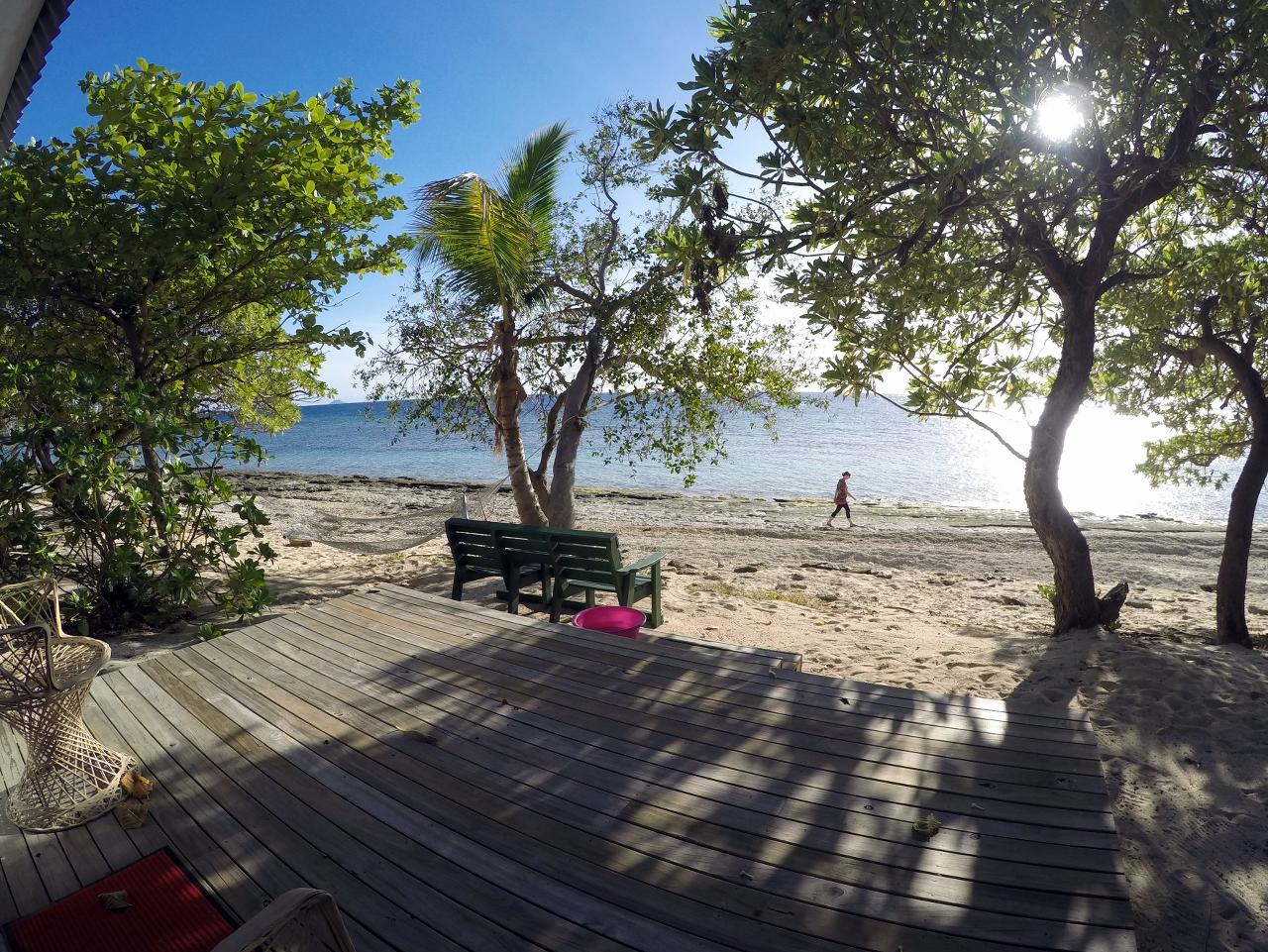 Walk straight onto the beach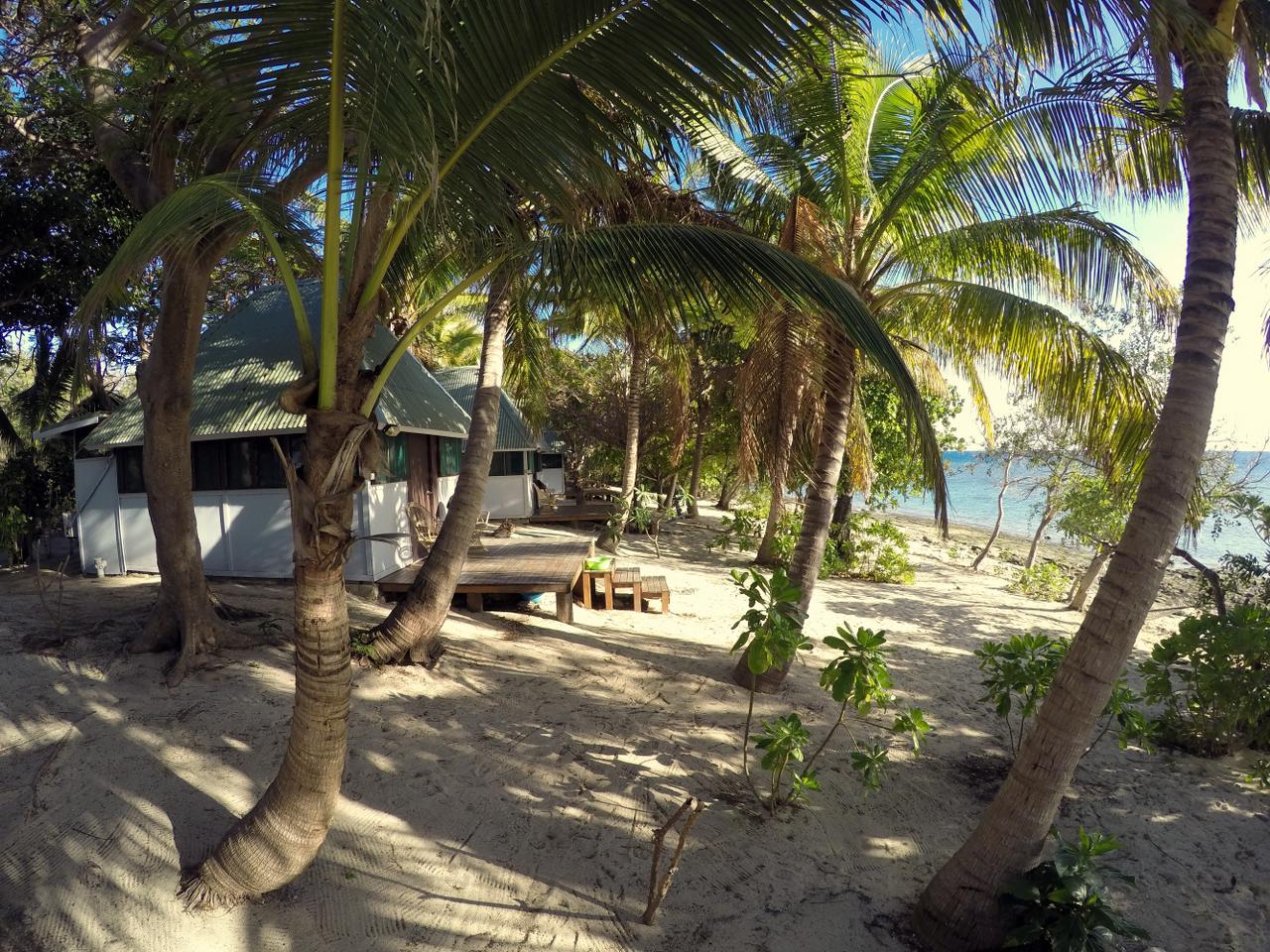 Nicely spaced apart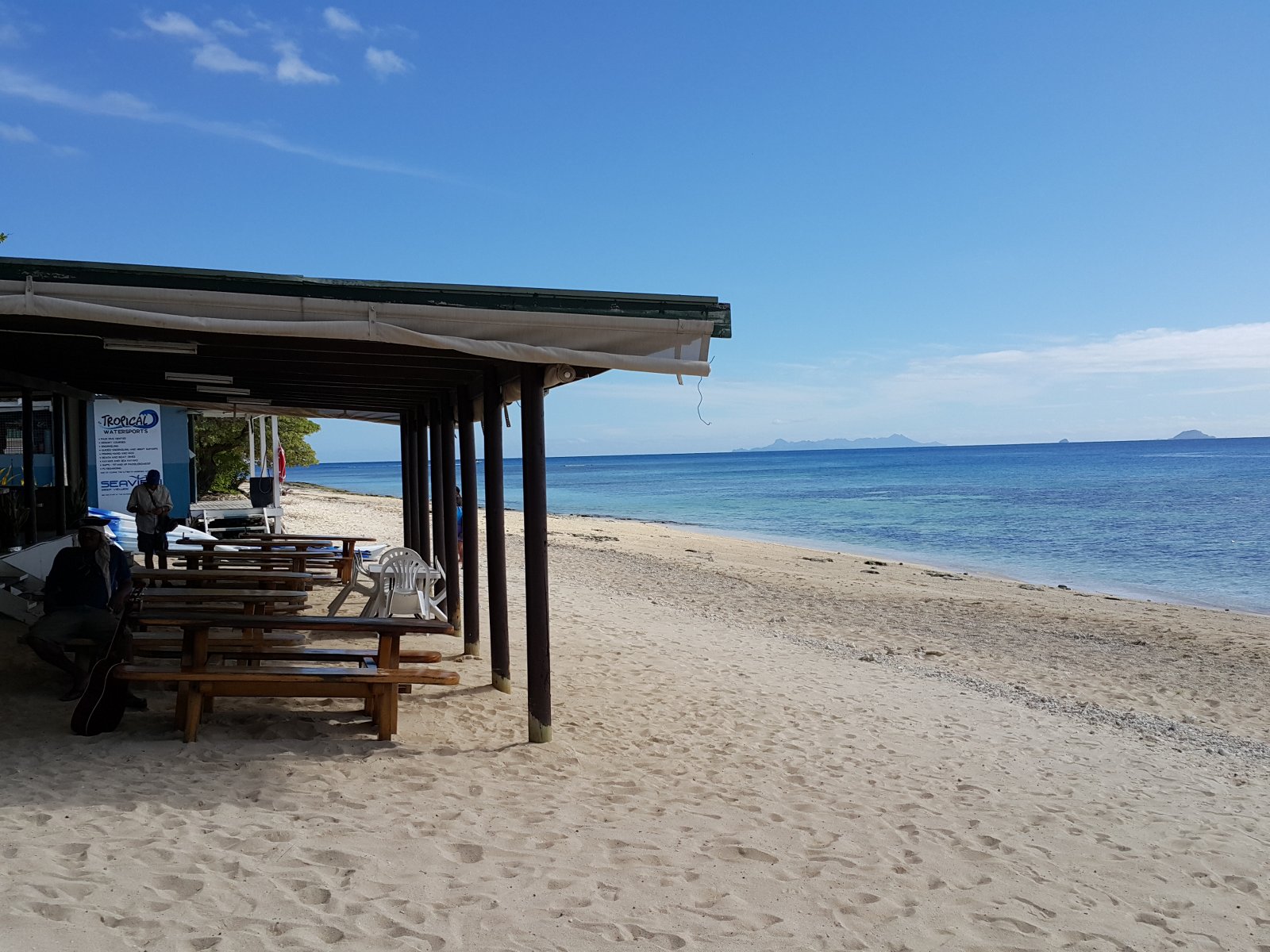 ---
We've found the cheapest price for a beachfront bure, you can book right here...
---
About the booking process...
We only take a small deposit now with full payment due before arrival.
As soon as you book we'll send you an "Order Pending" email to say we have received this. We then book your order (as fast as humanly possible), and send you a second "Order Confirmed" email with all the important details of your order. You'll need to print the second email out and bring it with you or be able to show it on a mobile phone.
There are no credit card fees or booking fees on your deposit with us.
Payment is secure, look for the green padlock in your browser bar on the order form.
Your credit card is stored in our booking systems secure vault and will automatically be deleted 30 days after travel. We do not have access to your credit card numbers.
Last minute bookings, please call us.
All prices include 25% Fiji Government taxes & levies (9% VAT + 10% Sales Turnover Tax + 6% Environmental Levy).
Cancellation Policy…
Cancellation fees apply on the total package price: • less than 7 days notice - 100% • less than 14 days notice - 50% • less than one months notice - 25%.
How to Cancel...
For all cancellations please contact us directly. We highly recommend you have travel insurance to cover any possible cancellation costs.
---
Transport and how to get to Bounty Island
Location: 30 minutes by boat from Denarau Marina
Ratu Kini:  Departs 10am daily & includes free Nadi hotel pick up/drop off. Boat departs Wailoaloa (Fantasy Island). Leaves Bounty Island around 1pm, although can run late
South Sea Cruises: One way (includes free Nadi hotel pick up/drop off). Departs daily 3 times at 9am, 12pm & 3pm from Port Denarau. 30mins.
Bounty's own boat: The price is too stupid to put in here its so high.
You'll find boat transfer prices on this website: FijiTransfer.deals
Quick Fact List
Fijian name: Kadavulailai 
Location: 30 minutes by catamaran from Denarau Marina
Transfers: Ratu Kini and South Sea Cruises
Resort/s: One resort on the island 
Meal Plan: Yes, compulsory for guests,
Snorkelling: Lots of fish, not a lot of pretty coral, marine sanctuary at the island 
Beaches: Good, perhaps a little gritty compared to some islands
Swimming Pool, Bar: Yes
Internet: There is wifi available (fees apply). You can also use the 3G network for mobile broadband on your phone
Power: Generator 24/7
Water: Declination Plant. Hot Water showers

---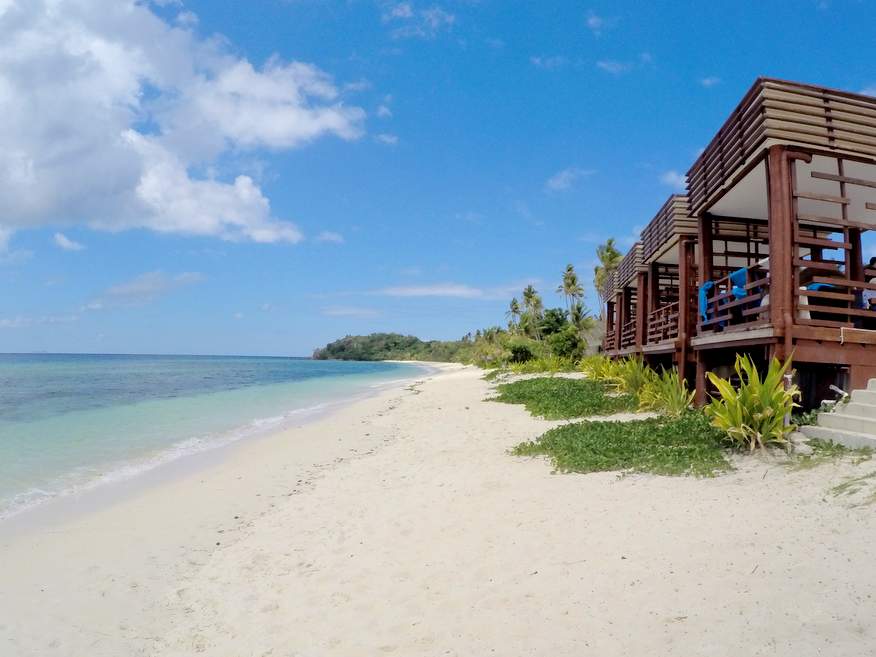 Mana Island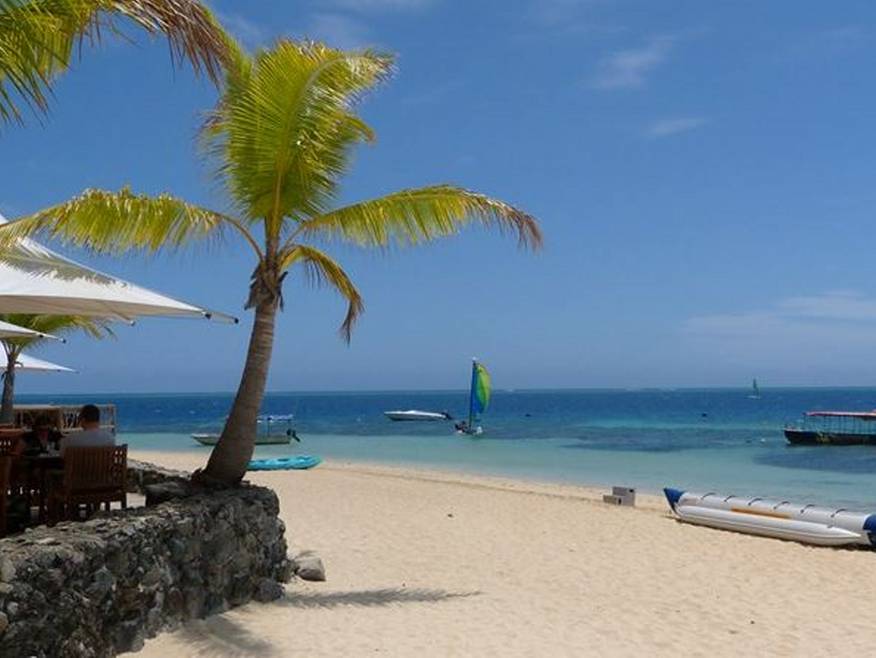 Castaway Island
Malolo Island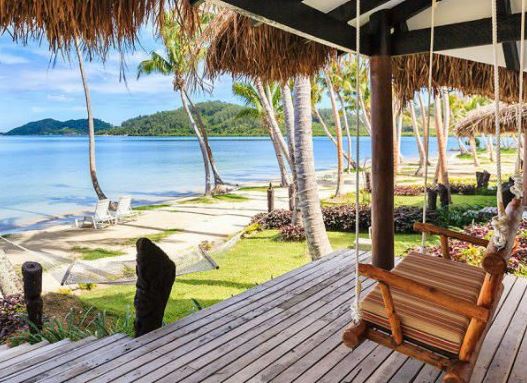 Tropica Resort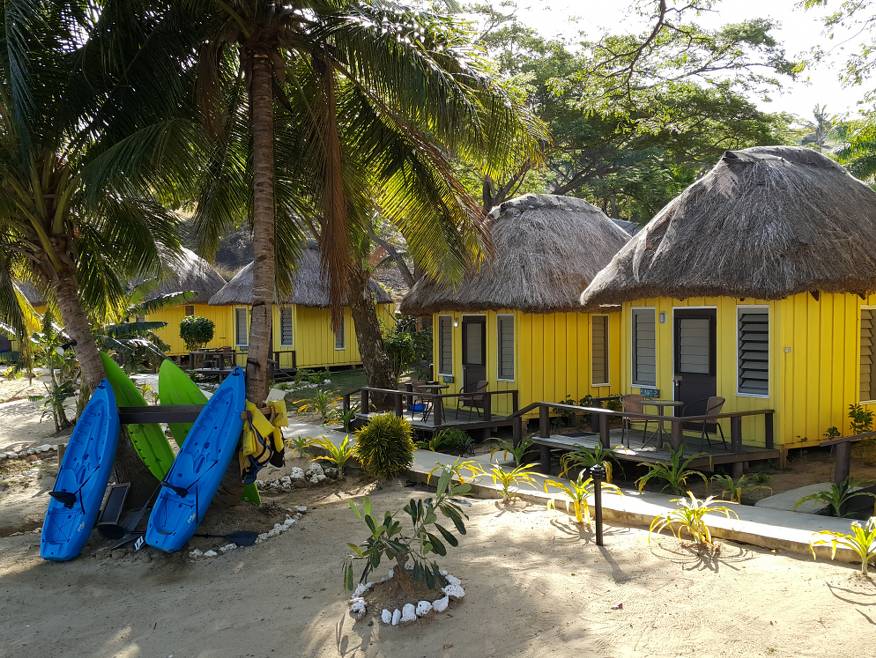 Funky Fish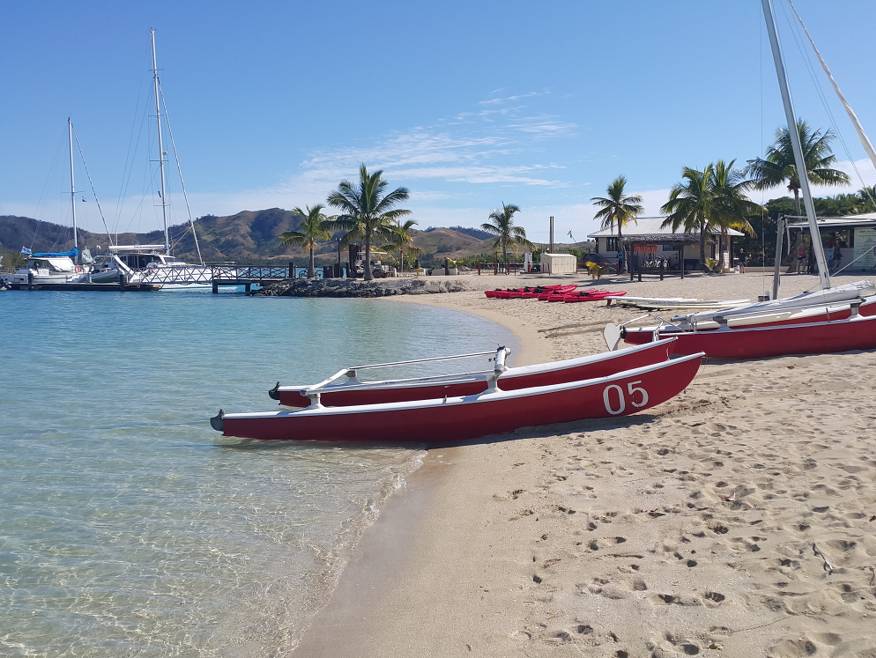 Musket Cove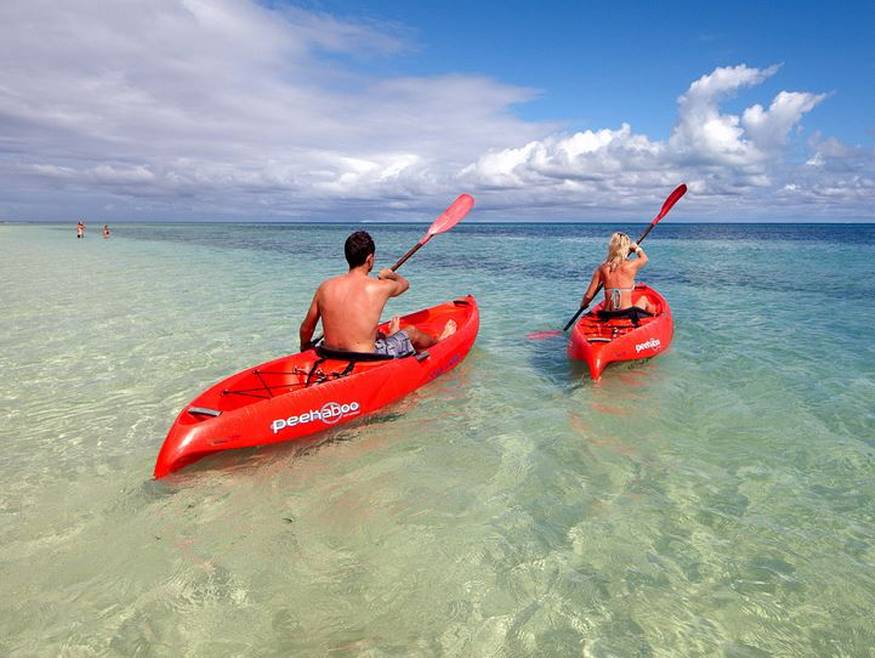 Lomani Resort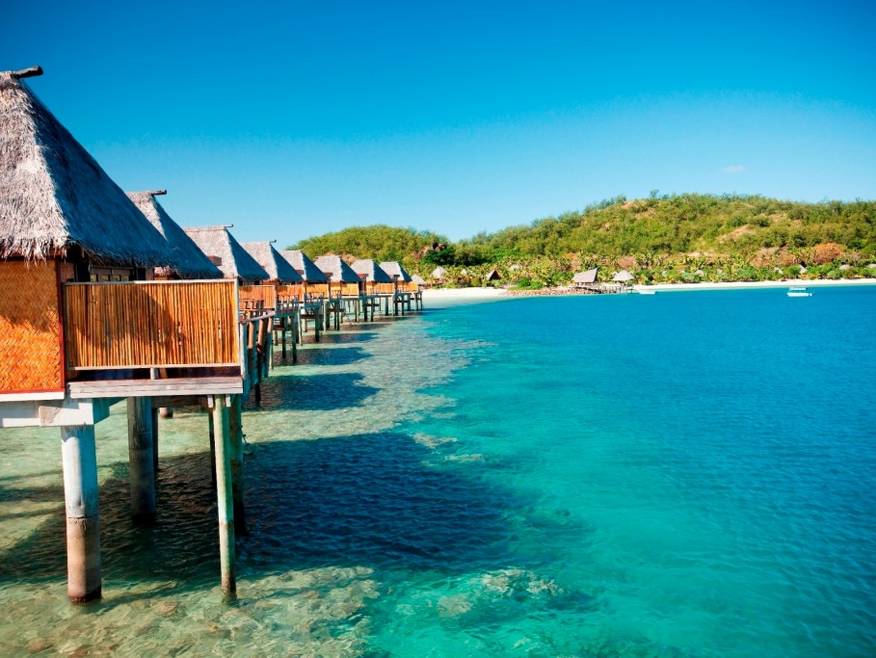 Likuliku Resort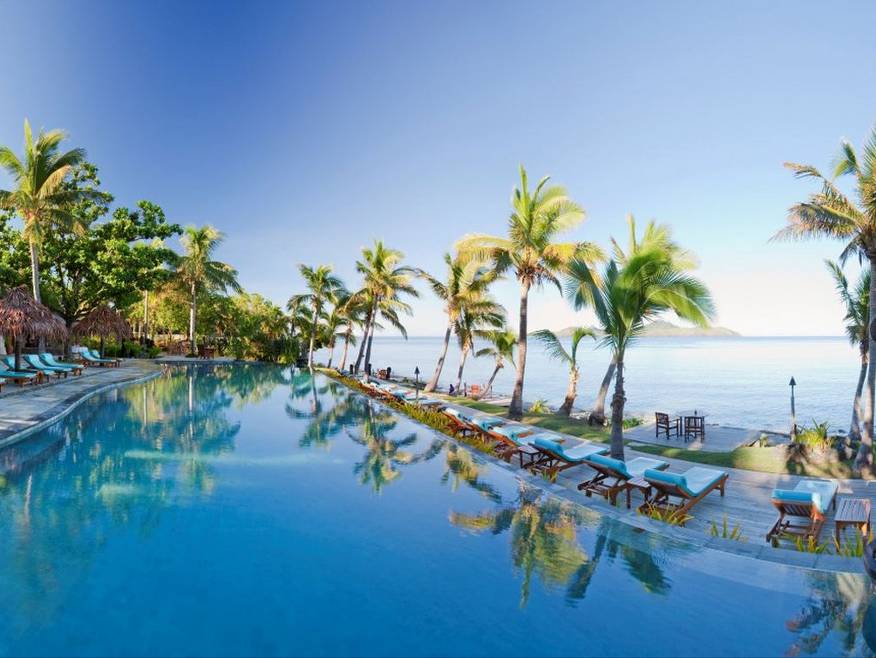 Tokoriki Resort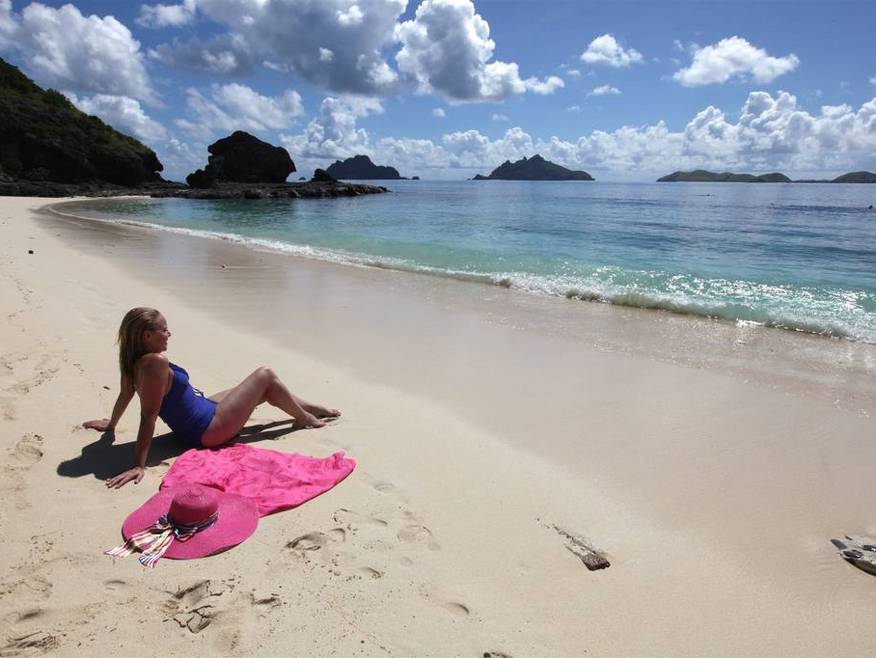 Matamanoa Island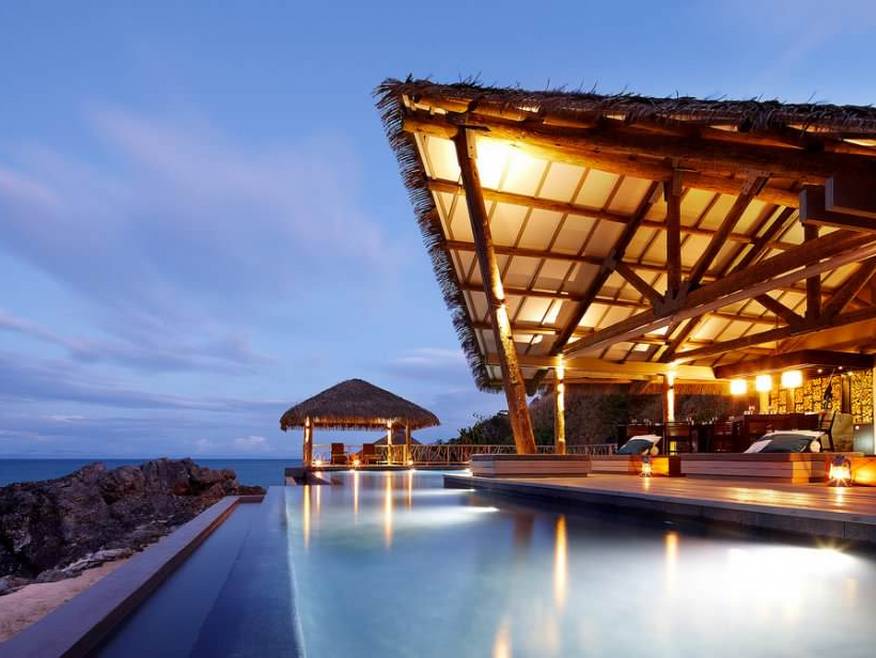 Tadrai Island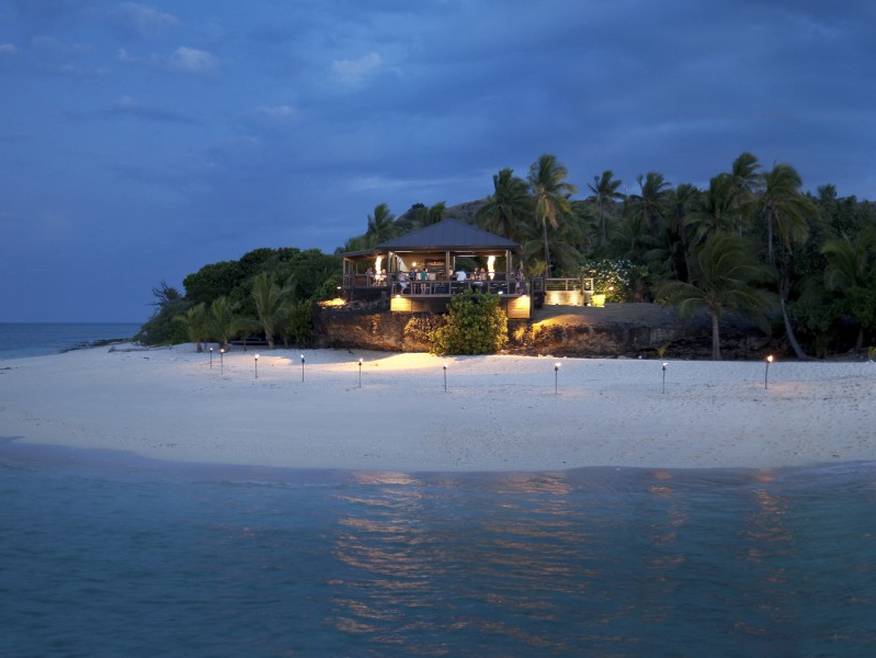 Vomo Island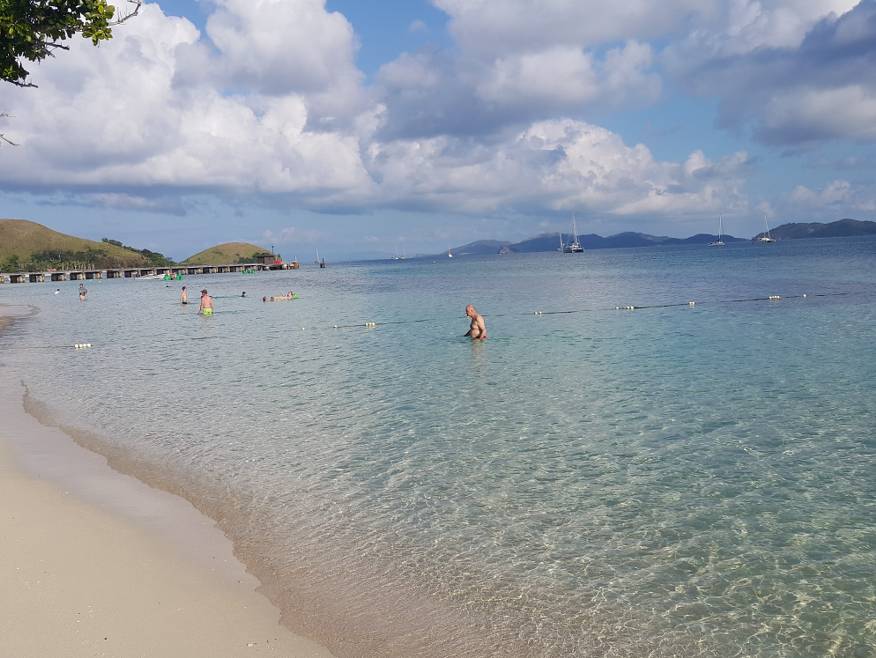 Mana Lagoon
Map of Mamanuca Islands & Resorts
---