Safari Lodge, Nananu-i-Ra Island
If you like a bit of adrenalin in your vacation, why not try Safari Island lodge? This place is pretty much "adventure central" for Nananu-i-ra... if not the entire top end of Viti Levu. When it comes to watersports, in particular kitesurfing and sailboarding, then what you need is a location that offers consisitent winds.
The trade winds come from the S/E, and they are present for the majority of the year. There is generally a bit of a lull in the winds during Feb-March, though this doesn't mean there isn't anything to do here during those months... far from it.
Rooms And Rates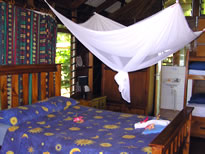 There are 3 waterside bures beside the beach, each has a slightly different layout inside. What they all have in common is a double bed, at least 2 single beds or a bunk, shower and toilet.
While these are not luxury, they are clean, comfortable, and with a sea breeze in the evenings you really don't need air conditioning to get a good nights sleep. The overhead fan is enough. Unlike the other accommodation on the island you have hot water for the showers... this is solar powered. Also unlike the other accommodation, the power isn't switched of at night.
Rates are budget to mid range in price... from the beachside villas at fj$190 a night, to the self catering dorms at fj$45 a night.
Wifi/3G: We found the mobile coverage to be patchy at best, although you may get better reception if you are situated in the higher level accommodation. We found that our Vodafone USB wouldn't always connect to the internet. However, no problem... guests can pay fj$10 a day for the lodge wifi, which works well.
Food and Drink
While you can self cater if you wish, it really isn't worth the trouble and effort to try and bring all you need with you to the island. Far better is to have the all inclusive meal plan. It's not expensive, food is good, with plenty of it, and you get to mingle with other guests at meal times.
The meals are served buffet style, help yourself from the selection along with tea coffee and juice. Expect things such as chicken, salads, freshly caught fish, risottoes, sausages, curries, kebabs, pasta salads etc.
Soft drinks, beer and wine is more expensive that you will find on the mainland (this applies to all islands) but it's still not exhorbitant...fj$8 for a Fiji Gold. Feel free to bring a case (or two) of beer with you to the island, and just grab a cold one from the bar fridge and replace it later. Things are pretty casual like that at Safari...just the way we like it.
It's this casual and friendly atmosphere that really makes the place what it is. When a staff member says "Bula" to you, they say it because they mean it, not because management has told them to. By the time you leave, it will feel like you're not just leaving a fantastic island behind, but a new family... everyone on Nananu-i-ra.
Getting To Safari Island Lodge
Probably the fact that Nananu-i-ra requires a bit of effort to reach, is why it isn't overloaded with tourists the way that some Mamanuca and Yasawa islands are. It's certainly every bit as beautiful as those islands, and also better value for money.
Travelling from Nadi, you need to get to Rakiraki (local or express buses run regularly). From there, a taxi to Ellington wharf. The Safari boat will be at the wharf to transport you to the lodge... about a 15 minute trip. For those travelling by car, there is secure storage for your vehicle at the wharf for a nominal fee (about fj$5 a day).
What to do around Safari Island Lodge
We really don't have the space on this page to list everything available. It all depends on what you want to do. Remember, this lodge is geared towards wind based water sports and diving, so those form the backbone of activities. They have all the equipment, plus fully qualified guides and instructors.
If the wind is too low to get the boards out, then there is great fishing around the reef system with the Safari Lodge resident fishing expert, water skiing, or visiting some of the snorkelling sites around the island. We found one of our favorite activities was also the simplest... lying back on a hammock in the shade watching the waves, listening to the breeze in the coconut trees, and sipping on a cold drink.
Fill in the form to enquire about Safari Island Lodge
Accommodation In This Area
Safari Lodge

Macdonalds

Charlies

Golden Point