Travel/Accommodation To Fiji's Sunshine Coast
Beach front outside Macdonalds Cottages. Wharf missing after Cyclone Winston in March 2016. Short boat ride from mainland.
Not just an unspoiled and beautiful area to visit, but the prices are great too. The Sunshine Coast and
Nananu-i-ra island used to be the place to go, when you visited Fiji. It had a thriving tourism industry, with regular shuttles running backwards and forwards from Nadi to the local resorts and attractions. But over the years, that has steadily declined. 
Not because it is no longer a great destination, but because tourism operators prefer to promote the more lucrative Yasawa islands. In fact the decline of tourism to the northern part of Viti Levu corresponds exactly with the rise in popularity of the Yasawa islands.  
On the one hand, it's a shame, because the area has so much to offer, if only people had a greater awareness of it. But on the other, for the lucky few that do discover the Sunshine Coast, they get to relax in one of the more beautiful areas of Fiji, in arguably the best climate, without being crowded out by other tourists. All at a much better price than they would get visiting the Mamanuca or Yasawa islands. 
So Why Visit The Sunshine Coast?
Plenty of starfish to be found just off Safari Lodge on Nananu-I-Ra Island
Climate: It's not called the Sunshine Coast for nothing. a typical day during summer is 32°C, with light sea breezes. It might be raining in Suva, blowing a gale in the Yasawas, and thunderstorms in Nadi, but you will be relaxing and working on your tan. 
Price: When you look at transport and accommodation costs to the Mamanuca or Yasawa islands, then there is no comparison... the Sunshine Coast is head and shoulders ahead in value. Yes, there are some expensive resorts in this area, but the average price is going to be less for comparable accommodation. And, you don't need to spend several hundred dollars per person for a ferry just to get to your resort.
Crowds: Or to be more accurate, the lack of them. Anyone that has stayed in the "tourist corridor" on the Coral Coast will know how popular that area is. There are some benefits from visiting a popular area (the transport infrastructure will probably be better, for example). But to really relax, there is nothing better than lying back on a white sand island in the middle of nowhere, with not another person in sight. The only way you get to do that in the western islands is by paying top dollar for the privilege. On the Sunshine Coast, you can do it for the cost of a boat ride.
Resorts in the Sunshine coast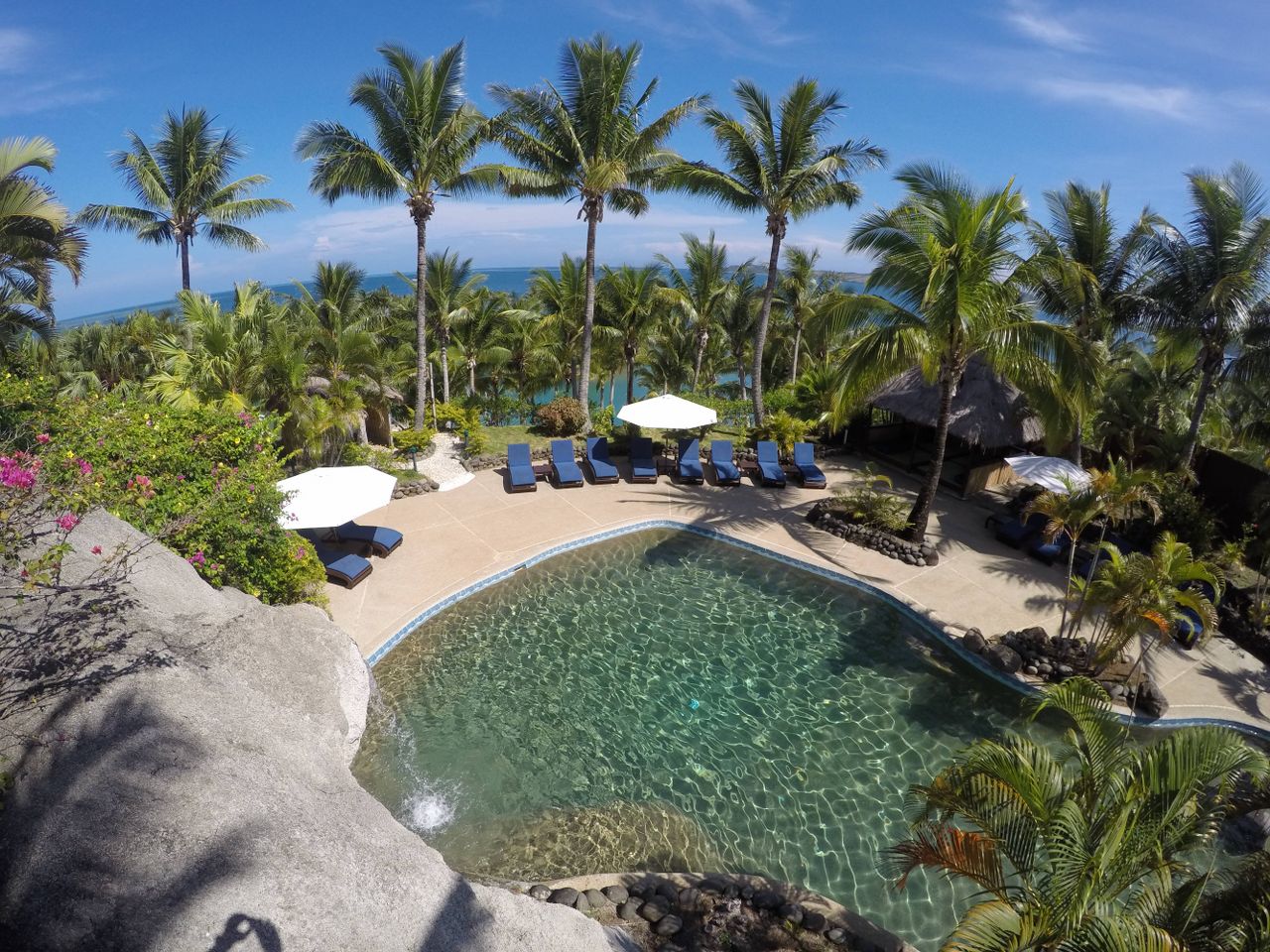 Looking down at the pool at Wananavu Beach Resort
Volivoli Beach Resort - hit very hard by cyclone Winston and is out of action until the end of 2016. About 20min drive from Rakiraki town. High end accommodation.
Wananavu Beach Resort - missed most of the cyclone even though it's only round the corner from Volivoli. High end accommodation
Golden Point Resort - just before Rakikaki. Mid to budget price range
Macdonalds Beach Cottages - on Nananu-i-Ra Island 10mins from Rakiraki then a 10 to 15 min boat ride. Budget accommodation
Safari Lodge - on Nananu-i-Ra Island. Budget accommodation.