Macdonald's Beach Cottages, Nananu-i-Ra Island
One of the beachfront cottages to the left with the dining area in the middle
Rest and relaxation in a beautiful beachfront setting is the big draw card for Macdonalds Beach Cottages. As soon as you arrive, this place just feels right...the perfect place to lie back and let the stress simply melt away.
Macdonalds isn't about adventure, it's not about packing in as many activities as you can every day, and it's not about party's every night. What it is about, is unwinding; lying back and enjoying a quiet and simple way of life for a few days. It's about turning off the cell phones, the internet, TV and deadlines, and recharging the soul.

If the legs need a little exercise take an hour and a half loop walk around the Western end of the Island at low tide. You will be amazed by the once a year holiday Cribs hidden away beneath the coconut trees.  Or you can spend 4 hours walking around the whole island, although we didn't do this so can't vouch for the exact timing. 
As for taking a swim in the tropical clear waters the best time is at full tide, but I must say the snorkelling was lacking in colourful fish and coral. You need to book a short boat ride out to the reef.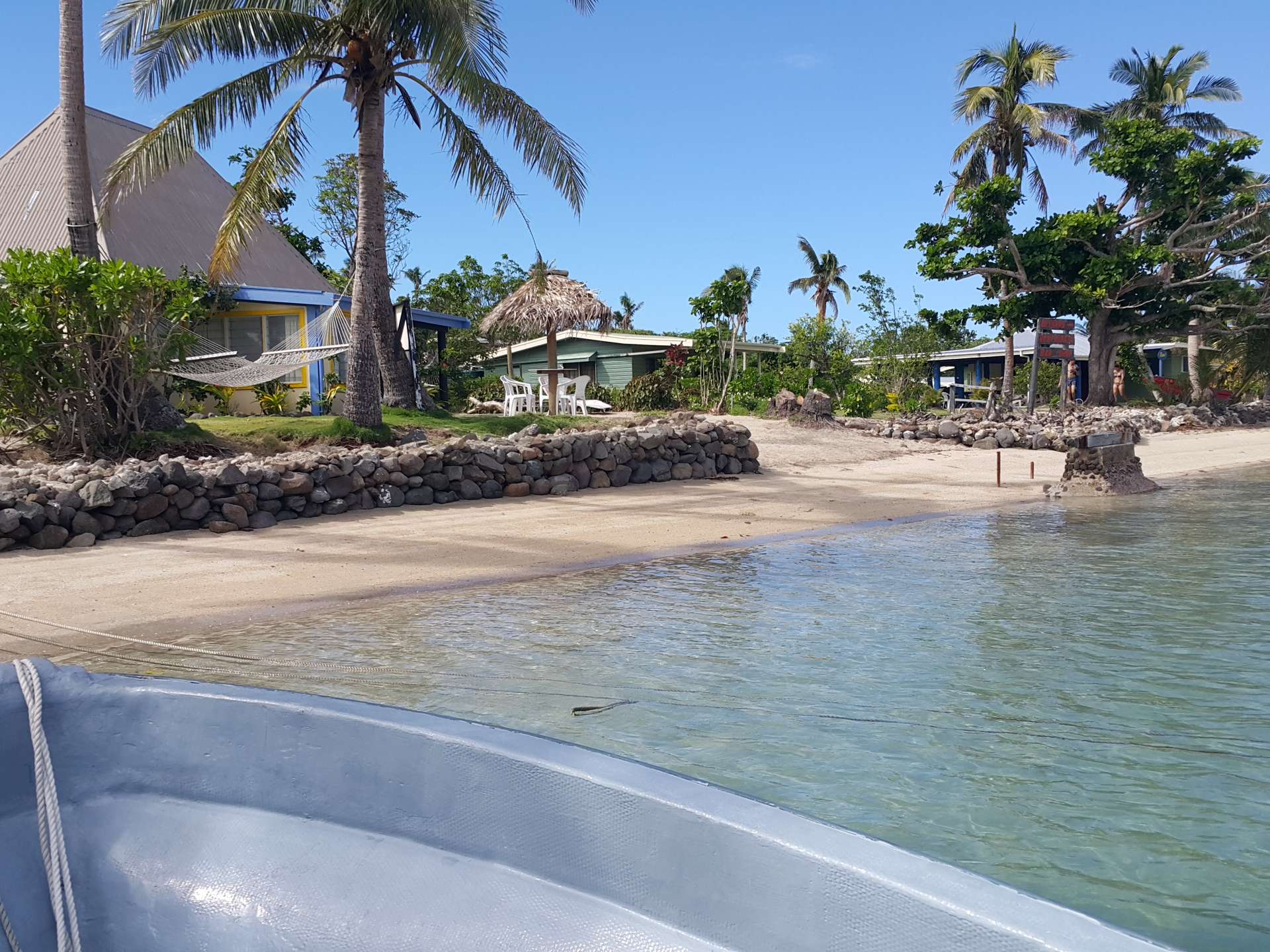 Arriving at Macdonalds Cottages, check out that beautiful clear water, can't wait to jump in!
Macdonalds have a selection of self contained cottages, each one set apart from the others to ensure privacy. The kitchen has gas powered cooking, with a large fridge/freezer and plenty of bench space. There is also a dorm, but why risk having to share when a cottage is so reasonably priced? There is the choice of a twin/double cottage or a 2 bed cottage. As tempting as it might be to share with friends in the 2 bed cottage, its only suitable for a family where you know everyone intimately - this is because the walls to the bathroom don't go all the way to the ceiling, anyone staying in the main bedroom (which also has short walls) will hear absolutely every last tinkle from the bathroom! Not so in the twin/double cottage where the walls go all the way to the top!
The generator comes on in the morning around 8.30am, takes a short break between 2pm to 5pm and runs until 10pm, so make sure you have recharged laptops cameras etc by then. The showers are cold water only... though it's more like lukewarm, so no real hardship. Beds are comfy, with good quality insect screens on the doors and windows. There are a few mosquitoes around, especially early morning and late evening, so do bring your insect repellent with you (it's expensive to buy on the island).
Your own hammock next to your beachfront cottage
Cyclone Winston April 2016 hit Macdonalds Cottages really badly, you can see from the photo above that they lost their wharf, plans are in place to put it back. The dining and reception area got blown away too and is just about finished rebuilding (May 2016). Not too much damage to the cottages and they are all open now, just to Maxine's (the owner) own home, she has a bit of work still to do before she can move back.
This is all that is left of Charlies Place just up the hill from Macdonals Cottages, after cyclone Winston (soon to be demolished) - they lost everything, their whole business
Getting To Macdonalds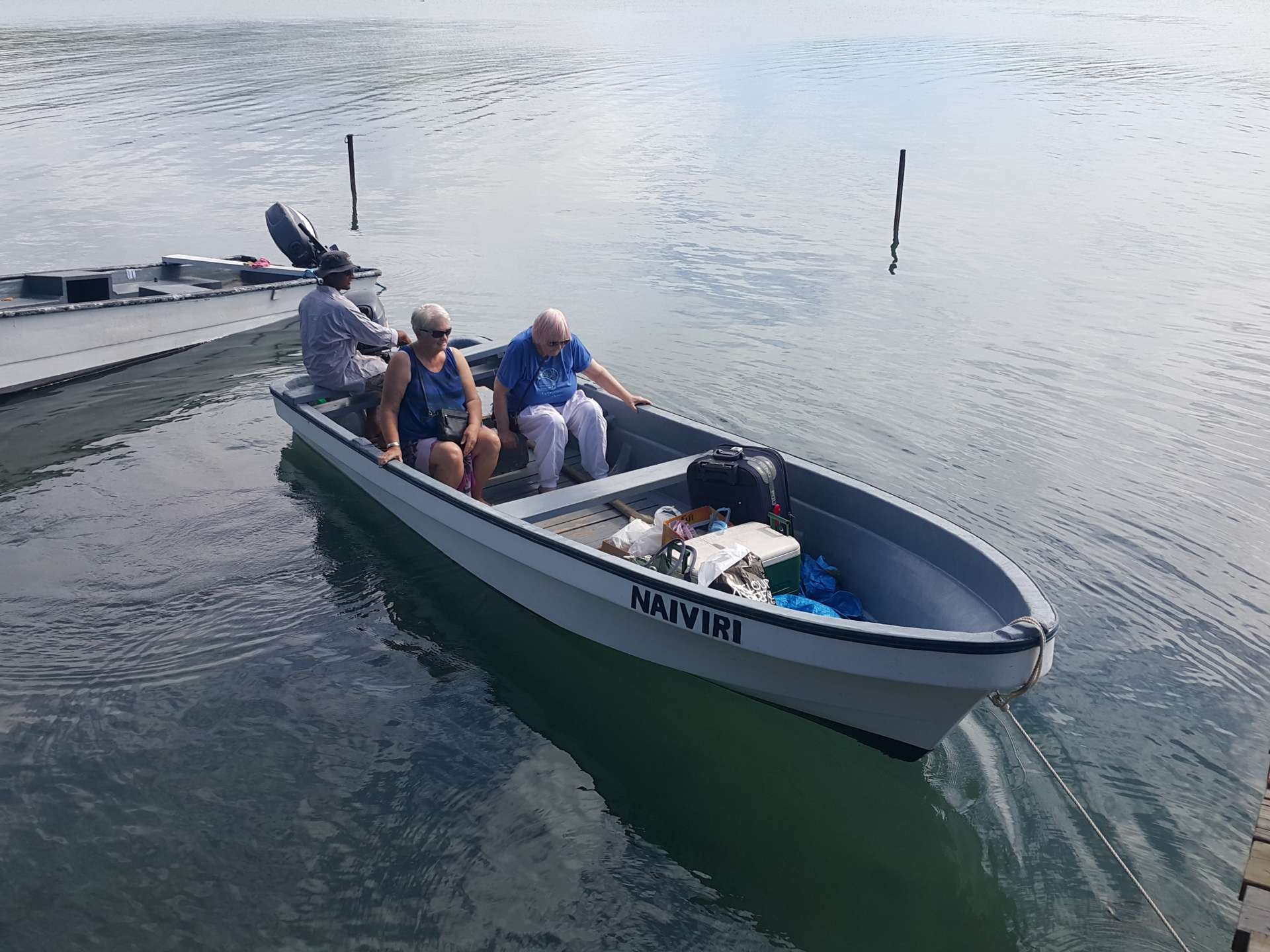 Heading out to Macdonalds Cottages from Ellington Wharf just past Rakiraki, in their boat, only takes 10mins and a lovely trip
Probably the fact that Nananu-i-ra requires a bit of effort to reach, is why it isn't overloaded with tourists the way that some Mamanuca and Yasawa islands are. It's certainly every bit as beautiful as those islands, and also better value for money. Travelling from Nadi, you need to get to Rakiraki (local or express buses run regularly). From there, a taxi to Ellington Wharf. The Macdonalds boat will be at the wharf to transport you to the lodge... about a 10 to 15 minute trip. For those travelling by car, there is secure storage for your vehicle at the wharf for a nominal fee (fj$10 a day).
Rates
All accommodation is self contained with kitchenettes and bathrooms. Rates valid to 31 March 2017.
Double/Twin Self Contained Cottage - 2 adults - per night - FJD $129.00
2 Bed Family Self Contained Cottage - 2 Adults - per night - FJD $205.00
Extra Adult over 12 - per night - FJD  $25.00
Extra Child under 12 - per night - FJD $15.90
Infant under 3 - Free
Return boat transfer - FJD $56.00  per adult
Meal Package - FJD $68.90 per person daily
Rates are inclusive of 25% taxes.  Credit cards are accepted visa or m/card with a 3.5% service fee.
How to book: go to the website here www.macdonaldscottages.com
Food and Drink
While Macdonalds do have self catering in all their accommodation, you might prefer to just bring tea coffee milk and snacks, and get all or some of your meals at the beachside restaurant. Prices aren't cheap, but meals are great (Filo is a fantastic cook!) and it saves a lot of hassle. You're probably not there to cook and clean up afterwards anyway, are you?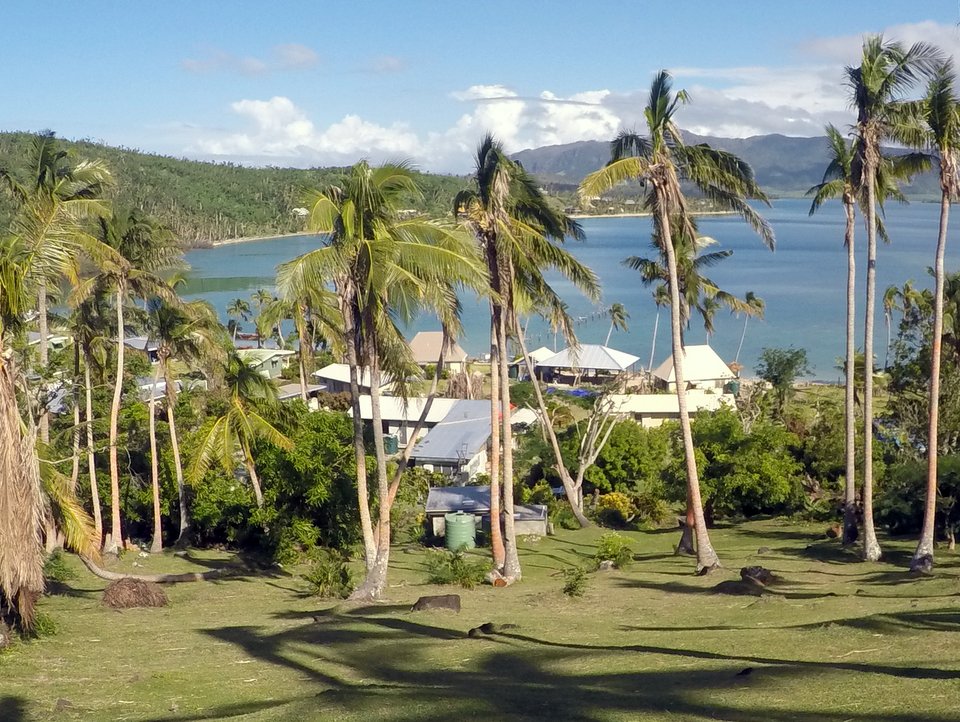 Lovely view from the hill behind Macdonalds Cottages
Accommodation In This Area
Safari Lodge

Macdonalds

Charlies

Golden Point