Golden Point Resort, Rakiraki
Not too many tourists, perfect sunny weather with light sea breezes, little rain, no mosquitoes, and prices well below those of the more crowded Mamanuca and Yasawa islands. Does that sound like your perfect Fiji vacation? Then read on. A few minutes away from the coastal town of Rakiraki, is the Golden Point resort. Popular with those "in the know", Golden Point is a little off the tourist radar. But those that are lucky enough to find this place often extend their stay, and return again. After we visited, we can see why.
This place is very popular with Suva residents. They like to escape the rain on the eastern side of the island, and enjoy a weekend around Rakiraki. With almost no rain, every day here seems to be the same... 30-32°C, clear cloudless skies, with a light sea breeze. And no mosquitoes! Local expat residents often pop in to enjoy lunch or dinner at the restaurant, or passing traffic will stop for a cold beer or coffee.
As the resort is situated between the coast and Kings Highway, we thought that perhaps traffic noise might have been a problem. But that wasn't the case at all... the passing traffic is infrequent during the day, and almost non existent after dark. Not that a little noise would have stopped us from sleeping anyway. After a long hot day out on the water, passing semis wouldn't have kept us awake!
Rooms And Rates
While this resort doesn't have an official star rating, we would say it is probably of a similar standard to other Fiji properties that rate themselves in the 3 star range. The rooms are clean and comfortable with everything you need. Several nice touches to the room we stayed in included....
Extra large cupboard space for storing suitcases and baggage
Quality insect netting over the windows
Gas powered shower, so not only does it heat quickly, it has very high pressure
The accommodation ranges from double rooms with en suite (which is what we had) to motel style rooms, and villas plus the nice new executive rooms, worth the upgrade. Good value. See below for prices and booking form.
What Makes golden Point Rather Special
Only one word needed here... the staff. I spoke to a lot of the guests during our two days at Golden Point, and they all commented on how special the staff are at this resort. They just can't do enough for you. When you order dinner, it's quick, efficient, and done with lots of smiles (oh, and the food is great too!) Nothing seems to be too much trouble. And it's the little things that make a difference. Like a homemade cake and everyone singing "happy birthday" for one of the guests. Or the way that plates are cleared quickly, and someone is there to check if you need anything.
Food and Drink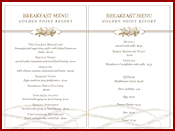 There is a well stocked bar, with very reasonable prices. Example, a Fiji Gold beer was fj$6. Corona, fj$8 (and they ask before putting a slice of lemon in it, which was nice. I personally prefer it without).
The food is well priced, and very good... click the image on the left to see a breakfast menu. While the menu may have been updated by the time you read this, it gives you a good idea of their selection, and ballpark prices.
What to do around Golden Point
While there are plenty of shore based activities that you can enjoy, it's really the quality of the watersports around Golden Point that makes this a great place to stay. Number 1 on the list in our opinion, is getting out on the boat with the local skipper, Ballo. He has been a fisherman in these waters since he was a child, and learned from his father... he could probably go out blindfolded and still get you home safely
Fishing: Although the nine meter boat "Habebe" isn't as fancy as the charter boats in Denarau, we bet they catch just as much here, and for a lot less money. A 4-5 hr trip for fj$400... split that with a few friends and it's a cheap way to get out on the water and catch Spanish Mackerel, Wahoo, Coral Trout, GTs and plenty of other reef species. If you want to extend your trip, they charge fj$100 per hour. The boat is best suited to carry 4-6 people for fishing.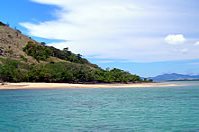 Snorkeling: Just offshore from Golden Point, is the island of Macuata. This small island is one of the few places that the Fijian crested iguana is still found, though it's not the wildlife that will attract most people over. It's the snorkeling. The resort can drop you off with a picnic lunch on the beach at Macuata, and pick you up later in the day. Off the beach is perfect snorkeling conditions... a vast expanse of reef that is shallow enough to see clearly from the surface, yet deep enough to harbor plenty of the larger reef species.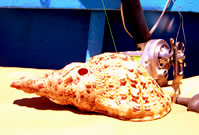 Dolphin Watching: You can go out on the boat to watch the dolphins, or combine the trip with fishing, snorkeling, a visit to the sandbar island etc. The dolphin group live within the reef system, and Ballo knows exactly where to find them. Tradition has it that the sound of a conch shell will make them dance.... try it for yourself.
How to Get to Golden Point
Travelling from Nadi, GP is about 15 minutes before you get to Rakiraki, on the Kings Highway. Roughly 2.5hrs travel by express bus or car, add an extra hour if you are on the local bus. Travelling from Suva it's just a little further, perhaps an extra 20-30 minutes.
Book your room here
Accommodation In This Area

Safari Lodge
Macdonalds

Charlies

Golden Point