Our trip on the 

Naihehe Off-Road Cave Safari

We were picked up at 6.30 am in Nadi town for our 2.5 hour ride to Sigatoka River Safari base where the tour begins. We had a short stop in Sigatoka for a comfort stop then we left the Queens highway and turned off and headed off up the Sigatoka River road for another thirty minutes to the start of our tour. The mini bus was very comfortable and with only eight people on board there was plenty of room to stretch out.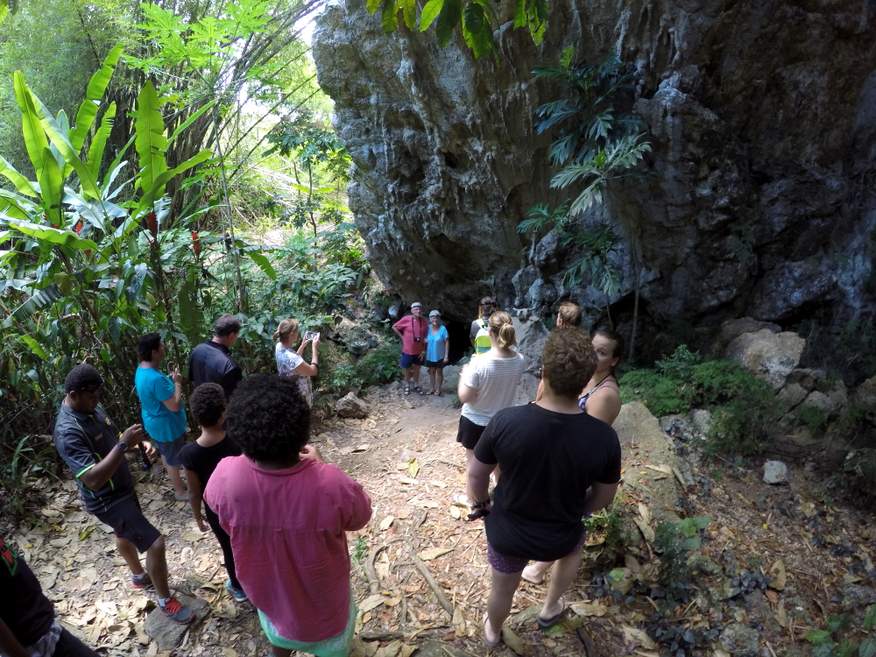 There was no mucking around when we arrived at the Sigatoka River Safari depot, there was a quick brief, then on with the life jackets and across the river for the safari truck ride up to the caves. The ride in the safari truck was very interesting; with no windows the wind whistled through our hair, it was better than A/C.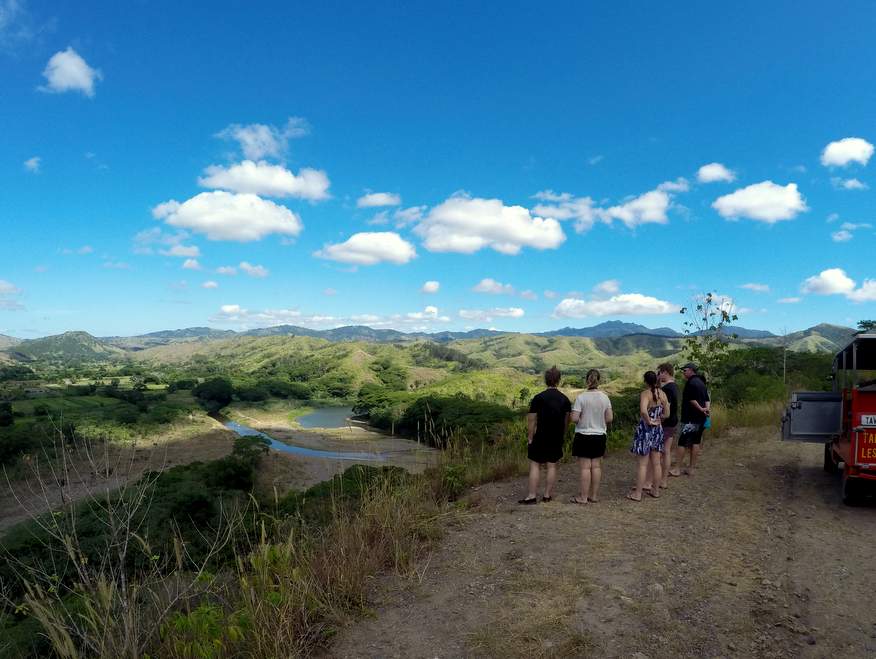 We stopped at a high point where we could look down onto the Sigatoka River flats and see every inch of ground being used for growing fruit and vegetables. Then we started to drive down the middle of the village and within seconds we were stopped by young children every ten mitres, they were wanting to give us a high ten, so we all dug deep into our pockets and bags to see what goodies we could find for them. 
Five minutes later we drove up to a farmers hut and pulled over. This was the start of the cave walk. But first off we have to ask for the farmer's permission to enter his property so we could walk to the caves. Yes, the kava ceremony. It only took five minutes to walk through the green bush canopy to the cave. When we arrived at the cave we paid our respects to the spirits of the cave, then we were given a torch each and off we went into the dark cave.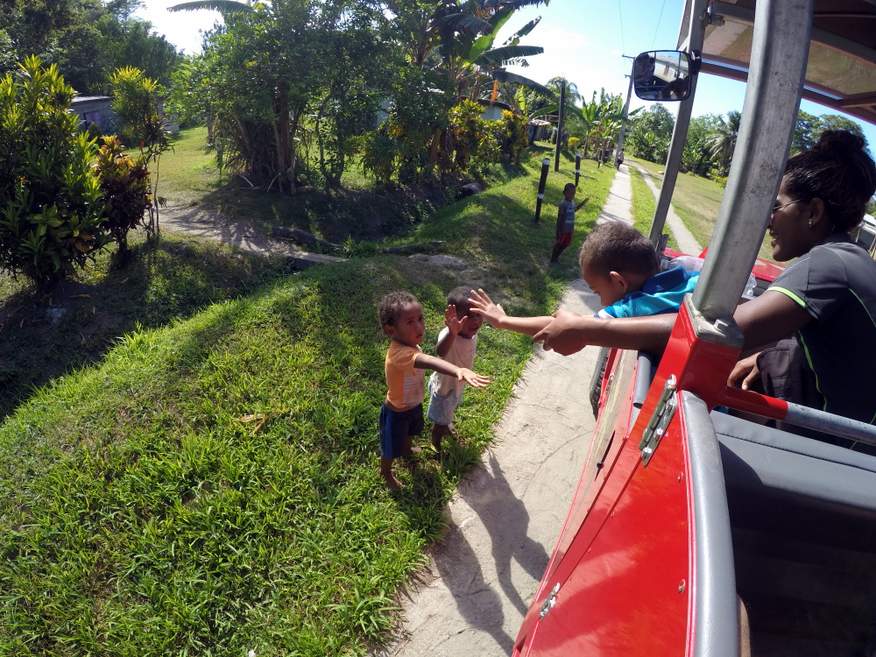 I will not spoil it for you, so all I will say is, take foot wear that can handle water and you will be ecstatic with the Off Road cave safari. Back at the farm hut there was an excellent BBQ waiting for us to eat, and it was good, I had to go back for seconds. There was only one thing left to do after lunch and that was to jump aboard the safari truck and head back to the Sigatoka River, our half day cave safari was almost at an end.
Tour times & Transfers
Off-Road Cave Safari operates Monday to Saturday.
Morning tour is from 8.45am – 2.00pm
Afternoon tour is from 1.00pm – 5.45pm
Price packages include return transfers from the resorts on the Coral Coast, Nadi and Denarau region. All the Safari vehicles are easily identifiable on pickup.  Pick-up times from your resort will depend on how far your resort is located from Sigatoka Town.  
Morning tour
For the Denarau Resorts and hotels located in the Nadi area pick-up times for the morning tour is between 6.30am - 7.30am. Resorts between Natadola and Sonaisali is between 7.30am - 7.45am and Coral Coast Resorts (Warwick to Shangri-La) between 7.30am - 8.00am. 
Afternoon tour
For the Denarau Resorts and hotels located in the Nadi area pick-up times for the afternoon tour is between 10.30am - 10.45am.  Resorts between Nadadola and Sonaisale is between 11.30am - 11.45am and Coral Coast Resorts (Warwick to Shangri-La) between 12.00pm - 12.30pm.  
If your resort is not listed within the areas mentioned above don't worry you'll be told what time your pick up is when you book.
What they're saying on Tripadvisor about this trip 
---
How to book your Naihehe Cave Safari securely with only a small deposit
Book here...
---
See/Do/Stay Around Sigatoka & Coral Coast
---