South Sea Island full day tour - our review 
We've been to South Sea Island twice now and would go back again in an instant it's got so much on offer for such a tiny island. This is our own personal review on the full day day trip we did in 2015. You can also book this trip at the bottom of the page.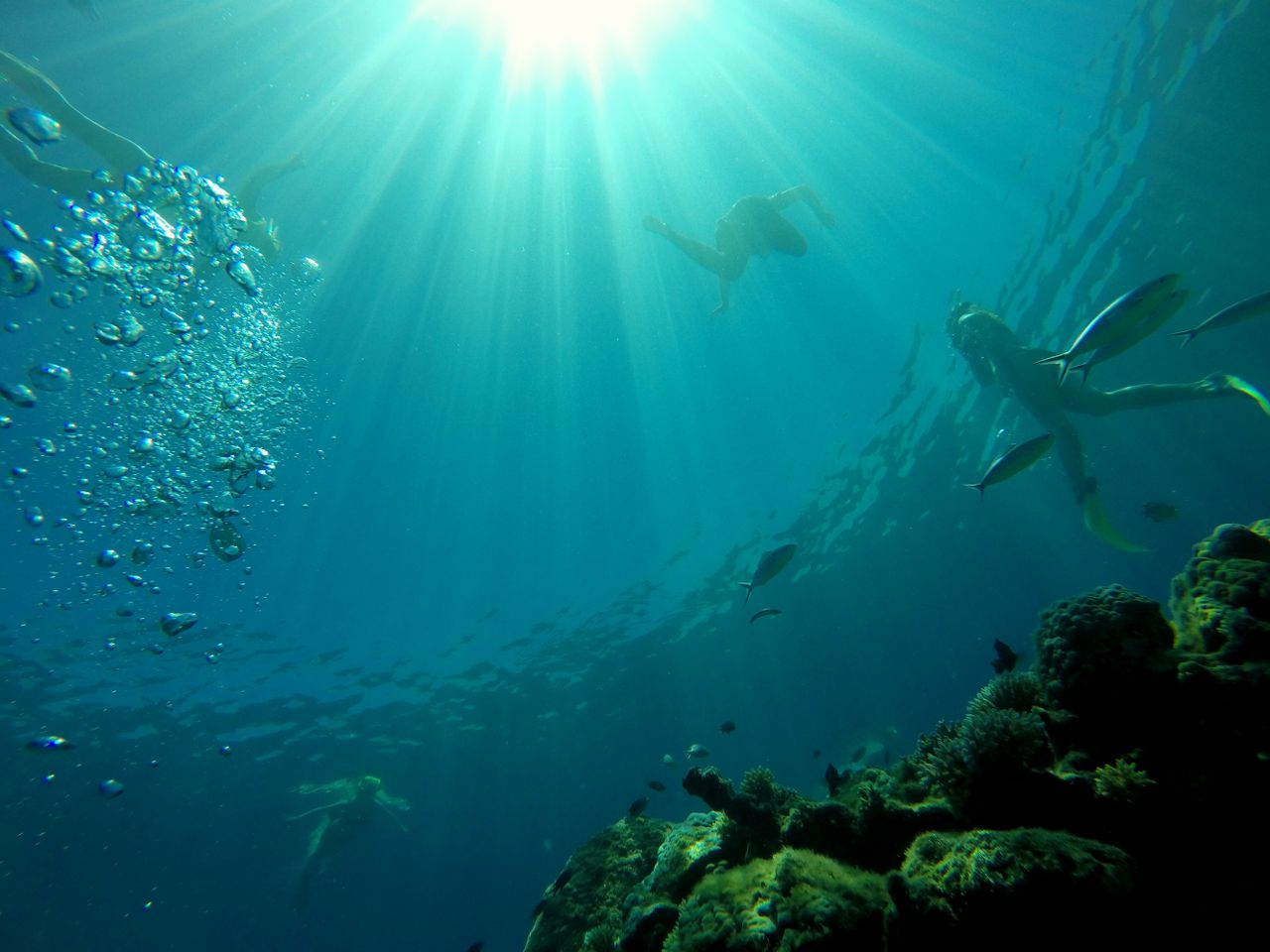 Totally loved the snorkelling, saw tons of awesome fish and the water was so warm
You can see how small the island is from here, check out our welcome singers on the beach!
Best Feature: Close proximity to Denarau if you do not like boats or have small kids
South Sea Island is a very small tropical Island, it measures 136 X 67 Meters; to walk around the whole Island is only 380 Meters.  A short distance of 11.2 Km from Denarau and 7.5 Km from the closest point on the main land, what I like about South Sea Island is the boat ride is a short 25 minutes if all goes well. You can stay on the Island in the backpacker accommodation. I stuck my head in for a look see and It was clean and tidy. 

A little word of warning, Sunday is a Fijian church and family day so they cut out the singing, dancing and basket weaving, see if you can arrange your tour for another day.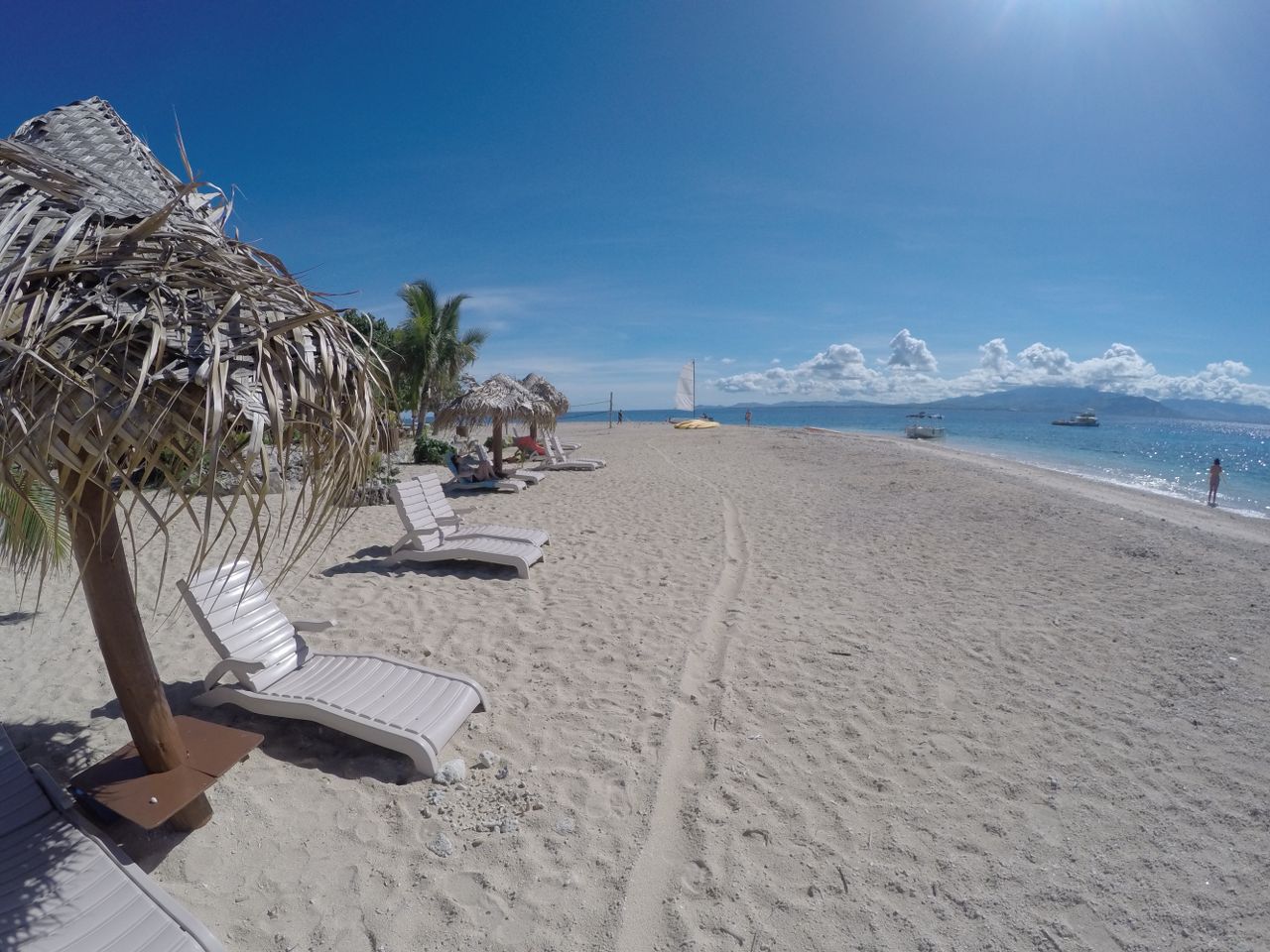 Gotta grab your seat as soon as you can, it can get real busy on this island
About The Island
The beach is made up of dead coral so walking around bear footed can be a bit painful, open toe sandals work well. All the drinking water is through a desalination plant, very expensive to run and the power for your cold beer is by a generator. The toilets are septic tank.
Checking in at Denarau is at 0900H and the boat left at 0930H. Everyone is given a coloured wrist band to match their Island trip, which you must not remove till you get off the boat to go home.  You are the first stop for the day so don't try and catch up on a few ZZZ.

The day we were on South Sea Island there were 87 people plus a hand full of backpackers who stayed overnight. Any more than 100 people you would have to fight for a shady spot on the beach. So the very first thing you must do when you hop off the boat is, don't follow the crowd to the main seating area for the briefing. You walk up the beach and pick the best side of the Island for the cool sea breezes. Pick the bure you think is the best then throw your bag on the chair or bean bag then head back to the briefing. We have been on South Sea Island twice so far and I still like the Bure with the denim bean bags. As for the kids, the pool is fenced off and one of the girls will look after your kids for you, now you can truly relax on the beach for more than five minutes.
South Sea Island has a good tropical feeling, the trees are large this give you great shade all day long so you don't have to keep moving around to follow the shade and the colourful  flowers just round it off.  The bures are a good size to protect you from the hot sun plus the deck chairs or bean bags are very comfortable. After the briefing grab a cold drink, all the soft drinks, bottle water, Fiji gold and wine are free. The NZ ice-cream is not free. Now get in the line for the first submarine trip, get it out of the way before it gets too hot. This will give you a better idea of how good the snorkeling is, and then go snorkeling.

Get changed into your swim gear before you leave home, this will save you the hassle of trying to get changed in the small toilet block with twenty other people. There is a bowl of water on the ground so you can wash the sand off your feet before walking into the toilets, but not everyone thinks they have to do that! So the floor will be deep in sand.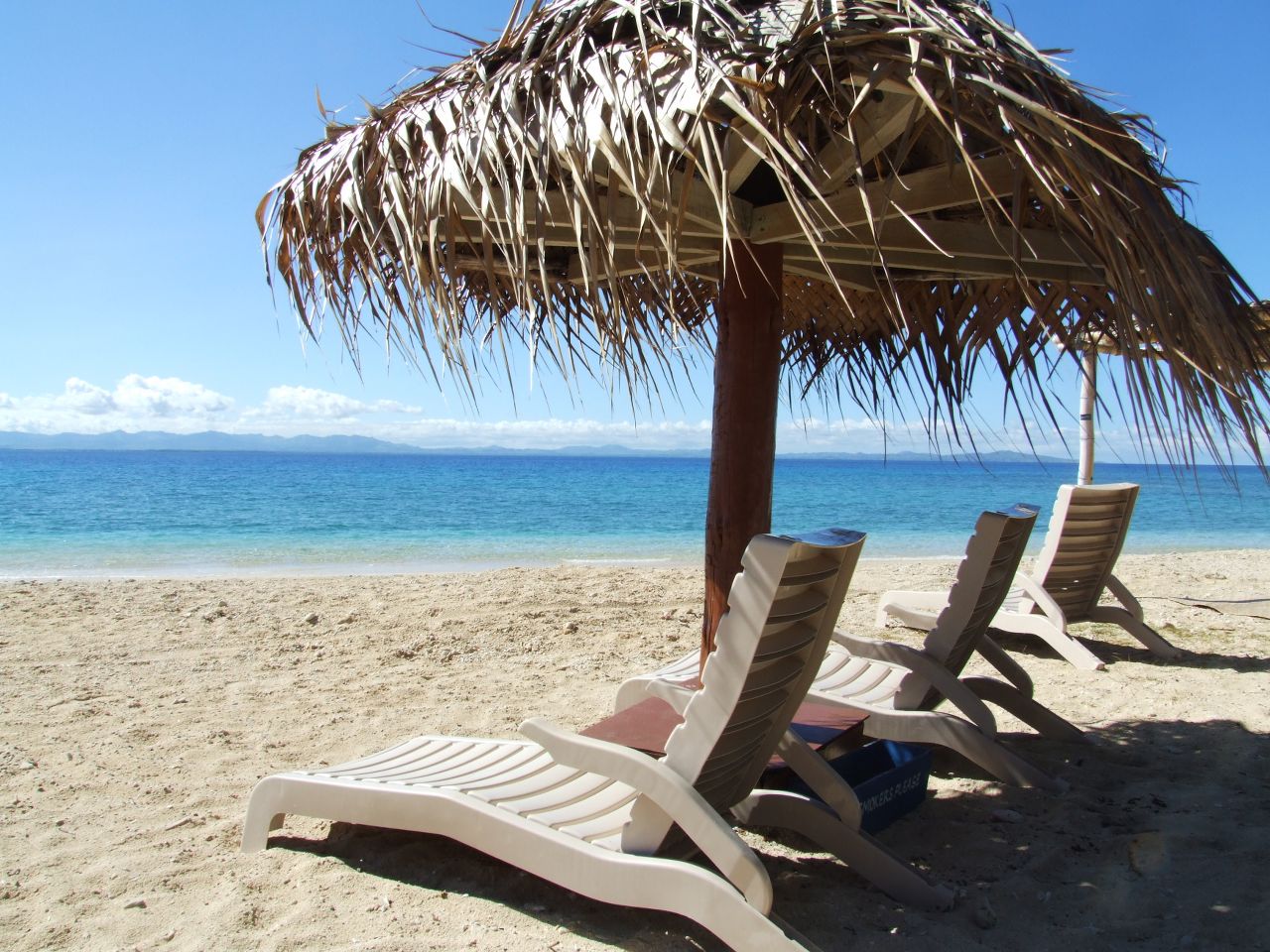 You can relax on the loungers or...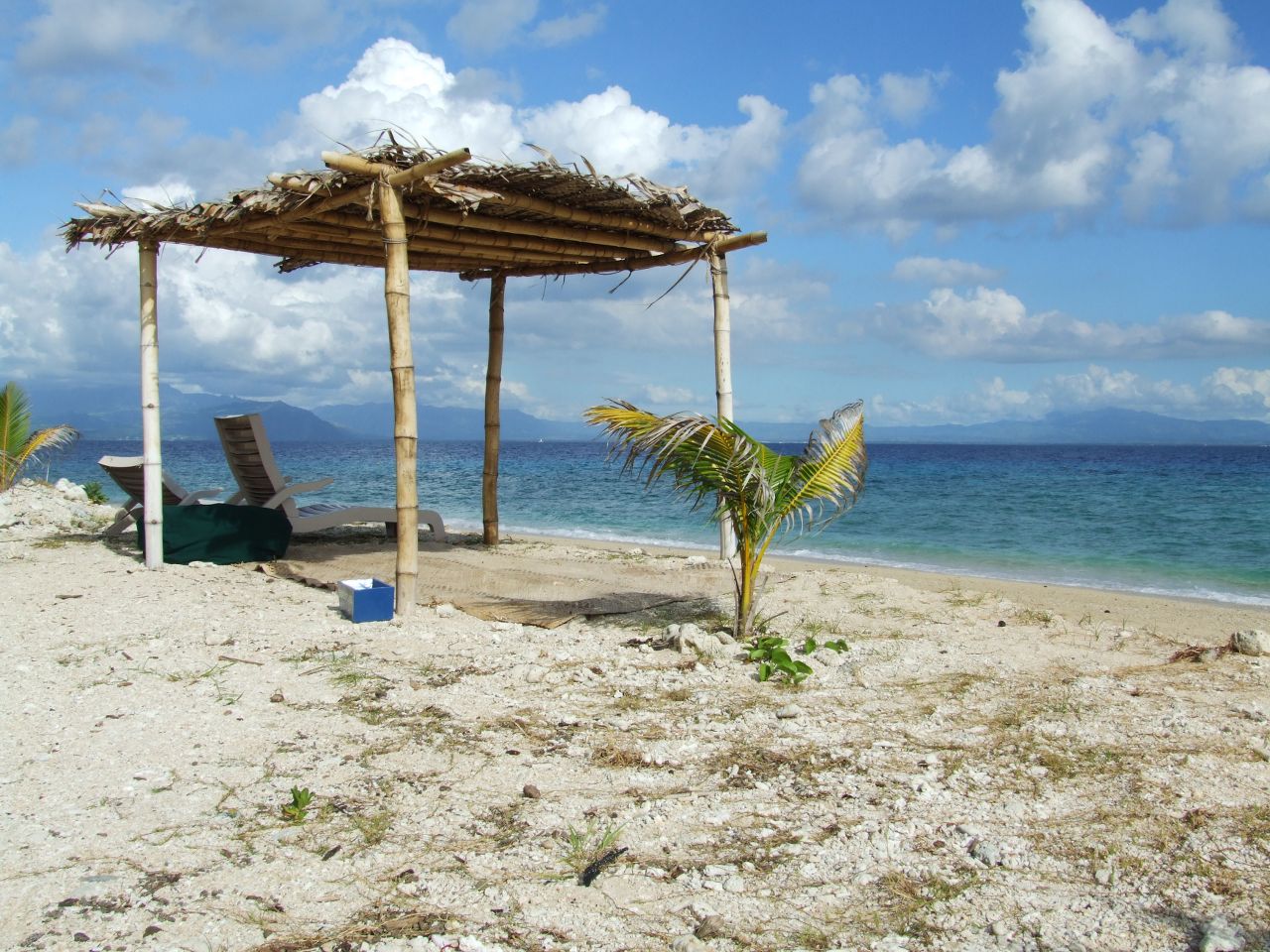 stretch out on the big mats
We did the semi sub tour first to get it out of the way.  The semi sub is a bit dated now so don't expect too much, it's really small too. Can be a little hard to see out the windows as they are also now pretty dated. Time to update the whole thing guys. We did see some pretty fish, but the snorkelling was heaps better.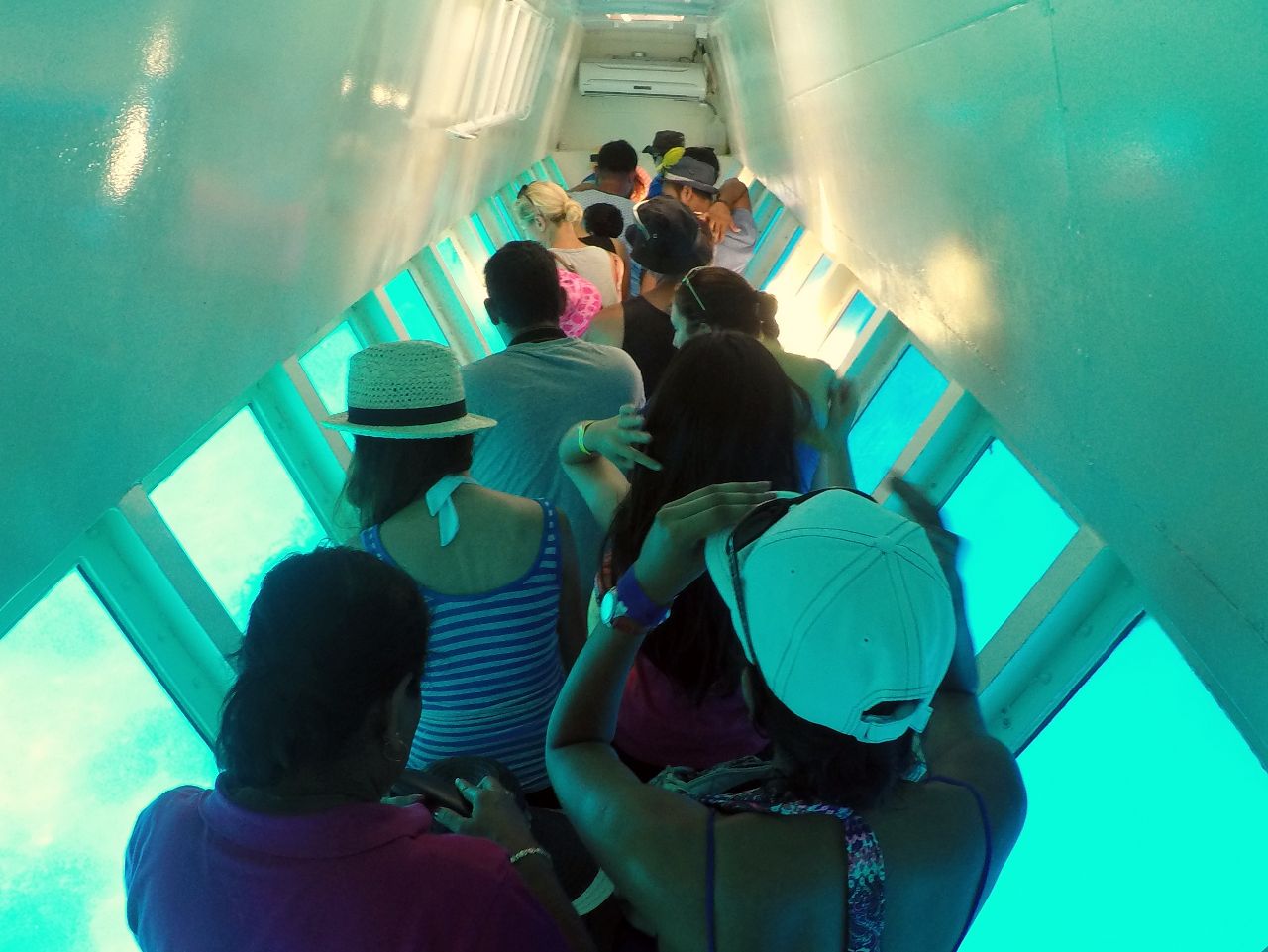 Inside the semi sub, it's a bit crammed in.
After the semi sub we did the snorkelling tour - wow this was so worth it. If I did the trip again I'd forget the semi sub and just snorkel and kayak all day! But the sub is good for the kids who can't get out and snorkel. They took us off shore for the snorkelling trip, the guide was great and looked after us the whole way pointing out interesting fish. We saw a lot of fish it was awesome. We really liked the fact the guide didn't feed the fish and everything was all natural.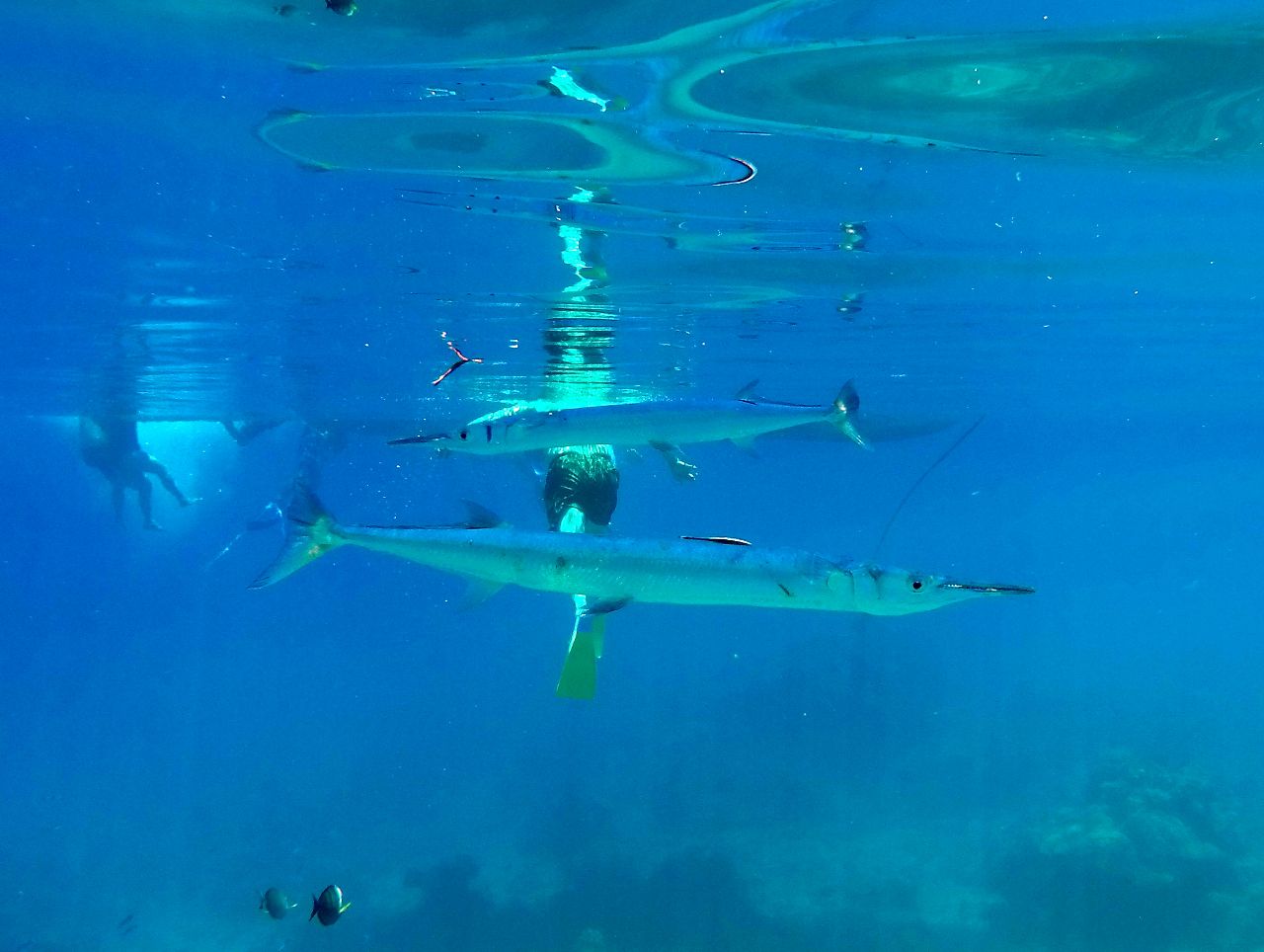 These huge long fish were swimming right around us, they were amazing to see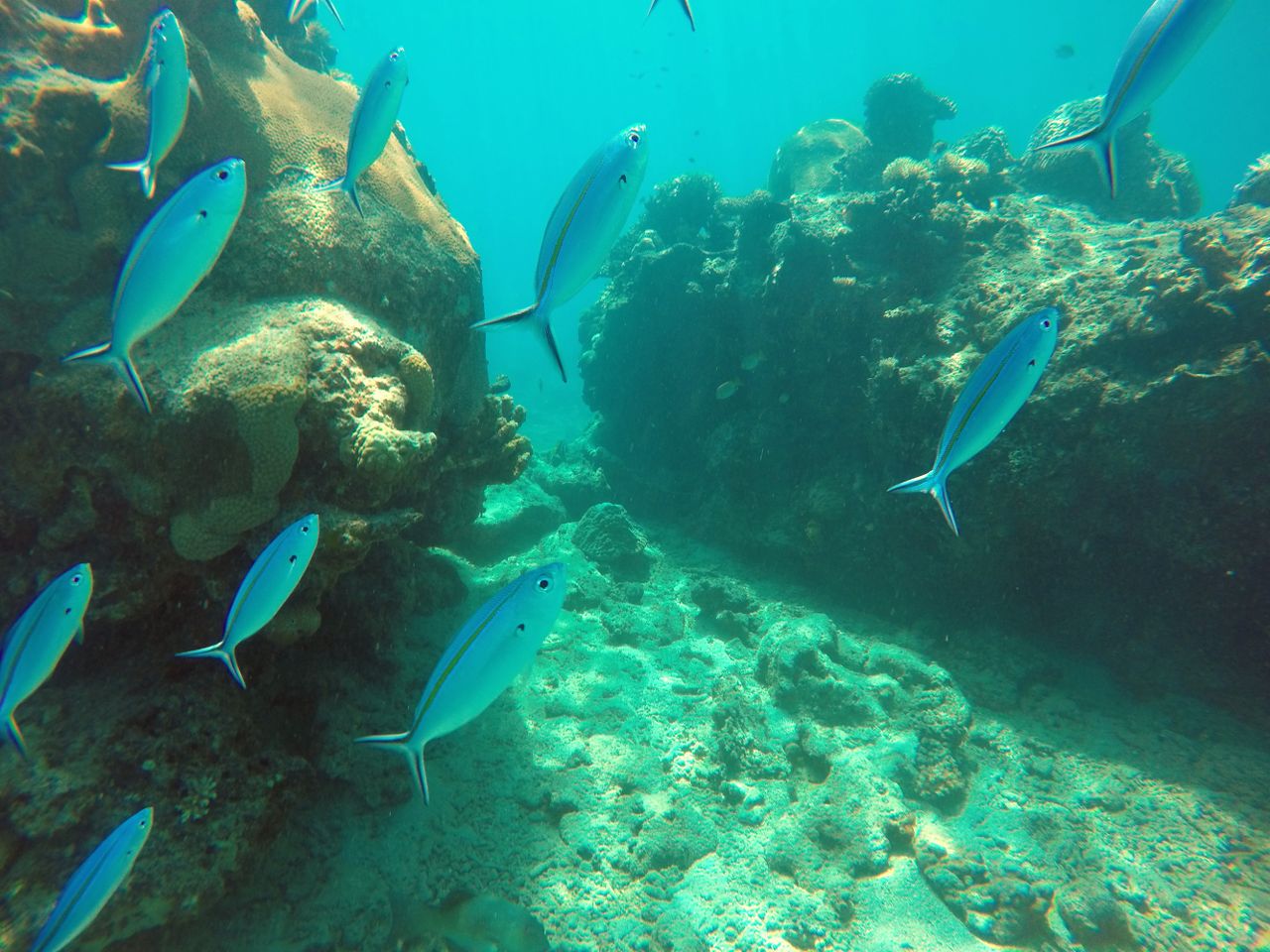 Lots of pretty fish just swimming around us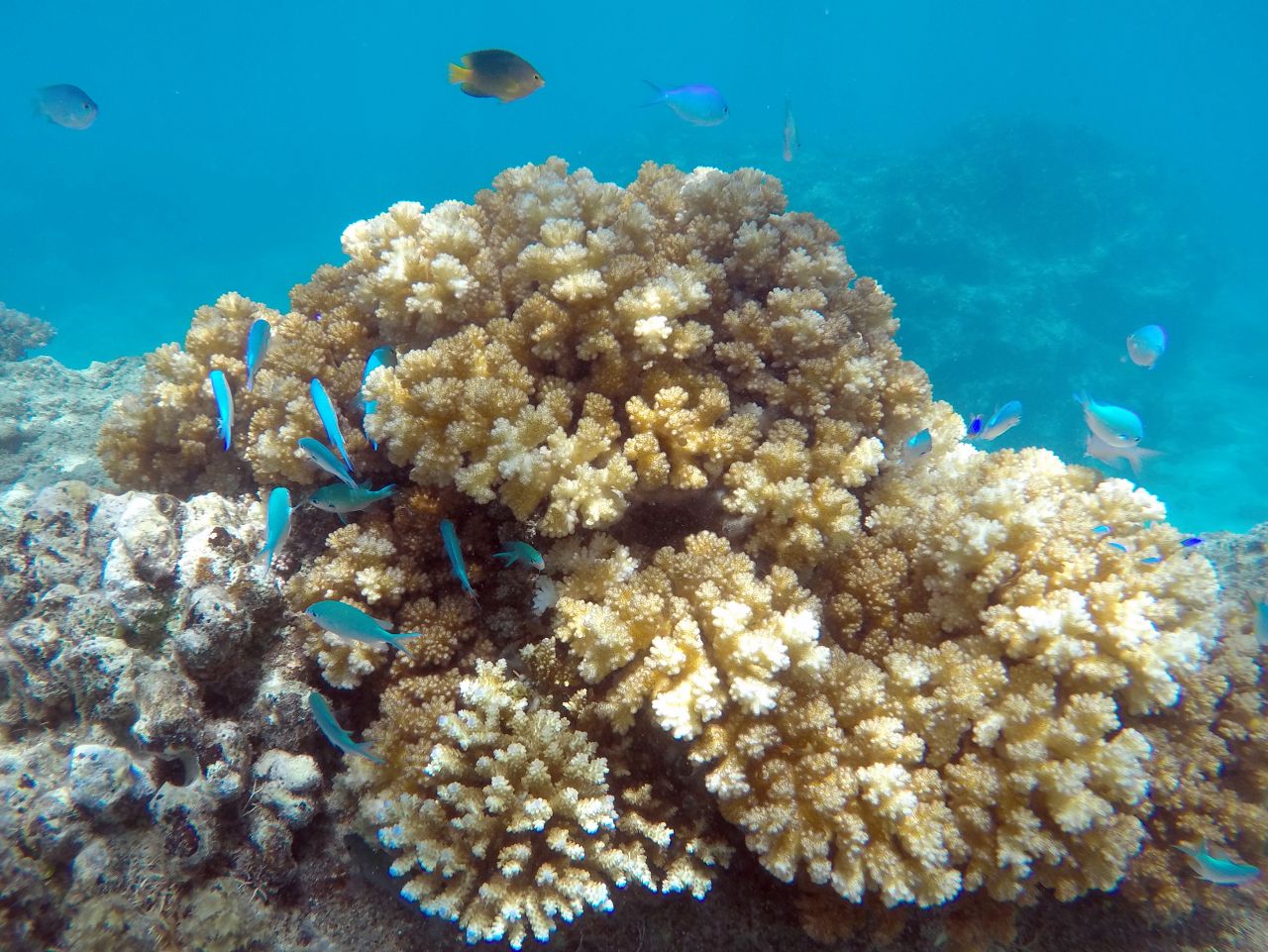 There wasn't tons of pretty coral because of the cyclones that go through but what we did see was great
Lunch will be ready for you now so don't spend too much time walking around the Island or snorkelling. If you have been snorkelling take a quick fresh water shower to wash off the salt. The fresh water shower is beside the toilets just under a big black plastic tank. Now it will be time for your delicious lunch. Just before lunch you will see another boat load of people arrive for their half day tour on South Sea Island; they will be joining you for lunch, now you have grown from a crowd to a mob so don't lose your bure on the beach.  I liked the lunch on South Sea Island, the bread rolls were fresh; all the salads were very good including the rice salad plus the bowl of fresh cut fruit salad was excellent. I was a little disappointed in the BBQ,  frozen fish you can tell this because all the supermarkets in Nadi put all their frozen beef, chicken and fish through the band saw, all the cuts are all the same thickness and shape. There was only one Island we have been to so far that cook fresh whole fish caught that very morning, that was Tivua Island, 10 out of 10 for them.  The chicken and sausages were great though.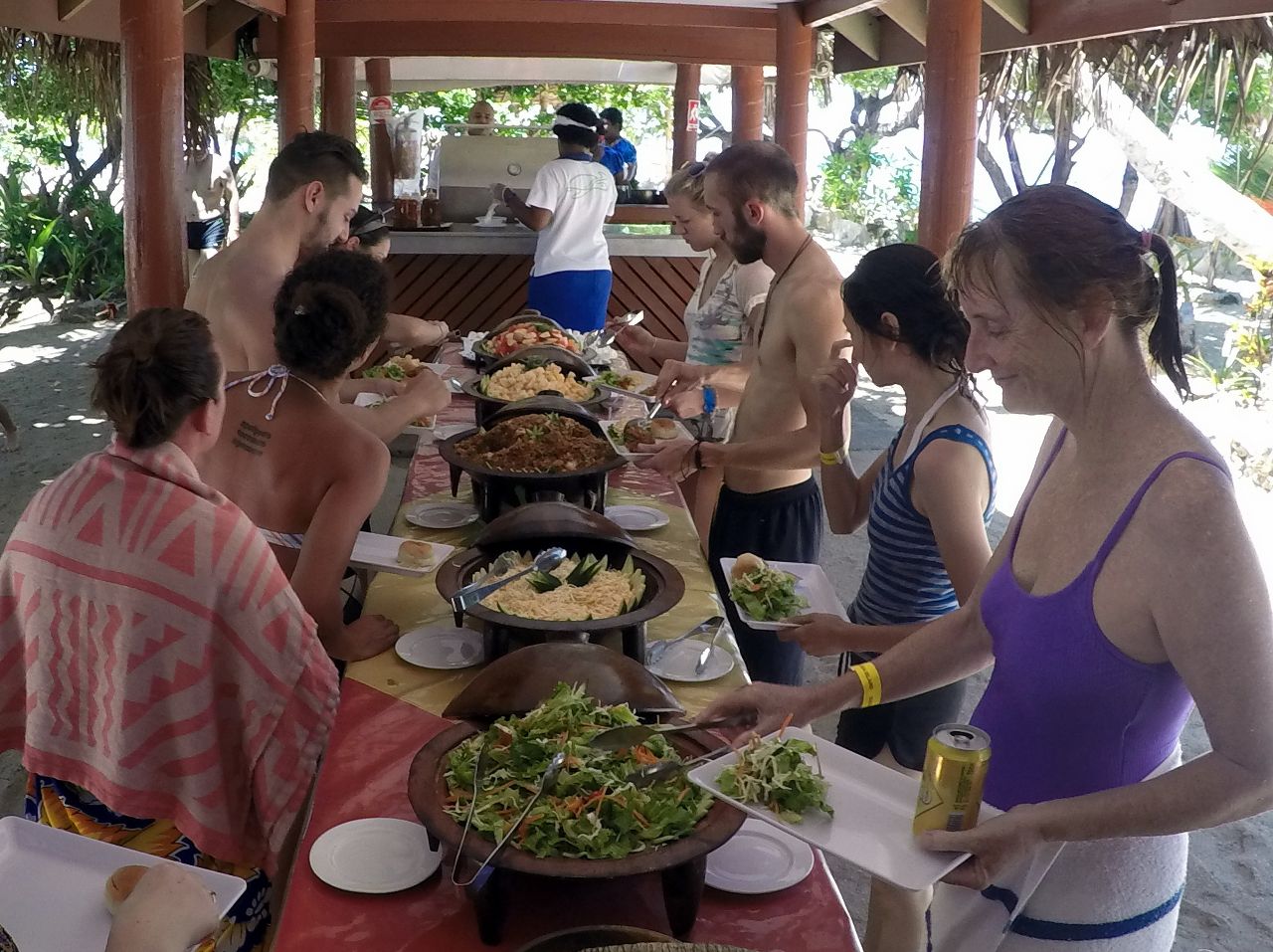 Awesome selection of salads to choose from - yummy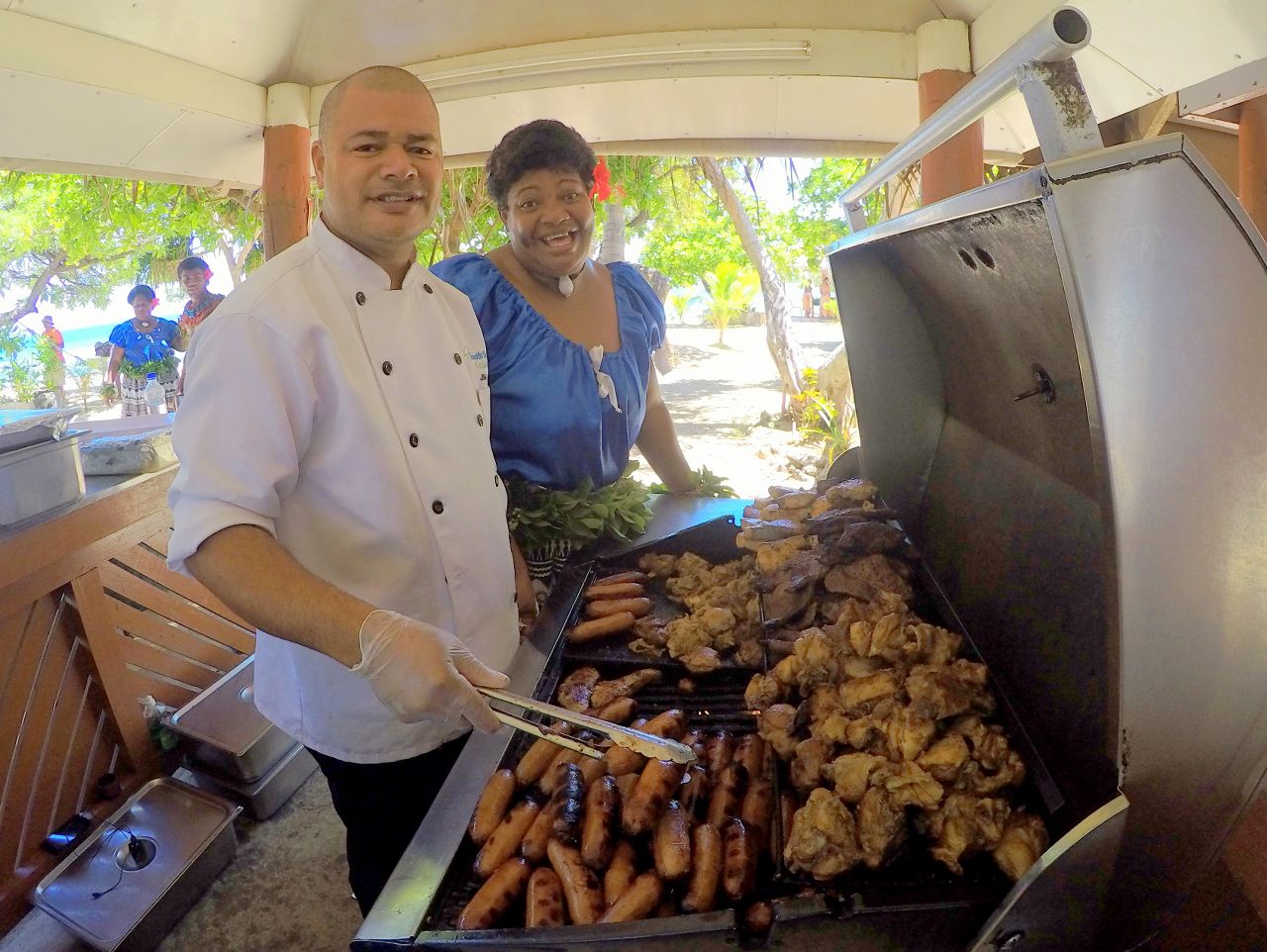 The staff did a great job of cooking up so much food for us all
Our very first trip to South Sea Island was on a Sunday so there was no entertainment.  Today being a week day we could sit in the shade with a cold beer or two and watch a fantastic singing and dance show while we were enjoying our lunch. So the trick is to sit with your delicious lunch right at the front of the circle.  The tour we did months back was on a Sunday, there was NO this and NO that. The price of the tour on a Sunday should have been at least half the price. So be aware, any tour you do on a Sunday, most villages lock down on a Sunday, this is their church and family day. Read the brochure and then cheek it out at the desk before you pay for the Sunday tour.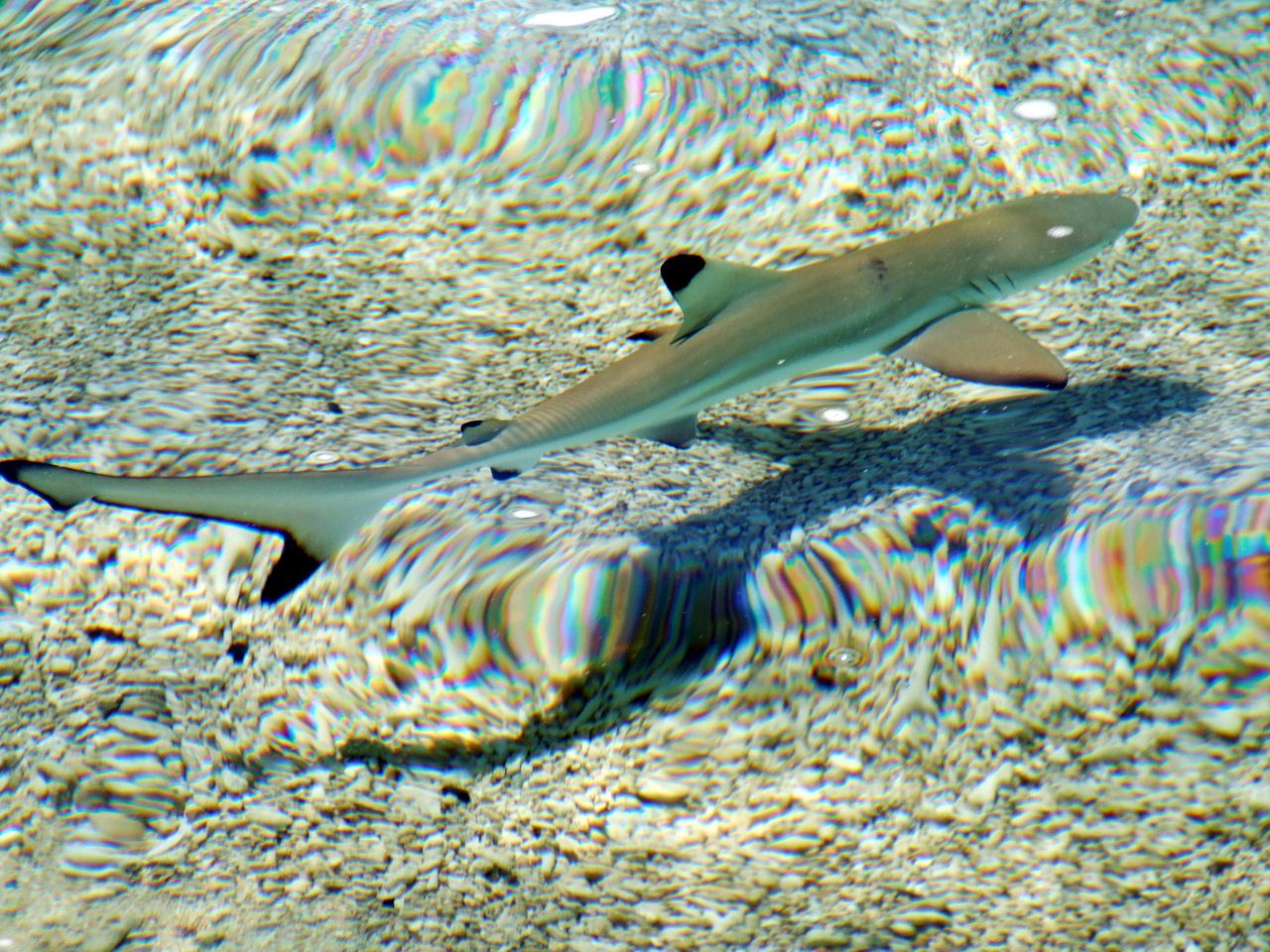 We spotting this little guy while kayaking - so cool
Don't drink too much free beers or wine; there is still a lot of snorkelling to do. We grabbed a kayak and were extremely lucky to spot seven reef sharks only one meter from the beach, we followed them in the kayak for about five minutes. If you are getting a little water logged from all that exciting snorkelling take a 380m walk around the island before the boat ride home.

The wind usually picks up in the afternoon so we spent another hour snorkelling on the Eastern side of the Island to get the calmer water, then finished the day off with a fresh water shower before changing and enjoyed a cold beer and waited for the boat to take us home 

To sum it up, it was a good day out, a short boat ride, good seating, good lunch, very good snorkelling, safe for the kids, but don't go on a Sunday, would I come back? Yes.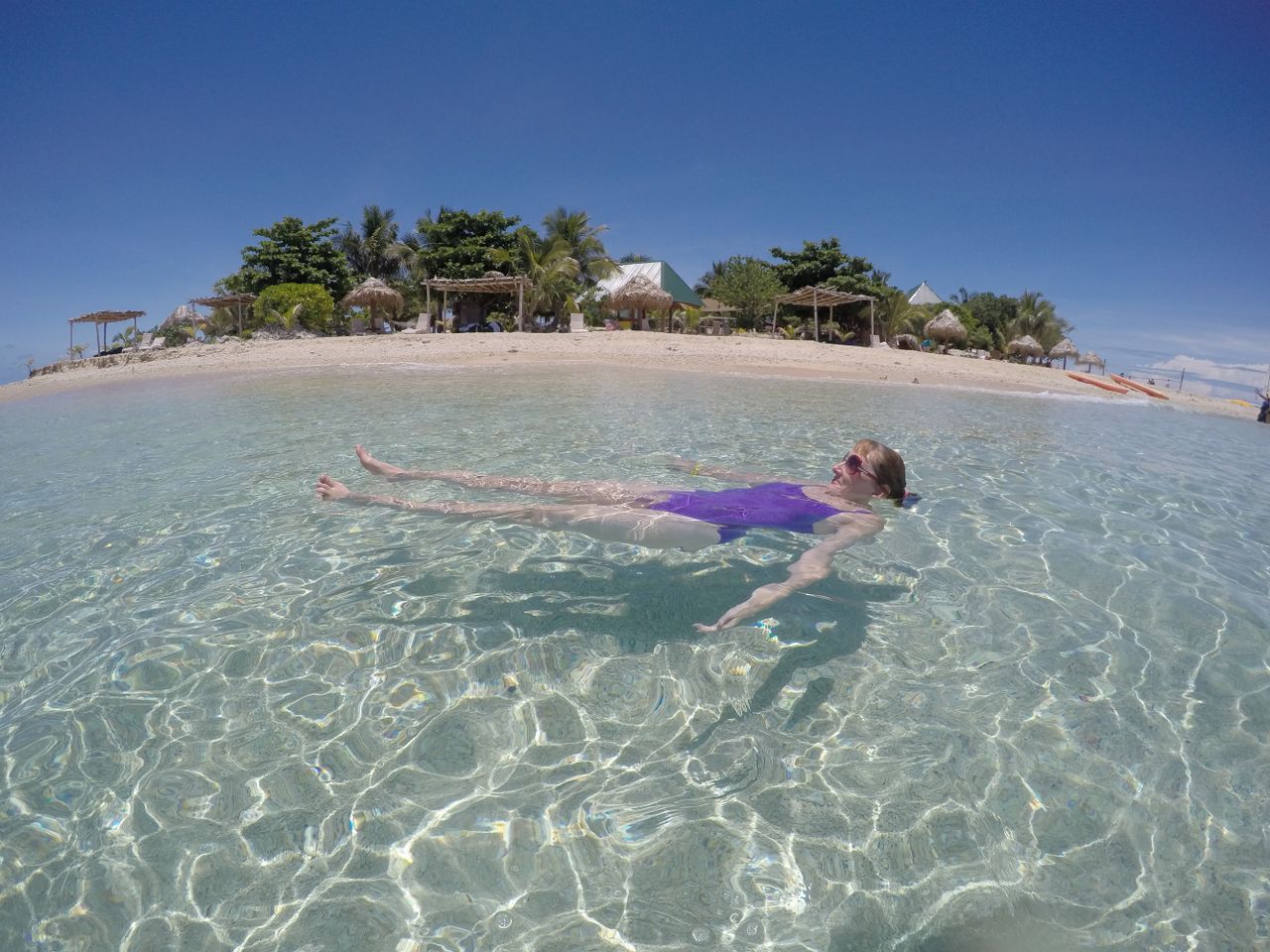 Relaxing in the crystal clear waters at South Sea Island - doesn't get any better than this!
Pros and cons...
Boat Transfer:  35 mins short ride on the big cat, very good
Island: Very very small, walk around in 10mins
Beach:  Sand is coarse, you need to ware shoes
Swimming pool:

 Pretty good considering the size of the island

Snorkelling:

 Really good

Lunch:

 Buffet style, really good with free drinks to wash it all down with

Activities:

 Meke singing and dancing, coconut husking, snorkel trip, free kids club, semi sub fish viewing, diving which is extra

Downside:

 Grab a nice seat quick, can get busy. Sand is not soft.

Value for money:

 Pretty good

Would we go again: 

We've been twice already, yes would go again
BOOK NOW:

best price on full day trip to South Sea Island...
For half day and other tours to South Sea Island click here
Free pickup & drop off for hotels in Nadi
NO credit card fees, NO Booking fees, what you see is what you pay
Last minute, next day bookings please get them in before 2pm the previous day.
Small deposit now, then you'll pay the balance on the day of travel

Pay the balance in cash to avoid extra credit card charges 
Secure Booking Page - look for the green padlock in your browser bar
If this trip is cancelled due to bad weather, they will move it to the next day, however if on that day you are unable to do the tour, we will refund 100% of your payment. 
FREE CANCELLATION & 100% REFUND: You may cancel free of charge PLUS we'll give you 100% refund up until 48 hours before your booking date. If you cancel within 48 hours or you are a no-show there is no refund and you will need to pay the balance in full.
Payment is in Fijian Dollars. Any refunds will be paid in FJD. The payment amount may be different due to currency fluctuations.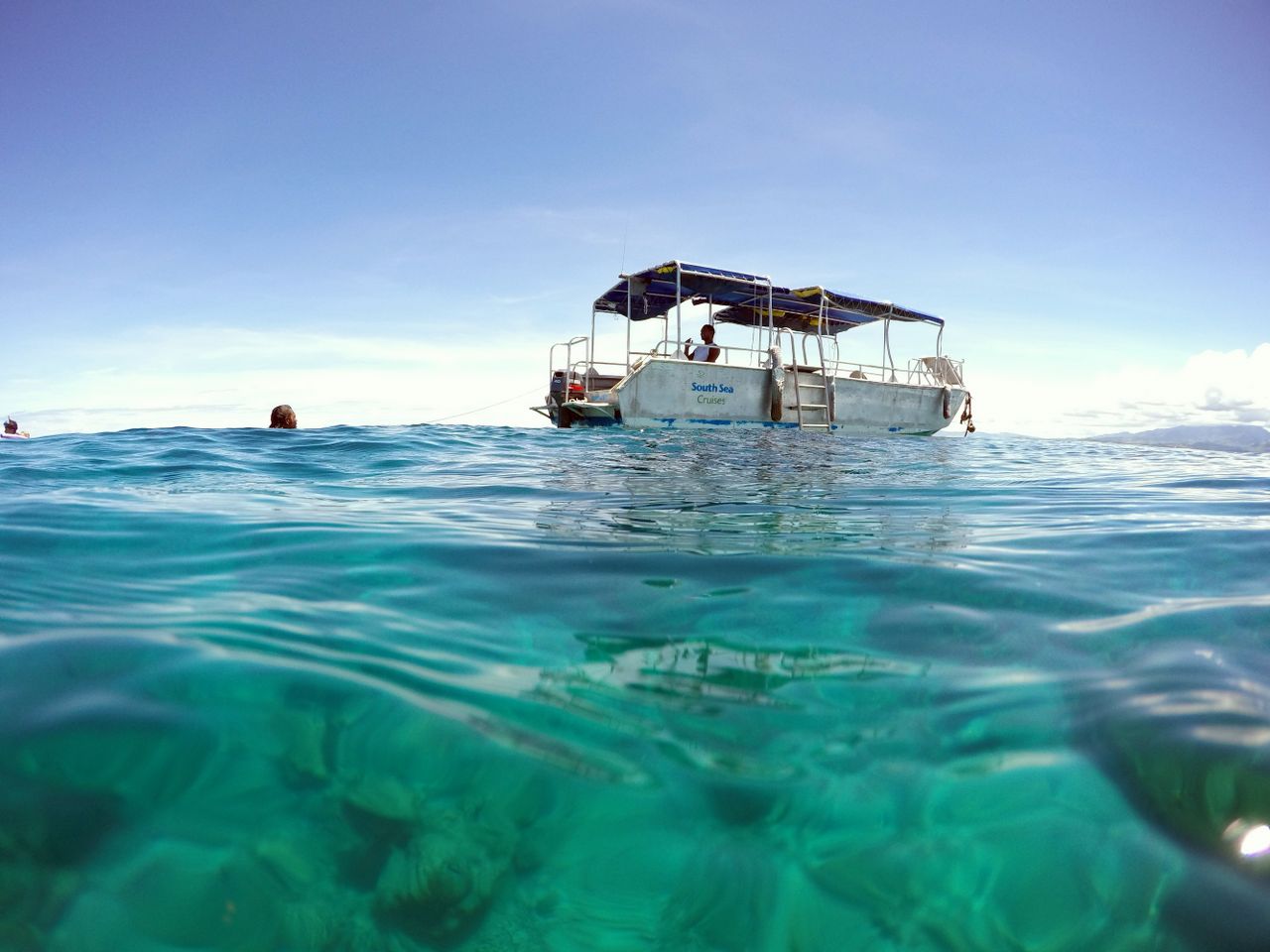 Snorkelling trip was excellent