Make Your Own Oven Baked Taro Chips
Everyone knows how to make potato chips, right? But have you ever tried substituting Taro for potato? Not only will these taste better than regular store bought potato chips, they will be much better for you.
They make a delicious snack, and the kids are going to love them. Taro is high in many of the essential vitamins and minerals, it has a low fat content, and as these are not fried you are not adding more bad oils or fats to them.
Make or Buy Them?
Of course, not everyone has the time or inclination to make their own Taro chips. Perhaps it's too difficult or expensive to get taro root in your part of the world. In that case, you can purchase ready made Taro chips that are just as tasty, from specialty stores. You can even order them over the internet... here is a well respected establishment that sells Taro chips, nuts.com
Oven Baked Taro Chips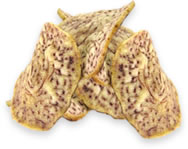 Ingredients:
Taro root
salt
canola or olive oil
Preparation:
Pre heat oven to 350°F (175°C)
Peel the taro root, and slice thinly with a Mandoline.
Dip each taro slice into your oil to coat both sides, then place onto a large baking tray. Be careful not to overlap slices, or they will not crisp properly.
Bake until the edges start to turn up, which should take around 15 minutes.
Leave to cool, before sprinkling with salt. If you have celery salt, this goes great with these chips!
This recipe brought to you by www.Fiji-Budget-Vacations.com
best printed in Portrait Layout