Capricorn Hotel, Suva
The Capricorn Apartments Hotel - a low budget hotel in the heart of Suva. Room rates from fj$130 (approximately AU$69 US$73, NZ$87) a night for a double make this affordable for those that need to be close to the center of town, but don't want to pay Holiday Inn prices (which start at around fj$400 a night).
You don't have the facilities or service of the Holiday Inn of course, but the rooms are reasonably clean and tidy, rates are good, and the staff friendly. This is suitable for the business traveler, or family groups that need to be close to Suva for weddings, conventions etc.
Rates and Facilities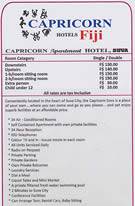 A full list of rates and services is available to view, by clicking the image to the left. While there is no bar or restaurant, you can purchase alcohol and basic grocery items, and the units have a fridge and cooking facilities. There are also a variety of restaurants in the area, as well as a "dial a meal" service provided by the hotel.
Got a business meeting the next day? Then Capricorn have that covered with a laundry service, so you can have a clean pressed shirt. There is also an inroom safe for valuables, as well as night security.
There is a fresh water pool, and a spa if you need to relax after a long hard day. All rooms have their own private balcony: some overlook the couryard and pool, others have a view over the Suva harbor and waterfront.
Close To.....
You are within a few minutes walk of...
Suva Municipal Market and Kings Wharf
The Suva Fish Market
CBD
Main Suva Bus Station
Patels Supermarket
Contacting Capricorn Apartments Hotel
Address: 7 Saint Fort Street, G.P.O.Box 1261, Suva
Phone: (679) 3303-732 or 3314-799
Fax: (679) 3303-069
E-mail: capricorn@connect.com.fj