Smugglers Cove Resort, Wailoaloa Beach
These guys really know how to cater to the younger, backpacker type tourist! When I get to talk to people that have been staying in Fiji, the name "Smugglers Cove" crops up frequently as the place to go if you want fun, without spending a fortune.
They have made a lot of changes since I was last in Nadi...I will have to wait for my next trip to check those out. But the photos look great - the new wing means they have extra capacity.
Room Types and Rates
Choose from mixed or "girls only" dorms, as well as various grades of private rooms (they even have a disabled suite). Prices for each are below, and you can view some images of them in the gallery, near the foot of the page. Dorm prices are per person, per night. Room rates are for however many people the room has been rated for.
Pirates Dorm: (mixed) fj$33
Girls Sanctuary Dorm: fj$42
4 Bed Mixed Dorm: fj$42
Disabled Suite: (single or double) fj$145
Family Suite: (up to 5 people) fj$265
Ocean View Triple: fj$215
Ocean View Double: fj$175
Ocean View Balcony: (sleeps 2) fj$215
Premium Triple: fj$185
Premium: fj$145 (2 people, $40 extra adult, $20 child)
Facilities
There are three facilities that can make or break a resort. The bar, pool, and restaurant. Luckily, Smugglers excel in all of those areas.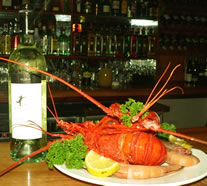 The Ghostship Bar and Grill is where you can grab a drink, a light snack, or something more substantial. Open until 11pm, this serves great meal (I have been told the lobster is especially good). Good food at a reasonable price. Certainly a much lower cost than you pay at most of the Coral Coast resorts.
Cocktails, beer, wine and spirits - this can be party central once the sun goes down. And as there are various other resorts along the Wailoaloa beach, it's possible to wander down the beach and get a meal at one of the other restaurants in the area. But for most people, the Ghostship will be just fine. Or go to the "Cove Cafe" for a selection of light meals and good coffee.
There is also an extensive list of other facilities, too numerous to mention all of them here. But they include...
ATM machine
Dive shop
Surf shack
Shop
Spa/massage
Activities
Where to start? Perhaps with traditional weaving or arts and crafts lessons. Not your sort of thing? Then how about some beach activities, such as snorkelling, volleyball, or fish feeding?
There are also nightly entertainment programs...such as the fireshow, held twice a week. If you enjoy golf (as I do) then the Nadi airport golf course is a 5 minute walk down the beach. And Smugglers will provide you with free clubs.
Contact Details

A Message From The Owners of Smugglers Cove, Mark & Janice

Prior to opening Smugglers Cove at Wailoaloa Beach in Nadi back in 2006 Mark & Janice Hinton operated Horizon Backpackers (and still do) where they gained valuable experience in understanding the expectations & trends of the youth & backpacker market.
"One of the important things we learnt was when designing Smugglers Cove we wanted to take comfort and service to new levels for budget travelers. The demand for "affordable yet upscale" accommodation solutions for the youth and backpacker travelers we felt was the way to go if we wanted to gain a position as market leaders and innovators for the budget market."
"We travel a lot to Australia & New Zealand to learn more about the independent traveler and backpacker industry by attending Backpacker Conventions & Expo's & staying at quality Backpacker properties to gain firsthand experiences about where this market is heading."
"We opened a new Beach Wing in April last year which doubled our inventory and includes a Café, Spa, Dive shop & Surf Shack."
"Later this year we intend to commence construction next door of the new Smugglers Serviced Holiday Apartments complex which will be a five story building having 37 five star Luxury apartments, Gourmet Deli, Fitness Centre, Spa & Lap Pool. Pre sales "off the plan" of the apartments has commenced really well with a number already under contract."