Orchid Island near Suva in Fiji

currently closed
Orchid Island, One Of Suva's Hidden Secrets
About 20 mins drive to the west of Suva, lies a secret hidden treasure... Orchid Island. Once, this was a thriving and busy cultural centre. Nowadays, it's deserted, overgrown, with almost no vistors. The lack of people isn't surprising: the place has closed down, there are no signs to show the way, and very few tourists get to hear about it.
The name is somewhat misleading, you would assume it's actually an island, right? Wrong... while there are some tidal streams that flow through and around the area, this is definitely not an island, it's a part of the mainland. And I don't even recall seeing any orchids either.
If you are travelling from Suva, then drive west along the Queens highway (main road to Nadi) for about 20-30 min from the city centre. Pass through the suburb of Lami, and then past the Novatel (on your left). Next feature is the cement works factory (right side) before you get to the village of Namuka-i-lu. Once you have gone through the village, watch closely for a small dirt road on your right side, this is the track that goes to Orchid Island. Drive slowly down this road, watching carefully on your right side for a bure set 100 meters off the road (see image below).We are unable to locate the place on maps, or even Google Earth, so you will just have to follow these directions, and ask locals if you get lost!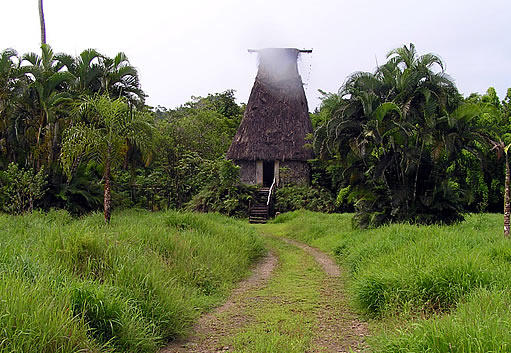 What To Expect
When we first visited Orchid Island, we weren't sure what to expect. All we knew was that it used to be a bustling tourist attraction, but for various reasons it had been closed down and abandoned. Our first impression when we drove to the entrance was "hmmmm, so this is it? Let's turn round and head back to Suva". But I'm so glad we didn't do that!
Once you pass the bure at the entrance, there is an overgrown track that we followed. This crosses a dilapidated footbridge, and then winds another 50 meters through the jungle. This then opens up into the old cultural centre, hidden amongst the bamboo and trees. No wonder Google Earth can't find it, it's almost like something out of Indiana Jones.
The real drawcard is the collection of old artifacts, photos, and docmuments. These are not replicas, they are the real thing. I did question our guide, Simmie, as to how these could be left unattended for several years, without getting stolen. His answer was that while Fiji might be moving towards the 21st century, old ways and customs are still important, and stealing from the centre would be bringing dishonor to your ancestors. Perhaps we have something to learn from that, in Western society?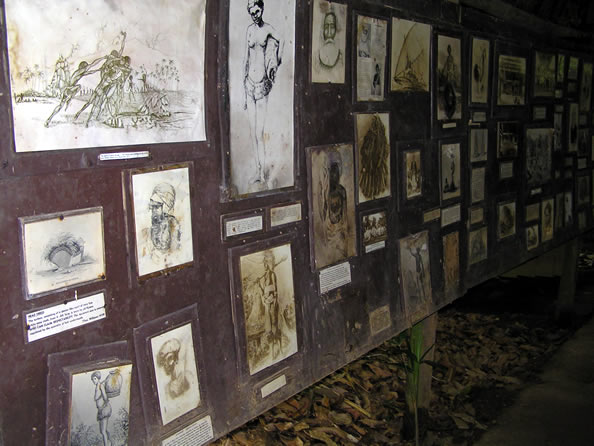 Old drawings and photos lining the walls of the walkway
If you want to visit Orchid Island, we suggest that you hire a guide to take you. Not only does this make it much quicker and easier, your guide knows all the local people and can help with liasing with villagers and/or cultural centre caretakers.
SORRY ORCHID ISLAND IS CURRENTLY CLOSED