Navua Upriver Logde - The perfect place to get away from everything
Feel like getting away completely, but your budget doesn't stretch to a luxury retreat? Do you enjoy "roughing it", and just want to be left in peace to sunbath, fish, take bushwalks, and generally laze around?
Then the Navua Upriver Lodge might be the perfect getaway for you. Isolated, with few modern conveniences (no electricity, lighting is by battery powered lamps) you can just relax, knowing that most tourists are about a 2 hr boat ride away.
Your Host: Epeli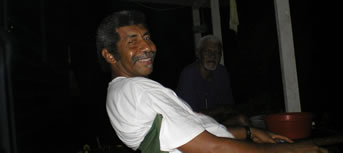 Your host at Navua Upriver Lodge, Epeli always has a smile for guests

The Lodge
Located 2 hrs upstream from Navua township, this is an isolated area only accessible by boat. The "lodge" is actually a group of 3 small buildings overlooking the river, each with a kitchen/dining room, basic ablutions, and either 1 or 2 small bedrooms.
Cooking utensils are provided, but you need to bring your own food. There is no power, and no cellphone coverage either. However, there is a generator, so it might be possible to recharge camera batteries.
Fishing in the Navua?
Unknown fish species caught in the Navua river

Freshwater fishing is not a big sport in Fiji. If the locals want a fish for dinner, they are more likely to spear one.
During our stay at the lodge, I was sitting on the verandah in the evening, watching the fruit bats passing overhead and enjoying the total lack of noise. No sounds of vehicles, no horns, no people next door to disturb the solitude.
I was looking out on the river, watching fish rise as the sun was going down. What type of fish, I don't know. But being a keen flyfisherman, I found myself wishing I had packed my 4 piece flyrod. Some of the locals I talked to said the bigger ones grow up to 2 feet in length though the one I photographed was only around 8-9 inches. This was caught by a local woman from a nearby village, and was destined to be eaten that night. The "fishing rod" was just a length of bamboo, with a length of string attached, a piece of styrofoam for a float, and a small hook baited with a crust of bread.
But if fish were rising to surface flies, then they must be susceptible to an artificial fly. So if you do decide to stay at the upriver lodge, and you are a keen fisherman (or woman!) why not pack a rod and see what's up there? Even if you catch nothing at all, your time will not be wasted. After all, what could be more relaxing than casting a fly over uneducated fish, in an isolated tropical paradise?
Some things to do at the upriver lodge
For many people, just getting away from it all, relaxing with a good book and taking a swim in the river when it gets too hot will be enough. But do ask Epeli what else can be arranged, he will be more than happy to help out. Some activities could include...
pig hunting
fishing trip
village visit
Bili bili trip
Who to contact
The owner ( Epeli Naveata) can be contacted on the form below.