Gipsea Sun Set Sailing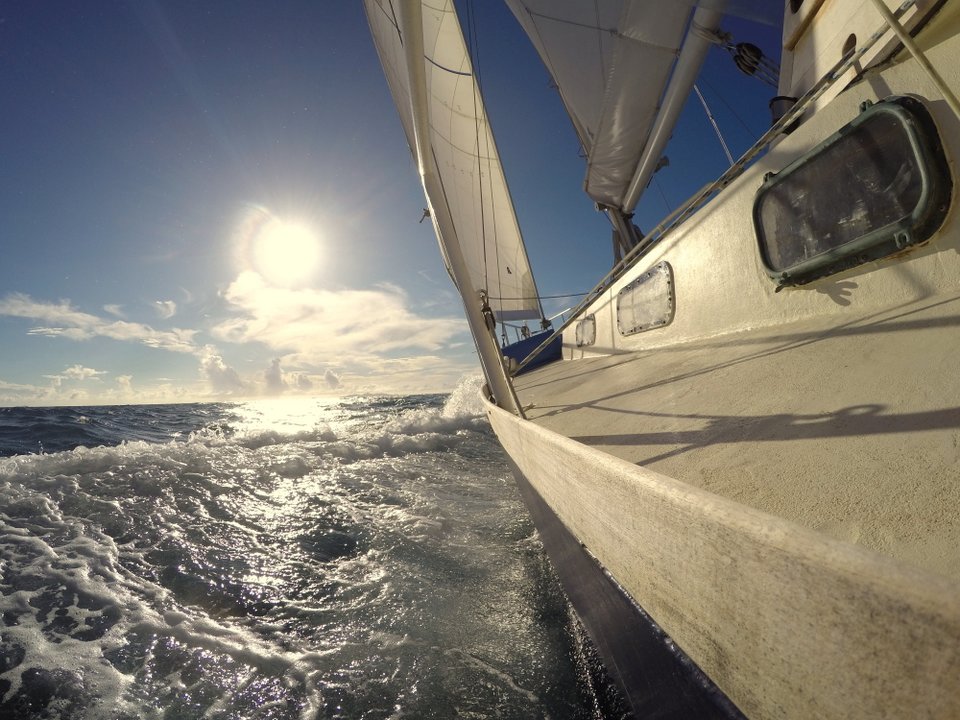 Sails hoisted, and underway
None of the tourist crowds out here
This afternoon we headed off on a three hour sunset cruise on Luc's  50 foot yacht. Instead of driving to Port Denarau we headed off to Wailoaloa beach which is only five minutes from down town Nadi.  Arriving a little early we sat in the shade and drank a cool Fiji Gold beer at one of the Resorts.
While  sitting there we watched a man rowing up to the beach in his little blue dingy, thinking he is off a yacht , lucky man.  It was Luc, he was already on his yacht getting ready for the sunset sailing. In all he made three trips back to shore to pick up more passengers.  Hoisting the sails, a course was set for the Mamanuca Islands,  a three hour sun set cruise.
No smelly noisy diesel motors on this trip.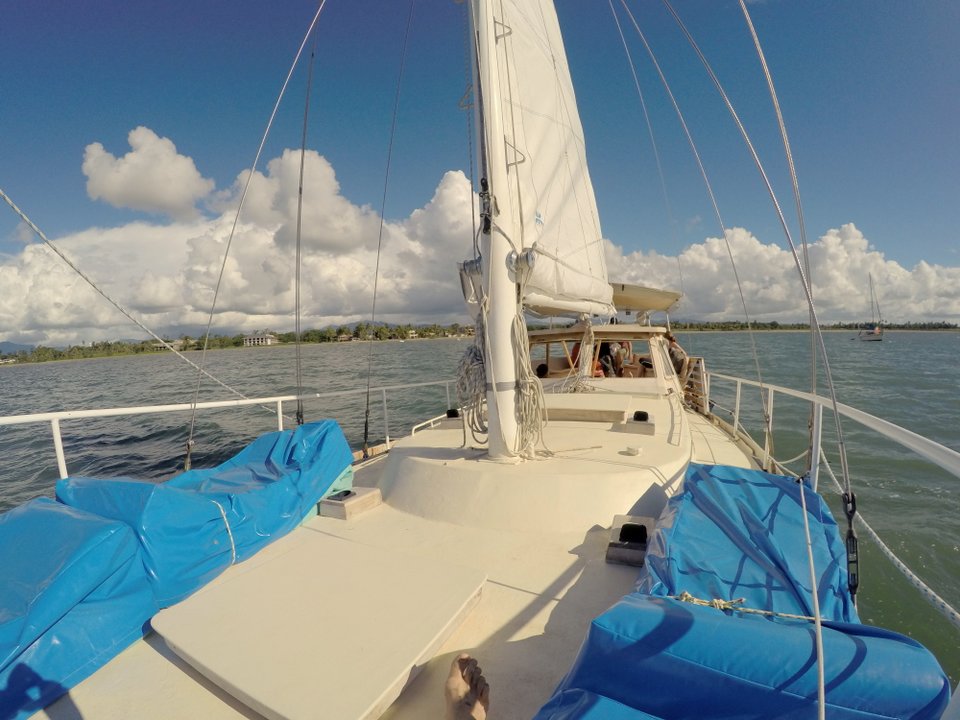 Above decks...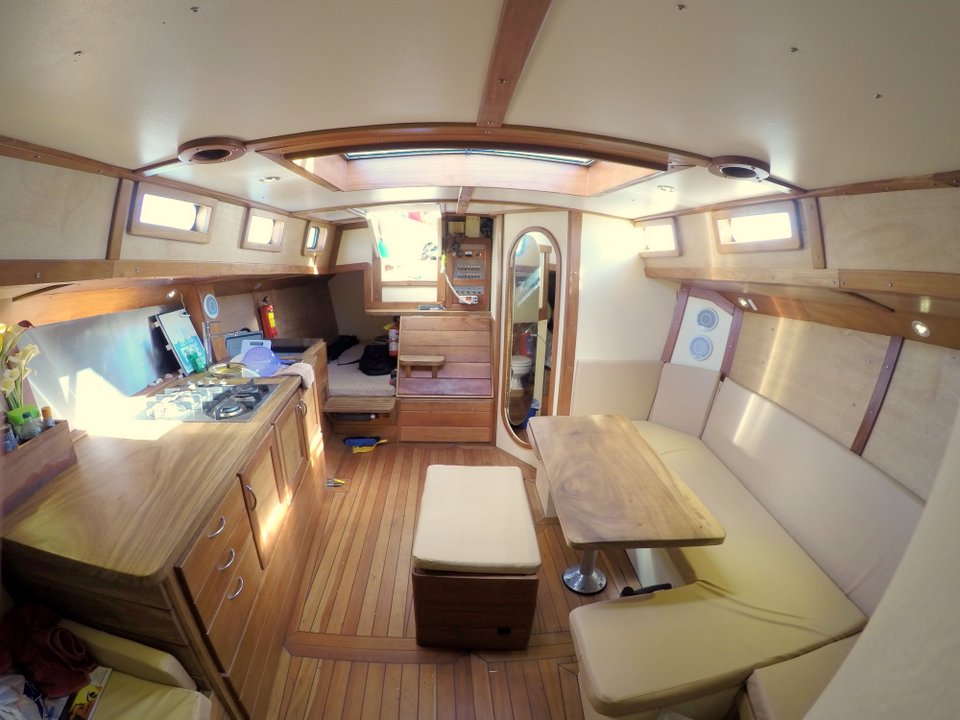 And below
Once settled we were offered soft drinks, fruit and snacks,( Luc does not sell alcohol but encourages BYO).  With soft music and a cool breeze we cruised out to the Mamanuca Islands waiting for our sunset.  
Making  good time sailing around the islands we dropped anchor, all took the time for a refreshing swim before the sun started to set over the horizon. 
Luck was on our side today, there was not a lot of cloud which gave us a wonderful view of a magnificent Fijian sunset.  A perfect evening in paradise for a sailing trip. Had we had a bit of cloud cover to the west, we might have been treated to some beautiful sunset colours, but it was not to be. But we weren't too worried about that, it was a wonderful way to wrap up another perfect day  in Fiji.
By the time the Gipsea was back in its mooring  the wind had disappeared making the sea appear as smooth as glass. We ended up staying on board a little longer enjoying the peaceful relaxing life of a sailor in the tropics. 
Great boat, good host and a wondeful sunset. What more could we ask for?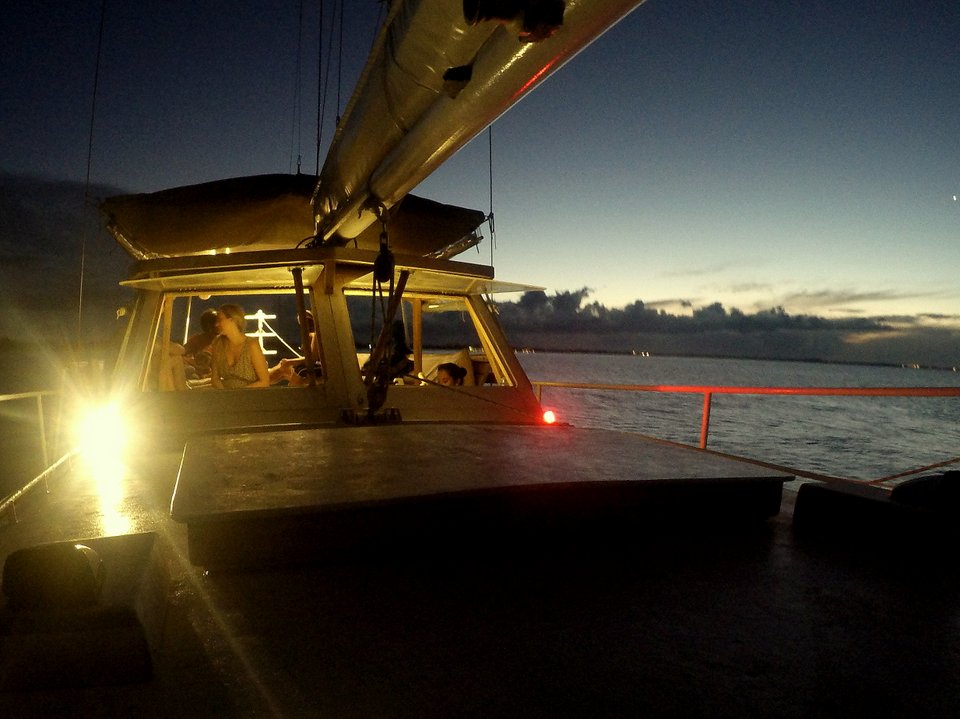 The evening is coming to an end
Pros and Cons
Boat:  Very comfortable 
Swimming:  We were too close to Denarau to get water clear enough for snorkelling 
Snacks:  Well presented and enjoyable 
Downside: Only 3 hours on the yacht. Could have stayed on board all night 
Value for money: Yes, A fantastic opportunity to get away from the crowds and the heat for a few hours 
Would we go again?:  Absolutely