Our trip on Rivers Fiji White Water River Rafting on the Upper Navua River - Simply Spectacular
We'd heard a lot of great comments about this rafting trip into seriously remote parts in Fiji and couldn't wait to experience it ourselves. It was a massive day, we went home exhausted but thrilled to bits we got to do this trip. Couldn't believe how many stunning waterfalls we passed plus the gorges, wow. Here's our run down on the whole day.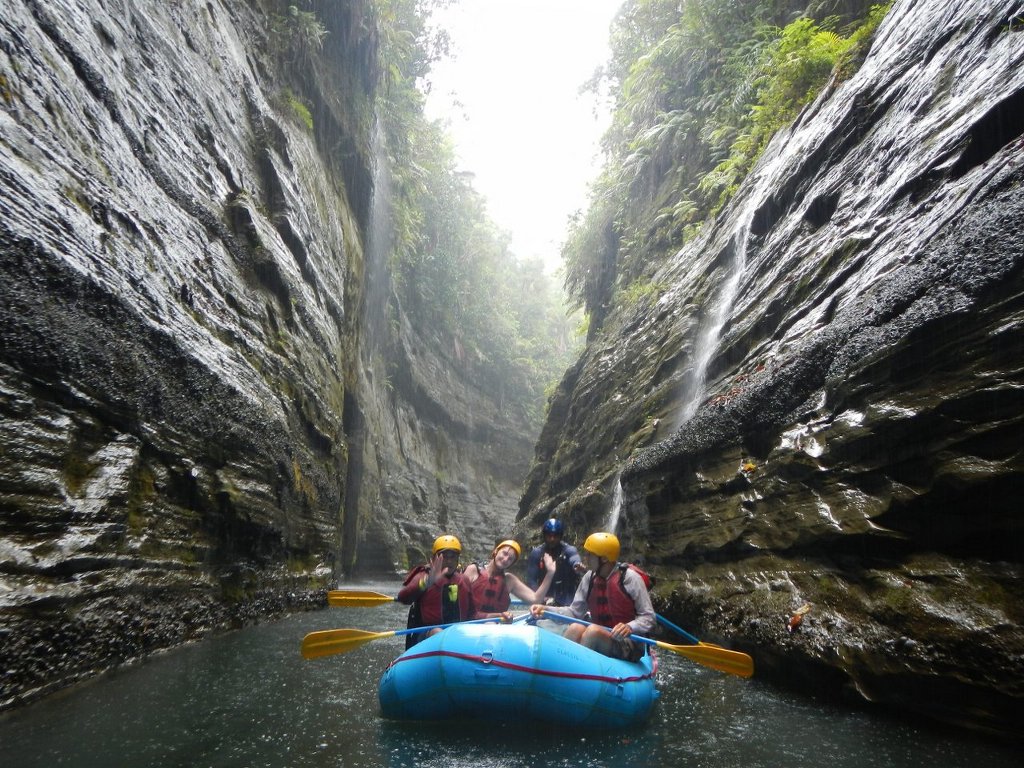 This is us going through one of the awesome gorges on the Navua River
Today's outing will be a very long day as it started from Nadi, it was quite painful getting up at 0430 in the morning, so it better be worth getting up at this the early hour. The pickup was late by 30 minutes which is to be expected in Fiji, one day they will be on time? The mini bus had five other people doing the Navua river rafting trip with us. It took us two hours to drive down the coral coast to reach the change over point where we changed to a very old 4x4 bus for the slow but interesting one and a half hour ride up into the remote Navua hills, and yes the bus needed to be in 4x4 mode to climb to the top of a couple of hills. Half way up into the hills the bus stopped on top of a small hill where we were told we can hop off the bus and stretch our legs and enjoy a slice of homemade banana cake and a cold orange drink, just what the doctor ordered. It was so enjoyable just to stand on this small hill top and look down into the valleys and breath in the fresh cool mountain air. Nadi is too noisy and full of diesel fumes and smoke from burning rubbish. Nadi does not have a rubbish collection so the residents burn off there daily rubbish in the back yard all at the same time, 5 pm when they get home from work. 
If you're staying down the Coral Coast it will be a much quicker drive for you, especially if you are around Pacific Harbour area, it's also cheaper.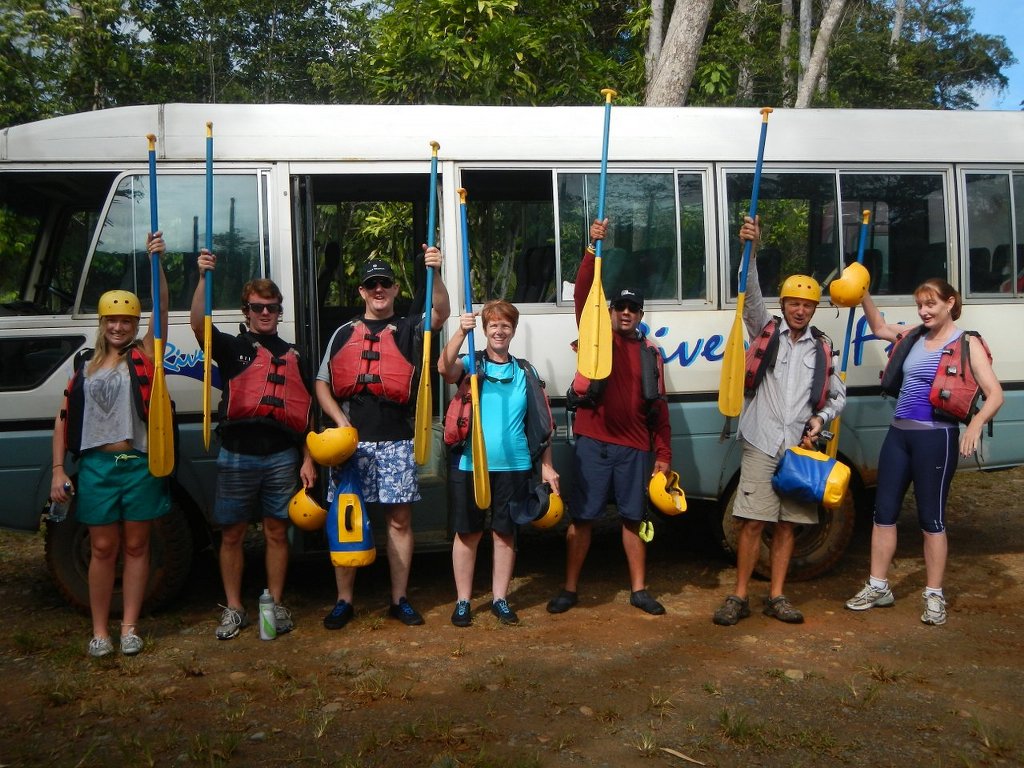 The end of the long bus ride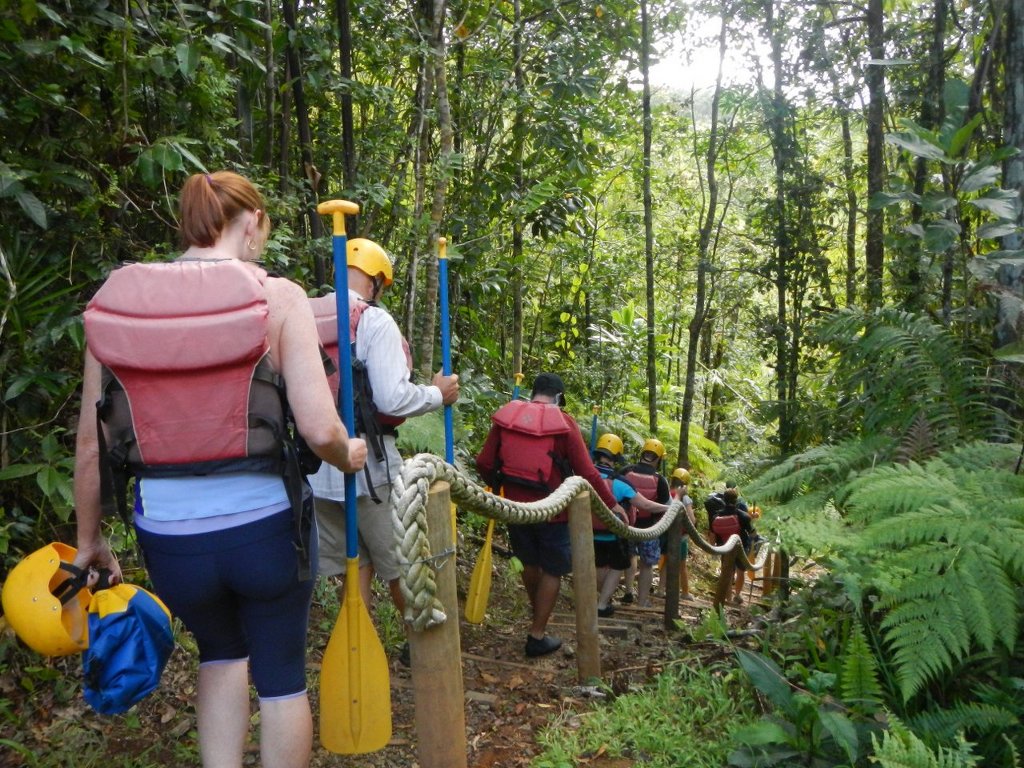 walking down to the Navua river
Three hours and forty minutes we arrived at the start of the bush walk down to the Navua River.  We did not have to be told twice to get off the bus and pick up our gear for the walk down to the river, we were given a life jacket a paddle and a dry bag to stow our valuables in so they would not get damaged by the water, very good thinking on their part. The walk was a short fifteen minutes through the bush to the Navua River then it was straight into a very informative safety brief and into the boats and away in five minutes.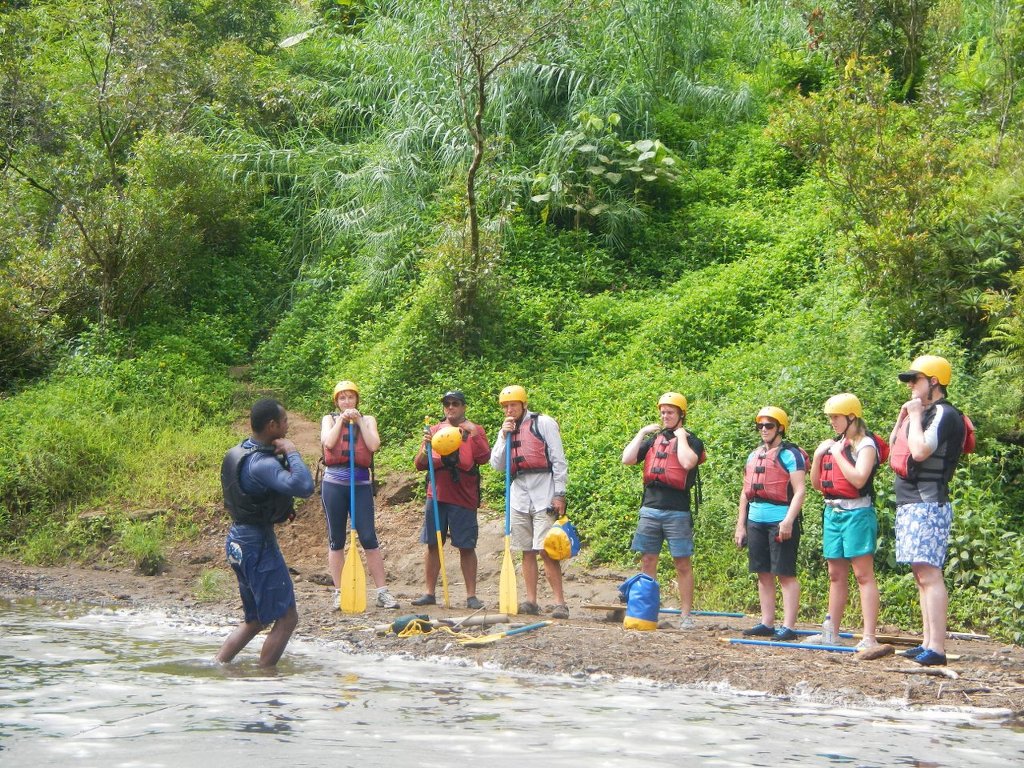 Short safety briefing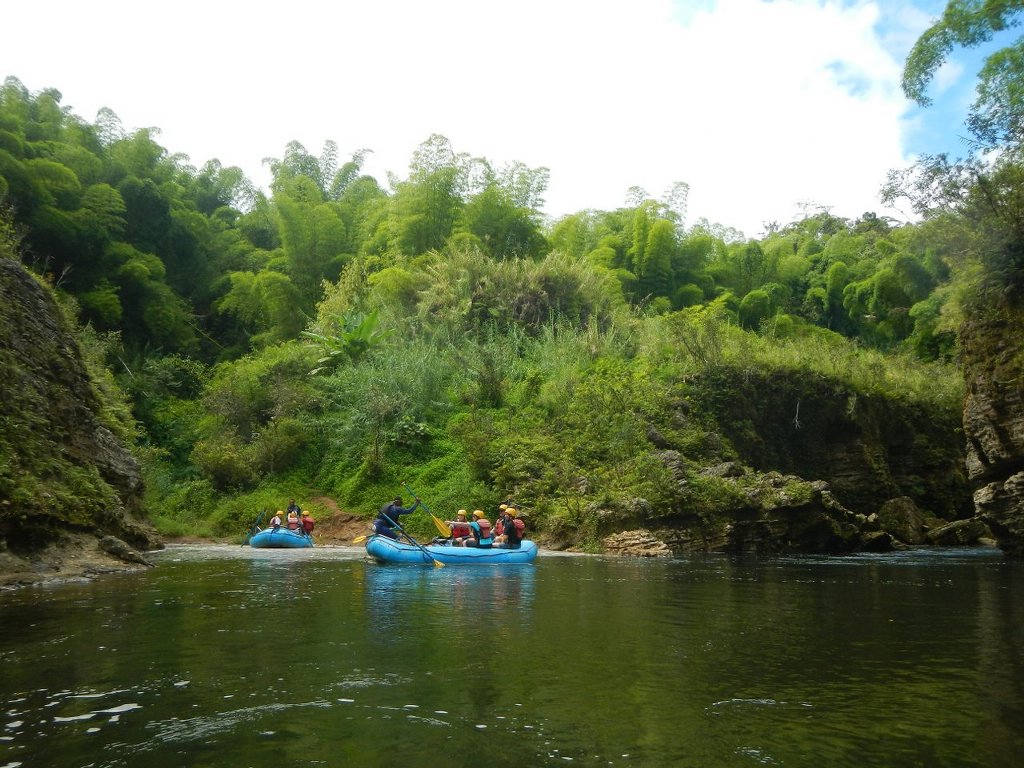 Now the fun starts
The best part about this river rafting trip is the first rapid is just fifty meters in front of you, no boring one hour of hard paddling before the excitement starts, I am not kidding, within three minutes you are bobbing up and down in the first rapid which is a shock to the system after sitting in a bus for many hours, then before you recover from the first rapid for the day there is this impressive narrow steep Gorge swallowing you up, what long slow boring bus ride?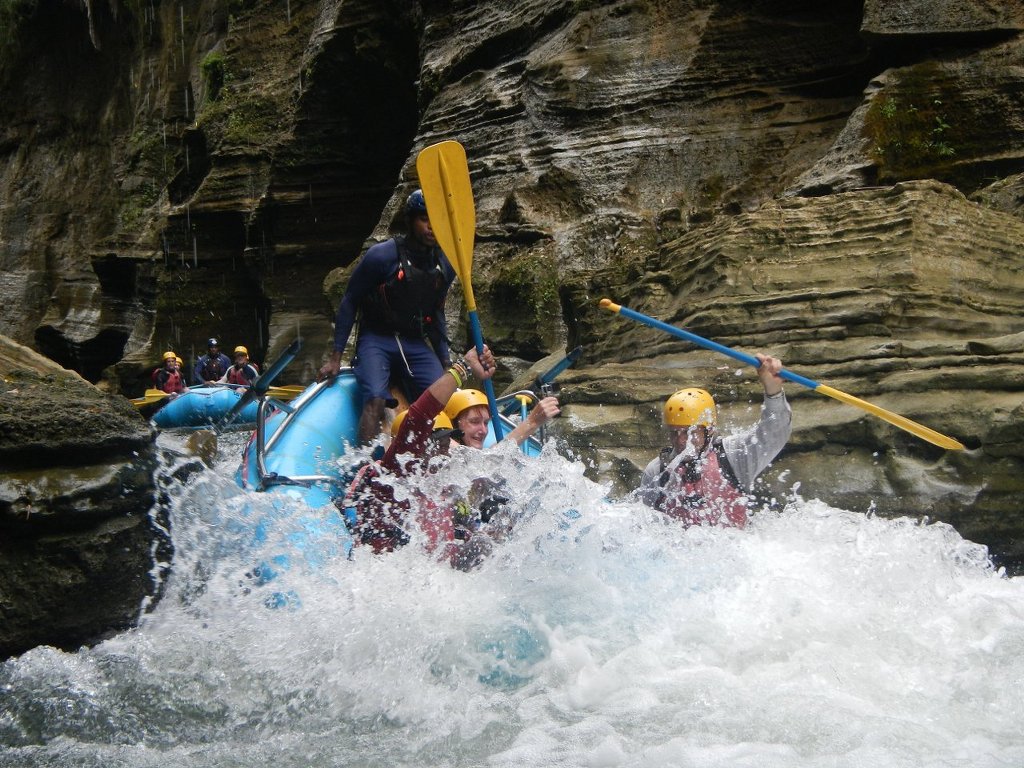 First tight spot, made it no worries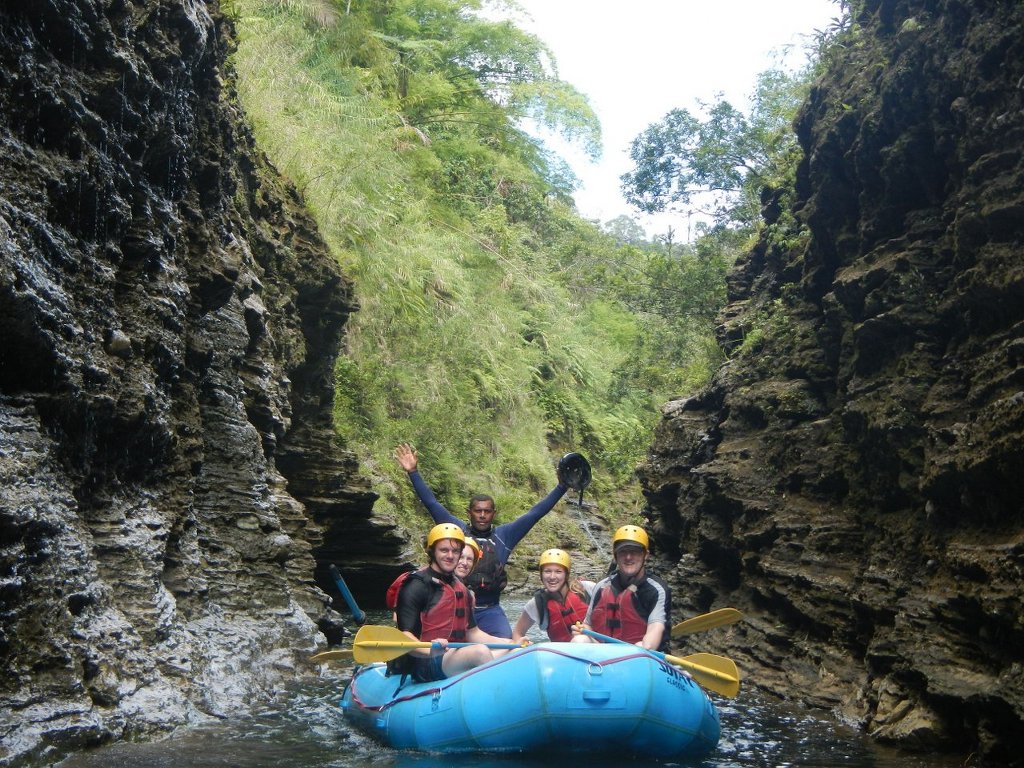 The gorges are something else
The next hour was full on, rapid after rapid steep Gorge after steep Gorge. Nothing to dangerous but just enough to make you feel ten years younger. It was so mind blowing, who would think this eighth wonder of the world existed in Fiji. In NZ I have canoed down the Whanganui River five times. The Manawatu River 4 times , Rangitikei River twice , Waikato River, around lake Taupo untold times. I have been on loads of camping trips around Lake Waikaremoana, Lake Tarawera and Lake Rotoiti. As for the dirty polluted lake Rotorua (1980), I refuse to even put my foot in that stuff.

Sorry, getting side tracked. The Navua River trip is outstanding, you will LOVE it. The boys are outstanding, they will tell you about the 70 odd waterfalls on the Navua river plus many stories from the old days, especially the spot where we had lunch, that is a classic. No, you can find out what the story is all about when you go on the trip. You will get the chance to sit under an impressive waterfall and experience the Navua water massage; I would call it Navua water torture.
One of many water falls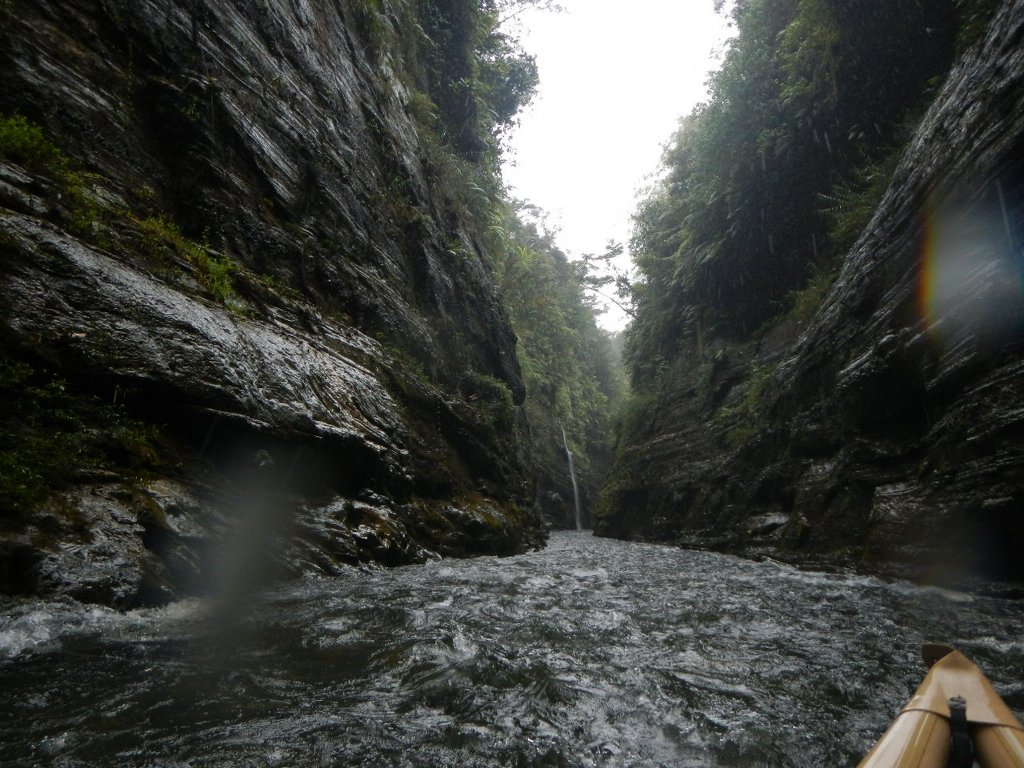 Another gorge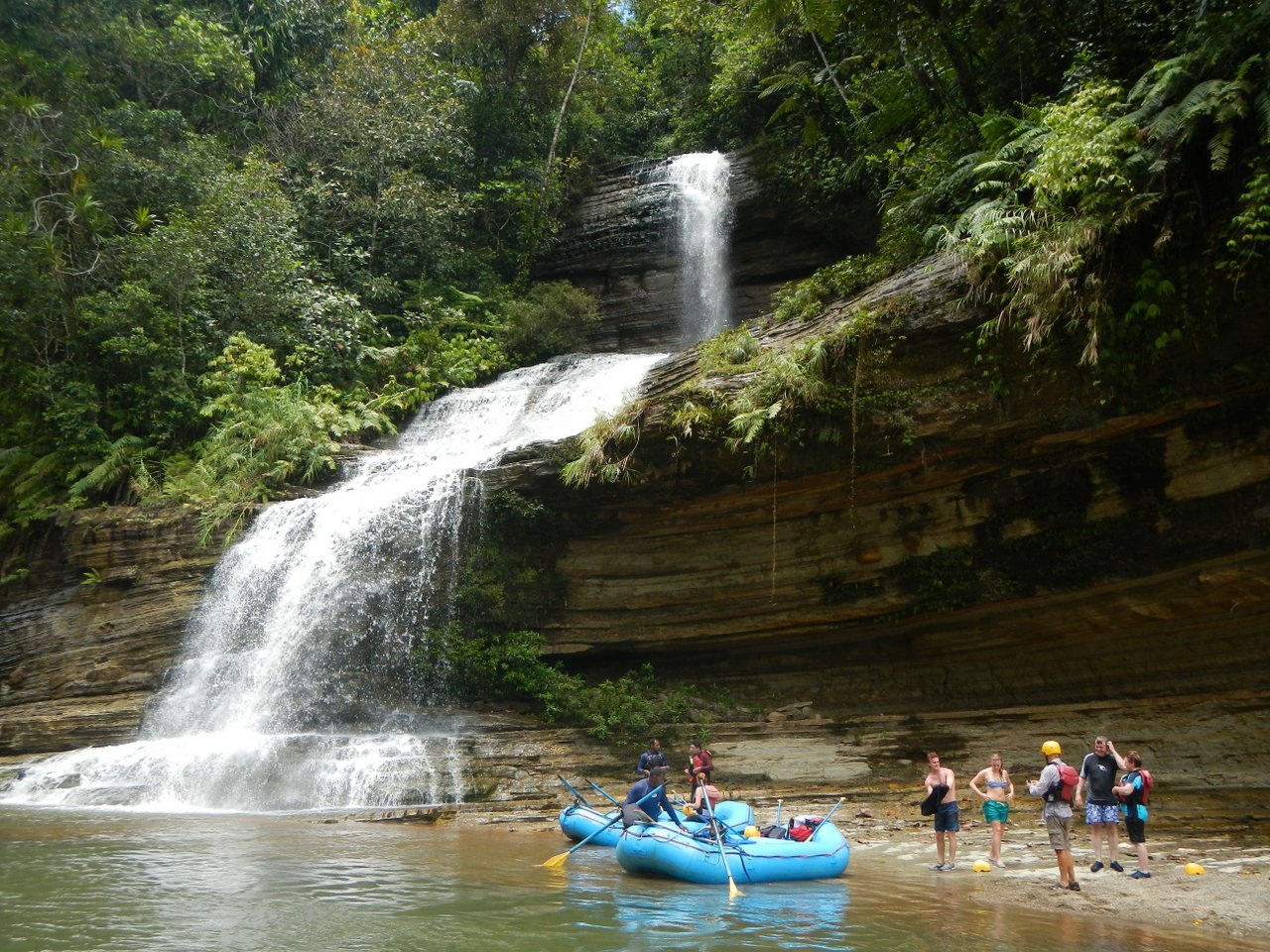 The largest water fall - oh my gosh, how beautiful is this!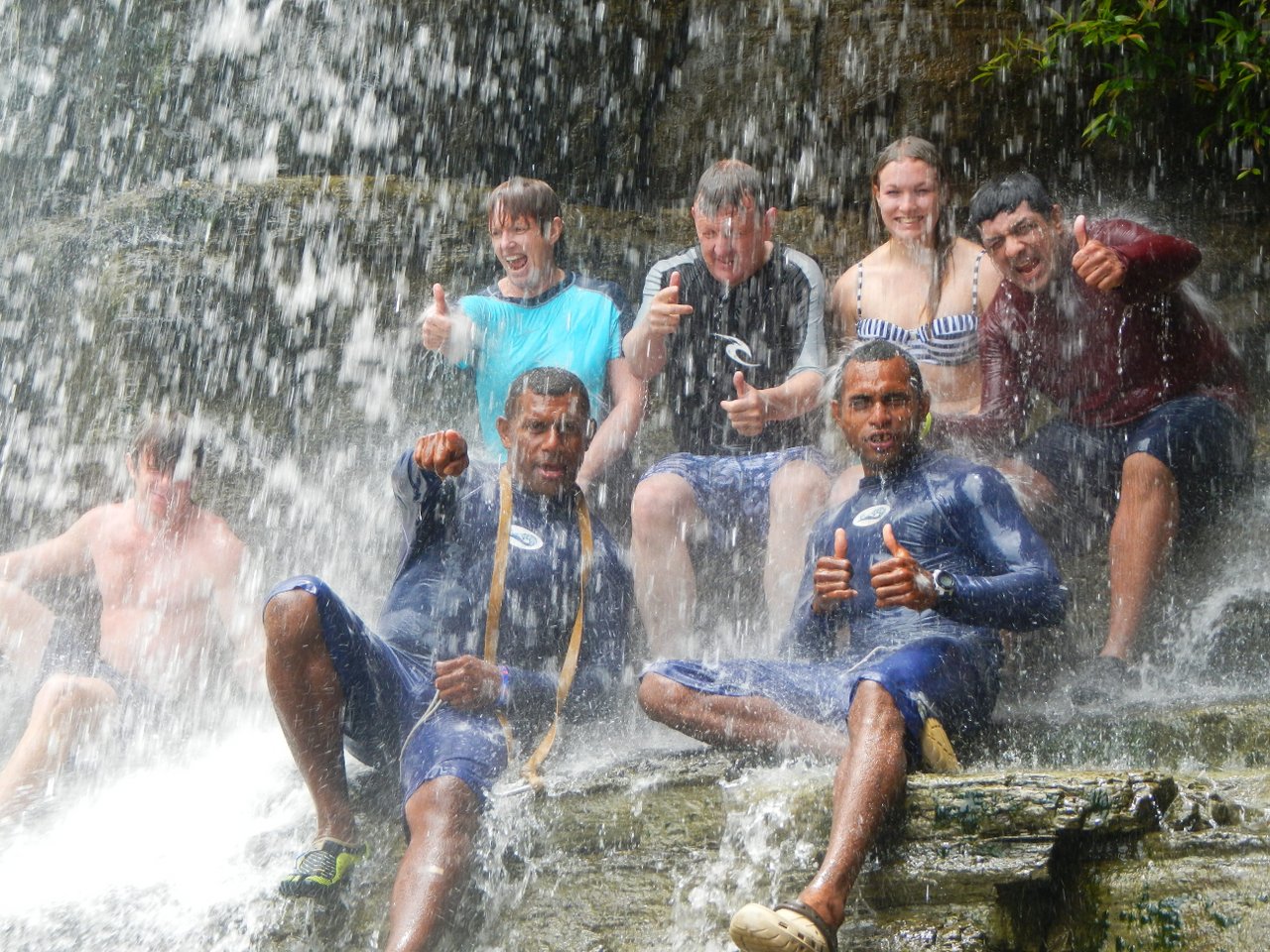 Water Massage
We stopped for lunch a little later then planned because of the rain. I even enjoyed the lunch specially the fresh baked chocolate cake. There were fresh buns, homemade salads and a very good tomato chutney, peanut butter and homemade jam, this was followed by my chocolate cake and fresh fruit.  Back on the river after lunch was still interesting, there are a couple of long flat river sections, but that will give you a break from paddling and the boys will keep you entertained with stories about their river and the monster eels. A couple of items to take with you would be a pair of boat boots to keep the feet warm and a light rain coat to keep you warm, you will get wet in the rapids plus the breeze blowing through the Gorge will cool you down a little, plus it rains a lot down in the coral coast area compared to Nadi.
No experience necessary though, anyone can go on this trip.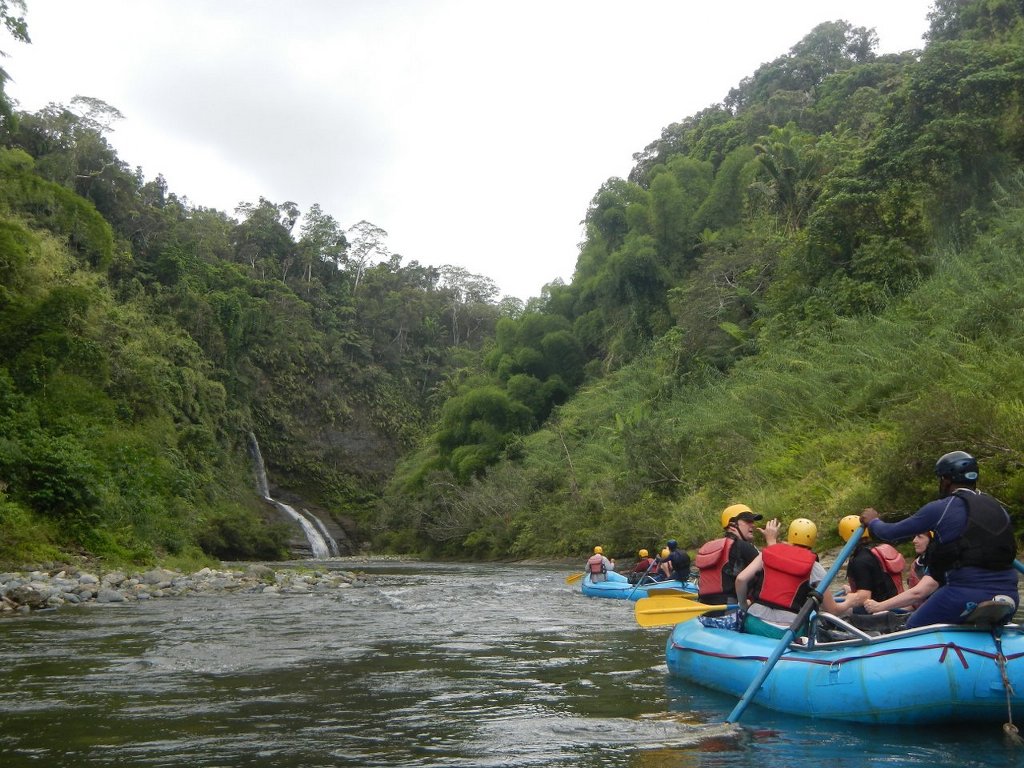 Time to relax
Time for a swim
Take a good change of dry warm clothes and a towel; you do not have to carry your gear with you it will stay in the 4x4 bus. The river rafting terminates at a river village, give the boys a hand to pack up so you can all get away quickly then make your way to the changing hut.  In the bus we received a small fruit juice and a couple of slices of banana cake. Today we had about one hour of rain out of the four and a half hour rafting trip so a hot coffee would have been better then a cold fruit drink. On the way home you will make a short detour into their depot were you can help yourself to a hot coffee and purchase a DVD with tons of photos of your exciting Navua River Rafting trip. Then you change over to a comfortable mini bus for the long ride back to Nadi.  I would highly recommend buying the DVD they take excellent photos, much better than you can do yourself.  There is one guy on the river with us the whole time just taking photos.
Would I do the Navua river rafting trip again yes, yes, yes and so will you.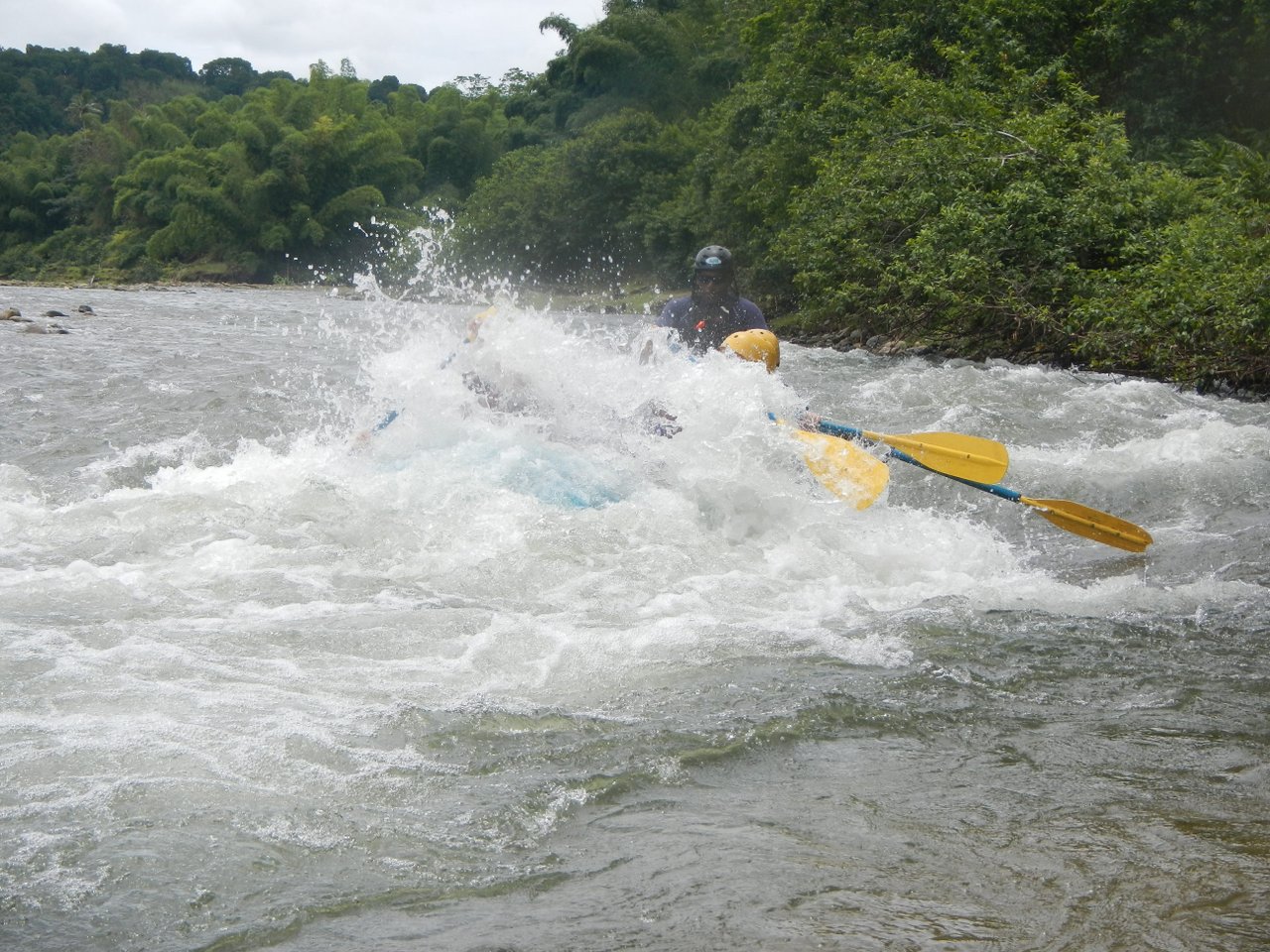 The last dunking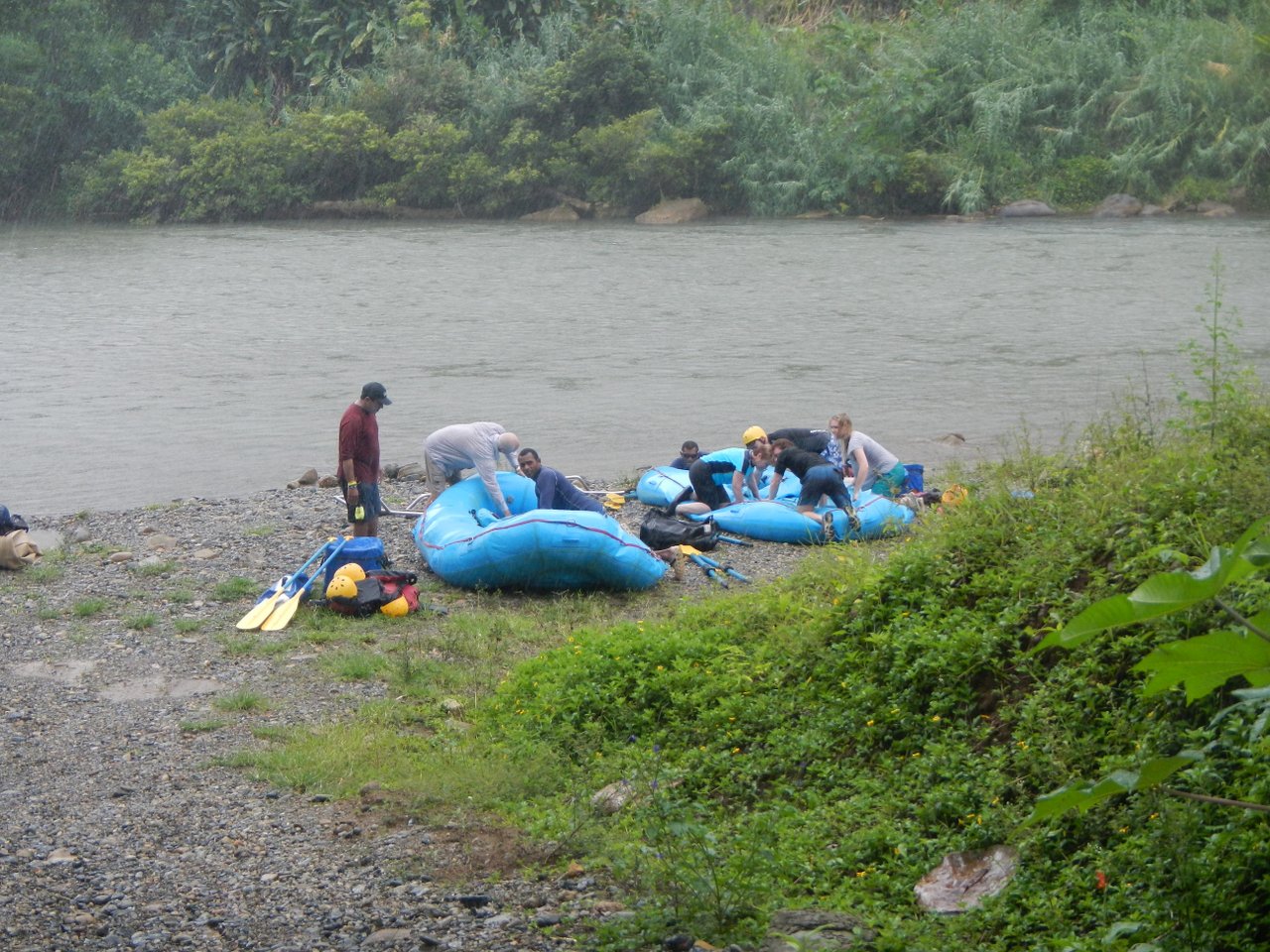 Packing up
Check us out in this video, man over board! What a cool place to get stuck! We had such a good time on this trip.