Seaspray Day Trip: deserted beach, endless drinks - our own review, book at the bottom of this page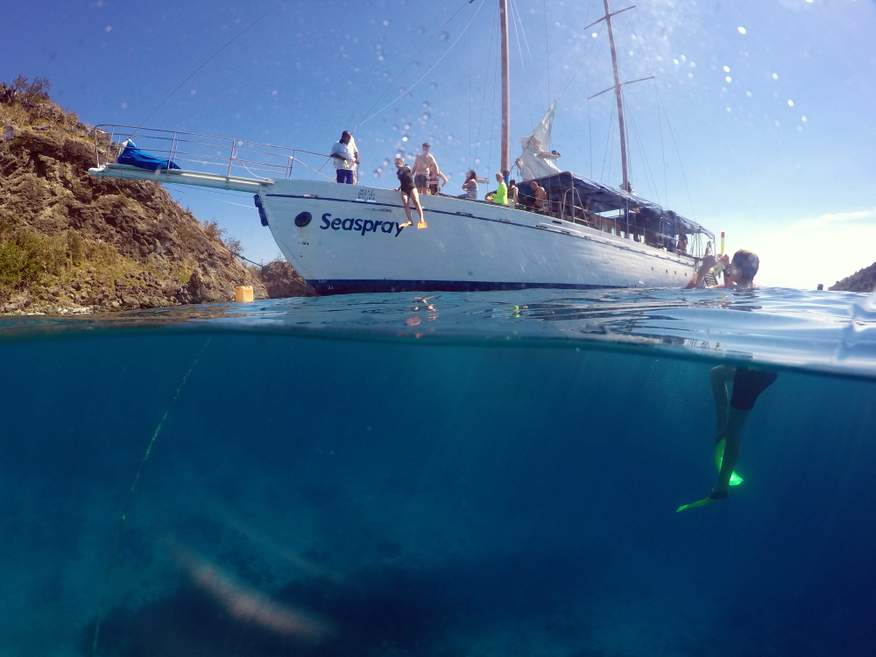 The Seaspray schooner, tour starts from Mana Island
Check in at Port Denarau was at 08:00am on another sunny Fijian day. The catamaran was almost full, a few people disembarked at South Sea Island, Treasure Island, Beachcomber, the remaining 50 + people got off at Mana Island. We arrived at Mana around 11am and quickly boarded the 83 foot schooner for an exciting sailing trip to a deserted beach plus a village visit. What sailing trip, I can hear the motor running, tricked again. It works out that it is not that windy anyway so we would not make it to Modriki Island if we were under sail. If the wind was up to 25 knots you do not want to be out here.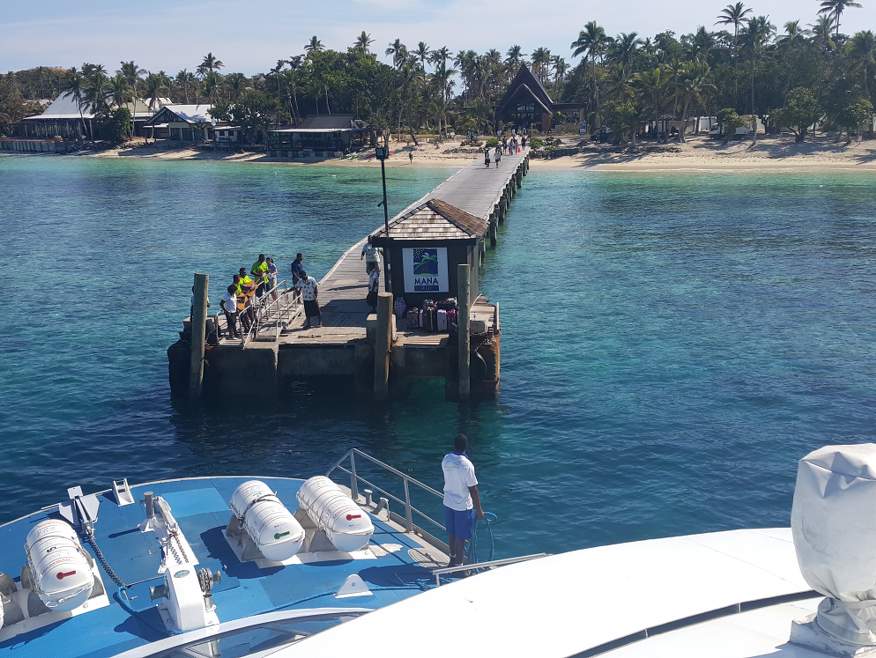 Mana Island jetty, we get off here to transfer to Seaspray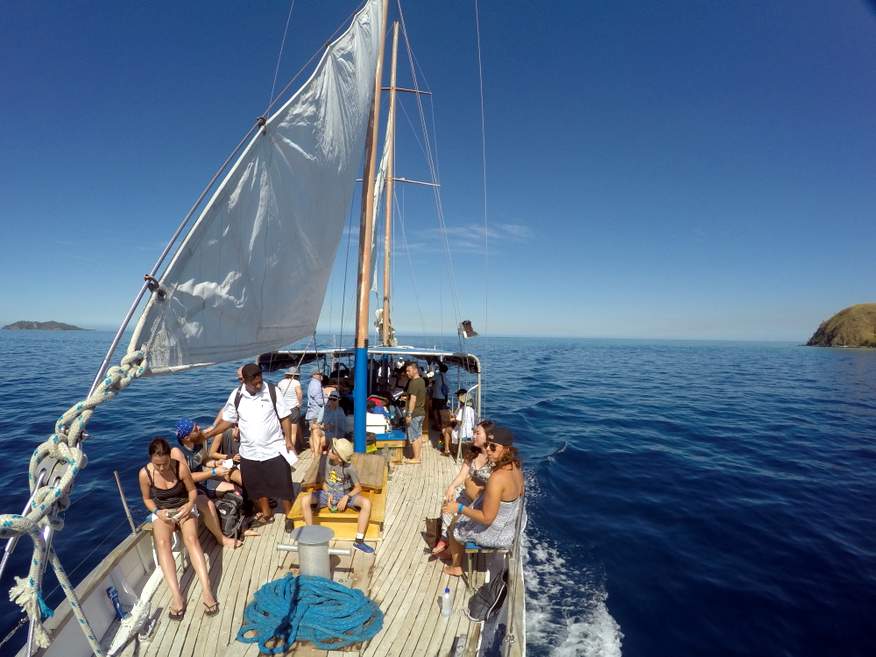 Relaxing on deck on the way back after loads of swimming & great snorkelling
Well let's have a cold Fiji gold and sit in the sun and enjoy the view, at least the sea is flat as a duck pond just what I like. The eleven fellow sailors settled down to enjoy the trip with plenty of room to stretch out. The boys said we are lucky today because the other day it was a full boat at 46 people. Just minutes after settling down it was time for coffee, biscuits and freshly baked cake. How nice!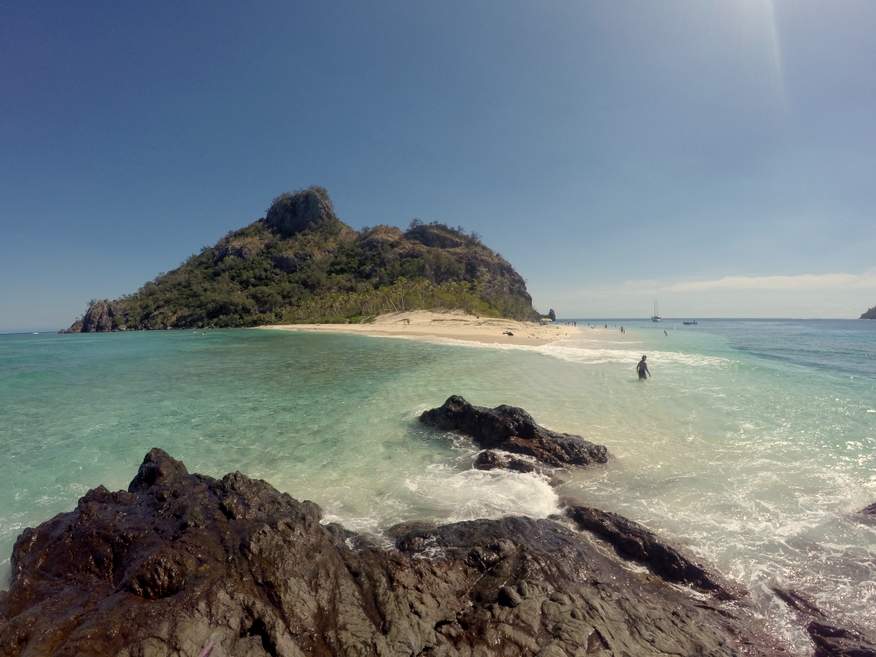 Modriki Island where Tom Hanks filmed the movie "Castaway"
Tom Hanks was here - so was I!
The Seaspray dropped anchor about 100mt from Modriki Island which left us about a 100mt swim to shore. Most of the snorkelling was between the Seaspray and the shore, there was a light current pushing us away from the boat, so I had to keep an eye on where I was drifting to. I saw my first black tip reef shark on this trip and to put the icing on the cake, I was busy looking down at the coral when something flashed in front of me, my first thought was the black tip shark was after me. When I looked up two cuttlefish were so close I could reach out and touch them, what a relief.   

The tide was out on this day which made it difficult to swim onto the beach, I did not like the idea of walking on coral so I had to spend some time looking for a strip of sand to walk on. We were told we could only spend an hour in the water which zoomed past too quickly. It only felt like half an hour in the water when we were called back to the Seaspray for lunch and the journey to the next island for a village visit.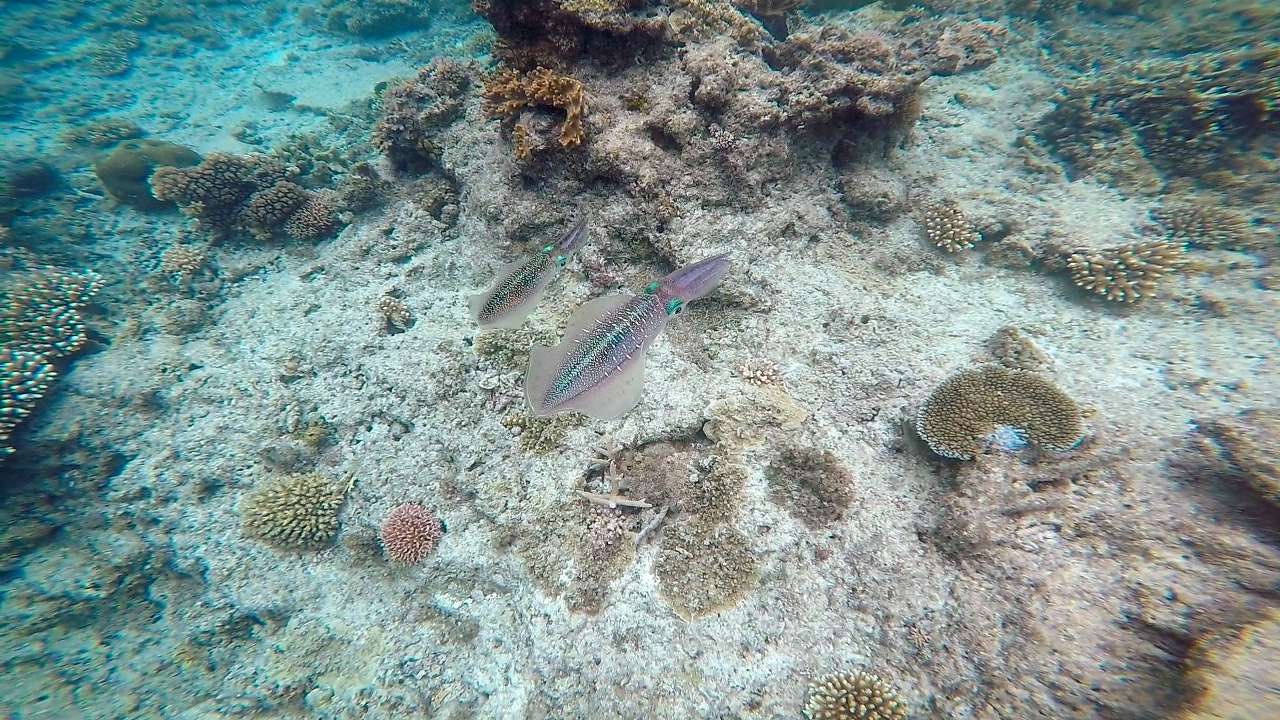 Two very cute Cuttlefish right in front of me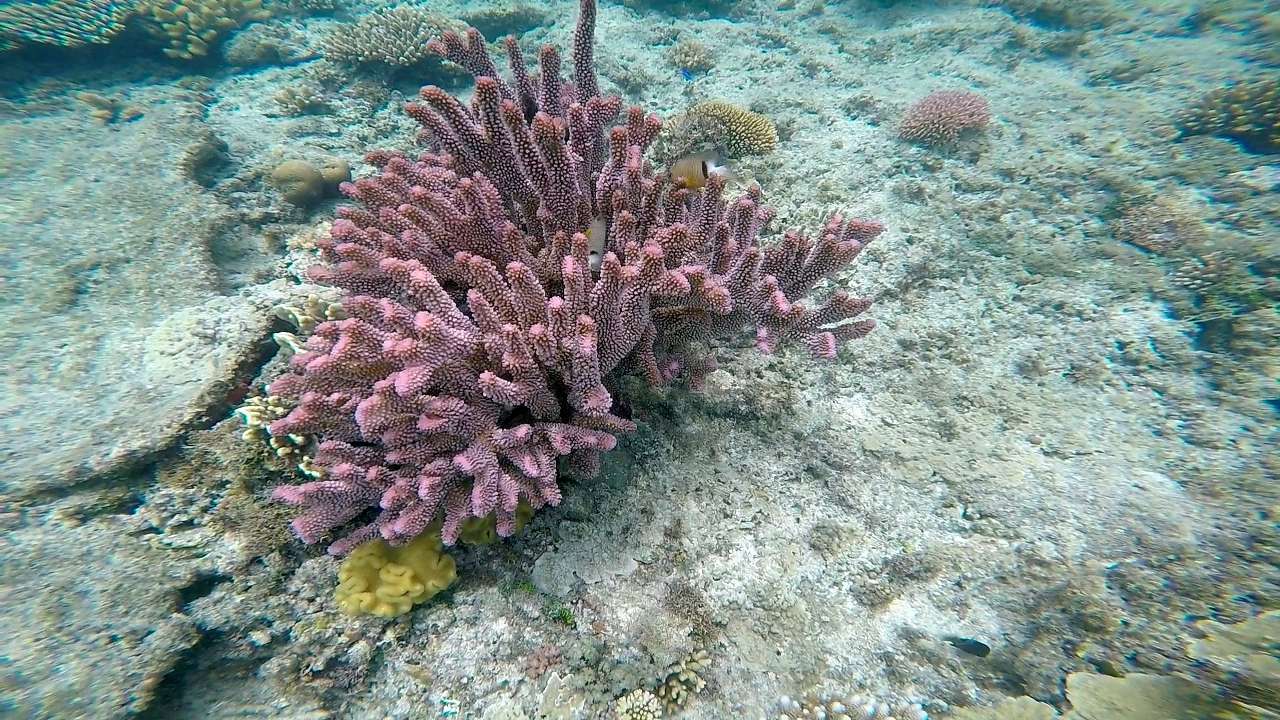 Not a lot of lovely coral but there was some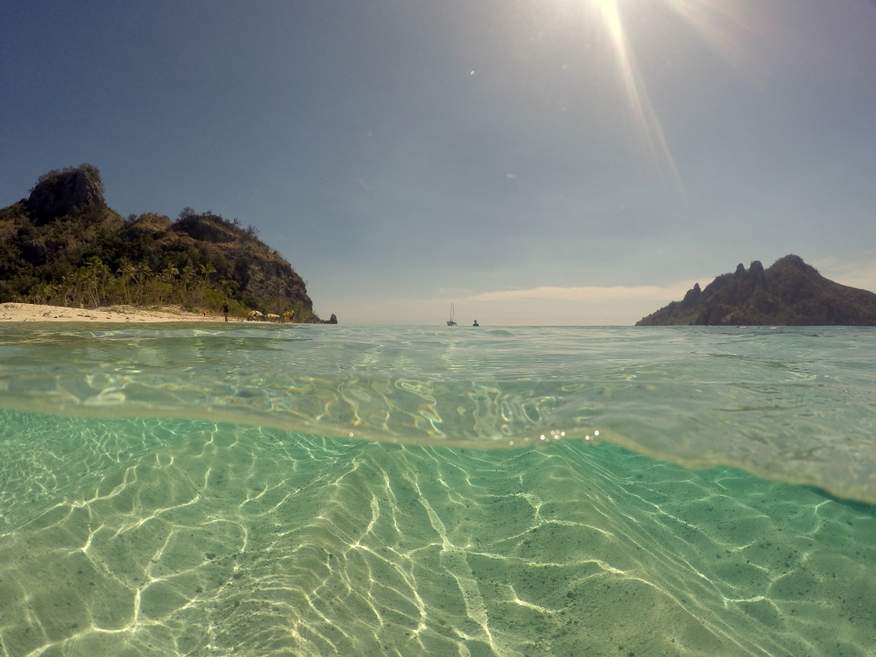 The beach and crystal clear water is just stunning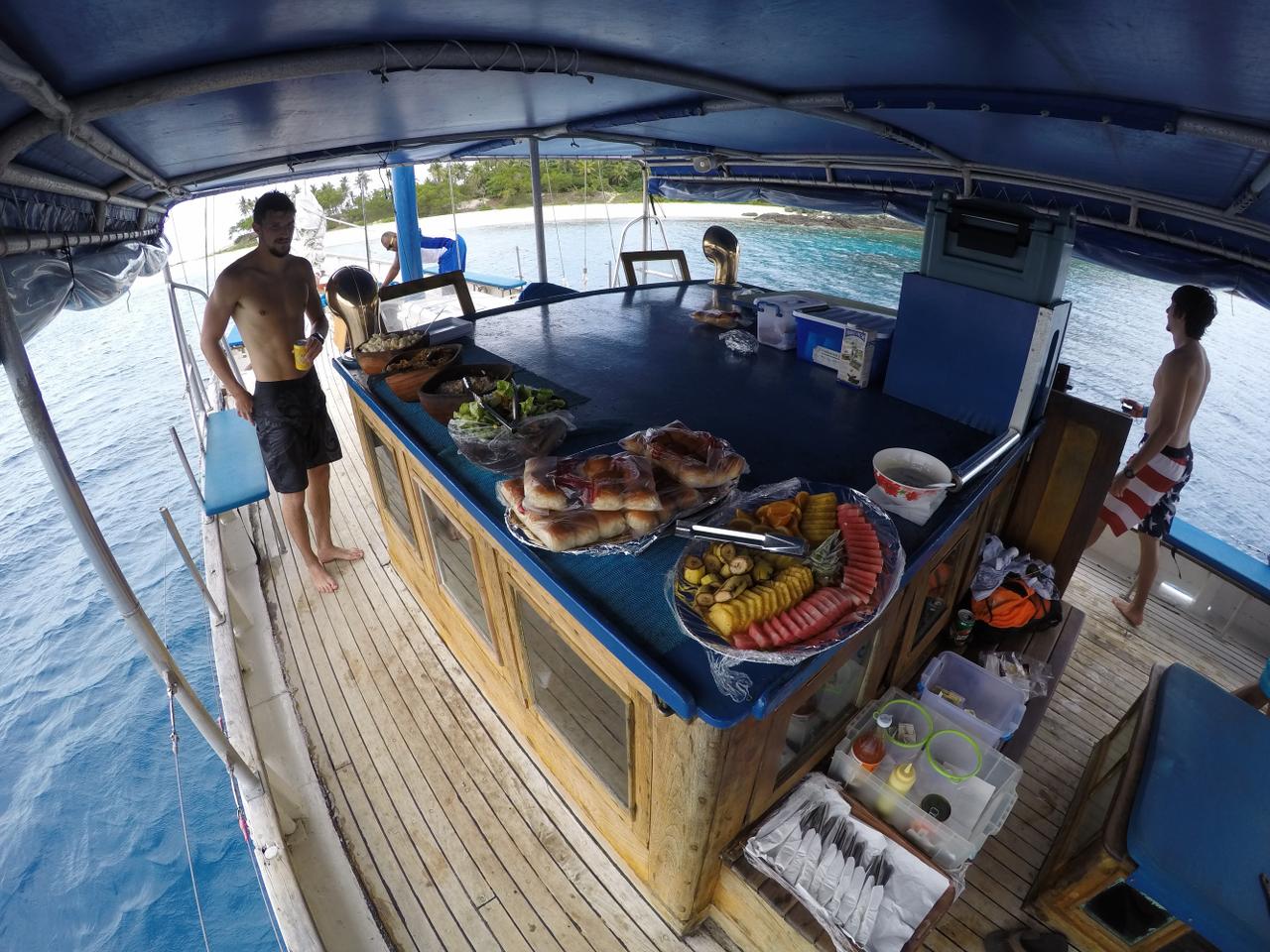 Lunch was filling with plenty to eat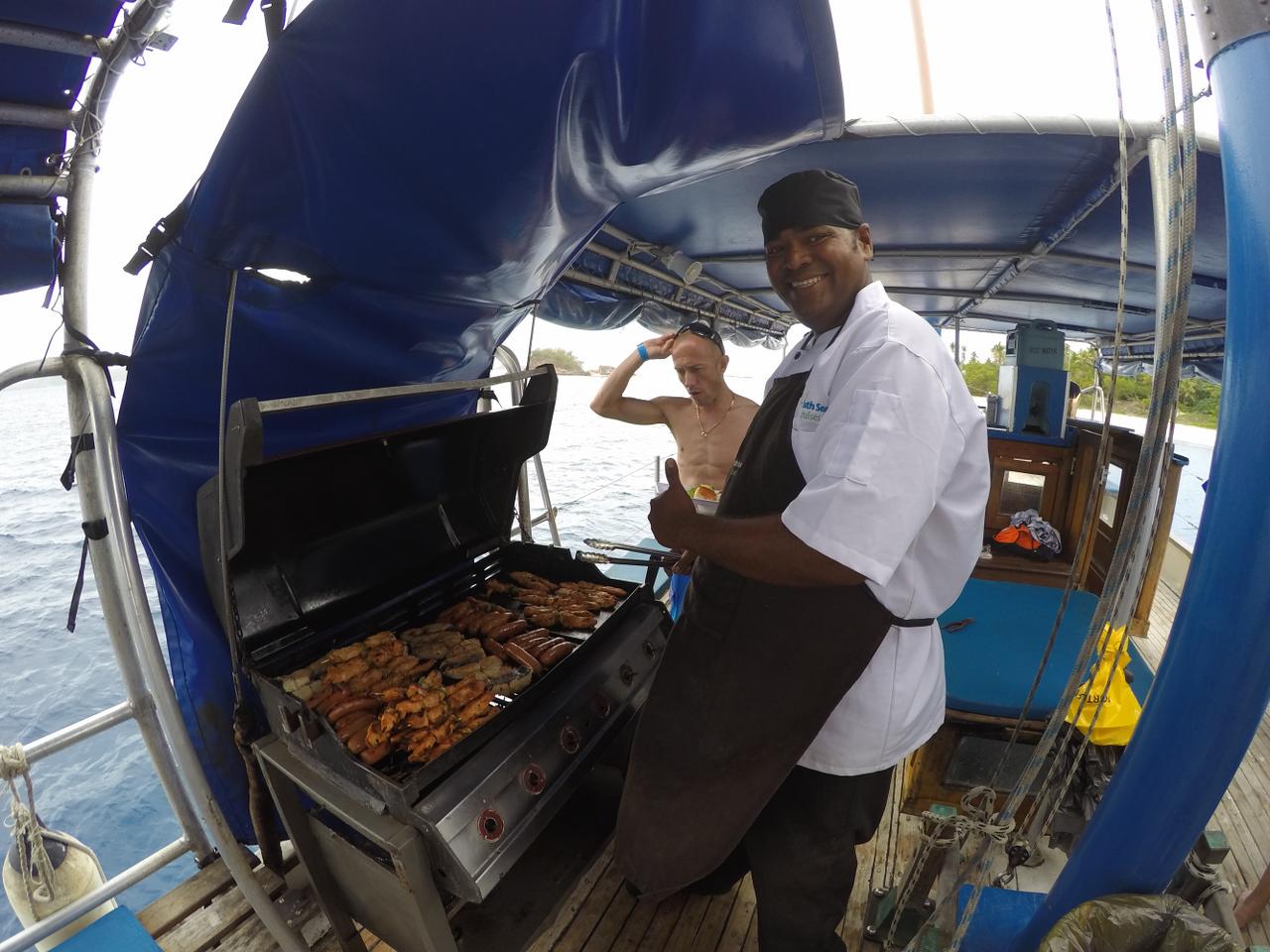 Head chef on the BBQ
After lunch we cruised over to Yanuya Island to meet the villages and have a look at the school, that did not happen. This was the first time we have been caught out on a Sunday tour. All the villagers were busy in there huts. All we saw was a couple of kids out on the beach. Seaspray knows this and should have told us about the lock down at the village on a Sunday. We should have spent more time on Modriki Island and not wasted time here. Although the walk through the village was nice. 

Back on Seaspray we cruised back to Mana Island, some of the guests caught up on some lost sleep while the rest of us listened to the boys singing in Fijian and English. The more you applauded, the more they sang, they were very good. You learn after your first time out into the Islands the wind picks up in the afternoon making for a choppy sea but the heavy schooner punched through the waves with ease, in a lighter boat it would have been uncomfortable. Before we knew it, it was time to get back onto the packed out Catamaran for a one and a half hour ride back to Port Denarua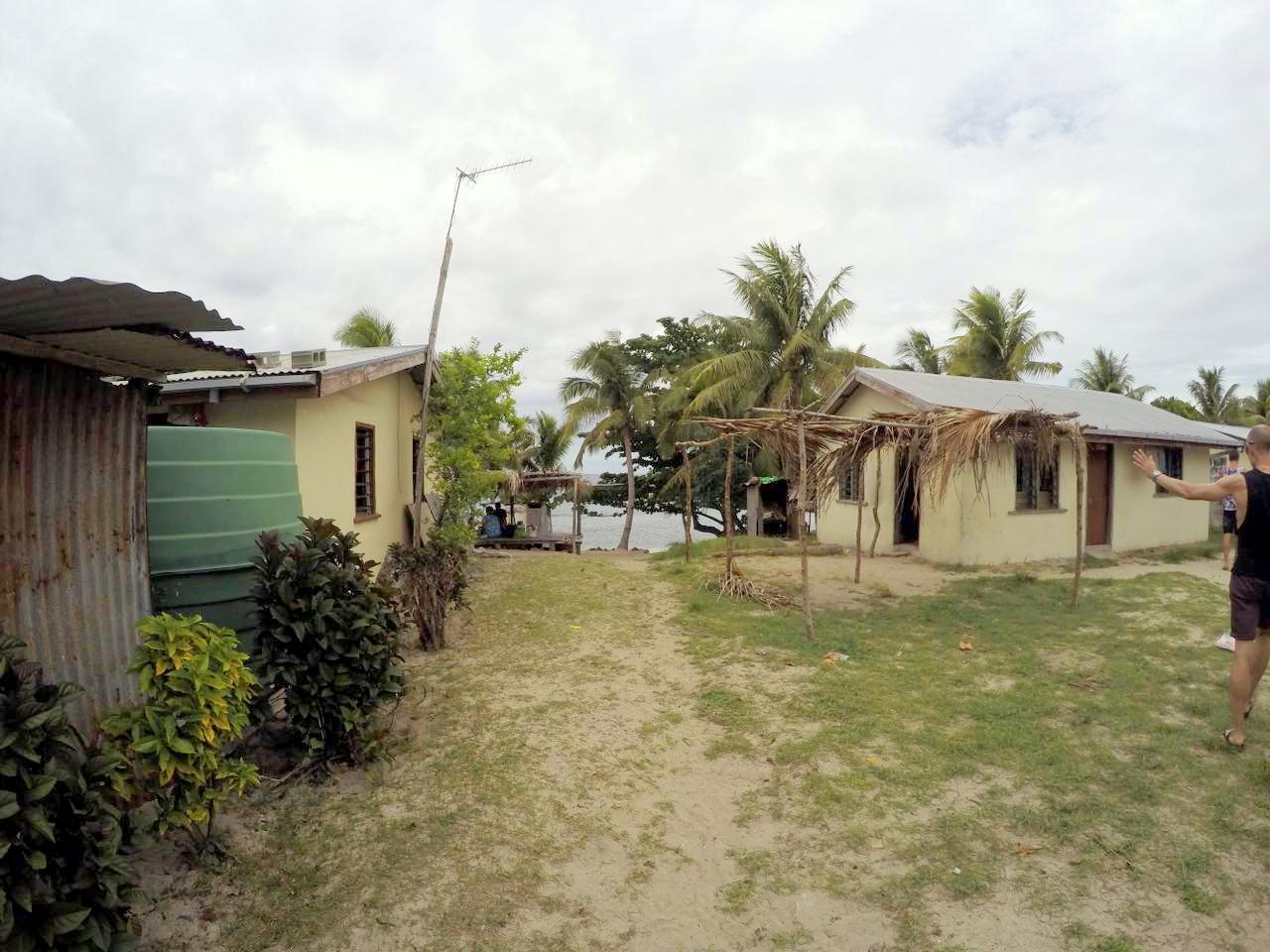 Nobody home at the village on a Sunday, no school visit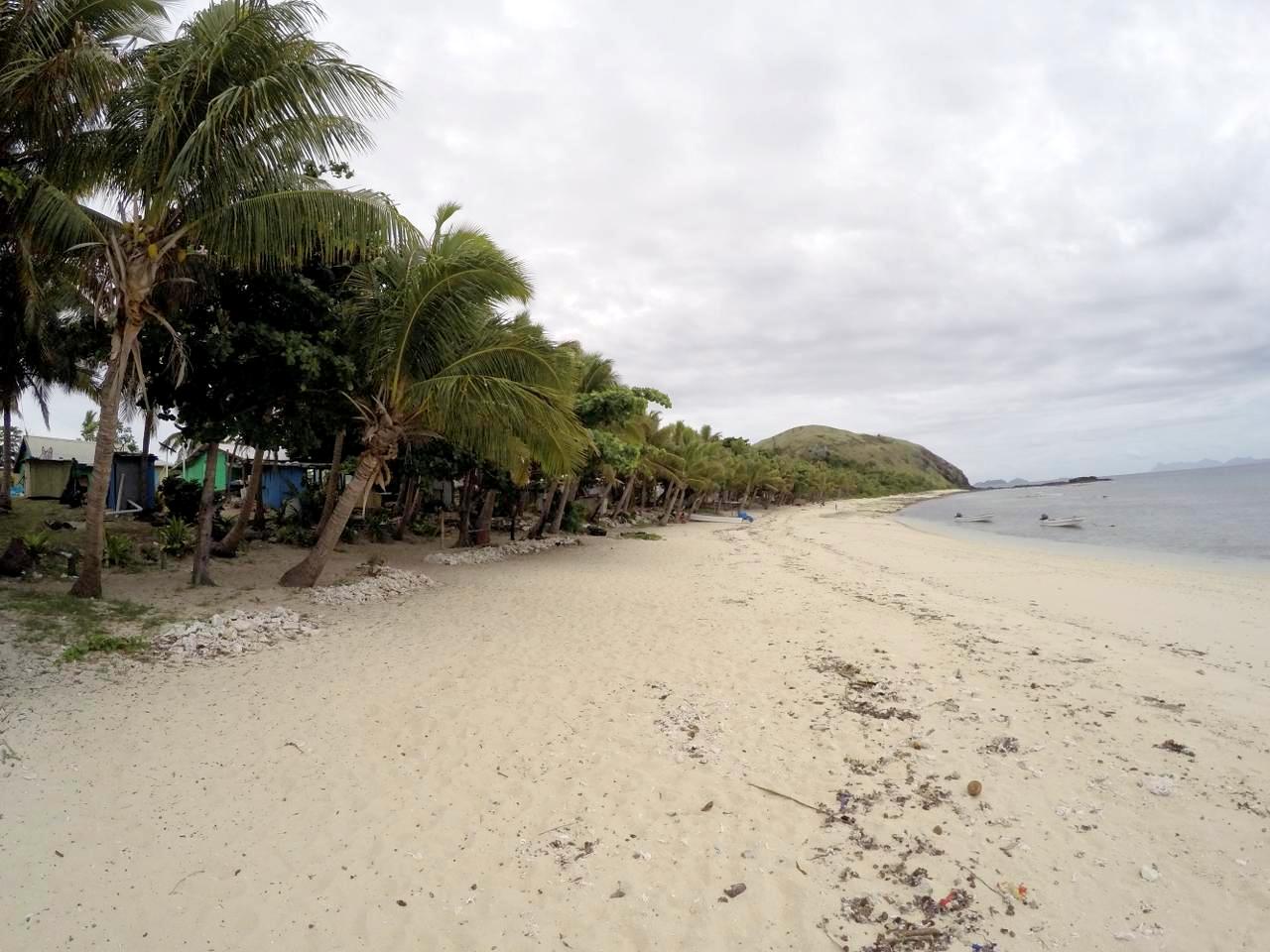 Beach on the other side of the island where the village is was very nice.
For me there was not enough time on Modriki Island were the Castaway movie was filmed. Would have liked more snorkelling and to walk around the island to see if I could recognise any of the places from the movie. As for the food being served on a boat at sea, it was very good, better than some of the village lunches you get on the main land. And a good selection of cold drinks. The important point on this trip was the boy's, they were so helpful, what would you like, what can I get you, what would you like to do, 10 out of 10 just for them.
Pros and Cons...
Boat Transfer:  1 1/2 hours on the big cat, very comfortable
Island: You get to see two, one deserted which was excellent, other with the local village, very interesting
Beach:  Beautiful white sand, crystal clear water
Snorkelling: Excellent
Lunch: Buffet style on the boat, very good and includes endless free beer and wine
Activities: Snorkelling, swimming, sunbathing on deserted island, village visit, kava ceremony
Downside: Long time on the boat getting to and from the start of the trip, but passing islands is fun
Value for money: Average, not too expensive but not cheap
Would we go again: Yes, most definitely, was a great day out

BOOK NOW:

best price full day trip on the Seaspray...
Notice: Please be advised that the Seaspray Day Sailing Adventure has been suspended until further notice.
Free pickup & drop off for hotels in Nadi
NO credit card fees, NO Booking fees, what you see is what you pay
Last minute, next day bookings please get them in before 2pm the previous day.
Small deposit now, then you'll pay the balance on the day of travel

Pay the balance in cash to avoid extra credit card charges 
Secure Booking Page - look for the green padlock in your browser bar
If this trip is cancelled due to bad weather, they will move it to the next day, however if on that day you are unable to do the tour, we will refund 100% of your payment. 
FREE CANCELLATION & 100% REFUND: You may cancel free of charge PLUS we'll give you 100% refund up until 48 hours before your booking date. If you cancel within 48 hours or you are a no-show there is no refund and you will need to pay the balance in full.
Payment is in Fijian Dollars. Any refunds will be paid in FJD. The payment amount may be different due to currency fluctuations.

The beach at Modriki Island