Remote Hiking in Fiji
Day Hike to Bukuya Highlands "Secret" Waterfall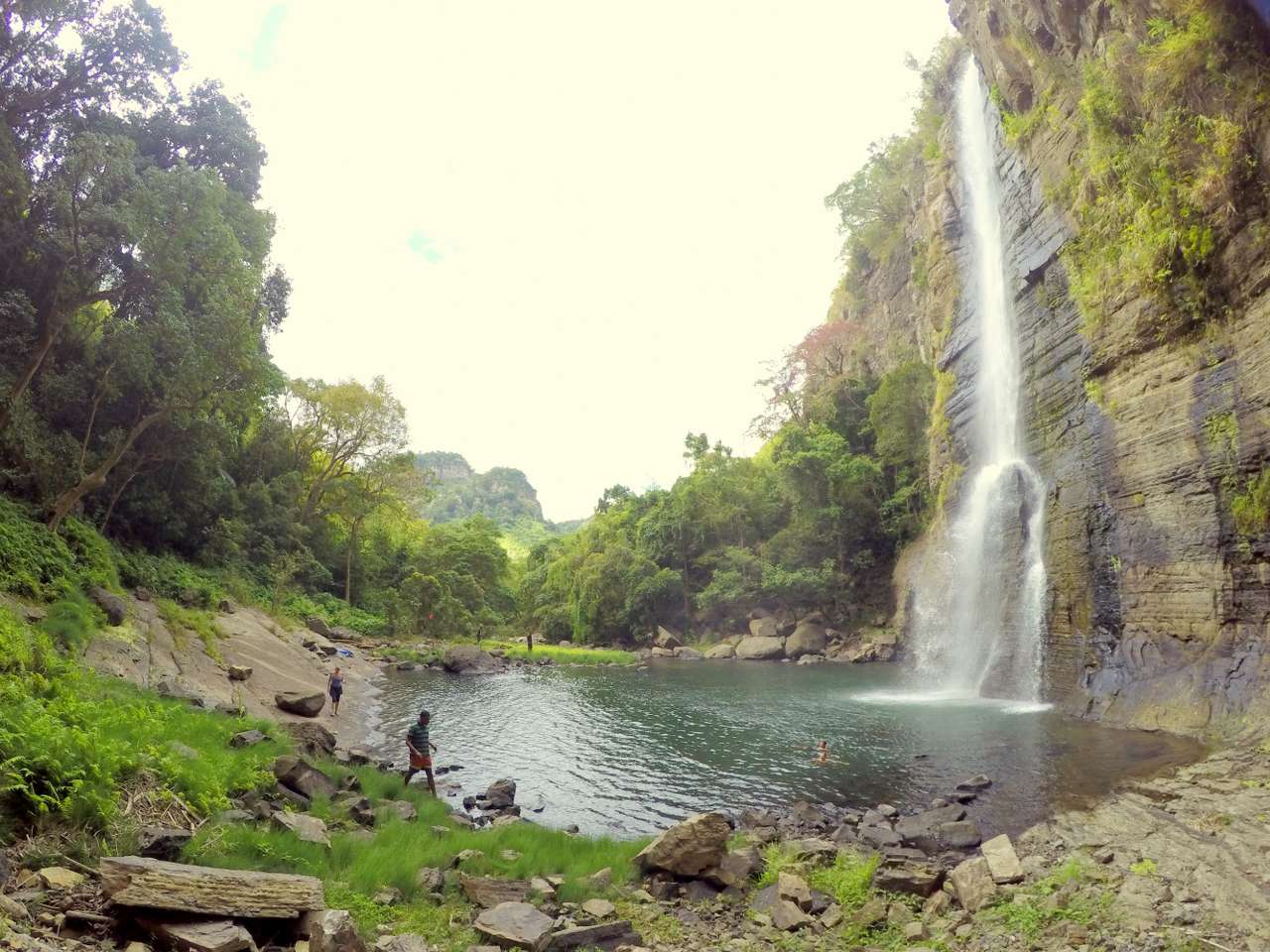 the secret waterfall
I got a phone call from a friend to ask me if I would be interested in talking to a man about a waterfall walk. Joe lived up in the highlands in a remote village called Bukuya, he would like a little help to get it up and running as a tour. After a short meeting with Joe we decide it was worth while taking a forty minute drive up into the hills to look at the falls, just the sound of the Lovo lunch cooking away at the base of a giant waterfalls while we have a swim was just too good to resist. 
We had all the food piled in to the 4x4 for the drive up into the highlands, great we are getting out of Nadi for a break at last. It took us one hour and thirty minutes to drive to the start of the walk. Ok, if you don't own a watch it might feel like a forty minute drive, no problem it was an interesting drive just the same, specially the five minute stop off at the lookout. We were sitting at 418 Mt above Nadi looking West out to the Yasawa islands, what a great place to sit down with a drink and watch the Fijian sunset, we have to add this into the trip for sure.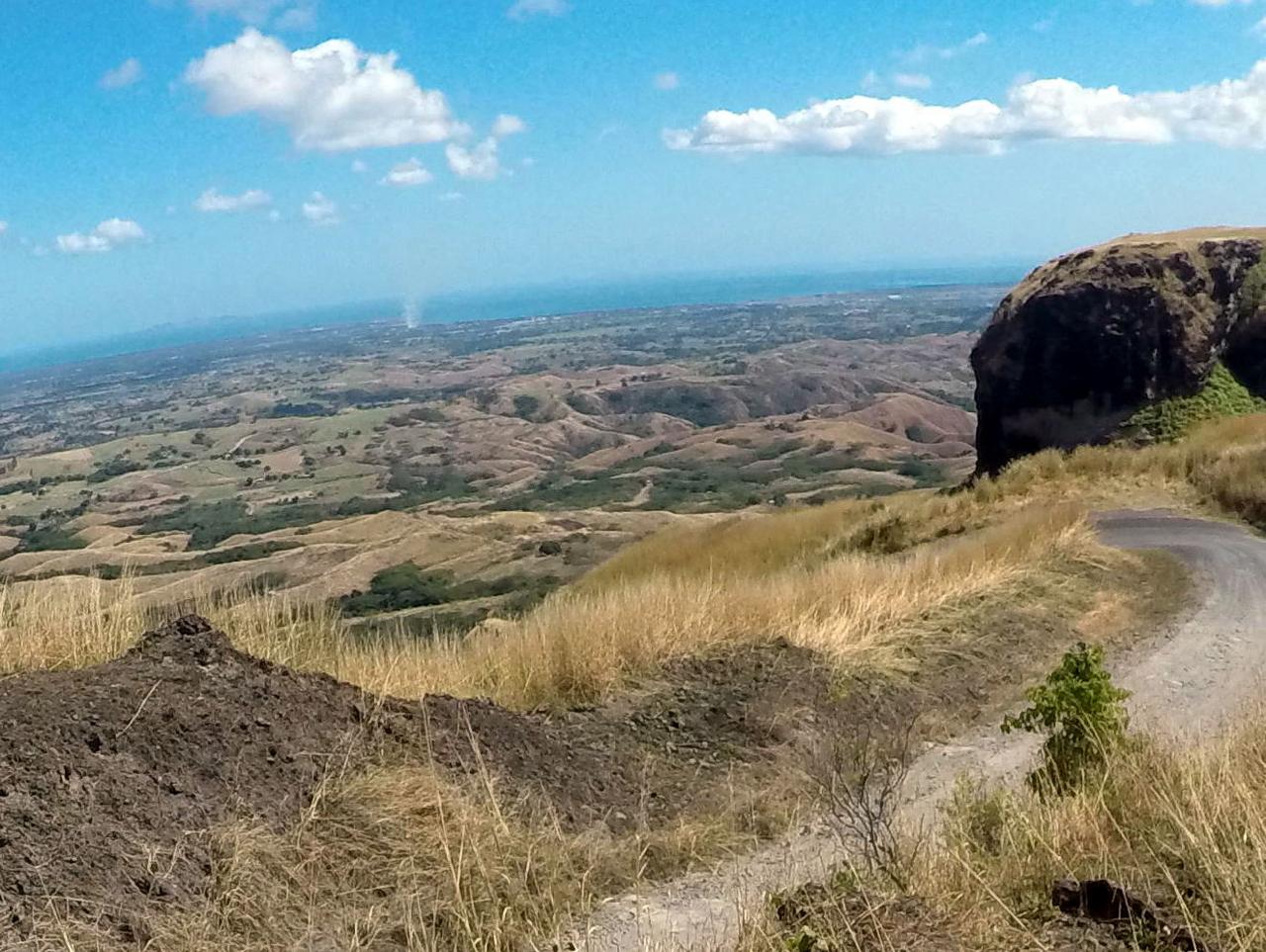 Nausori highlands lookout
Right, grab the gear we're off. How far to the falls, twenty minutes was the reply. Can you see the pine tree over there on top of that ridge; the waterfall is below the pine tree. Right, twenty minutes to the pine tree, I think it is going to take a little longer than that, we will see.  We walk down a gental sloping ridge that was covered in Guavas  trees.  The guava season had just finished about four weeks earlier otherwise we could be eating fresh sweet guavas on our walk, as we walked down the ridge we could look across the valley and see small farmers huts with their small patches of dark green crops growing nearby. But where are the roads? All I could see were walking tracks, Rueben said they are to poor to own a car, they have to walk to the main road or ride a horse if they have one.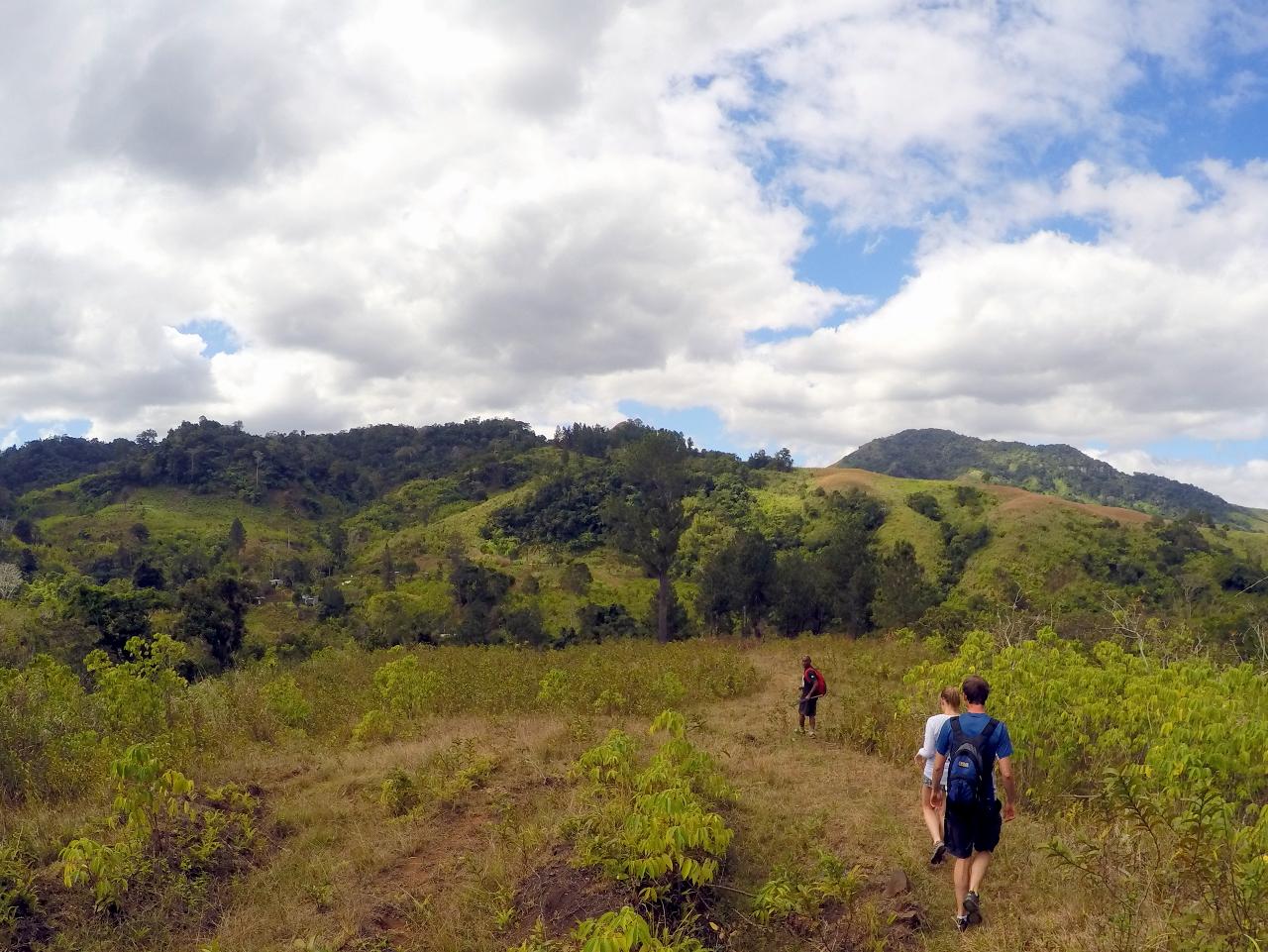 the start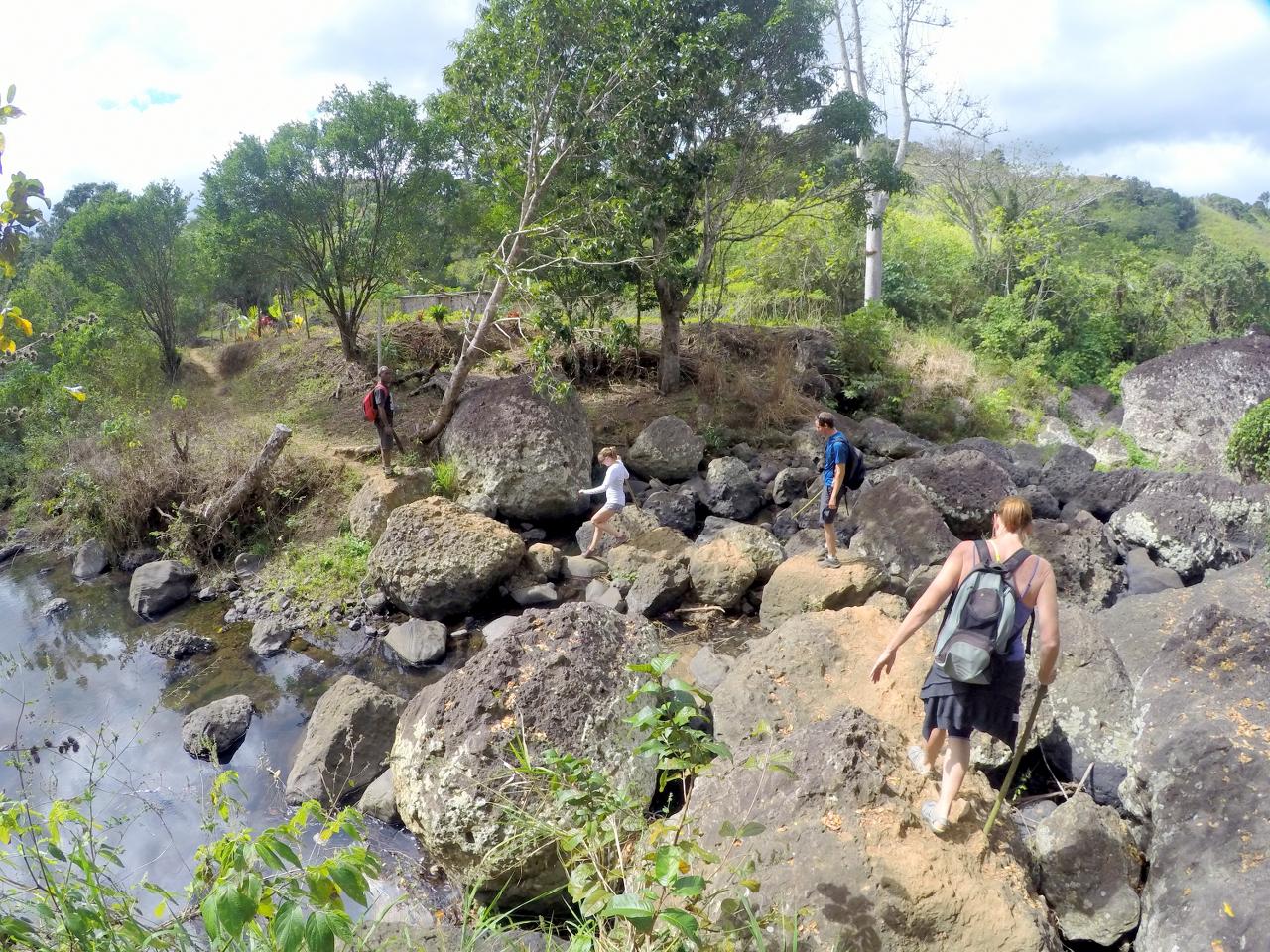 waterfall creek
At the bottom of the ridge we walked over massive rocks to get across the creek which happens to be the same water that flows over the falls. Ten metres from the creek was a farmers hut. We had to walk inches from his hut which gave us the opportunity to have a look around.   His home was set up in a small gully out of the wind, he had a small garden next to his hut where he was growing cassava, Dalo, Pineapples, Soursop and lemons. Five metres from his hut was a small side creek were they collected drinking water and washed clothes, no samsung washing machine around here. In total the farmer had three huts one for sleeping and general living area.  Next to this was the cook house with an open fire place and the last hut was the toilet, it was set a small distance away from the main hut, what a fantastic spot to live. We have to see if we could add this to the tour, we pay the farmer a few $ to look around his home so we can get an idea on how a true Fijian farmer lives up in the hills miles from Nadi, no running to a shops to buy takeaways here. Who would live out here with no power and no plumbing, out here in the highlands, it all boils down too, if you don't grow it you stave.
Back on track again, we walked passed banana, mandarin and Pawpaw trees loaded with ripe fruit, who needs supermarkets unhealthy processed food when you have fresh organic fruit growing wild next to your hut.
When we reached the shade of the pine trees we stood in a cool breeze and took in the fantastic views of the lower valley.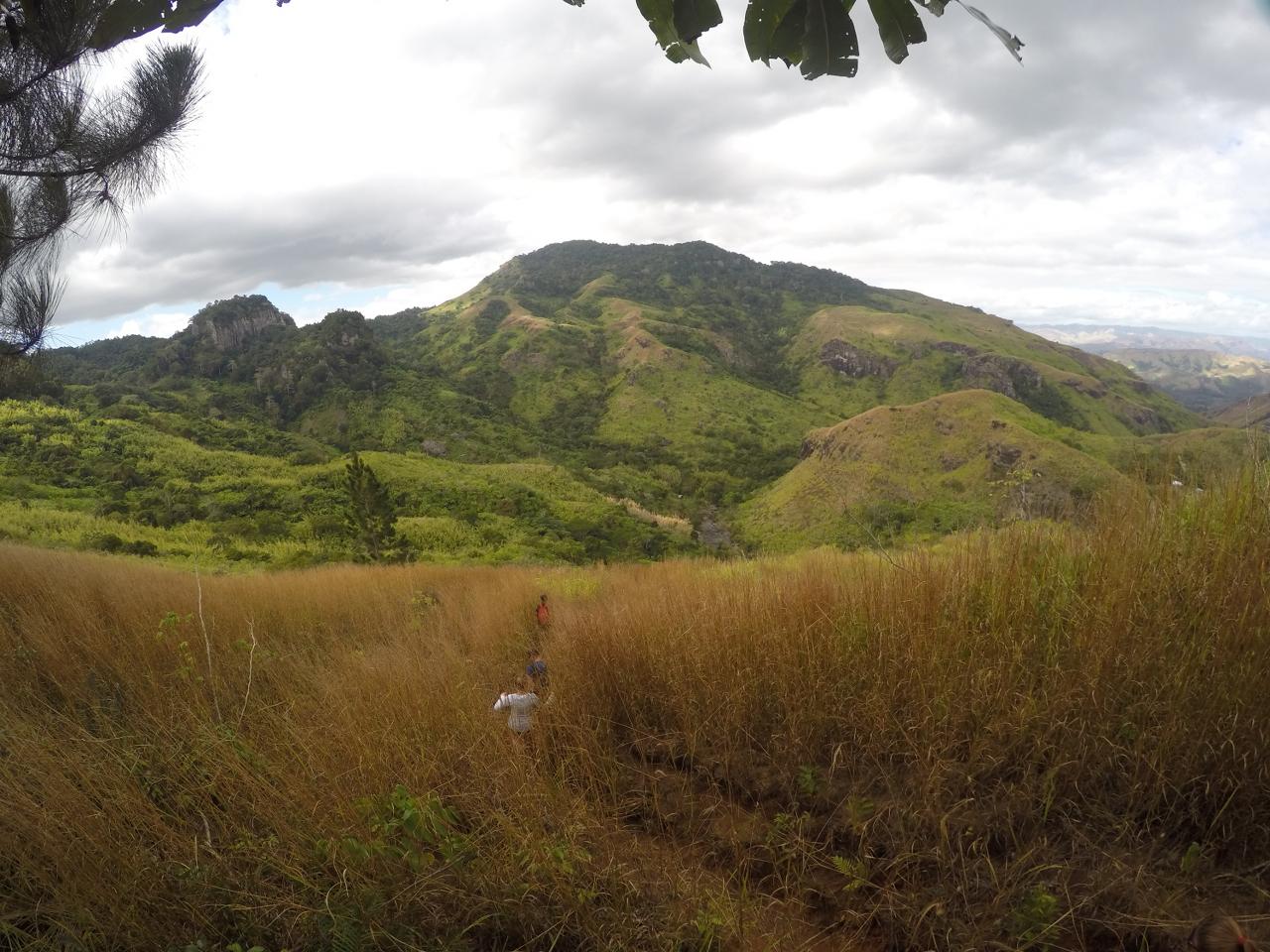 Off to the left in the next gully we could just see a farmers hut built under a huge rock, now that is what I would like to have a look at if we have time. The next section of the walk was down hill and I mean downhill, the grass was over our heads and we walked passed a good stand of bamboo, the bamboo was just the right size, 75mm in diameter and larger, just what I need to make bamboo furniture. As we walk passed a small creek Rueben disappeared into bush and came back with a very large looking grapefruit (Moli) but it turned out to be an extremely large orange come lemon, not to bitter and not to sweet, this is for our lunch. The total decent was around 80 Mt to the farmers hut. The farmer walks into his small plot of land once a fortnight to cultivate his kava crop, if all goes right for him he will have to harvest his crop then dry it out over three weeks. Now the expensive part of the operation is getting in to Nadi Town without breaking the bank. He could sell his crop to a middle man and receive $10 a bunch or wait till he has enough to pay for the $100 trip into Nadi and sell his Kava for $30 a small bundle and have some money left over to buy food and pay the $100 to get home.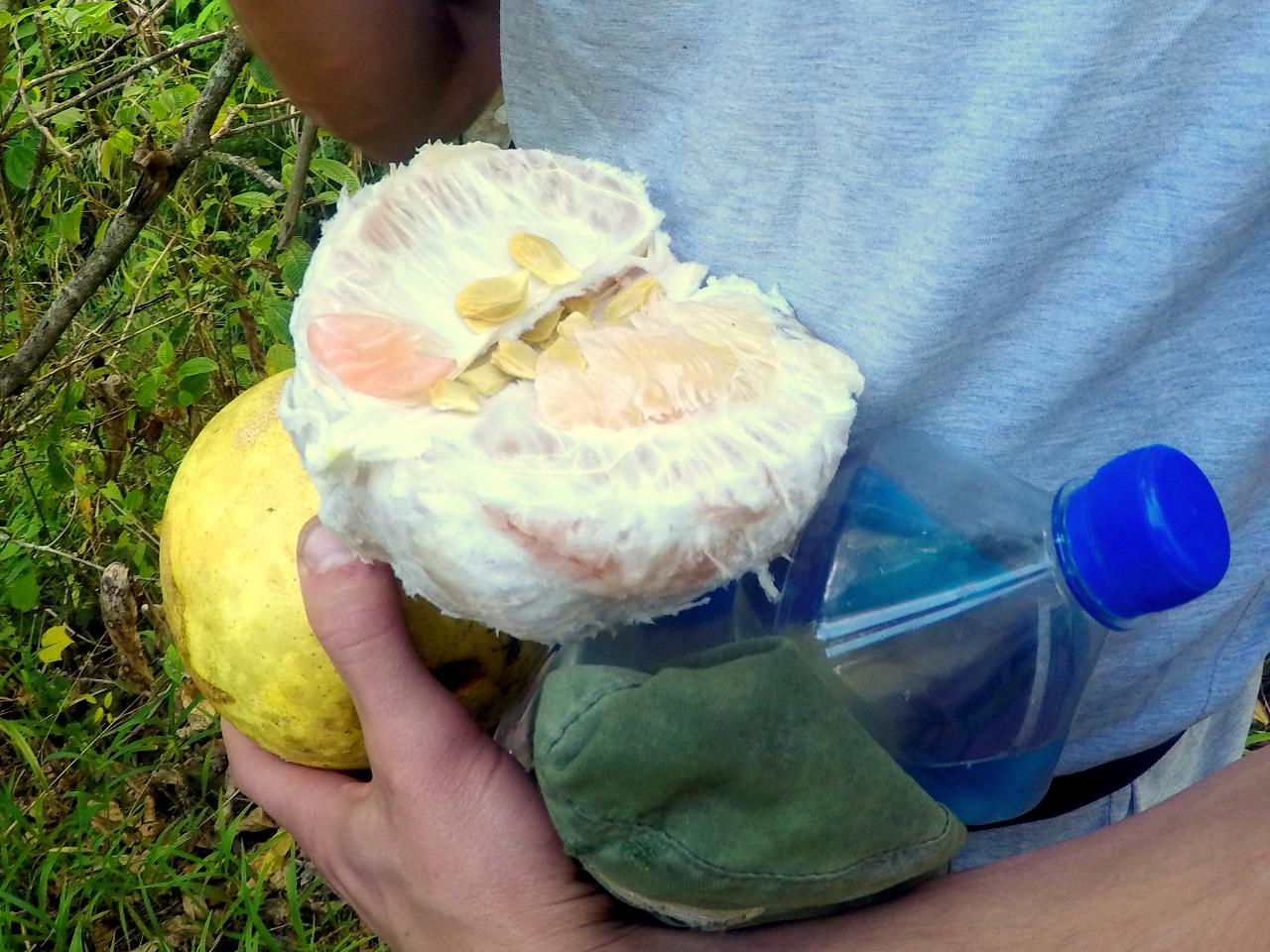 Moli fruit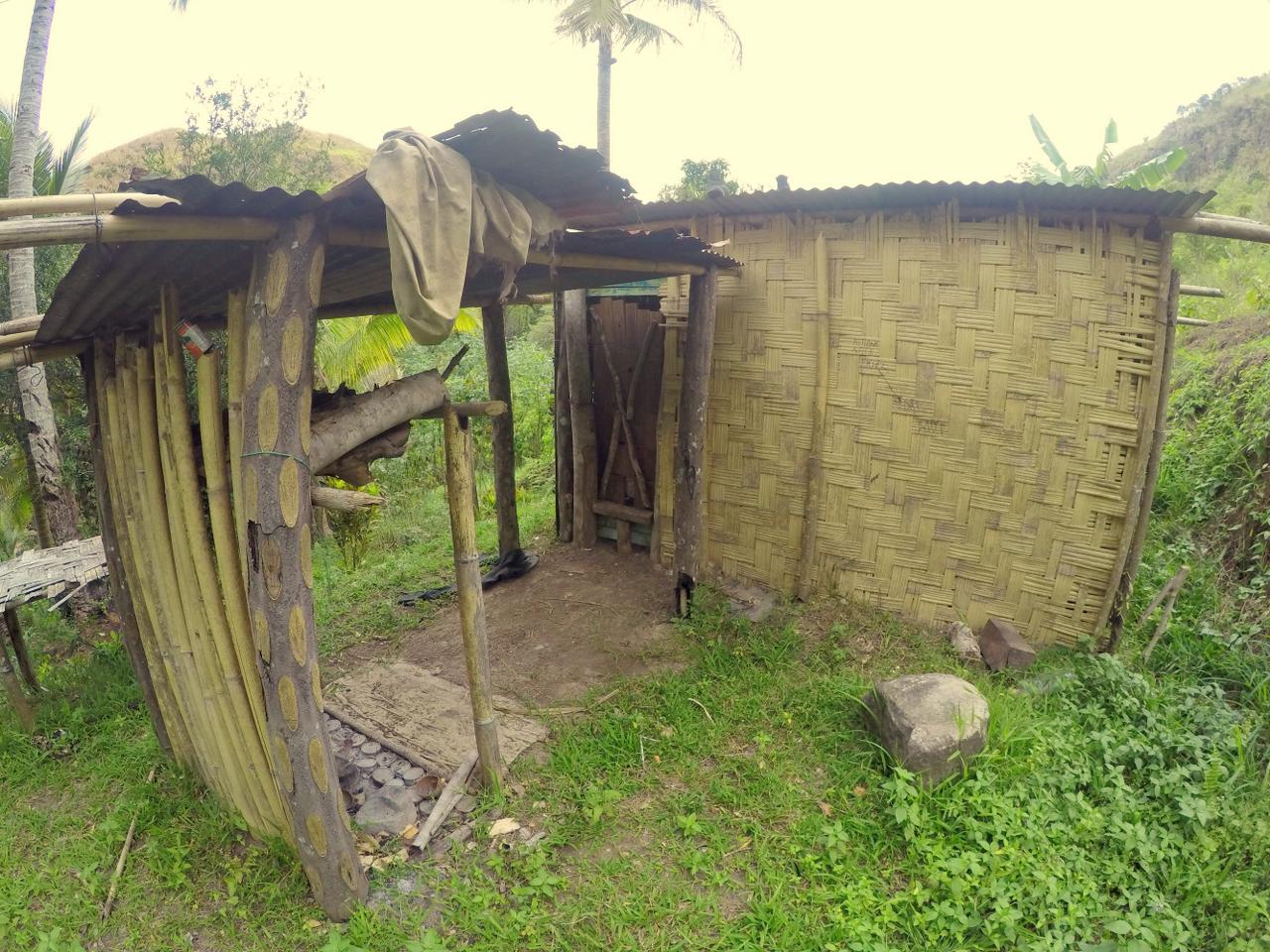 Kava farmers hut
The farmers hut was ten meters from the creek so we turned right and walked through another stand of bamboo but this stand was massive, then we hopped over a few rocks before standing in front of an impressive waterfall. This time the story was true it was a big waterfall for once.  Too many villagers will tell you they have the biggest waterfall in Fiji and the best Kava. Take a look at the photos you will see how impressive the falls are. Rueben came up with the idea of building a Bili bili, a raft out of bamboo the Fijian way. The pool at the base of the falls is ideal for rafting around and if you are game you can paddle under the waterfall while the lovo is cooking. Plus when I first saw the waterfall I said what a fantastic rock face to abseil down, I was told NO you cannot, wait and see?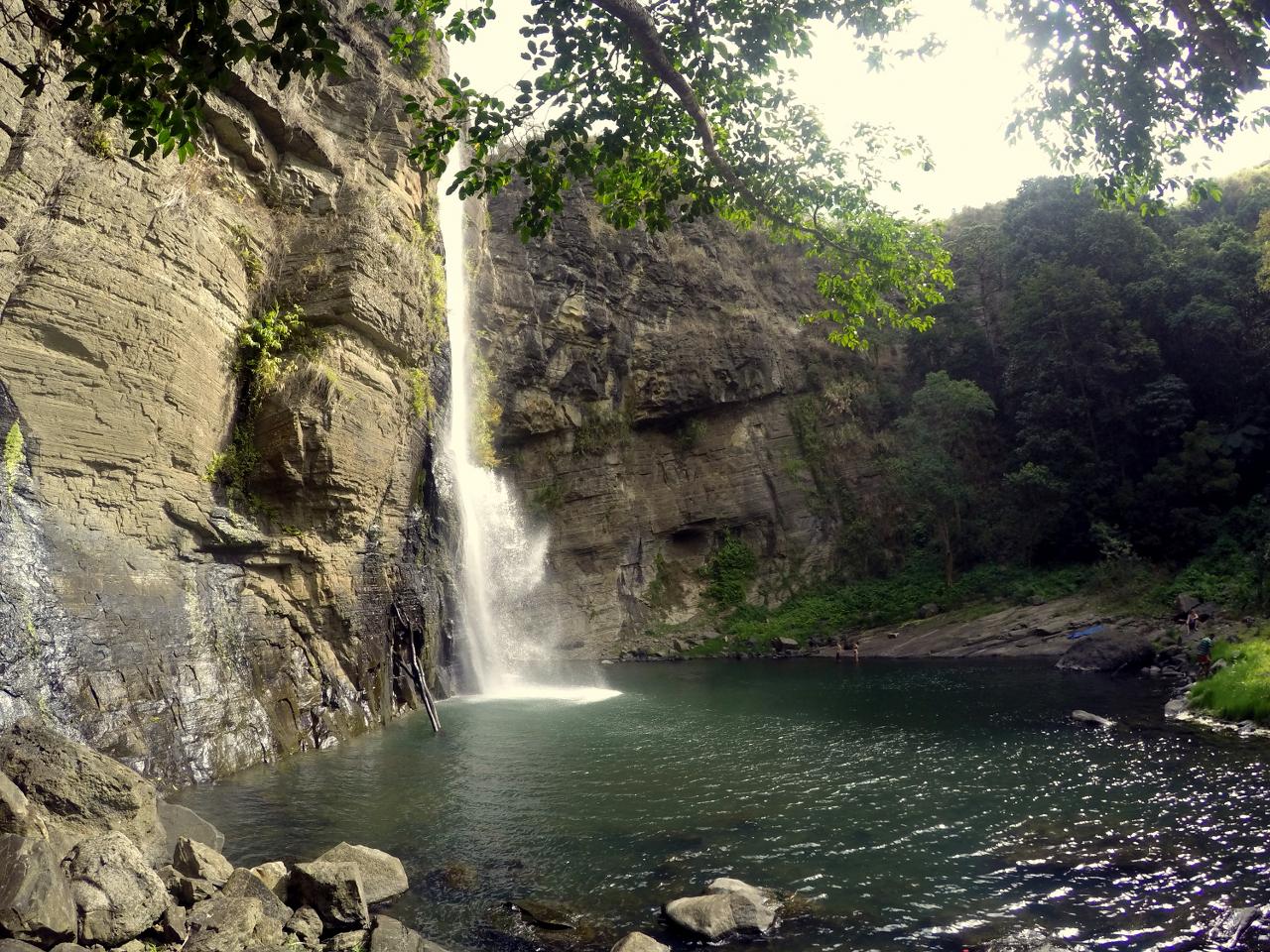 secret waterfall
Rusi was very busy getting the lovo ready. And what a lovo it was. Marinated chicken, roasted egg plant with onions, tomato, roasted kumara. There was even a roasted Pineapple for dessert. This was the best Lovo I have had in Fiji EVER. If you do not believe me you will just have to try it. At 1500 H the sun had passed over the top of the waterfall and the temperature was starting to drop, even the water temp was a cool 19°C too cold for me. We had some time up our sleeve so we took off on a short nature walk with Rueben he pointed out a plant here and a plant there this one was used for this and that one for that by the time we got back to the water fall there was a hot cup of lemon tea, the lemon leafs were picked off a lemon tree growing next to the old hut we pasted this morning, the banana cake was not to bad was well.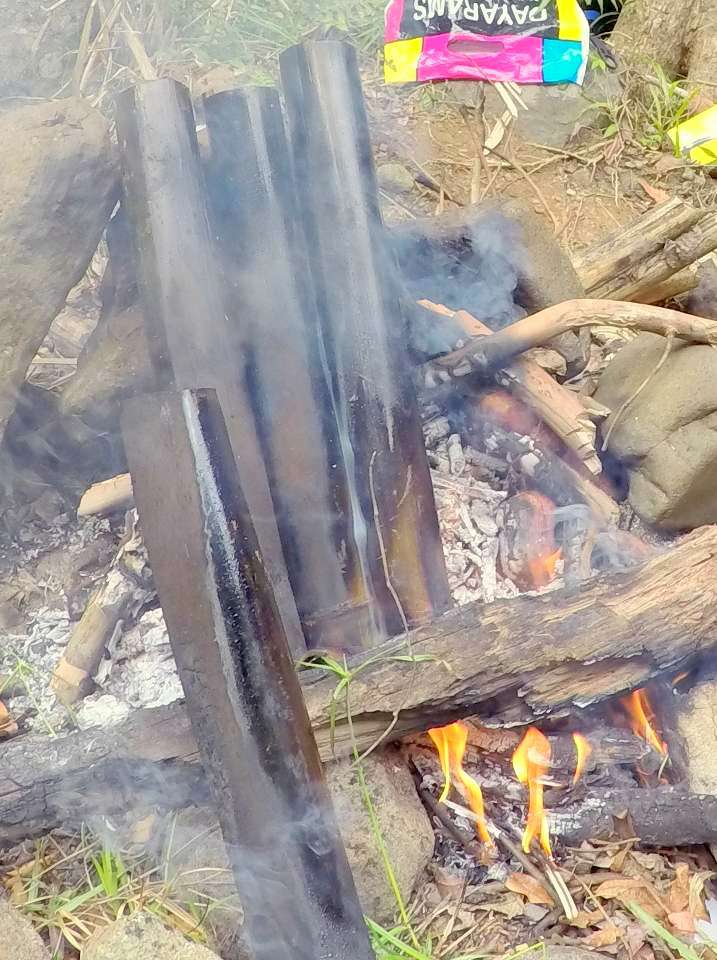 Fijian traditional bamboo lovo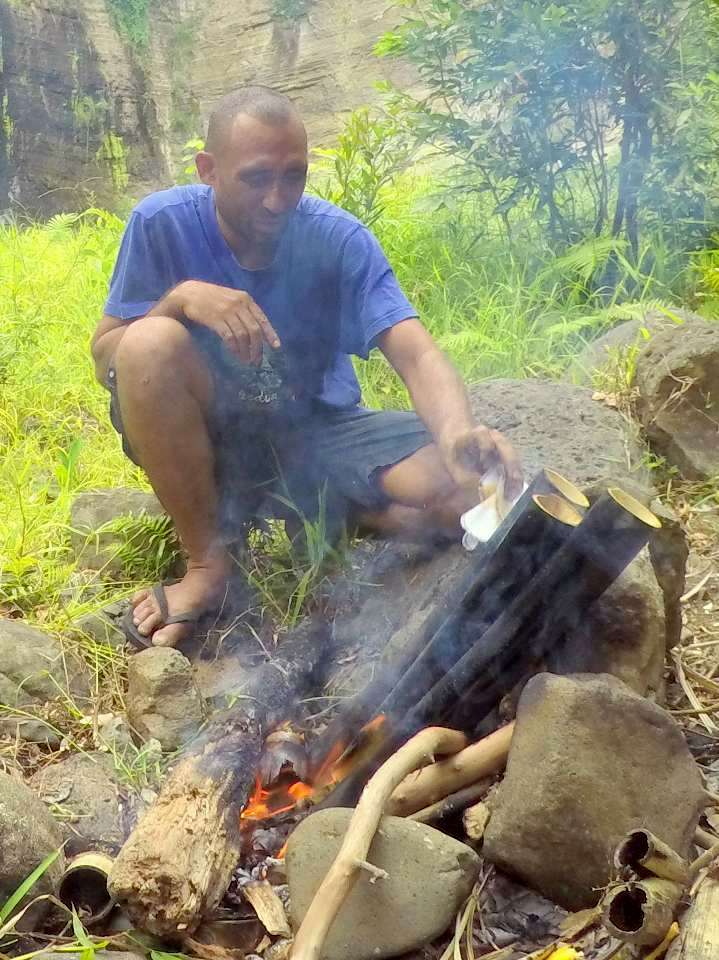 Chef Rusi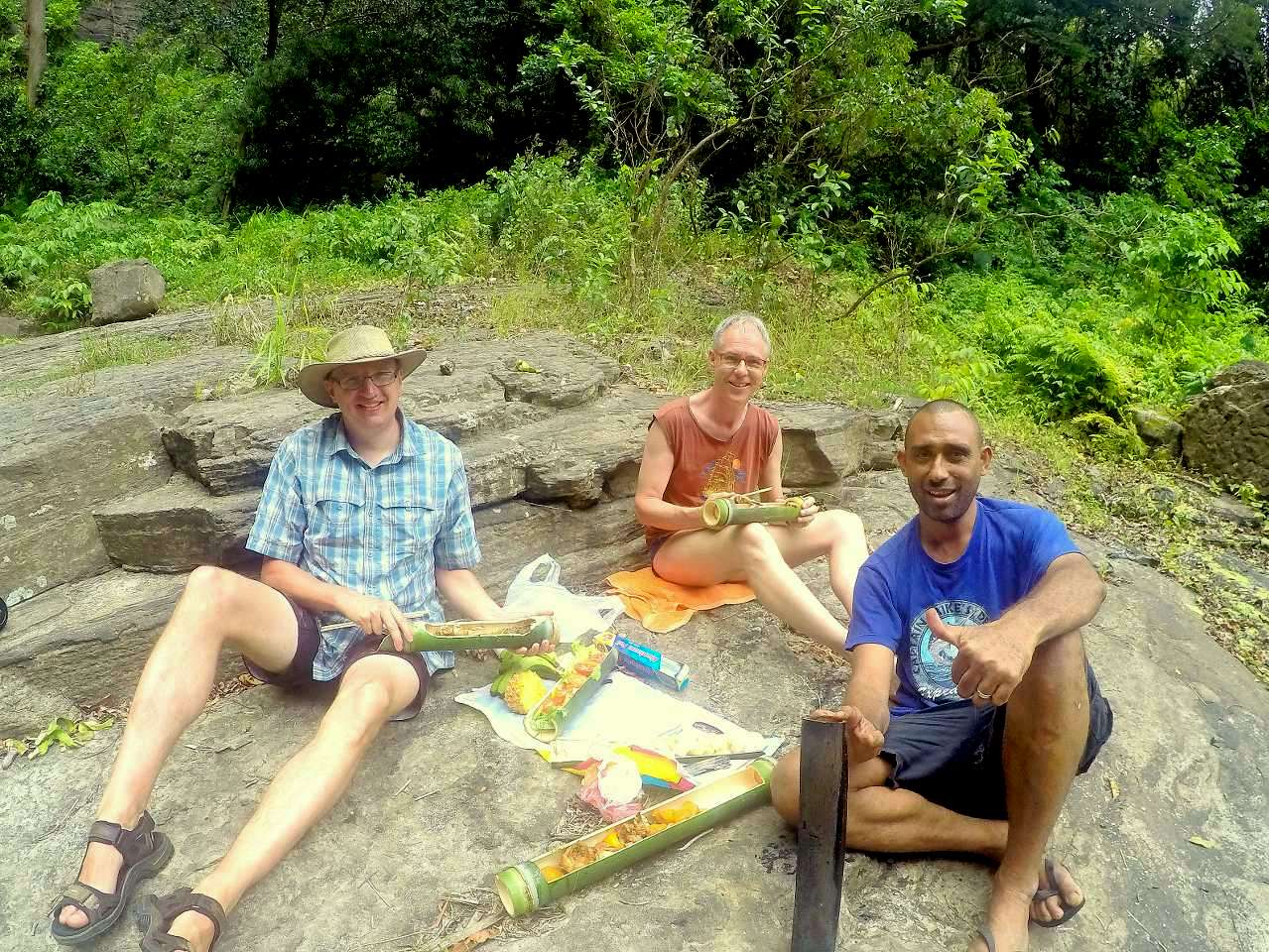 who forgot the plates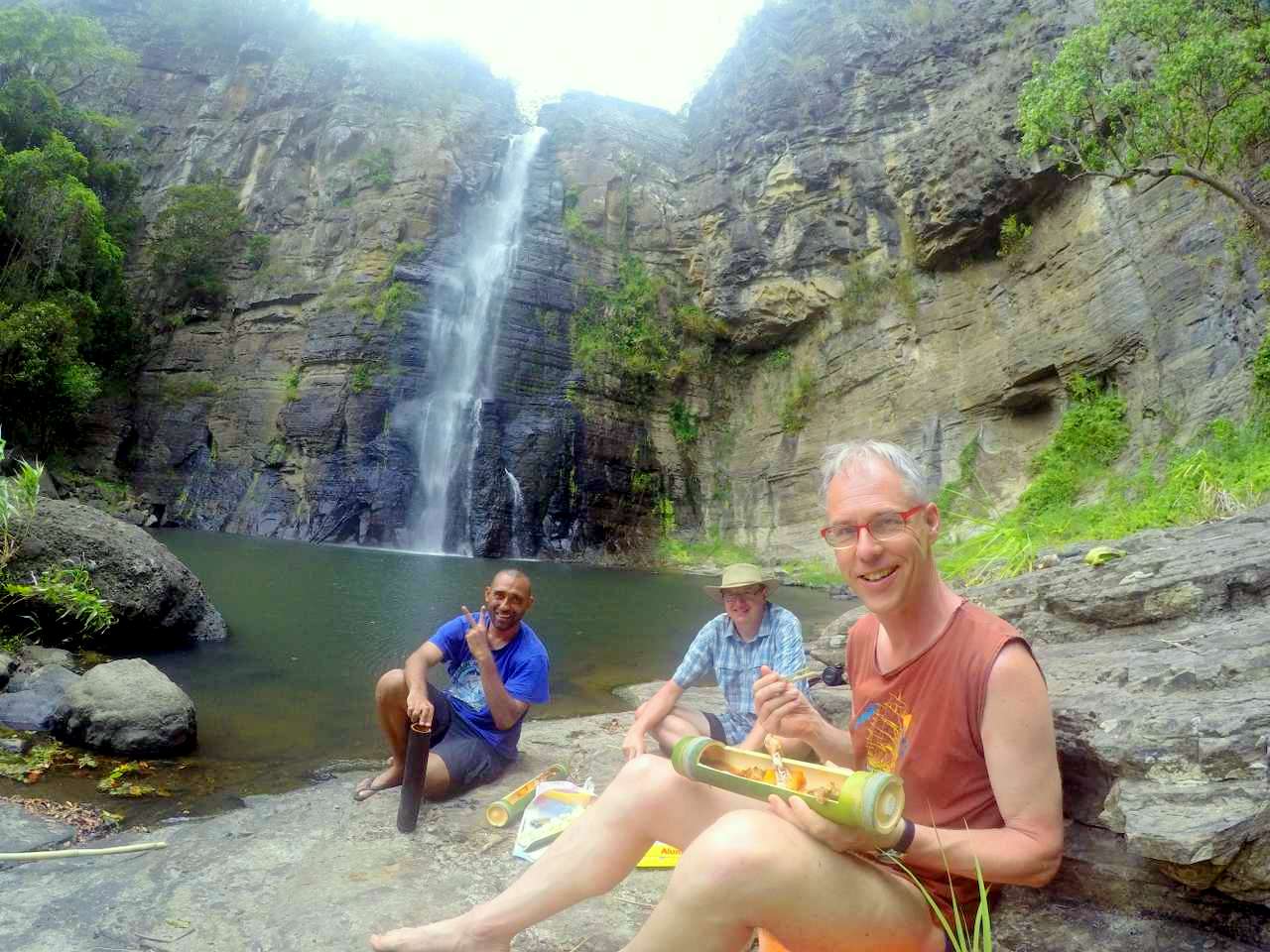 Bamboo chops stick will have to do
Now all we have to do is walk out. The 20 minutes climb to the pine tree was a good workout, not to hard but it was a good way to work off the lovo lunch. We lost track of the time walking out, we were too busy looking around to see what else we could add to the waterfall tour and forgot about the sun set.  Being so high up in the hill it felt like three in the afternoon not five so we run to the car and shot off to the cliffs. We missed the sun set by minutes, we won't do that again. In all it was a fantastic day out, a long day but there was lots to see and learn, I was amazed at how fast the time just flew by. I am planning to go back soon an explore the lower valley to see if we can add other interesting activities to the tour    
So sorry to tell you this tour is no longer available to book. Such a shame.