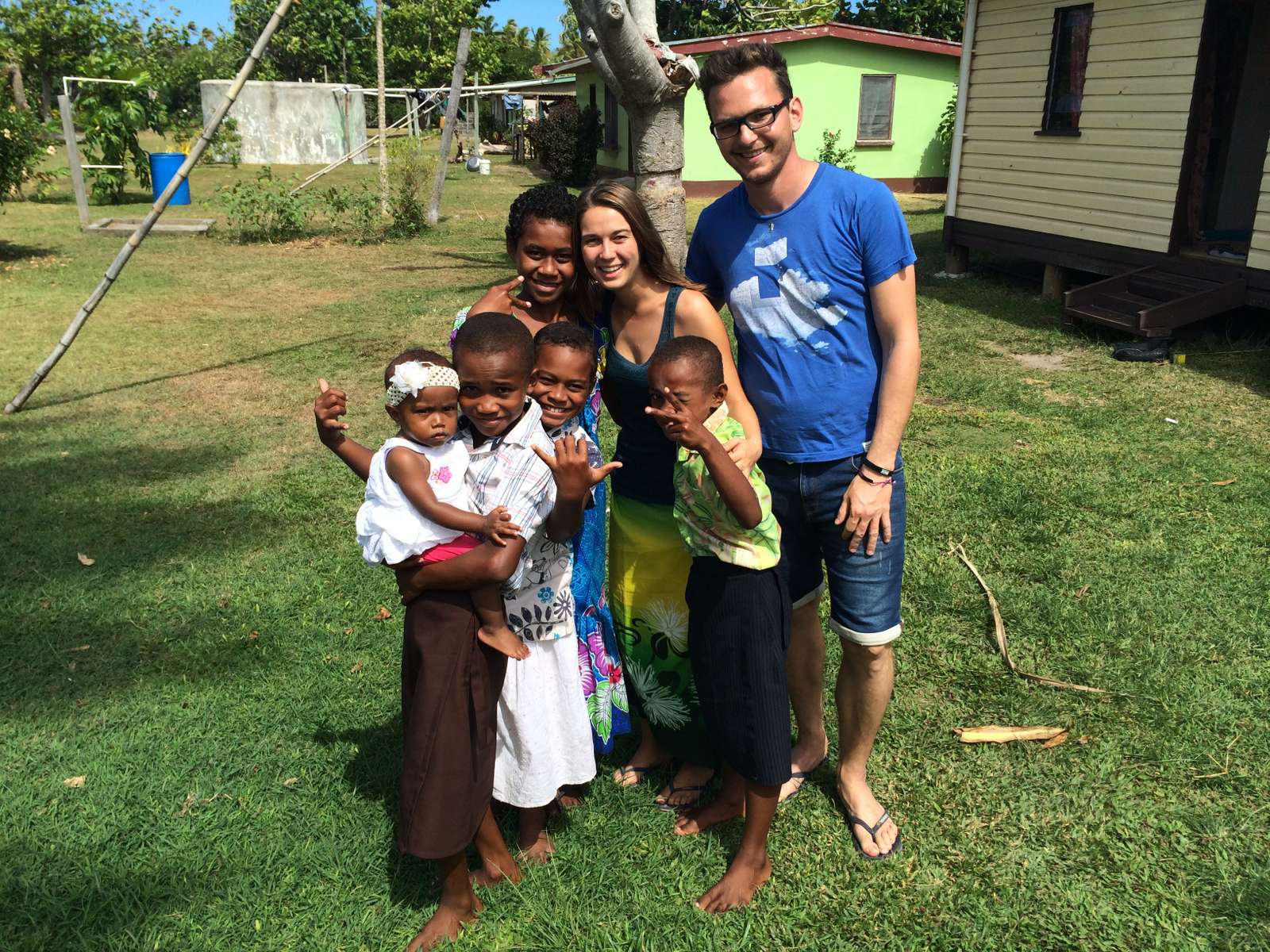 Fiji Homestays, a vacation with a difference
Most people come to Fiji for a resort type vacation, sun, sand, relaxation, and a bit of pampering. But there is a different breed of tourist, the one that wants to experience the culture of a destination. To do that, you need to leave the confines of a resort and stay with the local people. Live where they live, eat what they eat, and get involved in their daily activities
If that sounds like you, then why not consider doing a homestay while you're in Fiji? Homestays aren't a big thing in Fiji... but we hope to change that. Taking a guided tour to a village gives you some small insight into how the local people live, but until you become a part of their family (if only for a few days) you can never really get an understanding of what daily life is really like.
What to expect from a village homestay
Fijians have the reputation as the friendliest people on earth, and that really isn't an exaggeration. No matter how little they have, they are happy to share... that is a part of their culture and traditions. As a guest in their village, you will be welcomed and become a part of their extended family for the duration of your stay. You might have some questions regarding a homestay, so we will answer some of the more common ones here.
Is a village homestay suitable for children?
Absolutely. In fact, it's likely that not only will your children come away with a greater understanding of different peoples and culture, they will have had the time of their life doing it! Fijian children are naturally friendly, inquisitive and perhaps a little mischievous, and your children will be welcomed as new playmates.
What should I bring with me
What should I bring with me? It is tradition that a visitor to a village brings what is known as a "sevusevu"... a small gift of kava for the village chief. Once the formalities of welcoming you are over, then you are a part of their village for the rest of your stay. Kava can be purchased by the kilo at any marketplace. Price will be around fj$30. If you want to help the local children, then some small items for the school will always be welcome(though not expected or required). Things such as pencils, exercise or reading books, footballs, balloons etc. 
What is the standard of accommodation
Very basic, but clean and comfortable. Don't expect a typical Fijian village home to be as well appointed as what you're used to, or you are going to be disappointed. Thses people get by with very little, and their homes are of basic construction. Some villages are better off than others, so depending on where you choose to stay, you may or may not have hot and cold running water, electricity, phone etc.
How much will it cost?
A homestay is priced at $100 a night for an  adult, extra adults $75 (kids 14 and under $50 and 3yrs and under are free). This includes not just accommodation, but 3 meals a day.
How do I get to my Homestay
Transport options to and from the homestay will vary, depending on your choice of village. Some of these are on the main roads so will have easy access by bus, taxi or shuttle. Others might require more of an effort. But no matter which village you choose, we will be able to recommend the best way to get there, even if it means a village representative coming to meet you at a pre arranged location.
How do I book a Homestay
It is a shame that a local Fijian Man will go to such  extreme lengths to target European tourists in Fiji. What is so disheartening is he will also steel from his own village people who work extremely hard to feed their kids and the grand parents, so sad. 

warning
Stay Well Away From 
Mountain Gateway Fiji
 As we get more homestays coming on board, they will be added to this page. Browse the selection to find one that suits your needs.Once you have made a decision, then use the contact form below to either request a booking, or request more details. We will be happy to answer any question you might have.
Inquire about Fiji Homestays
This page is brand new... which means while we do have some homestays organized and ready to host you, we don't have their pictures and details ready for the website. However, please do feel free to inquire about what will be coming up, we would be happy to help.
Let us know what you're looking for, whether it's a place that is kid friendly, good for singles, near a beach, remote highlands etc. We can make some recommendations as to what we have that's suitable, and answer any of your questions.
We hope to have more homestay information on the website over the coming weeks, but why not get in early and let us know what you are looking for? Even if we don't have something suitable for you, we may be able to put you in contact with somebody that can help. There is no expectation that you will be making a booking with us if you inquire, so please do take the time to send your inquiry. We look forward to hearing from you!

Yasawa Islands. Feel like a cheap break in the Yasawas, staying with a local family? We have arranged for some of the villagers to host you for a VERY special rate if you stay 1 week or longer! Lovely beaches, perfect climate, great snorkeling, the Yasawas have it all. And at fj$50 a day all meals included, you just won't find anything cheaper than this.
Read More

Namadi Heights, Suva. This is where we stay when we're in Suva. While the capital might not be everyone's idea of a holiday destination, staying with locals meand that you will have new friends to take you around and show you the sights... a great way to explore Suva. And the homestay is located in Suva's nicest suburb, Namadi Heights, so you won't be roughing it, we promise!
read more

Cautata Village. With 287 homes, Cautata is the largest village in Fiji. Set in the rural coastal area close to Suva and Nausori (10ks to the airport), there is lots to do here. From fishing to food gathering on the reef, you are not going to get bored.
read more

Namada Village. This is a small village of around 250 people, located on the Coral Coast very close to the Tambua Sands resort. Run by Wame Tuqea and his wife Lanny, this is a good choice for those that don't want to venture too far from civilization.
read more soon!