Cassava Cake
Ingredients: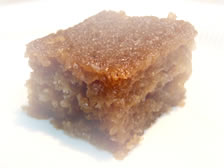 1kg cassava roots (2.2lb)
220g sugar (1/2lb)
400 ml thick coconut milk (2/3 pint)
1 egg beaten (optional)
pinch salt
Preparation:
First rinse the cassava to remove any sand or grit. Cut them roughly into 6 cm lengths. Skin the roots by making a shallow cut from top to bottom of each piece and then running your finger under each cut to lift off the peel. It should come off quite easily.
Finely grate the cassava but avoid grating the tough fibre that runs down the centre of the tuber. Weigh the grated cassava which should amount to about 800g (2lb).
Rid the bitterness of the juices by squeezing it in a muslin cloth or sieve. Collect the juice in a small bowl. Retain the grated cassava. Allow the juice to stand for about 10-15 minutes and then carefully pour off the liquid and discard the liquid on the top, leaving behind the cassava starch that has settled on the bottom of the bowl.
Combine the grated cassava and starch, sugar, coconut milk, beaten egg (if using, if not add an extra 50ml water), and salt. Lightly brush the inside of a 16cm (roughly 7") round or square cake tin with butter or oil. Pour the mixture into the pan. Level the top with a spoon and bake in a preheated oven at 200°C (400°F) or until golden brown.
Cool before cutting.