Fiji Golf Courses
Fiji is not known as a golfing destination. To be honest, Hawaii would be your Pacific Island of choice if golfing was your primary reason for a tropical vacation. However, there are a handful of courses on the main island of Viti Levu, ranging from municipal (Fiji golf club, Suva), to resort (Denarau Island) and championship (Natadola Beach).  
July 2015.    The three top courses are Denarau (managed by Sheraton), Natadola Beach (next to Intercontinental resort, a forty minute drive for Nadi) and the Pearl (managed by Pearl resort, Pacific Harbour) A two  Hour drive from Nadi. As you would expect, resort guests get discounted green fee rates, so you may want to consider that when booking your accommodation. However, they are all open to the general public so if you only want to have one or two rounds during your stay, it might be cheaper to stay elsewhere and pay the full green fees.
If you are looking for Cheep  Cheep  you will not beat the Nadi Air Port Golf Club. Green Fees $30 for 19 Holes 
                                          Nadi Airport golf Club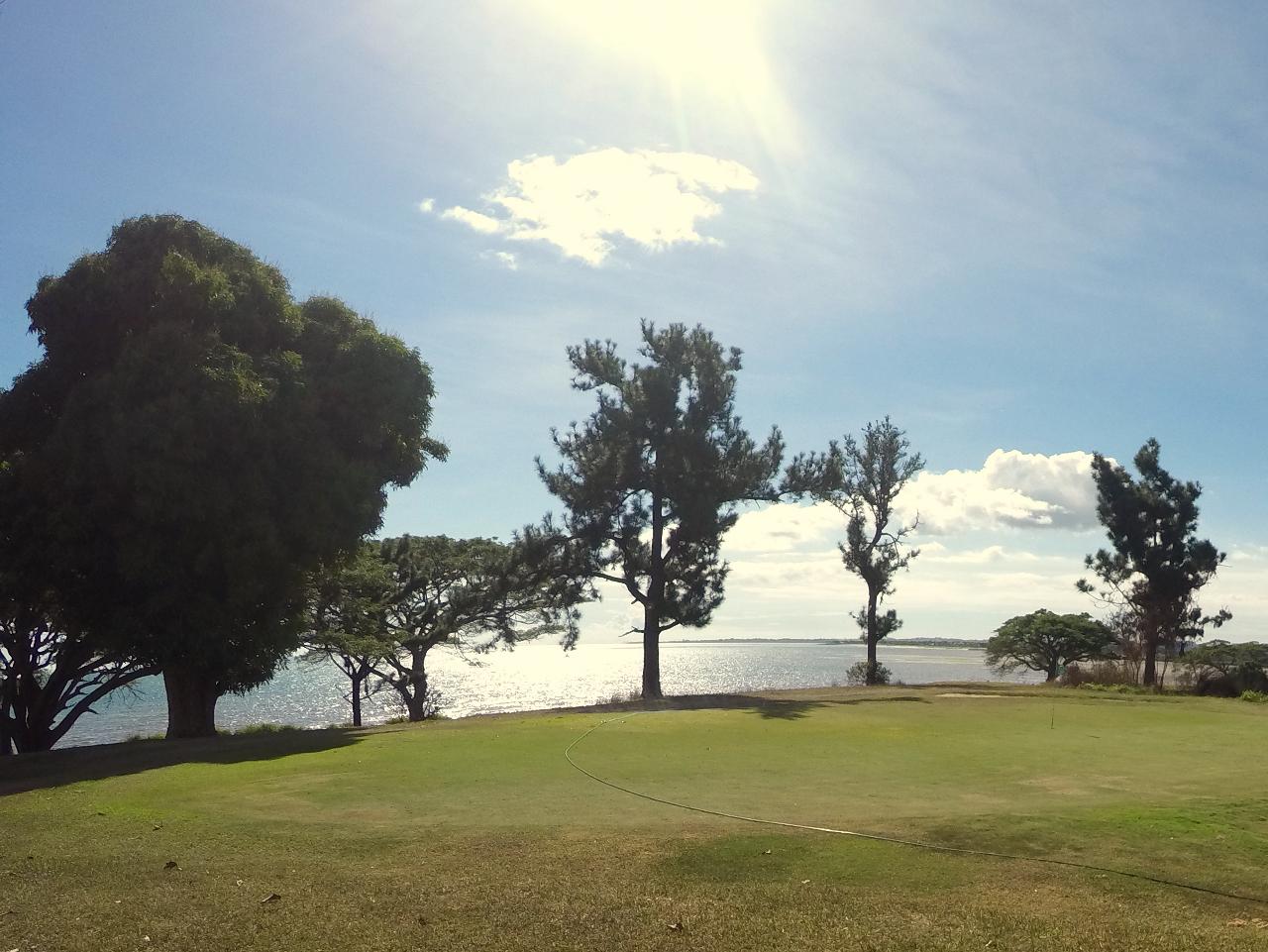 The Nadi Air Port Golf Club Is down on Wailoaloa beach, a twenty minute drive from Nadi.  This is where you will see all the back packers hanging out. The last 200Mt of the road is all most 4x4 country. The club house is right beside the water but, the club house is in a shocking condition and as for the food, DO not touch, let along eat.
The greens are quite good, with the ocean views and the Air NZ and Fiji air way flying over head it makes for an interesting day out for the loose change in your pocket. You can hire a golf cart and clubs, if you can call them golf clubs, but I was told there are expecting new clubs to arrive soon
| | |
| --- | --- |
| Club House | |
| | ANZ-124 |
Green Fees For Airport Golf Club 
Open 
Monday to  Friday            11am   - 6 pm
Saturday                                9 am  - 6pm
Sunday                                 10 am  - 6pm
18 Holes       $ 30
  9  Holes       $20
Golf Clubs    $30
Golf Cart       $30
10 Balls         $10
Plus the cheapest Fiji gold in Nagi at $5.50 for a Short neck, most bottle shops charge $6.65
As for the food form there restaurant ,take a look into the kitchen before you buy.
Denarau Golf Course: a 15 minute drive from either central Nadi or the airport, is Denarau Island Golf Course. A 72 hole resort style course, this caters to those that want a great round on a manicured course, but don't want to spend all day hacking out of knee high rough. Top class facilities, with pro shop, driving range, cart and club hire, and bar/restaurant.
read more
Natadola Bay: Definitely the best (and most expensive) golf course in Fiji. Located by the famous Natadola beach, this course offers a link styled championship experience. Intercontinental resort guests get discounted greenfees.
read more
Pearl Golf Club (Pacific Harbour): Championship style course, located at Pacific Harbour. Lovely club house, this is a long and very challenging course. Full length par 72.
read more

Fiji Golf Club (Suva): Close to the USP and central areas of Suva, is the local municipal course. Don't expect too much, but with greenfees a very modest fj$30, it offers a good way to spend a cheap afternoon. Full length par 72.
read more
You Are Here:
Home
Fiji Golf Courses