Experience Fiji -
Without Breaking Your Vacation Budget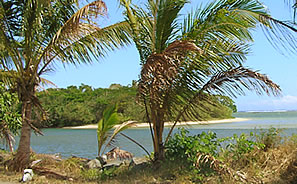 Mention the word "Fiji" and most people immediately imagine palm fringed beaches, crystal clear lagoons, blue skies and balmy tropical weather. While that is one side of Fiji, it's not the only one.
From exclusive resorts frequented by celebrities, to small homestays in the more remote villages, Fiji can be whatever you want. And at a price that's right for you.
There is so much on offer - if you only know where to look. Experience the quintessential tropical island vacation in the Mamanuca or Yasawa islands. Or get out to some of the remote villages and stay with the locals. Whatever you choose, Fiji won't disappoint.
Our pick of the month for best value resort

Robinson Crusoe Island. As we come closer to summer in the southern hemisphere, it means the start of off peak or low season in Fiji. And that means specials and great vacation deals!

With their top accommodation costing less that fj$200 a night, it's already great value staying on the island. But off peak specials make it even more attractive if you are visiting between now and March 2014. Keep an eye on their Facebook page for deals... the latest is stay 4 nights, get an extra night free. And don't forget to check out our review of what's on offer at RCI.
read more
Our pick of the month for best value tour/activity
Visit the Far North of Viti Levu. A cheap and easy way to explore the northern tip of Viti Levu, in the Rakiraki and Nananu-i-ra island areas. Perfect climate with little rain, and a huge range of things to do. From diving to fishing, windsurfing to dolphin watching, this is a perfect way to spend a few days.

The hardest thing about travelling up this way, has always been the hassles of organizing transport and accommodation. Until now! These package deals get you there and back, you can choose from 4 different lodges and resorts, and best of all it's cheap. Very cheap.
read more
So come on in - the water's warm!
Come and explore Fiji with me. Meet some of the locals, and immerse yourself in "Fiji Time". Feel the warmth of a Fijian smile, see some of the villages, small resorts and homestays that your travel agent won't tell you about. Experience what it's like to leave the stress of daily life behind for a while, and just relax and live in the moment. If there is one drawback to a Fijian vacation, it's that it can be so hard to leave. But she will still be here, ready to welcome you back on your return.
Explore Some of Our Most Popular Pages
Bus Timetables. Coral Sun Express timetables and routes.
read more
Transport . An overview of your transport options. Coach, taxi, car hire etc.
read more

Car Rental. Some of the best car rental firms in Fiji. Prices, locations, and links.
read more

Currency Exchange. Check the latest exchange rates here. History of the Fiji currency.
read more
Food Costs. Find the current 2012 prices for general grocery items.
read more
Banks & ATMs. ANZ & Westpac banks, ATM locations, phone numbers etc.
read more
Nadi Airport. Airport layout and information. Duty free prices, taxi coach and shuttle options.
read more
Suva. Explore what's on offer in Fiji's capital city, Suva. From the museum, to coli-i-suva.
read more

Your Reviews. Tell us what resorts you would/wouldn't recommend to others.
read more
Nadi. Fiji's 3rd largest city, and gateway to the islands. Explore some of the highlights.
read more

Where To Stay.Budget priced resorts, backpackers and homestays around Viti Levu.
read more
Tours. A range of tours and activities available. Including "Feejee Experience".
read more
How We Can Help You Plan a Fijian Vacation on a Limited Budget
What we don't do: We are not a travel agent, we don't arrange package vacations, and we don't act as an agent for any establishments or businesses featured on this website. We are totally independant, and say what we think. If you want somewhere to book a complete package, then you are in the wrong place. Sorry.
We won't gloss over any faults or flaws with any of the accommodation choices. If something isn't up to standard, we will say so, or we will choose not to feature it on this site. We don't get compensated when you choose to book with one of the places on this site. While a small commission is taken on a minority of bookings, these payments are not kept by us... we donate them to our Fijian contacts as a way to say "thank you for your help with this website". Meaning, we can say what we like ;-) And we do. Without the help and support of the local Fijian people, we could never do more than show you the well known accommodation and tours that you will see on any other Fiji travel site.
What we will do: Is show you some of the best value resorts, homestays, and tours available, and give you an unbiased opinion and review of all of them. Many of these places are relatively unknown, even by travel agents. We will give you details of how to contact and make your own bookings at these places.
We will also provide you with relevant and current information that you need to know, to make your trip to Fiji a stress free and enjoyable time.