Land transport in Fiji, how to get around
Unless you are staying in a resort that offers free airport transfers, then you are going to need some form of transportation, all prices are in Fijian $.
Buses - the express bus
express bus
One thing you can say about Fiji, they have plenty of buses! They don't always run on time, although I have found them to be reasonably good in that respect. And the prices...cheap! There are two types of buses running, the express, and local. The express buses have windows, air conditioning and if you are lucky run a movie in English. The express buses only run from town to town,  they stop only at designated bus stops.  For example from Nadi to Suva there are 18 stops over a four and a half hour trip. Whereas the local buses stop anywhere and everywhere, constantly.

There is an express bus leaving from the domestic terminal at Nadi airport to Suva every hour, the next pick up will be at Nadi Depot. The distance from Nadi to Suva is around 190 km, and a fare will cost you about $17-25
(June 2015) 
Coral Sun Express unfortunately has closed down from Feb 2016.
Pacific Buses also run to Suva every hour For $17.00 you can call then on Nadi +679 670 0044 or +679 999 4365    www.pacifictransport.com.fj   
Local buses
| | |
| --- | --- |
| open bus | |
The first rule is not to hand over a $50 note keep plenty of small change in your pocket. The local buses do not pick up from the Nadi Airport. Only the express bus and Taxi work the airport. To get around cheaply take a bus. The best place to catch a bus is in the main bus depot just 50m from the Nadi market, there is a tiny blue office at the river end of the second platform, just ask for help and they will be only too happy to help you out.  Once you know your bus, there are plenty of bus stops in the main street of Nadi.
From Nadi, $2.40 will get you to Lautoka, $1.15 to the Airport entrance,  $0.70 to MacDonald's for your big Mac. $0.70 will get you from one shopping centre to the next shopping centre. If in doubt ask the person standing next to you at the bus stop, the Fijian people are exceptionally friendly. Just a few months back a bus driver was sacked for double charging a tourist.
To get the full on Fiji experience take the bus with no windows, (The Open Bus) but do not sit on the driver side down by the rear axle. If you do, you just might die of diesel poisoning, you will have the pleasure of sitting above the exhaust pipe, and try and work out which side of the bus is in full sunlight as you head off, you need to be seated on the passengers side if you are going to Lautoka to get out of the sun or have 1Ltr of suntan lotion with you. If you decide to just wait for an A/C bus, pick the bus with the full length tinted windows, if the windows are open it is not A/C and will be extremely hot inside. Take the open bus.
Nadi to Port Denarau, only the smaller yellow bus (West Bus) with windows are allowed into Denarau. They run every fifteen minutes and will drop you off right in the middle of the Port Denarau shops, you pay your $1.00 to the driver as you disembark not on entry. 
Heading North or South from Nadi, you can catch the cheaper open bus. The open bus will take a lot longer because you have to connect with the next bus at the next town and so on and so on plus it will pick up and drop off fifty times between towns (you are free to eat, drink, sleep or sing in the bus).
Or take the hassle free Laid back A/C express bus for a few $$ more. (No eating or drinking in the bus) 
Mini Bus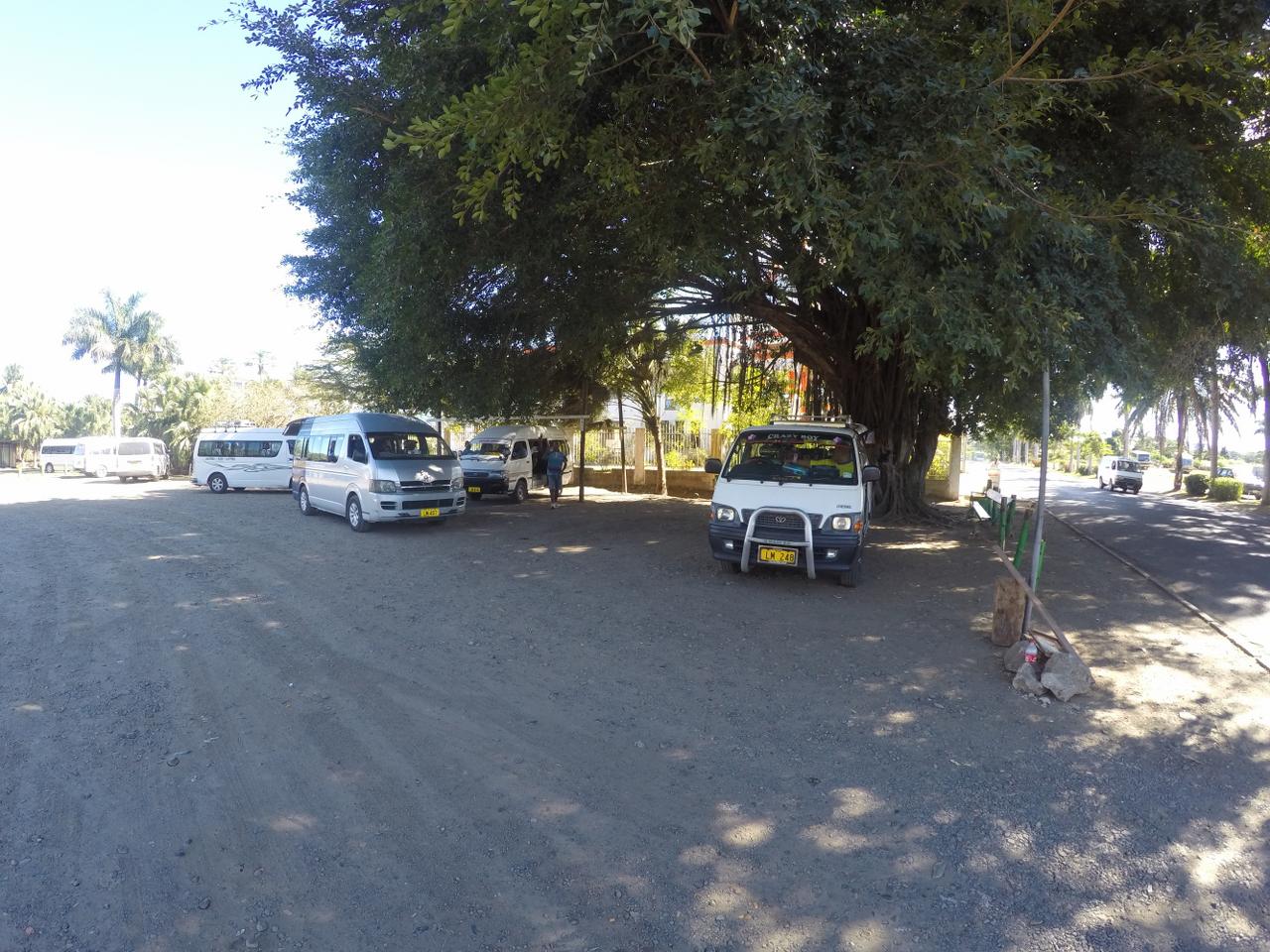 pick up point
The next option is take a mini bus. (12 to 15 people.) Not as cheap as an open bus, but faster. The mini bus will stop to pick up every man and his dog if there is a spare seat. The mini bus will also pick up in Nadi between the shopping centers for $1.00. If you are standing at a bus stop and a van flashes it's light at you, he is not saying welcome to Fiji, he is asking you, do you what to be picked up, if so just wave out and I will stop and take your money. To disembark you can call out or tap your gold coin on the window, please do not break the window and just ask how much.    
Mini bus from Nadi to Suva, they will run when ever they are full. The cost is $17 the trip will take around 3 hours. This is one and a half hours faster then the express bus. Do Not expect to throw on a large suitcase let alone two, you will be charged for another seat. To find the mini buses walk through the Nadi down town market and right into the Bus depot, now keep walking through the bus depot to the park. Now, to the left of the park in the far left hand corner under two very large tree you should see half a dozen mini buses, this is the main pick up point, good luck. 
Taxis in Fiji
The yellow taxi
Flagfall is $1.50 for a local taxi and $5 for a yellow Taxi at the airport. The rate is 10c per 100 meters... that's  fj$1.00 per km, or fj$1.60 per mile.
There are three Major taxi companies to look for. The first one you will come into contact with on arriving in Nadi airport will be the Yellow Airport Taxi, the next taxi to watch out for will be the Nadi Taxi and the last will be the Denarua Taxi.
Airport Yellow Taxi 
Only the yellow Taxi are allowed to pick up at the airport. If you DO NOT want to get ripped off with a Taxi fare DO NOT let a taxi driver grab you from inside the arrival hall. The yellow Taxi drivers all wear a company uniform and are not allowed to hassle tourist inside the hall. So walk out through the main door and hail a yellow taxi.  All yellow Taxi have a meter that is in plain sight of the passengers. Plus the yellow taxi will be government registered and have a good public liability insurance.  
If you take a taxi from inside the arrival hall and you cannot see the meter because it is covered with a rag or a photo of the family, well, it is hidden from you for a very good reason, you are going to be RIPPED OFF within the first hour of arriving in Fiji. 

The law in Fiji is that taxi drivers must use the meter...But that is not the case every time you take a taxi so just ask is the meter on before you close the door or haggle for a fixed price before setting off. Here are a couple of yellow taxi fares from Nadi Airport to 
Nadi  down town                $15                                      Port Denarua           $30
Lautoka                                 $32                                      Shangri La Resort    $80
Intercontinental Resort   $90                                      Outrigger Resort     $90 
The Pearl Resort                $190                                    Suva                             $200
Ba Town                                $70                                      Rakiraki                       $160   
Denarua Taxi
Warning.
To book or hale a taxi at a resort in Port Denarua will cost you dearly. Denarua is a closed shop to Nadi town taxi, they are allowed to drop off but not allowed to pick up any passengers form Denarua. If you ring  a taxi out side of Denarua the security man at the Denarua gate can turn him back if he does not like the man.  The best thing to do here is get to know your driver, talk to him, if you trust him, get his phone number tell him what you are planing to do in Nadi then give him a call an hour before you need him.But Give him your Phone number so he can ring you if he is stooped at the Denarua gate. Or catch the yellow bus into Nadi for $1 each then catch a Nadi taxi.
If I need  more info  on click on this  airport transfers 
Nadi Taxi 
Nadi taxi would be the roughest of the three taxi you will find in Nadi, they come in all sizes and condition.Your best bet is to look first before you get into the Taxi. If you are happy with the condition of the taxi then look for the meter or ask how much. 
But don't worry, you will find a good safe driver with a clean, tidy and safe Taxi if you take the time to look around.
Private Transfers
A little more expensive than catching a taxi, but you will be greeted as you come out of customs, and get treated like a V.I.P. We know of several services that we can recommend... check them out on our transport from Nadi airport page.
A word of warming
If you have booked and paid for a transfer from the airport to your accommodation, make sure you get into the right car or van. You could get nabbed by another driver saying he is here to pick you up and take you to your accommodation. When you arrive he is going to demand payment, now the fun starts. All you have to do is tell him to wait here while you go to the resort desk so you can ring the police and ask them come down to the resort and  help you sort this matter out. DO NOT leave any luggage in the car AND DO NOT pay him half the fare just to get rid of him.
SO,  to save all the hassle, on your confirmation voucher you should be given the name of your driver and his phone number, 
When you book your transfer on line, pay in Fijian $ not AUD. I have seen Aussie company operating out of Aussie quoting  $49 AUD  which works out to be $77 Fijian  were the true price here in Nadi is $49 Fijian. On top of that they are just middle men living outside of Fiji  and they pass the transfer  to another contractor in Nadi. These  middle men have no idea who is your driver is, and most likely have never inspected the car, how safe is that?? 
As for the VIP meet and great for $25 Fijian. The lei is made in china, Taiwan, and the Philippine, they are not made in Fiji.   I can buy then today for .75 cents at the wholesalers in Nadi, all the operators  buy then because they are so so cheep and the bottle of water is just $1.20 what going on. Don't they have to be there to meet you when you arrive, money for jam. 
Yes it is a cut throat business here in Nadi.      
Share Transfers
June 2015
Share transfers are either 4x4 and sedans with commercial plates, they are in good condition and safe, you could call them a cheap taxi. They will take you to where ever you would like to go, ie to Suva, the going price is $100  flat rate no + +. You could sit there 30 minutes till you can pick up three other passengers  to fill the car, so now it will only cost you $25.00. If you are in a hurry take the whole car with your six suit cases and the dog for the $100 you will be in Suva in 3 hours, unless you stop here and there. If you buy the driver lunch he wont mind stopping along the coast for you.
To find the Share transfers walk through the Nadi down town market and right into the Bus depot keep walking through the bus depot to the park. Now, look to the top right corner of the park, to the T section, look across the road to the next T section, that road runs up to the Hospital. Around 0800H there would be around a dozen cars parked on that very corner and a small sign, good luck.
Rental Car
June 2015 
Out of four rental car company in Nadi I have called into, this was the average pricing all in Fiji$
Booking the car for

One day $130.00 +$15 for insurance +20% for Tax + Bond, the bonds range from $500 to $1500.
Two days $65.00 Per Day + insurance and bond
Seven Days $55.00 Per Day + insurance and bond
To be picked up at the Airport for a one day hire  $15.00. Two days or more no deliver charge
You will have to bring the car back with the same amount of fuel that was in the tank when you picked it up, and there is unlimited mileage...  
 June 2015 Regular Petrol is $1.93 PL.                                       July 2015     Regular Petrol is $2.21 PL.
You do not have to book ahead, but keep an eye on the rental company booths in Nadi airport and the resorts they add on $$. 
The national open road speed limit is 80kph (50mph) and at times that can seem excessively high! Once you have driven from Nadi to Suva, you will see why the limit is unlikely to be raised anytime soon. The state of the roads make exceeding the limits a dangerous affair.
And do I really need to remind you not to park underneath a coconut tree in your rental car,$$$$
Local Carriers
| | |
| --- | --- |
| carrier | carrier |
Any self respecting travel website will advise you not to use these. They are not registered people carriers, most of their vehicles are in a poor condition, and who knows if your travel insurance would cover you travelling in one of these? But the fact is, the whole Fijian rural way of life would grind to a halt without these carriers, so the police seem to turn a blind eye to them. Almost always run by Fijian Indians, they charge the same fare as a local taxi, so it can be very cheap if you can fit in eight to ten people. 
And the local population rely on these carriers to get to work and to get the produce to the local market and get to the more remote areas where there is no bus service
You will find any number of these carriers at bus depots, markets, at intersection and at side roads heading up into the highlands. and any other places were that local gather. If you are stuck out in the middle of nowhere and need a ride just wave out he will stop because he wants your money. While out walking along the back roads they pull up behind and say you a long way from Nadi, you need a ride. when I tell them I am just out for a little walk in the bush,they think I am mad. So never fear, there is always a carrier around when you need one.
Water Transport in Fiji
If you are travelling to the Mamanuca or Yasawa islands, then you will probably use either the South Seas or Yasawa Flyer, which both depart from Denarau each morning from 8.30am. Check out our page on the Yasawa Flyer for more details. We have current price lists for both the Yasawa Flyer and Tiger IV (goes to Mamanuca islands). If you are looking for a cheaper way to get to the Mamanucas, then you can catch the Mana Flyer speedboat for only fj$80 one way.
Looking For More Transport Related Information?
Looking For More Transport Related Information?
Nadi Airport
Airport Transport

Nausori Airport

Taxi Fares

Rental Cars
Yasawa Flyer
Flyer/TigerIV Prices

Mana Flyer Prices
You Are Here:
Home
Transport in Fiji
Talk to us for FREE on Viber or Skype or call on +679 7381933