Land transport in Fiji, how to get around
Unless you are staying in a resort that offers free airport transfers, then you are going to need some form of transportation.
Buses - the express bus
One thing you can say about Fiji, they have plenty of buses! They don't always run on time, although I have found them to be reasonably good in that respect. And the prices....cheap!
There are two types of buses running, the express, and local. The express buses have windows, air conditioning, and stop only at the designated bus stops (whereas the local buses stop anywhere and everywhere, constantly).
There is an express bus leaving from the domestic terminal at Nadi airport every few hours, which goes to Suva. The distance from Nadi to Suva is around 200kms, and a fare will cost you about $$22-25 (Fijian dollars).
Coral Sun Express run a twice daily bus service from Nadi airport to Suva, and vice versa. You can find details of timetable, prices, and stops on the transport from Nadi airport page. You will also find details and pricing for private airport transfers on that page.
Local buses
"Fiji Time" Newsletter
Hot Deals!
Grab discounted fares to Mamanuca and Yasawa islands.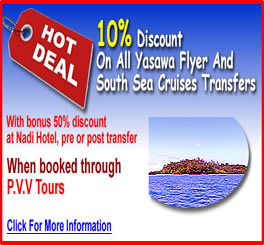 HOME
|
Sitemap
|
Latest Pages
|
Contact