Page last updated on: 24 June 2015
You Are Here:
Home
Yasawa Flyer
Yasawa Flyer - Transport to the Yasawa Islands
If you are planning a trip to either the Mamanuca or Yasawa island groups, then of course you need to consider how to get there (and back). When you book accommodation at one of the many resorts in these islands, you need to double check if your transfers are included or not.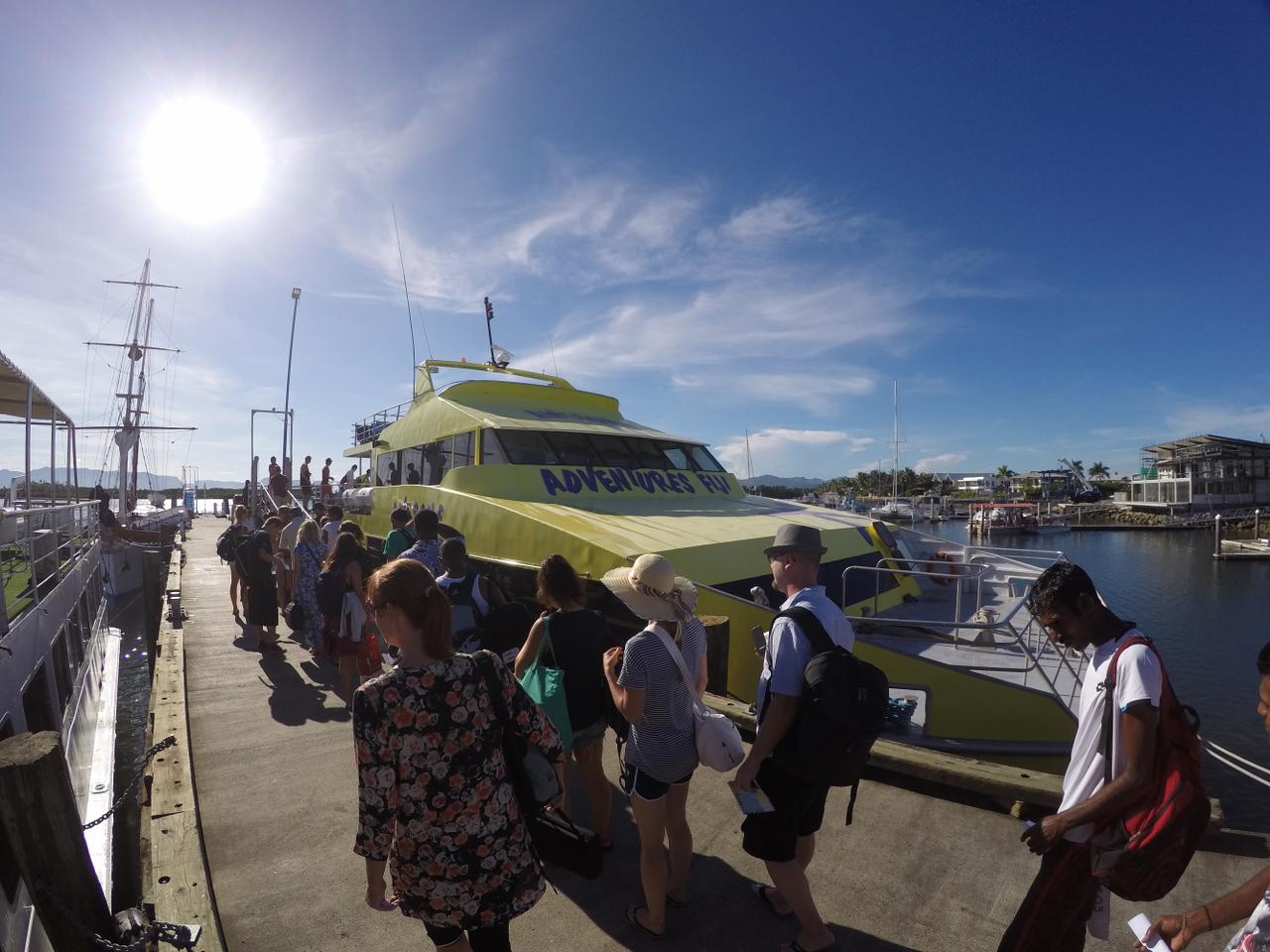 While the Yasawa Flyer is a water taxi between islands, don't assume you can just turn up and expect to board. Pre booking is not absolutely essential, but it is highly recommended. The Flyer is often full and there is only one departure a day (8.30am), so if you don't have a ticket, you might just miss out. But don't worry... booking is easy, the trip is great fun, although we have to say the prices are pretty steep.  Please be warned the Flyer can often return back to Denarau late. It's normally due at 5.45pm but it can arrive as late at 8.30pm, which can make getting flights the same night very tricky.  We would not advise taking the risk of flying out the same night.  The delays are mostly due to them switching boats if the normal yellow Flyer is not in operation, then they'll send the slower white boat.

Best Prices on Transfers to the Yasawa Islands in Fiji
If you book directly through the Awesome Adventures Fiji website you'll pay the full price PLUS 2.5% extra in credit card fees.  The only way to avoid the extra fees and get discounted prices is by clicking on the Book Now button below and filling in the form.  You'll pay a small deposit now then pay the balance in cash (or credit card if you want) on the day of arrival. The deposit varies depending on where you are going and how many people.  But to give you an idea, for a trip costings $162 FJD the deposit would be $17.50 FJD.
Listed below are the cheapest adult one way prices on the Yasawa Flyer from Port Denarau you'll find in Fiji. Prices are valid to March 2016 and given in FJ$. Children 5 to 15 inclusive are half price and infants 5 or under are free. Upgrade to Captains lounge is an extra fj$30 to $40pp, and they do not allow children under the age of 12 in that lounge.
Bounty Island - $89 
Beachcomber Island - $102  
Treasure Island - $102 
Vomo Island Resort - $157  
Barefoot Kuata Island - $133  (where you go for Snorkelling with the Sharks)
Wayalailai Ecohaven - $133  
Naqalia Lodge - $133  
Octopus Resort - $143  (where you go to swim with the Manta Rays)
Viwa Island Resort - $143  
Manta Ray Island Resort - $152  (NOT where you go to swim with Manta Rays)
Barefoot Manta Island - $152  
Paradise Cove - $152 
Botaira Beach Resort - $152 (where you go to see the Giant Clams)
Korovou Eco-Tour Resort - $152 
White Sandy Beach - $152 
Long Beach Resort - $162 
Bay of Plenty Resort - $162 
Navutu Stars - $162 
Oarsman Bay Lodge - $162 
Blue Lagoon Beach Resort - $162 
Nabua Lodge - $162 
Safe Landing Resort - $162 
Nanuya Island Resort - $162 
Sunrise Lagoon Resort - $162 
Gold Coast Resort - $162 
Coralview Island Resort - $162 
Coconut Beach Resort - $162 
Click here to find the Fiji Island Hopping Bula Pass Prices
Click here to find out Fiji Island Hopping Bula Combo Pass Prices

Short Transfers Between Islands
It's sometimes a little cheaper to book your own transfers between islands rather than opting for the island hopping "Bula Pass", just depends on where you're going. There are too many options to list all the prices here, best you click on the Book Now button above and fill in the form to get the best prices.

Departure Point and Times
The Yasawa Flyer departs Denarau at 8.30am, with check in at 8am at the South Sea Cruises check in desk in the Passenger Terminal at Port Denarau.  As every ticket includes FREE transfers from, and back to, your hotel, you don't need to worry too much about how to find the departure point, there will be lots of happy Fijian people to guide you in the right direction.
You'll return back to Port Denarau at around 5.45pm, although having said that the flyer can be late depending on how efficient everyone is at getting their transfer on time.  Delays occur often, especially if the weather if not so nice, so make sure you have plenty of give in your schedule if you're planning on flying out the same night.
Free transport will be waiting to take you to your resort just outside the Passenger Terminal.
Where does the Yasawa Flyer go
Follow the red line in the pic to the left which shows the route for the Yasawa Flyer boat. The white line is the South Sea Cruises boat, this is completely different, but run by the same company.

The Yasawa Flyer visits several of the Mamanuca islands on the way to the Yasawas (those Mamanuca islands are South Sea, Bounty and Beachcomber). If you want to get to any of the other Mamanucas, then you don't catch the Flyer. 


Click here for South Sea Cruises catamarans (those are the white ones). Or if you're looking for a day cruise around the islands you can book a 3 hour Fiji Island Explorer trip or the full day trip to South Sea Island. 

| | |
| --- | --- |
| Yasawa Flyer | South Sea Cruises |
About the Yasawa Flyer Boat
The catamarans each have two air-conditioned lounges, outer viewing decks and fully licensed bars with drinks and snacks available for purchase. The Captains Lounge is extra at approximately $30 to $40 FJD pp and is air-conditioned with complimentary snacks and beverages. You can upgrade to Captains Lounge on the booking form.

Island Hopping "Bula Pass" & "Bula Combo Pass" more info
Click on the following link for pre paid transport only Fiji Island Hopping "Bula Pass".
Click on the following link for pre paid transport & accommodation "Bula Combo Pass"
Looking For More Transport Related Information?
Nadi Airport
Airport Transport

Nausori Airport

Taxi Fares

Rental Cars
Yasawa Flyer
Flyer/TigerIV Prices

Mana Flyer Prices