Yasawa Flyer - Transport to the Yasawa Islands
If you are planning a trip to either the Mamanuca or Yasawa island groups, then of course you need to consider how to get there (and back).
When you book accommodation at one of the many resorts in these islands, it is possible that transfers are included, and that will probably be on the Yasawa Flyer (or the SSC catamaran for the Mamanucas).
While this is a water taxi between the islands, don't assume that you can just turn up and expect to board. Pre booking is not absolutely essential, but it is highly recommended. The Flyer is often full and there is only one departure a day (8.30am), so if you don't have a ticket, you might just miss out. But don't worry... booking is easy, the trip is great fun, although we have to say the prices are pretty steep. So here's the beginners guide to the flyer....
Departure Point and Times
The Yasawa Flyer departs Denarau at 8.30am, and visits several of the Mamanuca islands on the way to the Yasawas (those Mamanuca islands are South Sea, Bounty and Beachcomber). If you want to get to any of the other Mamanucas, then you don't catch the Flyer.
So how do I get to those other Mamanuca Islands? You need to catch one of the South Sea Cruises catamarans (those are the white ones, the Yasawa Flyer is yellow). These depart three times daily from Denarau, at 9am, 12.30pm and 3.00pm. Further information or booking forms can be found on the South Sea Cruises website. If you are looking for a day cruise around the islands rather than travelling to a resort, then this is the company to do that with.
There is also a cheaper option (especially suitable for backpackers) with the
Mana Flyer
. That charges a flat rate of fj$75 one way to any of the Mamanucas.
How to Book
If you book a stay at one of the resorts on these islands, then make sure your transfers are included (that will sometimes be the case, but not always). If you are doing all of your own arrangements, then you might want to book your accommodation and transfers directly with the AwesomeFiji.com website. This is perhaps a little more expensive that contacting the resort and booking yourself, but it takes a lot of the hassles out of making the arrangements. Juggling flight times with overnight stays in a Nadi hotel, getting a taxi to the Denarau Marina, booking in with the Yasawa Flyer, etc.etc. It's a lot to think about.
It is far easier to book a stay at your chosen island/s with the company that owns the Yasawa Flyer, and include the transfers... which also means you get picked up from your Nadi accommodation. I don't get any commission or payment when you do that, so that wasn't a sales pitch ;-) It simply happens to be one of the quickest, easiest, and least stressful way to organize your stay on the islands. There are several links to the AwesomeFiji.com website on this page.
If I'm going to stay in the Yasawas, Do I Have To Overnight In Nadi?
The short answer to that is "most likely". Unless you are staying at one of the exclusive resorts and can take a helicopter or float plane (lucky you!), then you will need to catch the 8.30am departure of the Yasawa Flyer.
There are a few resorts that have their own water taxi service (for example, Octopus resort), but the majority rely on the Flyer to deliver and pick up their guests.
And you may need to do the same on the way home too, as the return leg gets back into Denarau after 5pm - too late to catch most international flights.
Either book your own accommodation, or get AwesomeFiji's arrival/departure packs. These are an easy way to put everything together. The arrival pack includes a greet at the airport, transfer to one of four overnight resorts close to Nadi, a breakfast in the morning, and transfer to the Denarau Marina to board the Flyer. The departure pack gives you the same services, but in reverse.
Is It Expensive?
To be perfectly honest, the answer is "YES". To give an example of prices (which you won't find on the AwesomeFiji website)... we caught the South Sea Cruises ferry from Malolo island to Denarau, Nov 2013. This is the sister company to the Yasawa Flyer, and uses a similar boat and has similar prices. The cost (for a 45min trip) was fj$230 for two people, one way.
Some resorts in the Mamanuca and Yasawa islands will book the Flyer for you at a discounted rate. They can get this cheaper than you can, so we suggest that you ask your resort to do the booking for you. This can save perhaps 10%. But even with the discount, it's still expensive.
One reason that prices to particular islands aren't advertised on the Awesomefiji website, is that they try to push the "Bula Pass" and prefer to point people towards purchasing that (that came from an employee, it's not just my opinion). You can get quotes for prices to individual resorts, but you have to email info@awesomefiji.com to find out what these are.
Example Rates
As there are about 30 different resorts on a dozen or so islands, we will just give a few typical fares to some of the popular destinations. The prices gievn are correct at time of publication (March 2014) and are given in FJ$. Please note that fares are one way for one adult. Children under the age of 10 are half price and children 4 or under are free. Upgrade to Captains lounge is an extra fj$25pp, and they do not allow children under the age of 12 in that lounge.
Denarau to Waya Lailai: fj$140. This is one of the closer of the Yasawa islands, and the resorts serviced by the Flyer on this island are "Waya Lailai Ecohaven" and "Naqalia Lodge".
Denarau to Octopus Resort (Waya island): fj$150. Waya island is approximately 2-3 hrs by Catamaran. You can also choose to take the Octopus Resort boat which departs from Vuda Marina, and costs about the same. The difference is, with the resort boat there are no other island stops, so the trip takes 1/2 the time. Transfers from local hotels/resorts is also included in the price.
Savings Tip!
Denarau to Coral View Resort(Taweva island) Booking with the Yasawa Flyer, the (one way) trip to Taweva island will cost in the vicinity of fj$175. So for a return trip, you are looking at about fj$350 pp just to get from Denarau to the resort and back again. Your family could easily spend fj$1000 or more just on the transportation! However, many of the resorts have an arrangement with the Yasawa Flyer for discounted fares.
It's not a huge saving, but it's enough to be worthwhile, especially if you are travelling as a group. Our example of travelling to Coral View Resort is fj$350 for two people, one way. However, by getting the resort to book our tickets for us, we got the trip for fj$282.
So our advice is, before you confirm a booking with the Yasawa Flyer, check with your resort to see what prices they can get for you.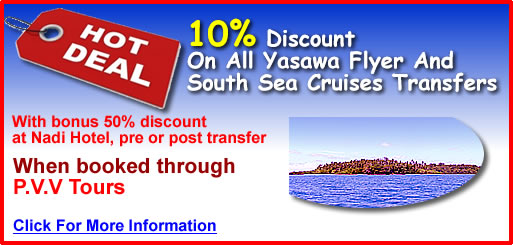 The Bula Pass is very simple... you purchase the length of time that you need (for example, 10 days) and that entitles you to use the Yasawa Flyer to hop from island to island for the duration of the pass. Spend two nights at an island (or more, if you want), then hop on the Flyer next time it calls at that resort, and travel to the next. A good way to see a lot in a short space of time.
The problem with the Bula Pass, is that you feel obligated to keep moving along to get your money's worth. You might start out with good intentions of visiting as many resorts as you can, but if you come across one you really love, do you stay there and miss out on the travel pass that you have already paid for? Or do you move to the next resort, and hope that it's going to be just as good?
Minimum Stay Alert!
If you visit the Awesome Fiji website, they advertise that the Yasawa Island resorts require a minimum of a two night stay. The implication is that the actual resorts are the ones that require this.
However, prior to a recent trip to the Yasawas, we contacted many of the resorts directly to query this. Not one of them had a firm 2 night policy, we were quite welcome to book a single night. This is in direct conflict with what is stated on the AwesomeFiji website...
Why is there a minimum 2 night stay at each resort?
The island resorts in the Yasawas are very remote. This is one of the factors that make them so special. But due to their remoteness, a lot of work has to go into hosting a visitor for one night. In the islands, nothing is taken for granted. For example, consider the cost just to get your food up to the islands (most resorts are as self-sufficient as possible, but there are no supermarkets around the corner to stock up on staple requirements). To make it worthwhile for the resorts, they need to apply a minimum 2 night stay.

We think once there, you'll appreciate the minimum 2 night stay as it is always so hard to leave. One night is never going to be enough!
So, what to believe? On the one hand Awesome Adventures want you to stay at least 2 nights at any of the properties. The actual resorts are happy for you to stay only one, if you want. Perhaps it would be suspicious of us to suspect that the less island hopping you do on your Bula Pass, the more profit AwesomeFiji makes.
Regardless of reasons, the only way you are going to stay only one night at a property, is by contacting the resort directly and booking with them, rather than through Awesome Adventures. It comes down to personal preference... you can book direct and save a bit of money, or you can get an AwesomeFiji package and take all the hassles out of making arrangements.
Connect With AwesomeFiji