Best Time to Visit Fiji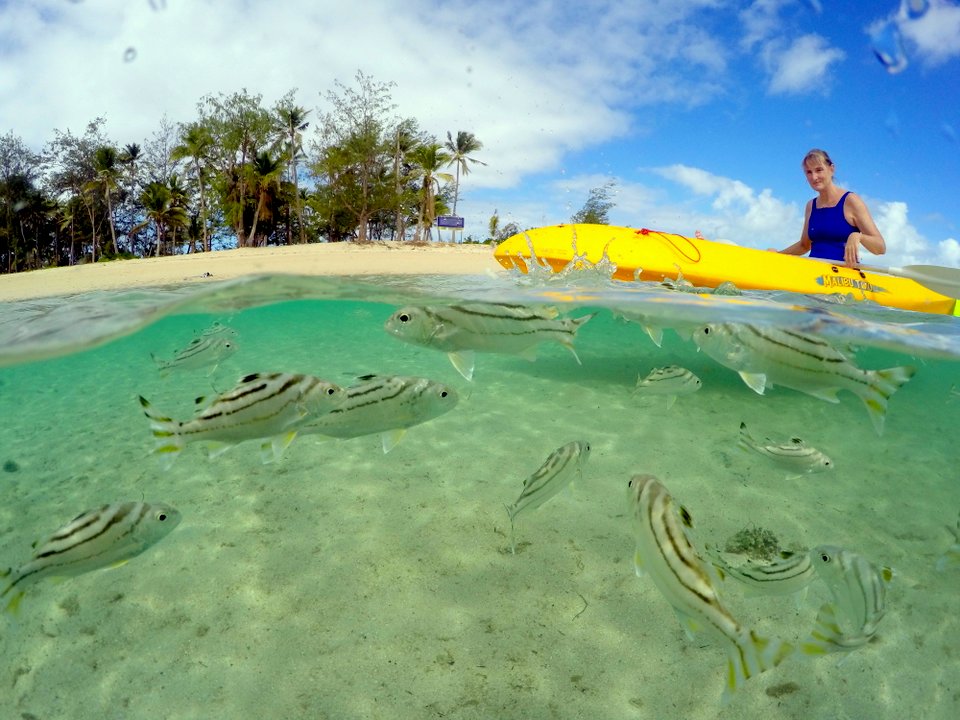 Taken on 28 June 2016 at Nanuya Resort in the Yasawa Islands - awesome weather for swimming
This is something we get asked all the time: "what is the best time of year to visit Fiji?" And it is one of those questions that has no right or wrong answer. You might have perfect weather one year in December...and the next Dec it rains every day, or a tropical cyclone arrives. But we can look at the weather, prices and crowds that you would expect for a typical year. While this doesn't give you any guarantees of a perfect trip, it will tend to give you the best chance.
Things to do in Fiji, Jan to Dec
Check out what's on in Fiji each month. From Diwali in Oct to New Year parties in the Yasawas, there will be something to suit every taste. Each month has its own flavor, so come and see which one you like best! Events in Fiji.
Another consideration is the weather. Remember that as Fiji is in the southern hemisphere, their cooler winter months run from May to September. But the word "winter" is probably misleading, this is a tropical climate. Temperatures during the cooler months are still warm enough for sunbathing and swimming. Check average monthly temperatures and rainfall in Fiji.
During the summer months (Nov-March), you will find temperatures on the western side (Nadi, Mamanucas, Yasawas etc.) to be a consistent 30-36°C almost every day. That will drop to perhaps 26-27°C overnight. On the eastern side (eg: Suva) temps are a degree or two lower, with higher humidity and more rain. During the winter season (May-Sept) daytime  on the western side will be 24-28°C during the day, with overnight temperature dropping to about 19-22°C. The western side is often a degree or so warmer during winter.
The Rainy Season
Like most tropical climates, summer is the rainy season. And who wants to spend their vacation cooped up inside? For most of us, Fiji is about sun, beaches, swimming, and outdoor activities.(2014) was a very dry summer for our first year in Fiji. We were expecting thunder, lighting and torrential rain for day after day but all we got was afternoon showers that lasted for around one to two hours.
We also found it was a good time to stay at the resorts, why you would ask, because we were the only one there, we had most of the resorts to yourself, the resort staff had nothing else to do but fuss over us.
As for the snorkelling, the main reason for visiting Fiji, it was fantastic super warm water and very clear. Yes the temperatures and humidity was high so we move around the Island to the side with the breezed and plonk our self down under another bure.
As for cyclones Pam, she changed her mind as women do and headed for NZ, thank you. However we did get hit by Cyclone Winston in Apr 2016. Nadi and Denarau didn't get hit hard and were up and running the next day. Some of the island resorts took a beating with Castaway being closed until July 2016. Also up north in the Sunshine Coast at Volivoli Resort they still won't be open until the end of 2016. Major damage also to Tanoa Hotel in Rakiraki still under construction.
What We Think is The Best Time of the Year To Visit Fiji
Overall, every month. If you love the heat and all you want to do is swim in the crystal clear warm water, eat lots of fresh tropical fruit and sleep on a deck chair out on the warm tropical white sandy beach in just your shorts and a T/shirt Summer, October to February is your best bet.
May to September. I am feeling the cold and have to wear jeans and socks at night. Great weather for walking through the jungle up in the highland you can walk all day.
Snorkelling out on the reef is a lot colder now I can only stay out for an hour.  At 19deg; C you get a good nights sleep with out running the A/c. The sweet Mangoes, pineapple, passion fruit and Avocado have long gone. Last but not least, it is busy. You have to try and hold on to your deck chair, the resorts do put on a lot of activities during the day and at night to keep you busy, great Fijian bands.