South Sea Cruises - Transport to the Mamanuca Islands
If you are planning a Fiji holiday to a resort in the Mamanuca island group, then of course you need to consider how to get there (and back). When you book accommodation at one of the many resorts in these islands, you need to double check if your boat transfers are included or not. 

South Sea Cruises leaves Port Denarau 3 times daily 7 days a week.
While South Sea Cruises white boats are a water taxi between the Mamanuca islands, don't assume you can just turn up and expect to board. Pre booking is not absolutely essential, but it is highly recommended, the ferries are often full, so if you don't have a ticket, you might just miss out. But don't worry... booking is easy, the trip is great fun, island hopping with stunning views on your cruise. 

Where does the Mamanuca Islands ferry go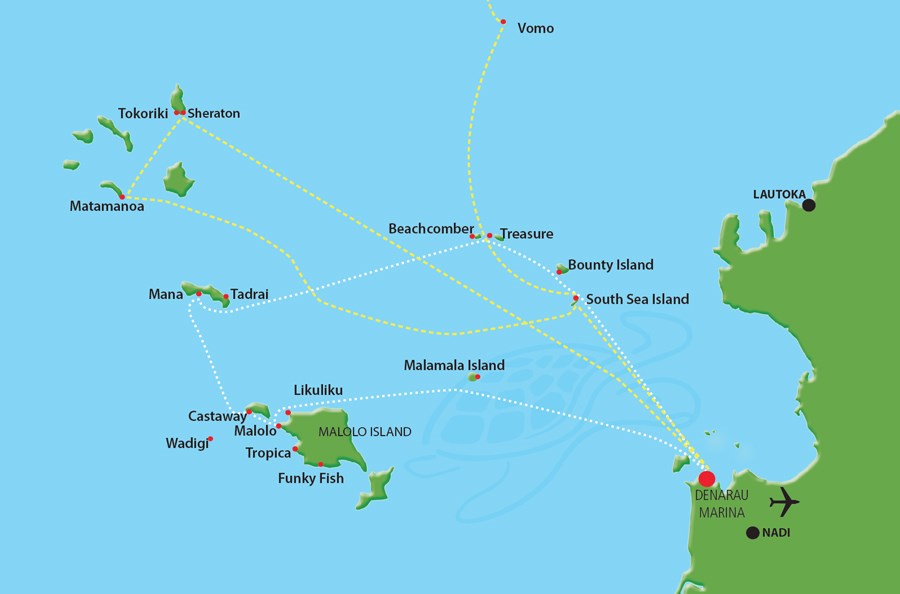 Which Mamanuca Island Resorts do they go to
You'll be able to book a transfer from Port Denarau to any of these Mamanuca Island resorts:

South Sea Island - 30 mins

Bounty Island - 35 mins
Treasure Island Resort - 45 mins
Beachcomber Island Resort - 45 mins
Tokoriki Island Resort - 1 hour 
Sheraton Tokoriki Island Resort- 1 hour
Matamanoa Island Resort - 1 hour 25 mins
Mana Island Resort - 1 hour 25 mins
Vomo Island Resort - 1 hour 25 mins

Tadrai Island Resort - 1 hour 25 mins
Castaway Island Resort - 1 hour 50 mins
Malolo Island Resort - 2 hours
Tropica Island Resort - 2 hours 
Funky Fish Resort - 2 hours 
Wadigi Island Resort - 2 hours
Likuliku Island Resort - 2 hours 5 mins
If you're wanting to go to the Yasawa Islands instead, then you'll need to take the Yasawa Flyer ferry.
Mamanuca Island Ferry Transfer Timetable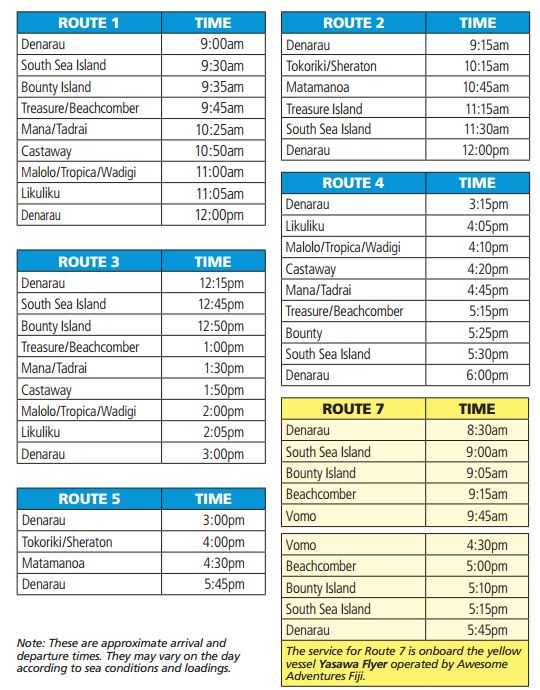 Check prices or book instantly for boat transfers for the Mamanuca Islands...
If you book your island transfer directly you'll pay the full price PLUS 2.5% extra in credit card fees. The only way to avoid the extra fees is by booking through the form below. You'll pay a small 15% deposit now (on your credit card with no extra charges) then pay the balance in cash on the day of arrival. You can pay the balance with your credit card but you'll get hit with the extra charges. 
If price checking it often looks like we are more expensive but in fact are not. Our prices are shown in Fijian Dollars, but if you are looking at the Awesome Fiji website you will be seeing the prices in the currency of the country you are in. This is because they automatically default to this. So if you book a trip from Denarau to Mana Island the price is $130 FJD but in AUD$ it's $84, NZ$ it's $87 and USD$ it's $62. 

---
About the booking process...
We only take a small deposit now with the balance due on the day.
As soon as you book we'll send you an "Order Pending" email to say we have received this. We then book your order (as fast as humanly possible), and send you a second "Order Confirmed" email with all the important details of your order. You'll need to print the second email out and bring it with you or be able to show it on a mobile phone.
There are no credit card fees or booking fees on your deposit with us.
Payment is secure, look for the green padlock in your browser bar on the order form.
Your credit card is stored in our booking systems secure vault and will automatically be deleted 30 days after travel. We do not have access to your credit card numbers.
Last minute bookings, please call us.
All prices include 25% Fiji Government taxes & levies (9% VAT + 10% Sales Turnover Tax + 6% Environmental Levy).
Free Cancellation & 100% Refund…
You may cancel free of charge PLUS we'll give you 100% refund of any payment made up until 48 hours before your booking date. If you cancel within 48 hours before departure or you are a no-show there is no refund and we will automatically take the balance owing from your credit card.
If your trip was cancelled due to bad weather, it will be moved to the next day, if on that day you can't make it we will refund 100%.
How to Cancel...
For all cancellations please contact us directly. We highly recommend you have travel insurance to cover any possible cancellation costs.
---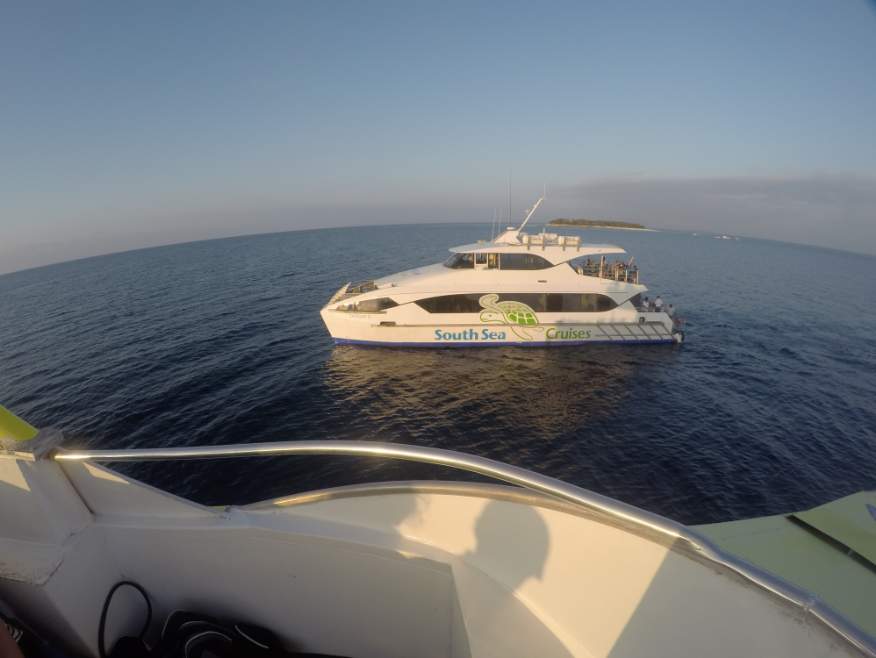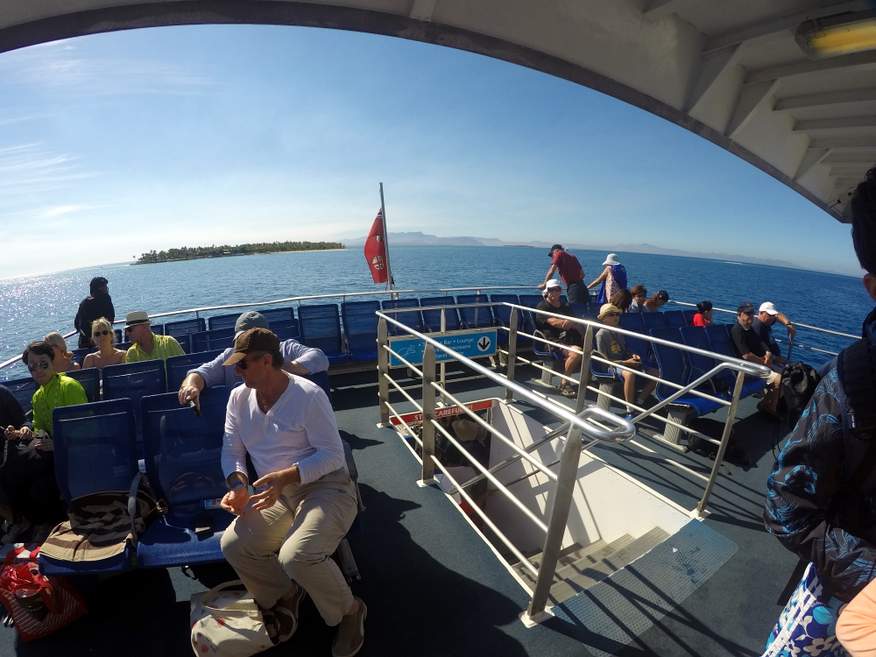 Departure Point and Times
South Sea Cruises departs Denarau at 9am, 12.15pm & 3pm with check in 30mins beforehand at the South Sea Cruises check in desk in the Passenger Terminal at Port Denarau. As every ticket includes FREE transfers from, and back to, your hotel, you don't need to worry too much about how to find the departure point, there will be lots of happy Fijian people to guide you in the right direction. If you're coming in on an early flight, pick up from the airport is at 6.50am.
You'll return back to Port Denarau at around 12pm, 3pm & 6pm although having said that the ferry can be late depending on how efficient everyone is at getting their transfer on time.  Delays occur often, especially if the weather if not so nice, so make sure you have plenty of give in your schedule if you're planning on flying out the same night.
Free transport will be waiting to take you to your resort just outside the Passenger Terminal.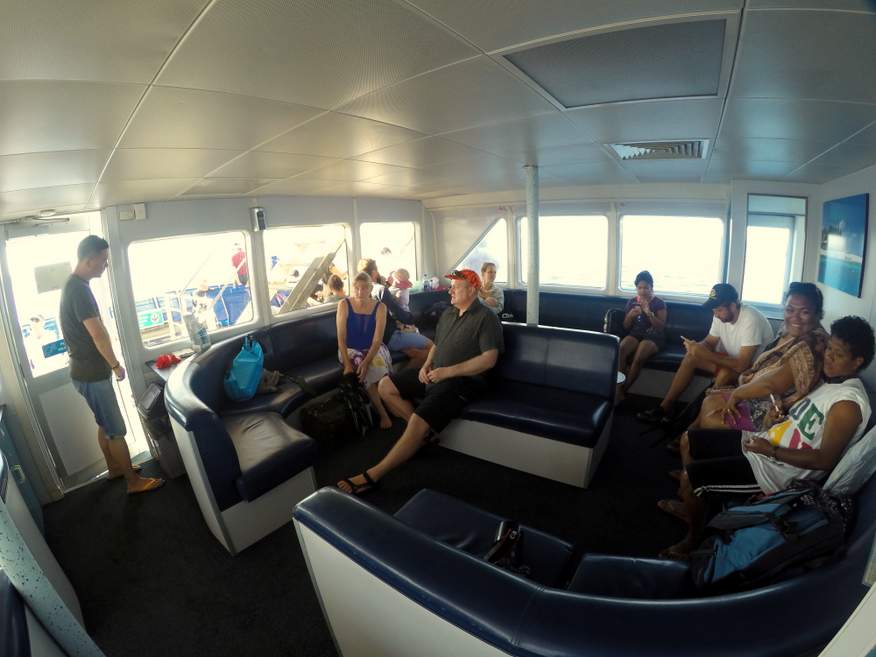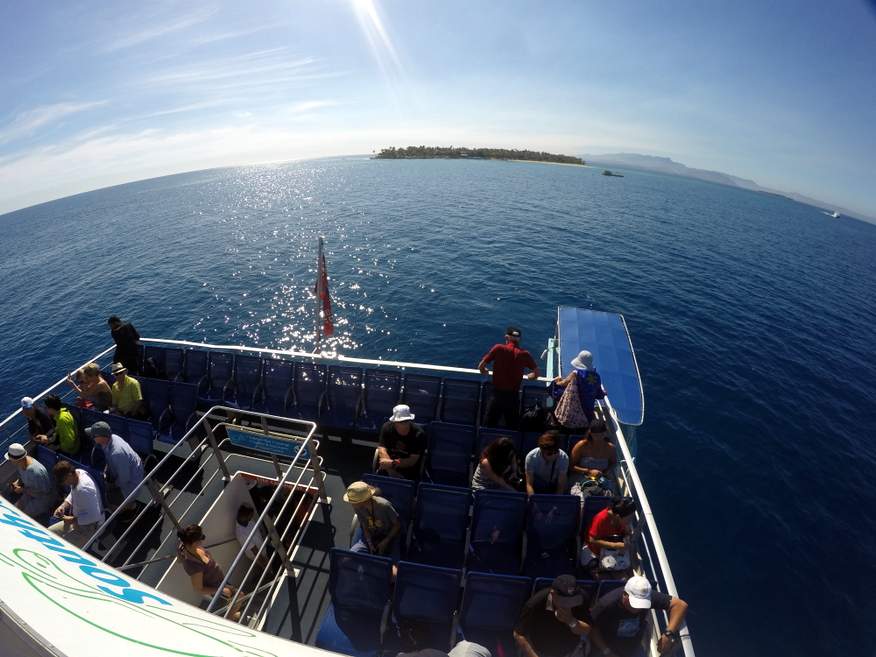 About the ferries
South Sea Cruises have a good fleet of modern ferries, specifically designed for cruising the Fiji Islands. The catamarans each have two air-conditioned lounges, viewing decks and fully licensed bars with drinks and snacks available for purchase. A full commentary is provided as you cruise. Unfortunately there is no Captains Lounge like the Yasawa Flyer has.

---