Excitor to Treasure Island in the fast boat, here's what we think about this day trip

*** this trip has been cancelled***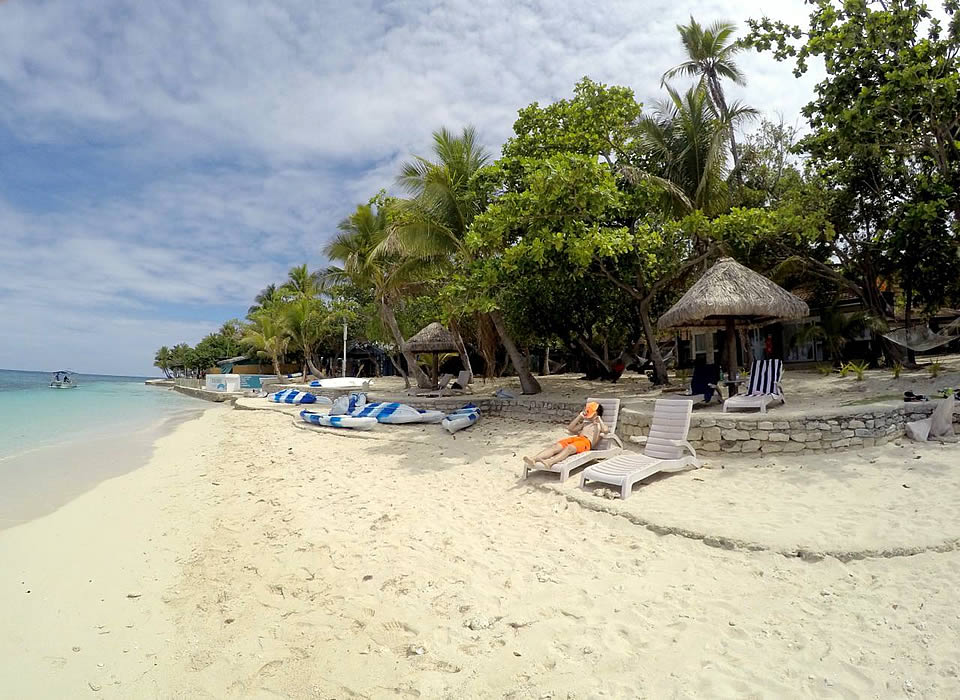 From May 2016 the Excitor no longer goes to Treasure Island.  Treasure Island has stopped all day trips now.
As always,  it was a 9.30 am check in at port Denarau, we made it there with ten minutes to spare.  All the Treasure Island people received a yellow ID wrist band before being guided on to the Excitor...  Three things to watch out for… 

Be early. If you are running late and a very large group of backpackers arrive at the same time you do, guess what? That's right, you just might miss out on boarding.
Don't take the wrist ID band off!
There is no cover on the Excitor.  Make sure you pack sunscreen and a hat.
What I like about the Treasure Island day trip is the 35 minute boat ride; I don't get too excited about the 3 hour boat rides any more.
If you have time up your sleeve in port Denarau and you are thinking of sitting down and enjoying a perfect flat white, you are going to be disappointed. In the fourteen months we have been living in Nadi we have yet to find a good coffee in Denarau. We prefer  to go back into Nadi town to the Taste cafe, the best coffee and food in the area.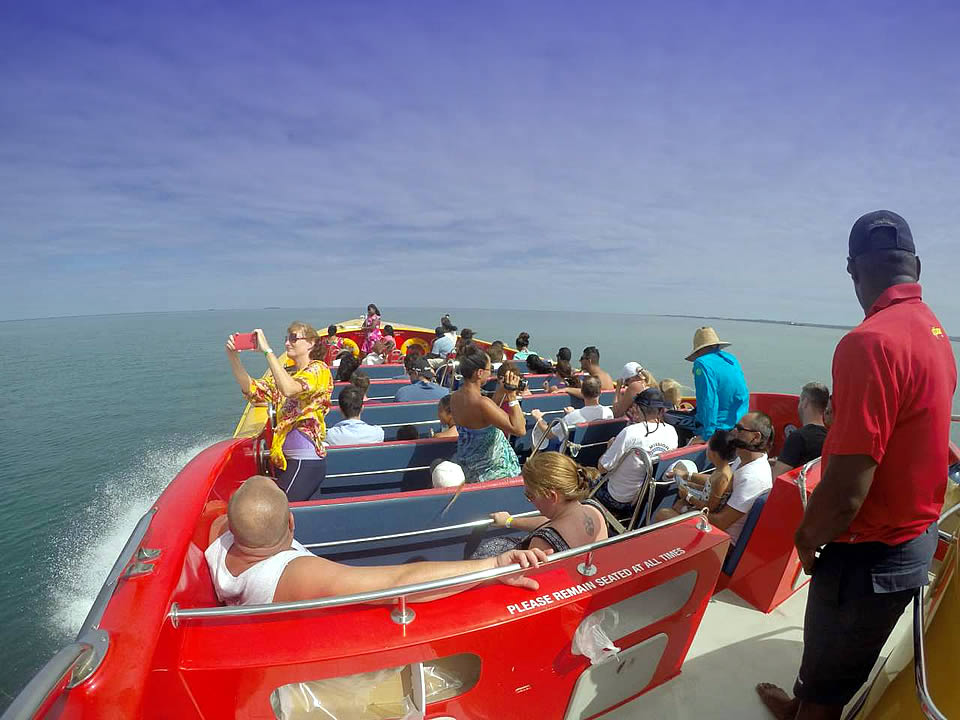 On board the Excitor
The Excitor
When we step onto the Excitor we were given a bottle of cold water to get us through the 35 minute ride to Treasure Island. We left at 10:15am, five minutes late which is fantastic for Fiji. There was one very short stop at Bounty Island to drop off half a dozen day trippers then on to our final destination. Getting on to the tender was not a problem. The Excitor has a well designed step for you to step off the Excitor and down into the smaller boat, 30 mt out from the beach the tender just stopped dead in the water. No, not another  break down, we were stopping for a few minutes so we could feed the fish with yesterday's bread rolls, this you should not miss. The fish will take the bread right out of your hand; yes I did say fish not birds. You can feel their tiny mouths nibbling on your fingers, you can do the same again later after you have had your lunch. Grab a roll or two and snorkel back out to the same spot and the small fish will surround you in a matter of seconds.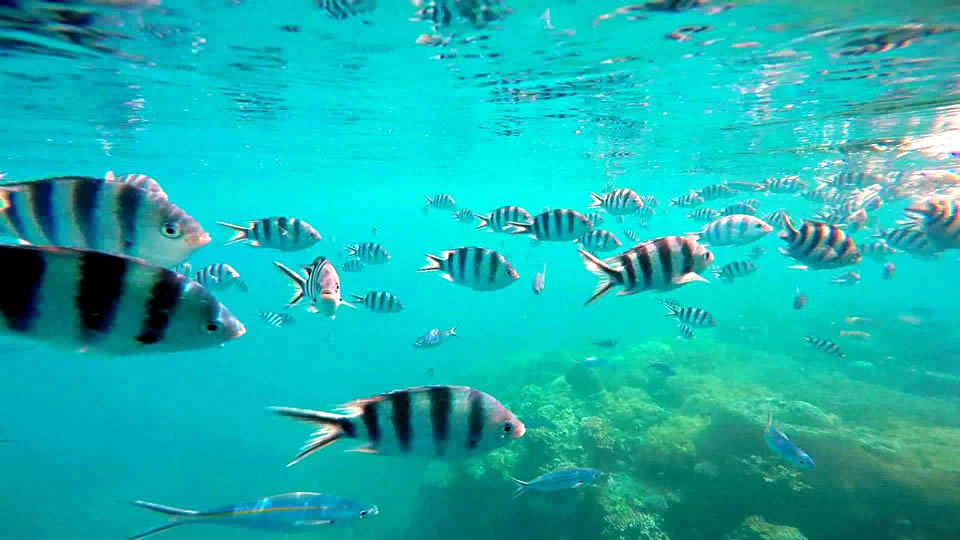 The island: first impressions
Our large party of six people stepped onto Treasure Island to be welcomed by the happy singing staff. Our guide walked us up the beach to the main building and showed us the restaurant, toilets, pool and where we could pick up our free snorkel gear. All the facilities on Treasure Island are extremely modern and very clean.
The toilets we used to change into our swim gear were very clean and roomy, big enough for the local football team.  As for the snorkel gear it was in good condition, you have the option to hire a gopro for your underwater photos and for the first time ever on an island there was an underwater scooter for cheap hire at $40 per hour, it was worth every penny.

Snorkeling and lunch
The best snorkeling was straight out from the beach where the boat came in.  Sandra held onto my ankle and off sped the under water scooter, dragging us through the water at about the same speed as you would normally swim. The best viewing of the reef fish was about 150 mt out from the beach where you stepped ashore at high tide. The lunch buffet was  free, as it came as part of the trip. However, for casual visitors, the cost is fj$70 each.  It was as good as any Resort in Port Denarau plus you could have a "Mongolian Feast" where you pick your own choice of meat, veges and flavours. Then just hand it over to the chef to cook it for you on the hot plate... what a great idea.
No waiting in a queue for lunch, there were only 30 people on the island, the resort was basically empty. We could not have planned it any better. There was an excellent five piece band playing a good mixture of modern and Fijian music in the dining area, but we sat out by the pool in the shade of a tree with a light sea breeze at our backs. Absolutely perfect. If all you want to do is sit and drink at the bar it was extremely roomy, modern, and opens out to the beach.

| | | |
| --- | --- | --- |
| Dining room at Treasure Island | | The band |
Exploring the island
What would be better than a walk around a beautiful island after lunch? Treasure Island is 402mt by 182mt or just a short 960 mt stroll around the entire Island.
There are plenty of places where you can sit in a hammock and enjoy the view out over the beautiful turquoise waters. You will be walking past beach front Bures, so please be courteous to the other guests.  Half way around the island is an amazing new glass and white tiled chapel built on the water's edge, but it was almost like walking into a slow bake oven inside.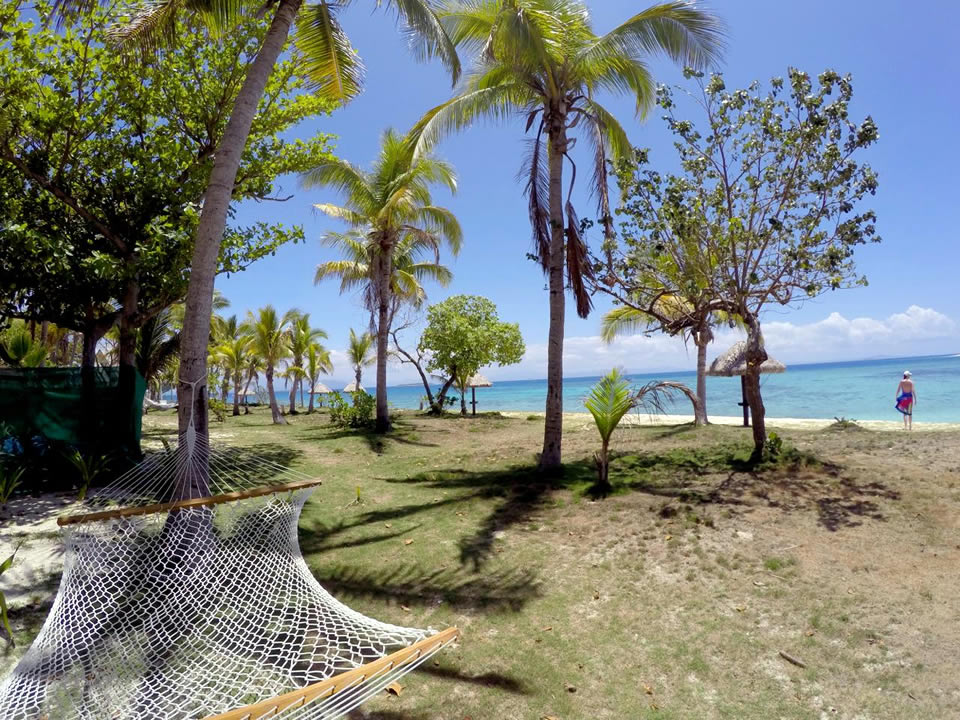 Perfect spot for a snooze
The chapel
From there we stumbled onto the turtle rearing pool. It is free, just shut the gate please. The pool had only one lonely turtle swimming around in circles. To top this off, right next door was an enclosure where I spotted three large crested green iguanas. What a bright idea it was to set this up so the kids can learn about the turtles and iguana on Treasure Island.  Another good feature was the island plant nursery. You can walk around the plants and get an idea on how committed the staff are at looking after their environment.

Before we leave...
We still have an hour and 30 minutes to go before we have to leave paradise, so what can we do now? It was so tempting to just sit in the comfortable and relaxing bar and order a cool cocktail and look out over the stunning beach. No! We can sit in any bar in Nadi and waste time, so let's grab some bread and go feed the fish again.
This time we had no under water scooter and the tide was out but it was still fantastic, we almost swam to Beachcomber Island. On our return we rushed back to the super clean toilets to have a fresh water shower and get ready to leave.

As we sat there waiting for the Excitor one of the staff called us over to join a small group. On the sand was his Fijian Swiss army knife, a cane knife and a coconut tree leaf, and within five minutes he had woven a long narrow tube then he split the stem with the cane knife and pulled it opened to make a basket.  My 100% Fijian made souvenir for the day, not like the souvenirs in Nadi, the baskets there would have come from Bali and cost me $30.
We arrived back in Denarau at 5.10 pm in the cool afternoon breeze. This is the best Island resort we have visited so far but there are still 99 to go. We were lucky the island was empty so there was no fighting for deck chairs on the beach and waiting in long queues for lunch. As for the snorkeling, I would say it is not as good as South Sea Island or Botaira Resort in the Yasawas - which in my opinion is the best so far.
Pros and Cons
Boat transfer:  A very fast 35 minute ride on the Excitor
Island:  Very small with buildings all over, walk around in 20mins
Beach:  White sand, nice, lots of hammocks around the island to relax in
Swimming pool:

 F

antastic, the largest pool I have seen so far on an island trip
Snorkeling:  Good
Lunch:  Excellent resort style buffet, much better than the average Island trip
Activities: None to speak of.  
Downside: Have to pay for the kayak
Value for money: Average
Would we go again: Yes
Our Selection of Island Day Trips
Popular Islands in the Mamanucas
We are in the process of adding more islands and resorts, so please do call back from time to time to check what's new!

Beachcomber

Bounty

Castaway
Plantation
South Sea
Treasure