beachcomber island cheap day trip - our own review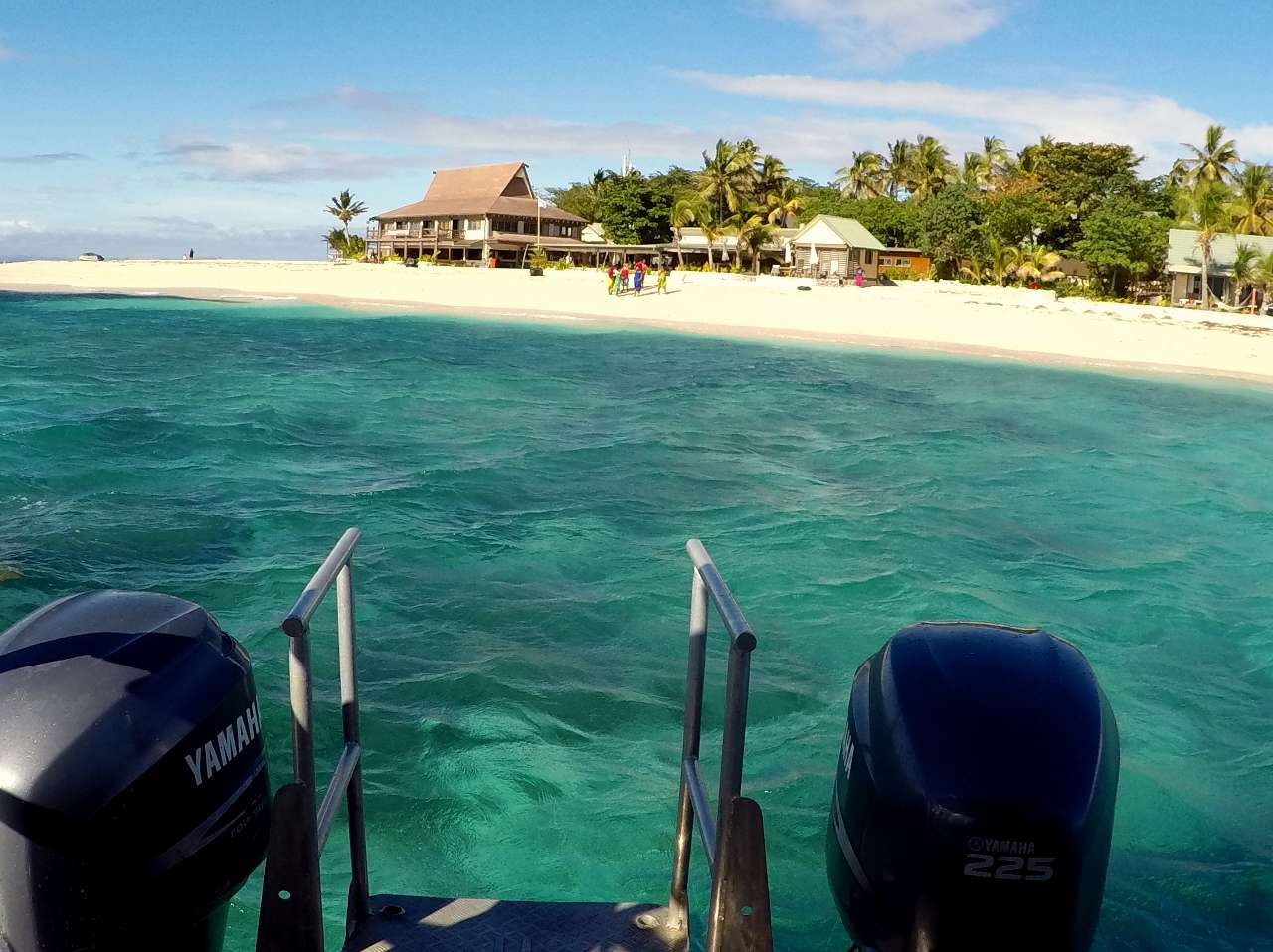 Arriving at Beachcomber, just look at that water, can't wait to jump in!
Beachcomber resort is on a small piece of paradise. Beachcomber Island is 226 mt long 186 mt wide and only 660 mt to walk around. If you feel like swimming across to Treasure Island it is only 1038 mt.  But if you feel like swimming from Denarua Island it is 18 km to the East.
Beachcomber Island Resort have their own 7 mt alloy boat with two powerful 220 HP out board motors to get you there within thirty minutes. We had to drive 25 minutes north of Nadi to the Anchorage Resort which is on the way out to Vuda Point.   The sun was out and the very light westerly wind made the 30 minute ride very comfortable.   Getting off the boat on to the shore was very east, the boat backed up to the beach and we just steep off on to the sand, no wet feet.
After over indulging in hot pancakes and fresh muffins we had to walk it off with a 660Mt long crawl around this island paradise. By the time we made it back to the meeting hall the hand craft demonstration was in progress. We were given a short length of coconut leaf and shown how to make a basket to carry our towels and suntan lotion in, that's if it didn't fall out through the large hole in the bottom like my basket.
Basket weaving demo in progress, it's harder than it looks!
By now the wind was whipping up white caps out to sea. All the sun bathers were walking around looking for the perfect spots out of the wind, no fun having sand blown into your face. We spent the next half hour watching nine jet ski's out in the distance flying over the white caps and crashing back into water, where are they going in this rough sea, it was here. This was there morning tea stop before heading back to Denarau beach. They were not very happy tourist, two of them had been thrown off there jetski and lost their expensive sunglasses, all of them were extremely cold in just a cotton t/shirts, one lady was refusing to get back on for the bone braking ride home. A young boy around 17 was also ready the quit, he was to cold and sore, they should not have been out there. It should have been cancelled but that would mean giving then there money back.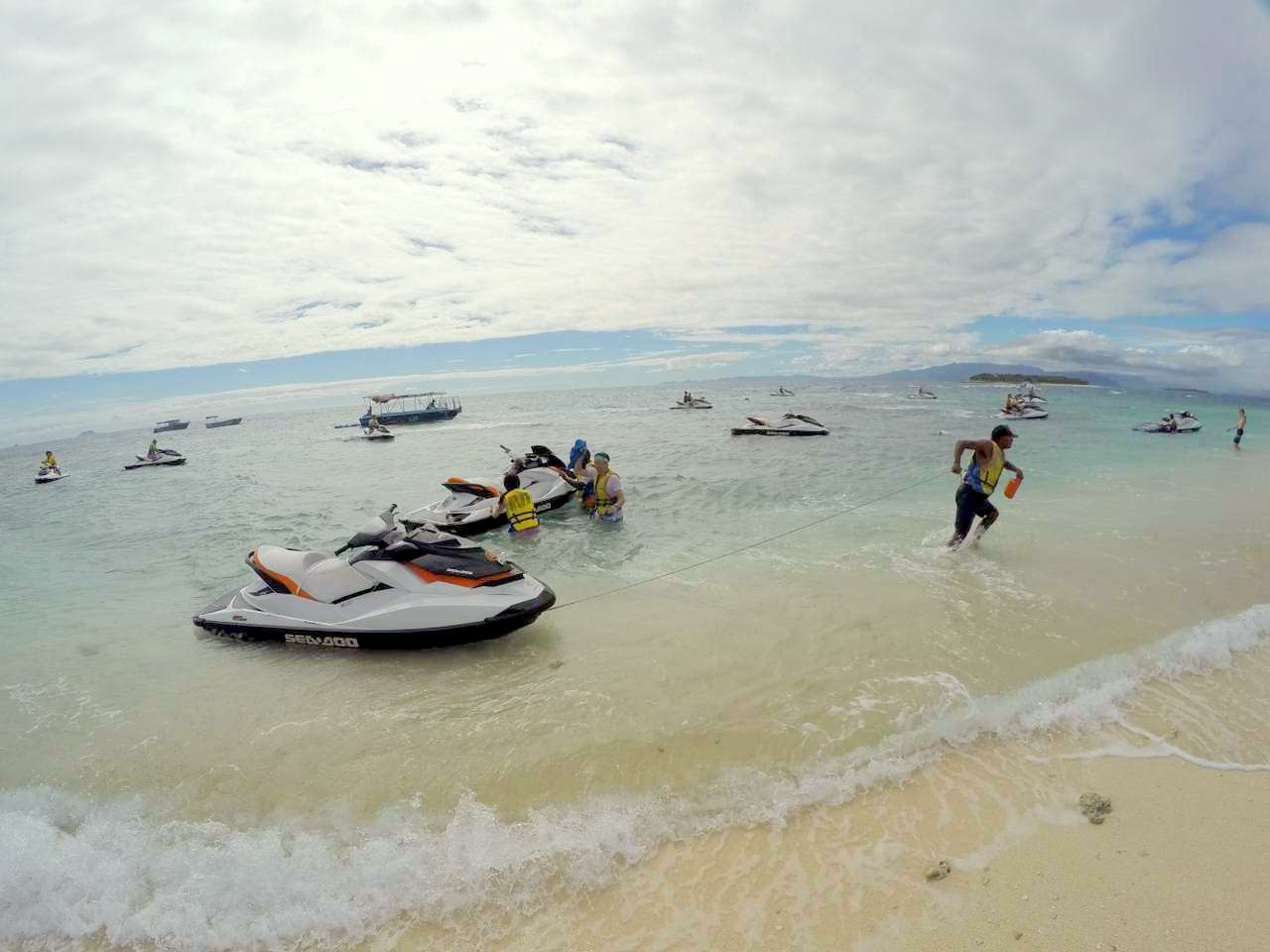 Worn out jetski day trippers arriving at Beachcomber
Lots of lovely places to chill out
Back to the meeting hall, for the second round on how to make a bracelet out of a coconut shell, or how about a pair of earrings. This was followed by more food, what are they doing to us, do we look that skinny, a hot coffee and a freshly made donut, all right I had two, they were very small, they were the size of a orange. We thought it might be a good idea to go for a stroll around, through and over the island again, this mammoth walk filled in thirty minutes. As luck would have it we walked right into the breeding area for the sea turtles, we watched the one and only sea turtle swimming around and around his small pool, we were pleased to know he or she was going to be released in a few days.
Lunch time, there is no way you can say there was not enough food to eat on Beachcomber Island, there was rice, two different curries, sausages, chicken drum sticks, cassava chips, spinach, Vege stir fry, warm bread rolls and a good mixed green garden salad.
Taking a little stroll
That's Treasure Island in the background
After lunch the wind had dropped slightly so the snorkelling trip was on for the day, but caution was still called for, you could be picked up by a wave and tossed on to the coral, coral cuts take a long time to heal. But all was not lost, on our five minute boat ride out to the reef, I watched a sea turtle pop to the surface for a breath of air just metres from the boat. Well, there was a rush for cameras, this was then followed by a stampede to the port side of the boat but all was in vane the turtle disappeared under the waves in a matter of seconds.
We have been living in Fiji for the last ten months and go out snorkelling as much as possible. The water around December to February is very warm and very enjoyable.  We could spend all day out snorkelling but not this day, one hour was too long for us even our Fijian guide said the water today was cold. But not the kiwis, they said the water was warm and they wanted to stay in a little bit longer.
As for the fish life we did see a good variety of coloured fish and a school of larger fish we have never seen before. This could be the second best island that we have been on for snorkelling so far. You can start from out the front of the meeting house and snorkel anticlockwise around to the deeper water or just stay in the depth of water you are happy with.
One of the beachfront bures if you're thinking of staying overnight
Pros and cons...
Boat Transfer:  Short ride, small boat so can get a bit bumpy on a windy day
Island: Very small with buildings all over, walk around in 15mins
Beach:  White sand, nice, lots of places to veg out
Swimming pool: Useless, too small
Snorkelling: Pretty good
Lunch: Buffet style with good variety and lots of it
Activities: Basket weaving, Coconut husking, Snorkel trip
Downside: Can get really busy with tons of backpackers at lunch time
Value for money: Excellent, cheapest day trip around
Would we go again: Probably not as we prefer less people and bigger island, but it was a good day out for the money
where to get the Best price on your full day trip to beachcomber island online...
Beachcomber Island Day Trip, Lunch & Snorkelling - HotFiji.deals website
Adult $146 FJD, Child $78
Pay a small deposit now with the balance due on the day. No credit card fees. Pay balance in cash and avoid extra credit card fees.
Viator Website - they don't sell this trip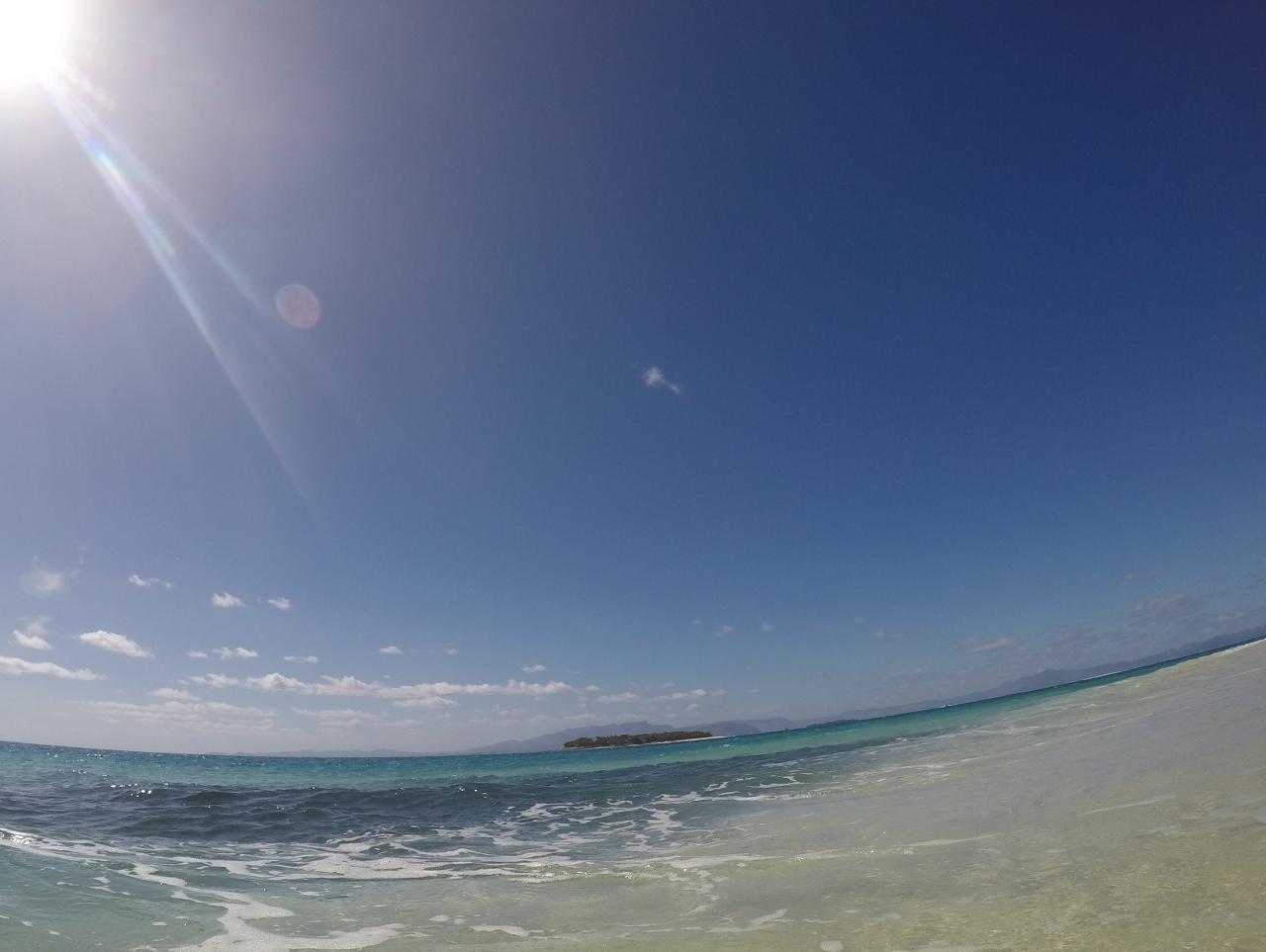 Beachcomber Island beach with Treasure Island in the background