Octopus resort - Yasawa
We went to Octopus Resort and stayed for 2 nights in 2016. This is our own personal review of what we thought about Octopus Resort.
360 view from our beachfront room...
We arrived at Octopus Resort just on 4pm on the Yasawa Flyer which was going back to Denarau. Too late for lunch and there is no afternoon tea. But we had an idea this might happen so we bought two packets of biscuits at Nanuya shop before we left. Back at our beach villa we made a hot coffee and grabbed a hand full of biscuits and moved out onto the deck. This was great sitting on our deck over the water, peace and quiet and well away for all the other people, perfect. Yes it was too good to be true. The villa next to us was full, but everyone from that villa walked right past our front door plus when they walk up the wooden walkway they can look right into our villa so unless we closed all the wooden louvers there was absolutely no privacy and no breeze through the villa.  But the worst was to come at night, the walls were paper thin. We could hear all their conversation, making hot drinks and the thump thump as the overweight wife stumbled around the room. But worst of all was the 5 am smokers coughing session. For $699 FJD per night you must be joking, it should $50 per night.
View from our room, just stunning.
Dinner started at 6pm. It was 5 courses with a choice of three entrées, three mains and two desserts plus bits inbetween the courses. It was a credit to the kitchen staff for the outstanding food and how quick they served the meals. Octopus Resort was booked out for the night like it is most of the time; with this outstanding food no wonder. I can't wait to see what they do for breakfast. During dinner a large group of Fijian singers kept everyone entertained, these guys were good, they looked more like professionals then gardeners or cooks filling in for the night. There was nothing to do after dinner so we walked down to the beach and walked on the super soft golden sand and I must say it is the best sandy beach we have walked on out of the four resorts this week.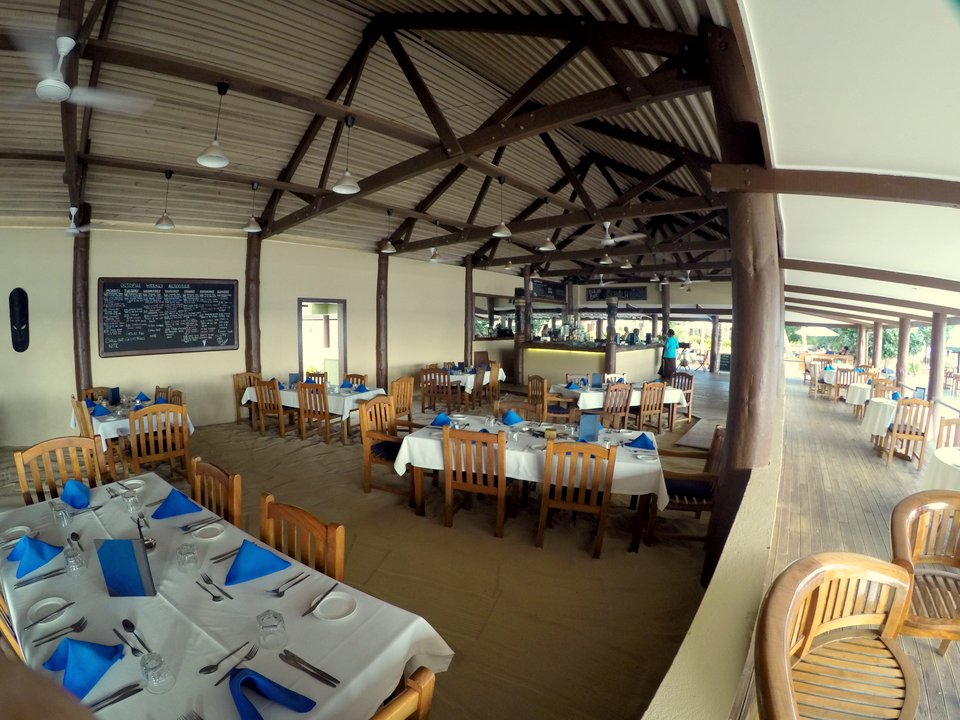 Dining room had a sandy floor, really cool.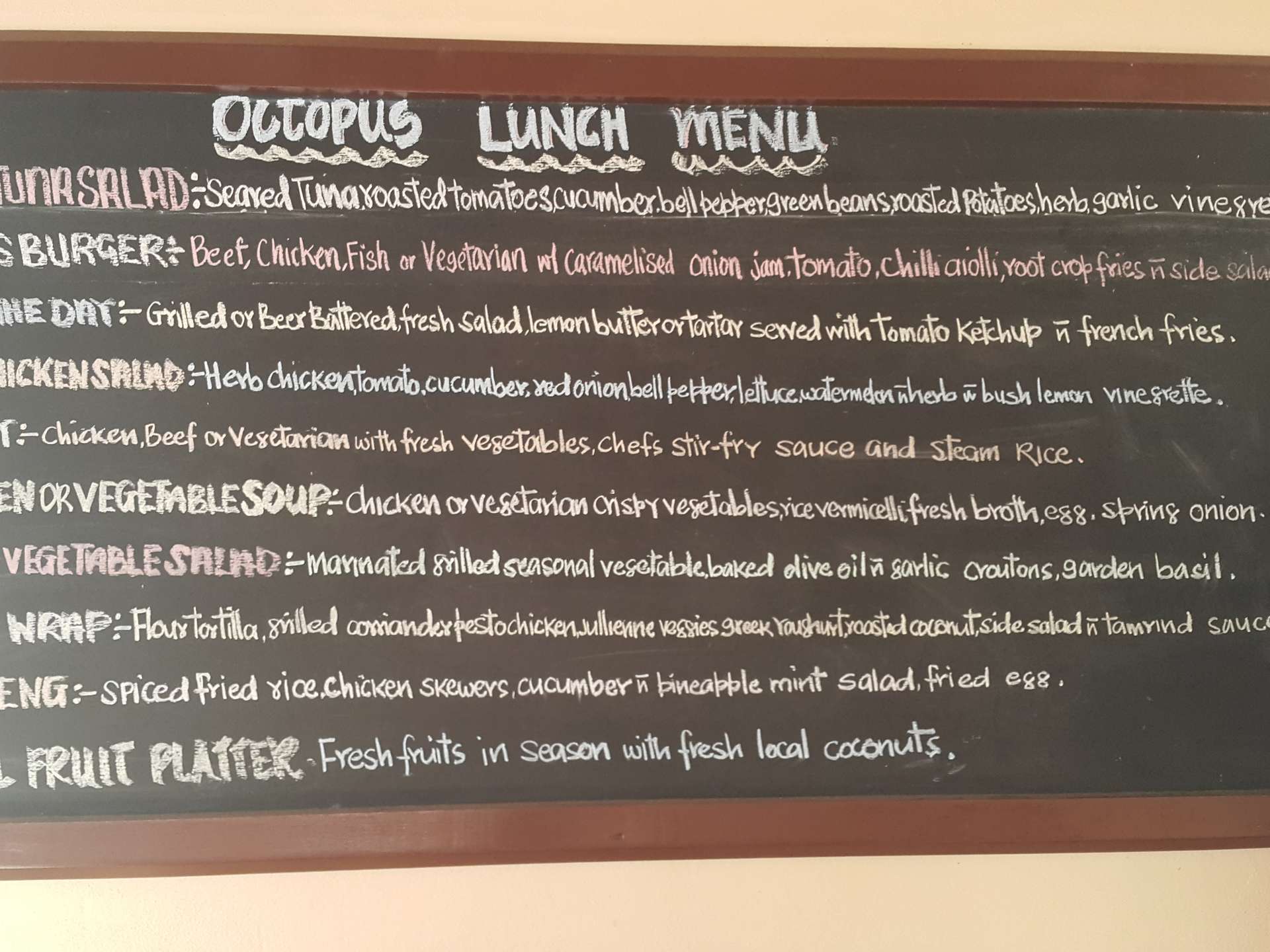 Lunch menu, part of the meal plan. You choose whatever you like. The fish and chips were really good.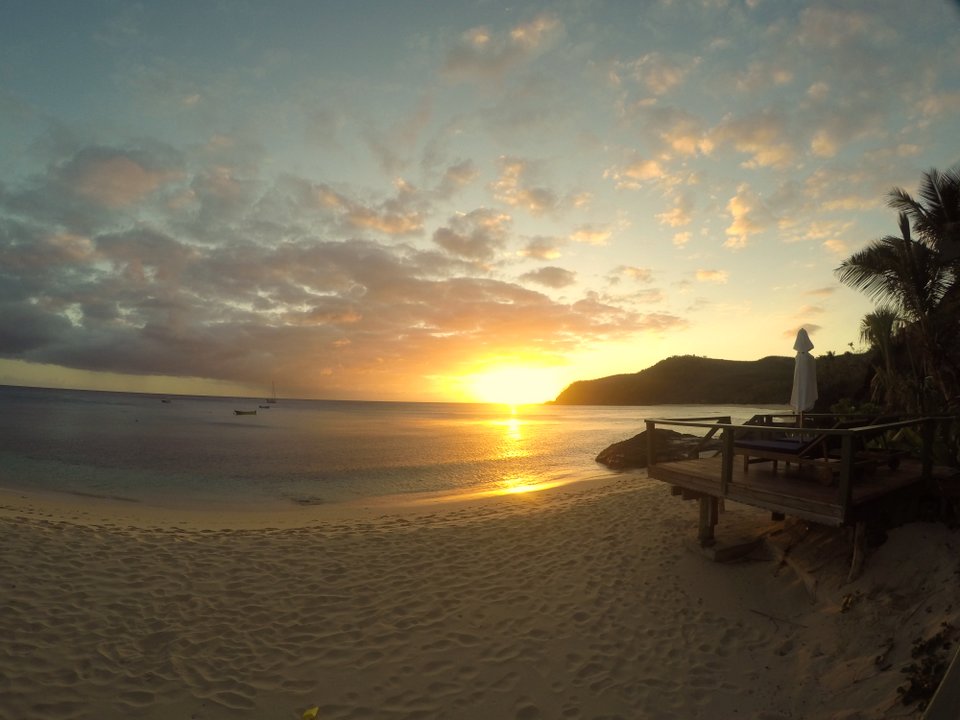 Terrific sunset at Octopus Island Resort.
Breaky was very good, you can stand at the counter and watch your omelette or scrambled eggs being cooked in front of your eyes. It's about time the resorts got their act together when cooking food. As for the rest of breaky there was no shortage of toast and jam, cereal, fresh muffins, lemon cake and a plate of pastries plus BB, pancakes, curry and the trusty beef sausages and real hot coffee. When I was pouring my hot coffee at breaky, I noticed a wood fired Pizza oven over to my right, well I was over there like a shot. It was made from cement and fire bricks with a steel door. I opened the door to see how they lined the inside of the oven but I was shocked to see the wood fired oven was full of rubbish, what a waste of a good oven, a plastic bucket would have been far cheaper. We had arranged to go on a room inspection with the manager in between the changeover at 10 am.   When we finished the inspection the tide was fully in so now it was time to try out the snorkelling.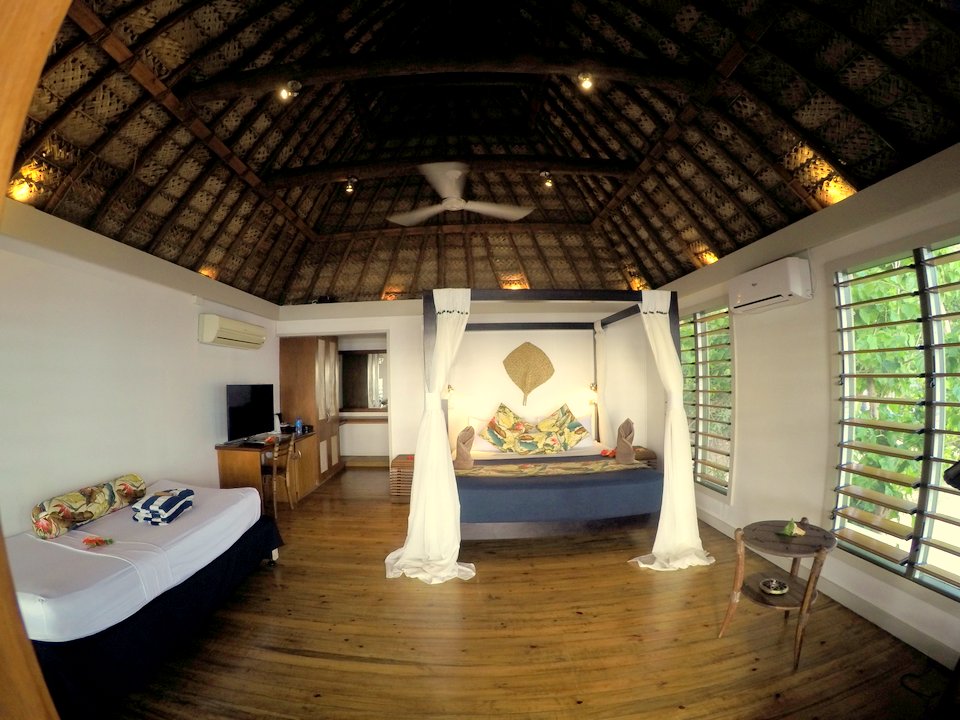 The Point Bure right on the beachfront, our room for the next 2 nights.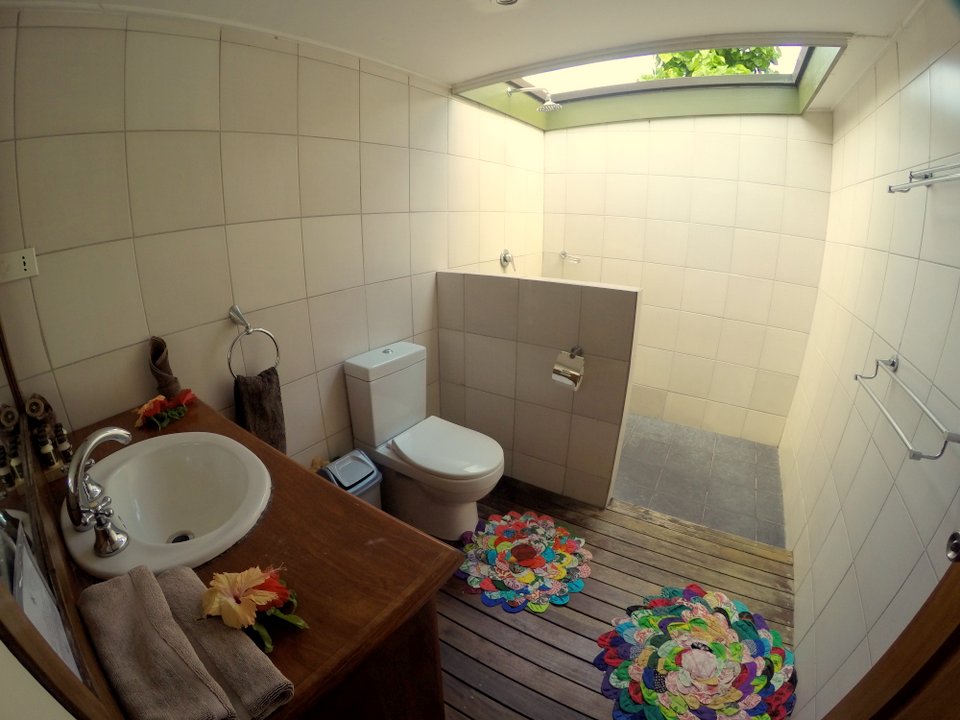 For the price we thought the open bathroom was a little dated and needed a reno.
We stayed in The Point Bure for two nights,  I would not stay here again, no privacy and to much noise from next door, the walls were paper thin. However the normal Beachfront Bures were great.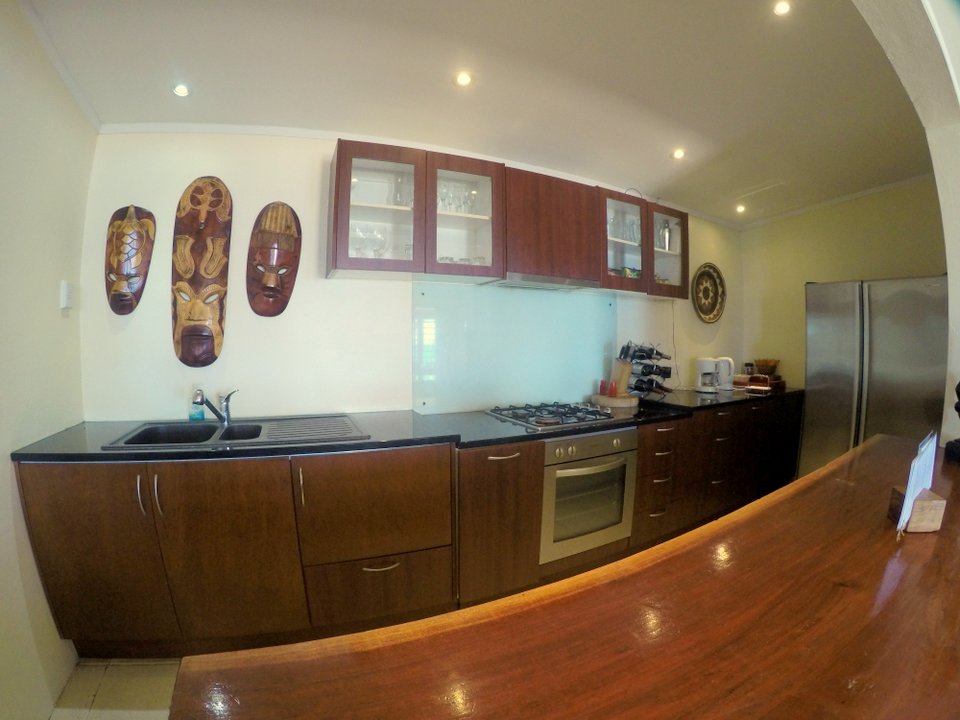 Poppy's Luxury Bure
Poppy's Luxury Bure
Poppy's Luxury Bure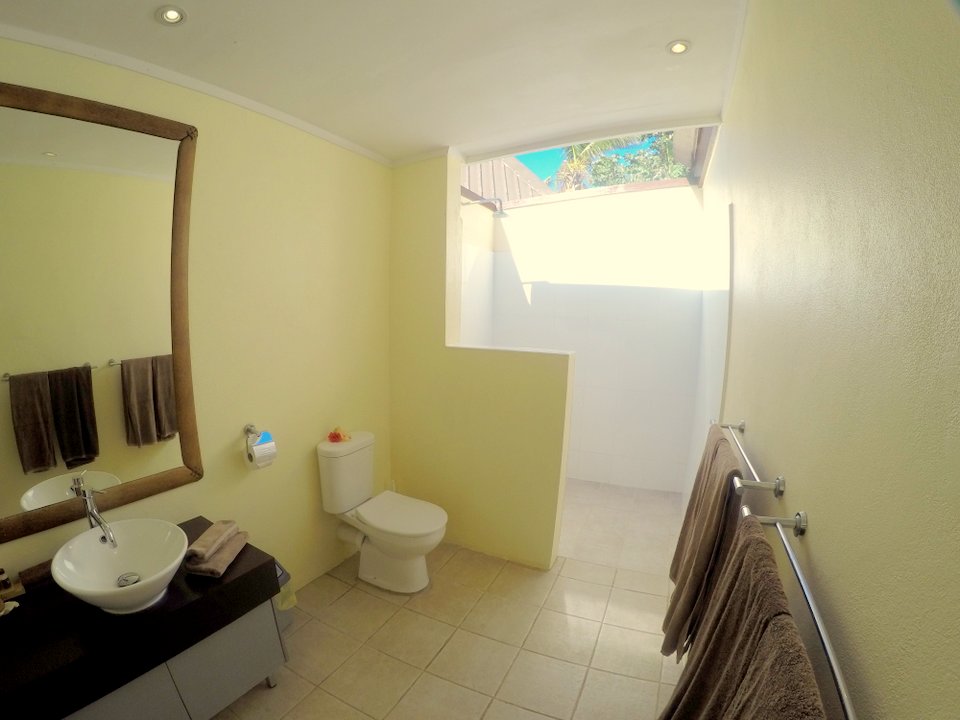 Poppy's Luxury Bure
Garden Bure. The Beachfront Bures are the exact same inside.
Garden Bure
Trying to snorkel out to the edge of the reef at low tide can be a challenge, there was only one small channel to swim in and that channel was were all the boats land on the beach, so caution is needed there. Your best bet is to get into the water in the boat channel and pull yourself along the rope that runs out 100 m to the yellow boy, then snorkel to the south. Otherwise the snorkelling is outstanding. You only snorkel 100m out from the beach to a very interesting reef that drops off to a sandy bottom only 15m deep in places. I saw fish around 300mm long  which I have not seen before and I found it very interesting diving inbetween the small reef channels. In the month of June the water was slightly cool for us compared to November and December, so we got out for an hour or two to make a hot coffee or tea to wash away that salty taste in our throat then back into the water again. You don't cut your feet on sharp coral sand getting into the water like a lot of resorts we have been to. 
This guy just swam right past me.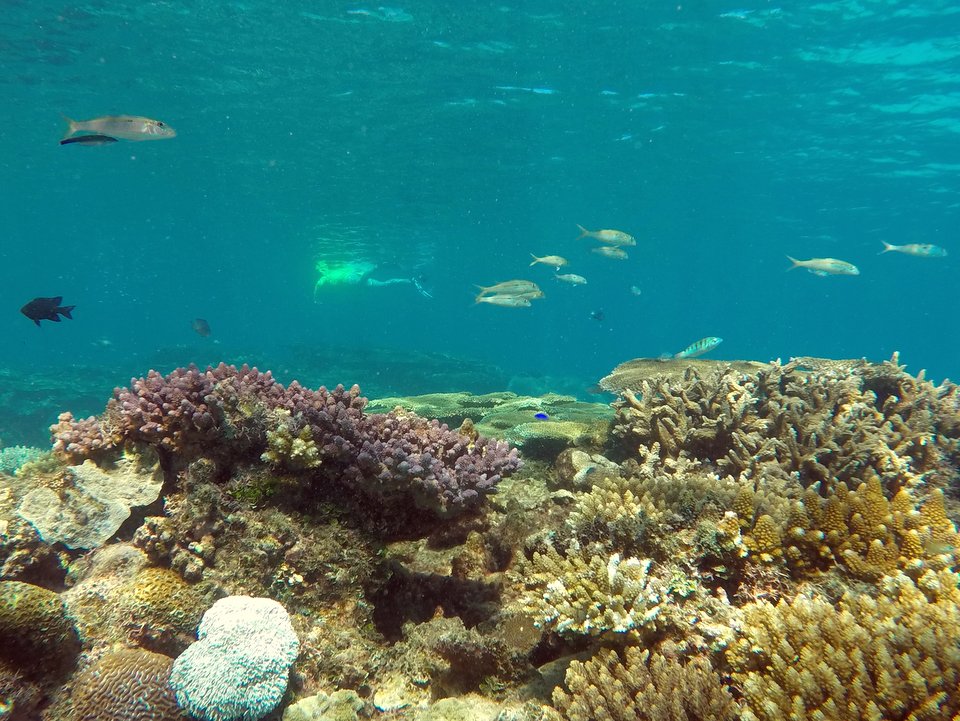 If you want a break from snorkelling you can go for a walk up into the hills for $30 FJD, hand line fishing $30 FJD, cooking classes $15 FJD, night snorkelling $35 FJD, discover scuba $80 FJD, then there is free yoga, weaving and hand craft making and storytelling. At low tide you can take an interesting walk up the Northern end of the beach and walk along the rocks. If you take your time this walk will take you two to three hours. It is a shame that the resort has to charge for the basic activites like walking up into the hills, it is rubbish to use the excuse that you will get lost, it is just there way of draining your pockets.

If your tummy is still rumbling between meals you can buy snacks from the bar or a slice of cake to go with our coffee, if anything, you should leave Octopus Resort with a few more calories tucked under your belt, if not, that is your problem. Lunch, very good. A large menu to pick from and again excellent cooking. The main dining area has a sandy floor which I like, it gives you that tropical island feeling and you can walk around the resort in bare feet all day.

One very bad practise the resort did was burning off rubbish at midday. When you are relaxing on the beach in your deck chair just after you have had your lunch the toxic smoke from the plastic bags and bottles drifted down over you. This happened everyday we were there. Even if I was paying backpacker prices I would not expect to put up with toxic smoke poisoning.
On our last day we had to be packed and out of our room by 9 am but the Yasawa Flyer didn't arrive till 4 pm, so getting into the suitcase, changing and having a shower after swimming then back into the suitcase again was a pain in the butt. But having to go back to Nadi was worse still.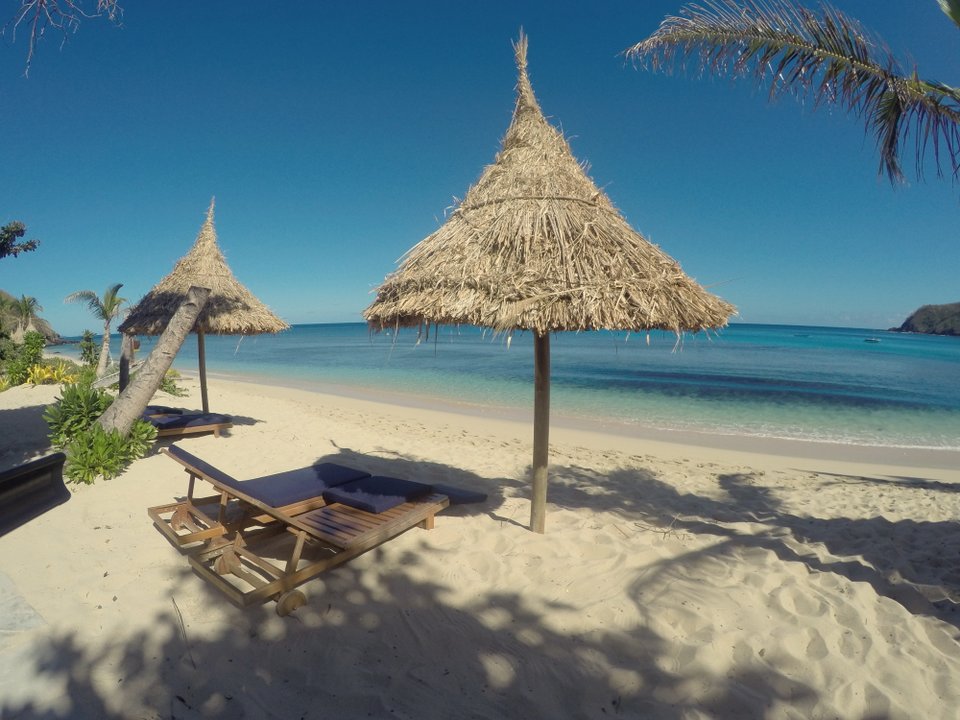 Stunning, stunning beach. Picture perfect tropic island paradise.
pros and cons...
Island: Octopus Resort is on Waya Island which is a big island to walk around. 
Beach:  Good fine golden sand, and lots of deckchairs to relax in - excellent
Swimming Pool:  A large pool, which was full of kids. 
Snorkeling: Outstanding
Meals: Excellent. Compulsory meal plan was $109 FJD per person per day.
Activities: All the interesting activities will cost $$
Water: Drinkable from the tap, decelination.
Power: 24 Hours 
Downside:  Sorry, too many uncontrolled kids running around for us. And the burning off rubbish at midday
Value for money: Yes for backpackers, because of the meals, otherwise ok
Would we go again: Yes, but we would only stay in the Garden bure at the back of the resort, not out the front on the beach, too pricey and no privacy.
Date visited: We stayed in June 2016